Miami Heat vs. San Antonio Spurs: Game 5 Score, Highlights and Analysis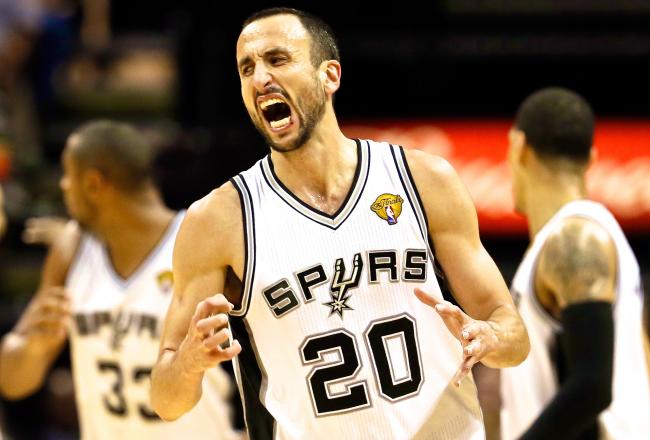 Pick your San Antonio Spurs storyline, there were a bunch. No matter the lede, the result is the same. The Spurs defeated the Miami Heat 114-104 in Game 5 of the NBA Finals.
The home win puts them ahead in the series 3-2. The two teams return to Miami to play Game 6 on Tuesday, and perhaps Game 7 on Thursday.
San Antonio had a host of great stories emerge from its performance Sunday night. Gregg Popovich opted to give Manu Ginobili his first start of the season, and his veteran responded with 24 points and 10 assists. He shot 8-of-14 from the field, and took over the game at the end of the third quarter.
Danny Green presented another great story. The shooting guard who played in the D-League this season broke Ray Allen's NBA record for most three pointers ever in a Finals series. He was 6-of-10 from beyond the arc in Game 5, going for 24 points, six rebounds and three blocks.
Yet neither Ginobili nor Green led the Spurs in scoring. It was a supposedly injured Tony Parker who poured in 26 points on 10-of-14 shooting. The Heat threw numerous defenders his way, but no one could match up with the quickness and efficiency of Parker.
All five starters for the Spurs tallied 16 or more points, with Tim Duncan getting 17 and 12 rebounds and Kawhi Leonard registering 16 points.
LeBron James and Dwyane Wade scored 25 points each, and Allen brought 21 off the bench, but the defense wasn't there throughout the game.
The Heat kept pace offensively late, but it was simply too easy for the Spurs to get buckets in the second half. They were running unobstructed lanes to the rim and shooting open mid-range jumpers throughout the fourth quarter.
After slumping through four games, Ginobili responded to his new role with 11 points and six assists in the first half. He helped the Spurs build a large initial lead and maintain it through a Heat charge that made the score 61-52 at halftime.
I thought Pop should give Gary Neal more PT. Didn't see Ginobili in the starting lineup coming. Gutsy move on Pops' part. Got Ginobili going

— Stephen A Smith (@stephenasmith) June 17, 2013
Two straight turnovers by San Antonio contributed to an 8-0 Miami run to open the second half. The Spurs withstood the run though, and Danny Green's record-setting trey with 9:40 to go pushed his team ahead 66-59.
That was Danny Green's 23rd 3-pointer of the Finals, still with at least a game to go, surpassing Ray Allen's record set in 2008 with BOS.

— Jeff McDonald (@JMcDonald_SAEN) June 17, 2013
Parker started turning on the jets in transition, proving to be too quick for Mike Miller and Mario Chalmers. He scored or assisted on eight of the Spurs first 14 points in the third quarter. A layup with 4:46 left gave San Antonio a 75-67 lead.
Just when a Wade jumper and Shane Battier free throw brought the Heat to within one, the Spurs put together three straight solid possessions. Green nailed another three, followed by five straight points for Ginobili to make it 83-74 inside two minutes.
The "GINOBILI!" shriek from Chuck will be epic tonight.

— Tom Haberstroh (@tomhaberstroh) June 17, 2013
Ginobili scored or assisted on 16 of the Spurs' 26 third-quarter points, including all of the final nine. San Antonio closed the quarter on a 12-1 run that put it ahead 87-75 entering the final quarter.
If the Heat were planning on making a run to open the quarter and get back into the game, they failed miserably. The Spurs scored the first seven points of the fourth, led by a Kawhi Leonard's second three of the night. The score was 94-75 with 9:32 to go.
Wow. Duncan off reb and putback has Spurs on 19-1 run. It was 75-74! #NBA Finals

— Jeff Caplan (@Caplan_NBA) June 17, 2013
Ray Allen connected on his second four-point play of the game, and followed it up with another three to cut into the Spurs lead. A Chris Bosh dunk with 7:28 to play cut the deficit to 13, at 98-85.
Another Allen trey, his fourth of the game, brought the Heat to within 11 inside three minutes. Allen scored again and had the visitors down single digits. San Antonio led only 109-101 with 1:27 to go.
I'm thinking all of Green's threes ticked off Ray Allen. He's on fire.

— kbohls (@kbohls) June 17, 2013
Miami's 9-0 run was halted by a Parker drive. That was almost predictably followed by another Green trey, putting the Spurs ahead 114-101 with 1:06 to go. That iced the game and put all thoughts of a miraculous comeback out of the Heat's mind.
Tim Duncan drapes an arm over Tony Parker's shoulder and pumps his fist at the crowd as they walk down the tunnel.

— Chris Mannix (@ChrisMannixSI) June 17, 2013
The Heat will have to take a look at their defensive strategy and make serious adjustments before taking the court in South Beach Tuesday night.
This article is
What is the duplicate article?
Why is this article offensive?
Where is this article plagiarized from?
Why is this article poorly edited?