Heat vs. Spurs NBA Finals Game 5: Live Score, Highlights and Analysis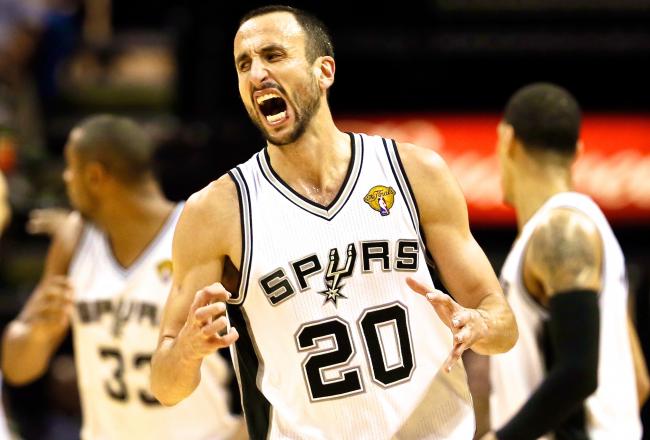 Manu Ginobili starts his first game of the year and scores a season-high 24 points to lead the Spurs to a 114-104 victory over the Heat to take a 3-2 series lead. Danny Green set a record for three-pointers made in the NBA Finals as he shot 6-for-10 from long distance.

The Spurs win 114-104 to take a 3-2 series lead.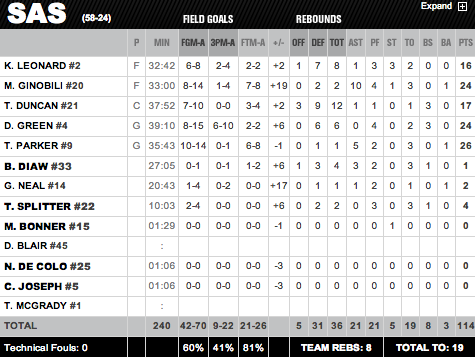 San Antonio box score.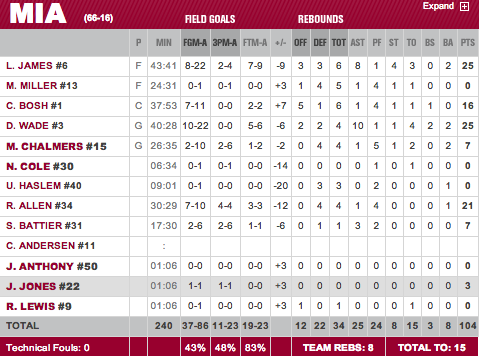 Miami box score.
FINAL: Spurs 114, Heat 104. Spurs lead the NBA finals 3 games to 2. Game 6 is in Miami on Tuesday.

— Nate Taylor (@ByNateTaylor) June 17, 2013
Danny is only four threes away from an "any playoff series" record. Guess what—Ray Allen has that one too.

— Pounding the Rock (@poundingtherock) June 17, 2013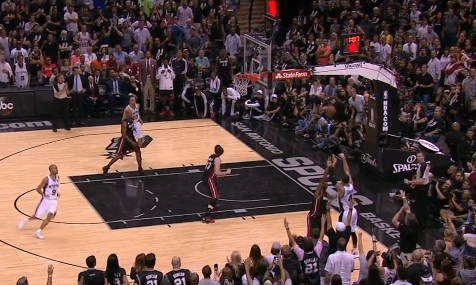 Danny Green hits a three for his 25th point and the dagger.
Three straight turnovers by the Spurs. Zero shots.

— Jared Wade (@Jared_Wade) June 17, 2013

It's a nine-point game with just under two minutes left to play.
#Heat on a 9-2 run, #Spurs lead cut to 11, but SAS just needs a few buckets & stops to end this game. 2:23 left.

— Paul Garcia PS (@24writer) June 17, 2013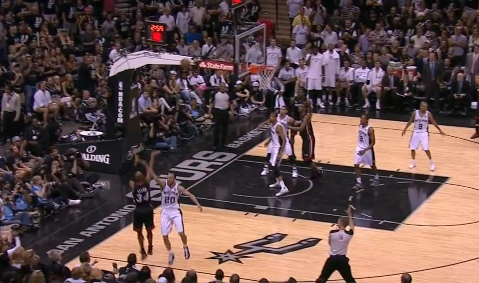 Ray Allen hits the corner three and it's an 11-point game.
LeBron gets the and-1, but it may be over at this point; 109-95 Spurs with just over three minutes left.

— Dime Update (@DimeUpdate) June 17, 2013
LeBron James is now 1-8 FG, 4 pts versus Boris Diaw tonight. He's 6-12 FG, 18 pts versus all other defenders.

— ESPN Stats & Info (@ESPNStatsInfo) June 17, 2013

Parker hits free throws to "MVP" chants and the lead is 18.
LeBron is 1 for 9 shooting in the second half with 6 points. #nbafinals

— gary washburn (@GwashNBAGlobe) June 17, 2013
24 points is a season high for Manu Ginobili.

— SI NBA (@si_nba) June 17, 2013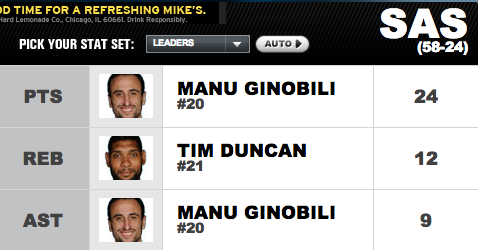 Manu Ginobili has a game-high 24 points tonight.
Spurs starters: 16, 24, 17, 21, 17

— Ethan J. Skolnick (@EthanJSkolnick) June 17, 2013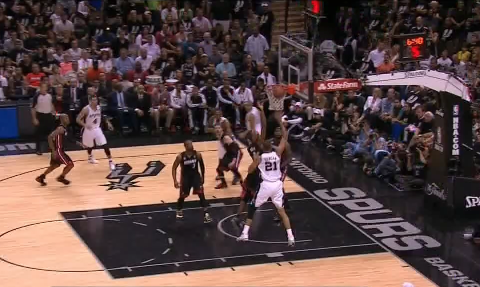 Tim Duncan spins and goes off the glass to put the Spurs at 100 points.
Dwyane Wade told Spo sitting is bad for his knee. Believe he has played every second of this one, leading all players in minutes.

— Henry Abbott (@TrueHoop) June 17, 2013
Spurs' field goal percentages by the quarter: 63.2%, 60.0%, 57.9%, 50% (thus far) = 59% for the game.

— SI NBA (@si_nba) June 17, 2013

Danny Green has 21 points and the Spurs lead is 18.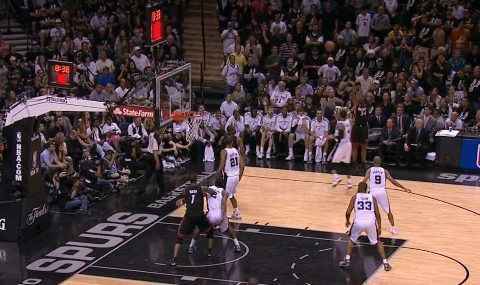 Ray Allen hits the three and draws the foul for his second four-point play of the game.
It was 75-74 Spurs with 3:05 left in the third quarter. It's 94-75 Spurs with 9:31 left in the fourth. Only one game decided by < 10 points.

— Jeff Zillgitt (@JeffZillgitt) June 17, 2013
Can't believe how these teams have broken away so often this series. Latest run: 19-1, Spurs.

— J.A. Adande (@jadande) June 17, 2013

Duncan grabs the offensive board and puts it in and this is becoming a blowout.
This article is
What is the duplicate article?
Why is this article offensive?
Where is this article plagiarized from?
Why is this article poorly edited?