Evans vs. Henderson: Key Takeaways from UFC 161's Main Event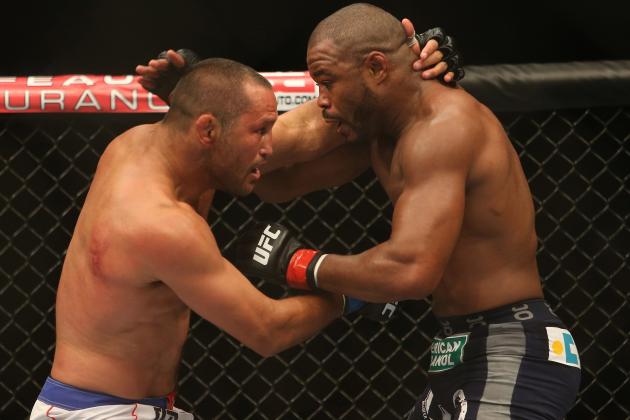 Tom Szczerbowski-USA TODAY Sport
Rashad Evans and Dan Henderson Engage at UFC 161
Cage fighters tend to experience a bell curve of progression as they work their way through a fighting career—skills are learned in the early years, then utilized in the quest for a title and gradually honed as they peak and move down the other side of the curve.
Sometimes the process is subtle; other times the slope is slippery and chaotic.
At UFC 161, savvy veterans Rashad Evans and Dan Henderson stepped into the Octagon and ended up demonstrating that they're neither crashing into retirement nor surging into a second awakening of their respective careers.
When announced, the bout was considered to be evenly matched. After 15 minutes of combat, Evans' quick-twitch reflexes narrowly awarded him a split-decision victory.
It wasn't particularly pretty.
It wasn't even the resounding return-to-form that "Suga" had hoped for. But it got the job done, and after a pair of consecutive losses, that's what counts most.
After the event came to a close, vital takeaways were revealed—lessons that might resonate outside of the fight itself.
Begin Slideshow

»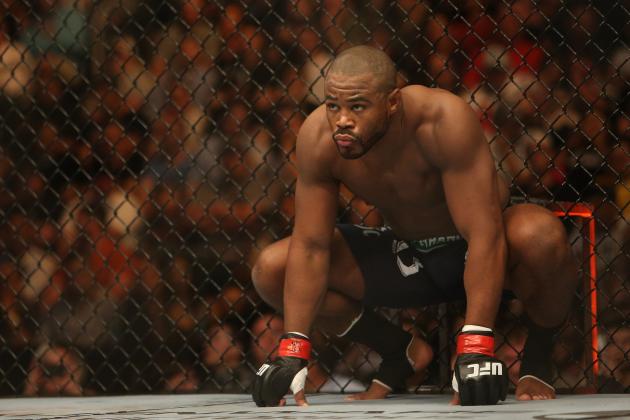 Tom Szczerbowski-USA TODAY Sport
Rashad Evans in his infamous pre-fight stance at UFC 161
Rashad Evans once had a unique persona. It wasn't one of humility—he certainly didn't wow fans with Georges St. Pierre-like formality. No, he instead opted to juke and jive after knocking out his opponents.
He didn't shy away from grabbing his crotch when Forrest Griffin pressed forward with a flurry of strikes. That unique blend of mojo and machismo were the fuel he needed to burn his way from obscurity to championship without a single loss to his name.
Somewhere along the way, that flame began to die down.
On Saturday night, the crowds in Winnipeg, Canada, bore witness to merely the embers that had once ignited Evans to a state of near-invincibility, Whether the fire was extinguished at the instance of his first, infamous loss to Lyoto Machida or somewhere thereafter is beyond our understanding.
As the camera cut to his corner between rounds, the former champion looked utterly depressed. Thoughts of things other than victory seemed to course through his mind.
By the third round of last night's effort against Henderson, he managed to finally show signs of the deftly fast combinations that had once allowed him to taste gold.
Henderson moved in straight lines—Evans cut at sharp angles and employed fluid footwork. Henderson placed all bets on his right hand landing—Evans changed levels to prevent that from taking place.
UFC 161 was perhaps a sign that not all hope is lost.
But to pursue the upper echelons of the Light Heavyweight division, Evans must embrace his natural state. He needs to throw civility to the side. He needs to muster his confidence and fight like there's no tomorrow.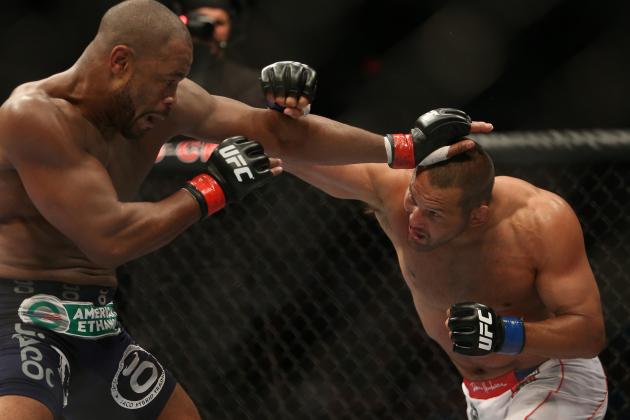 Tom Szczerbowski-USA TODAY Sport
Dan Henderson unloads his signature overhand right at UFC 161
What can you really say to justify the successes of a man like Dan Henderson?
Olympic wrestler, National Greco-Roman champion, simultaneous holder of two Pride Fighting Championship belts—Henderson's accolades can make your head spin. That's said without giving due credit to his penchant for knocking out anyone willing to gamble with his overhand right.
But like all good techniques, the "H-Bomb" was bound to be defused after enough attempts to set it off. Somewhere along the way, Henderson's opponents learned the tricks of his trade—he paws with the left, throws the overhand right, rinses and repeats.
It certainly doesn't help that he's opted to use his wrestling almost exclusively for defensive purposes. At the UFC 161 post-fight press conference, Henderson was asked to comment on Evans' inability to get the takedown.
He humorously interrupted the question by saying. "Well, I've wrestled before, too." That may be the case but he's consciously avoiding opportunities to use that wrestling pedigree to its full potential.
For Henderson, it seems to be a matter of going overhand right or going broke.
In that sense, his greatest strengths might possibly have become his undoing. The sport evolves at a startling rate—hybrid fighters strive to utilize all available techniques.
Where does that leave a formulaic slugger like Dan Henderson?
Later in the press conference, he fielded a question on future plans:
I've got a couple of trips planned with my kids this summer, so I'd like to at least have a summer this year. And then get back in there before the end of the year.
He answered honorably and admirably, electing to emphasize that personal life and time with loved ones are invaluable concerns in your early 40s.
By the time he returns, the Light Heavyweight division may have undergone another stage of evolution. Henderson may need to rest on his laurels, find happiness in his list of monumental achievements and begin to accept that a UFC championship may never be a part of his late-career time line.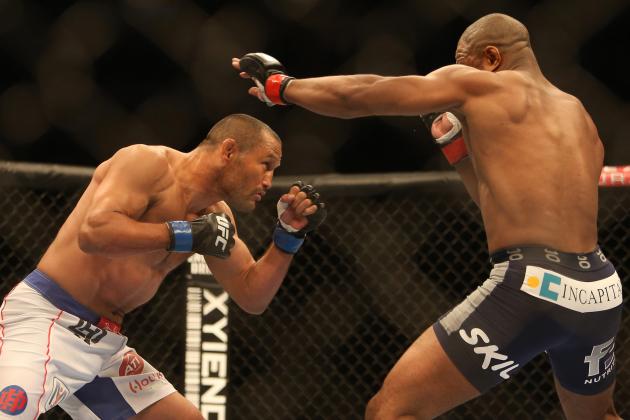 Tom Szczerbowski-USA TODAY Sport

UFC 161 certainly didn't go off without a hitch.
Fighters started falling off the card at a startling rate. The main event caved when UFC Interim Bantamweight Champion Renan Barao injured his foot. Fans were told to rest assured that the anticipated rematch between Antonio Rogerio Nogueira and Shogun Rua would make up for the loss.
Then "Little Nog" injured his back.
In the frenzy, UFC matchmaker Joe Silva opted to make the best of the situation—Rashad Evans vs. Dan Henderson would become the happenstance main event.
Yet it was too late to retool their bout into a five-round fight—both men had signed contracts (and accordingly trained) for three rounds of combat.
With the bout so evenly matched in terms of skill, experience and pedigree, it's become all too clear that three rounds simply wasn't enough.
Henderson was the aggressor as soon as the first round began—he chased Evans until he landed a knockdown via a stiff right jab. Though Suga managed to recover midway through the second round, he didn't find his groove until the start of the third.
Shortly before the fight ended, Evans began to utilize his signature footwork, feints and speed to fluster a quickly fading Henderson.
The fight needed two more rounds to preclude any chances of disagreement when either of the men had his hands raised.
It's not the first instance and certainly won't be the last.
Barring any obscure fight card mix ups, it's a relief that future main events might allow both competitors the time they need to truly exact their intentions.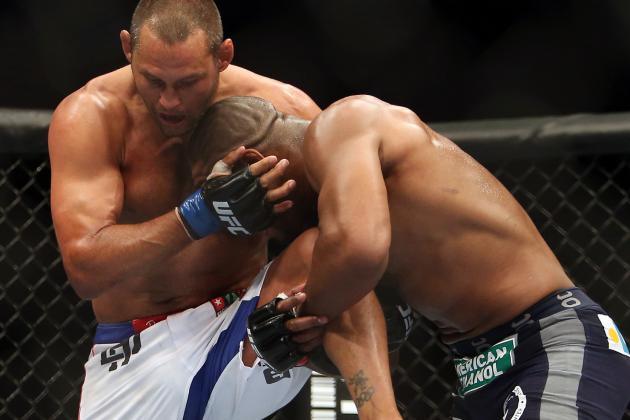 Tom Szczerbowski-USA TODAY Sport
Rashad Evans attempts a single-leg takedown at UFC 161
At UFC 161, Dan Henderson confirmed that if he doesn't land his signature punch, he simply doesn't win.
He's not the first to find a comfort zone and make a home in it.
Chuck Liddell once unleashed a blitzkrieg on any UFC Light Heavyweight willing to exchange punches. His fight game wasn't static by any means, though—with sprawls used exclusively to keep things upright—it was one of absolute reliance on striking.
Liddell made way for a generation of fighters that uprooted and reconstructed the division he had once called home. It's no small thing that Liddell eventually chose to stand and trade blows with Rashad Evans.
We all know how that turned out.
And yet unless Evans can rekindle the diversity and blinding flurries that had once led him to supremacy, he too will be left behind.
The Light Heavyweight crown is now controlled by Jon Jones—a fighter lauded for his use of every facet of mixed martial arts. Jones spins, dodges, knees, kicks and submits his way to divisional dominance. Later this year, he'll be squaring off against a Swede with a similarly multifaceted approach.
Jones, Gustafsson, Machida and the rest of the Light Heavyweight division stand testament to a new era of truly complete 205-pound fighters—men willing to pursue far more more than mere striking in an effort to win.
Legacy fighters like Evans and Henderson are left with a choice: employ more of the tricks they have up their sleeves or step aside as a new wave of fighters comes surging through.