UFC 161 Results: Memorable Quotes and Images from Evans vs Henderson Fight Card
Use your ← → (arrow) keys to browse more stories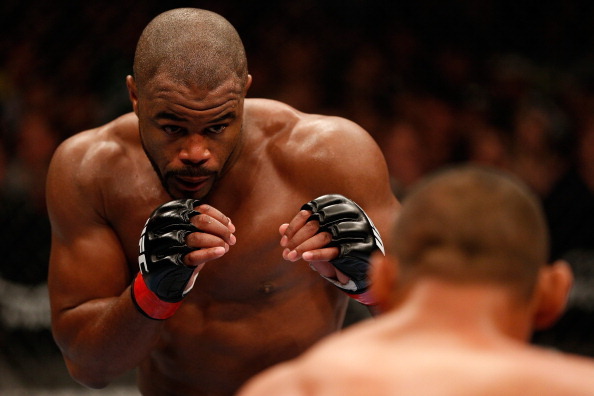 Josh Hedges/Zuffa LLC/Zuffa LLC via Getty Images
Rashad Evans defeats Dan Henderson via split decision (29-28, 28-29, 29-28)
Rashad Evans: "I had to step it up in the last round. I got dropped in the first round, and I thought I was winning the round til then, but I won the second for sure and I knew I needed to come on more in the third. I was a man on a mission in the last round. I was not going home losing tonight. I got a lot of respect for Hendo, and I'm happy to have got the win."

Dan Henderson: "I thought I had it but I take responsibility. He didn't hurt me at all but I should have been more active in the last round instead of slowing down. He's a tough guy, hard to land clean on, and we had a knockdown each. I was coming off the cage, off balance, and he's got great speed and timing. This decision is a little less hard to swallow than the last one. Rashad came to fight."
-----
Stipe Miocic defeats Roy Nelson (30-27 x 3)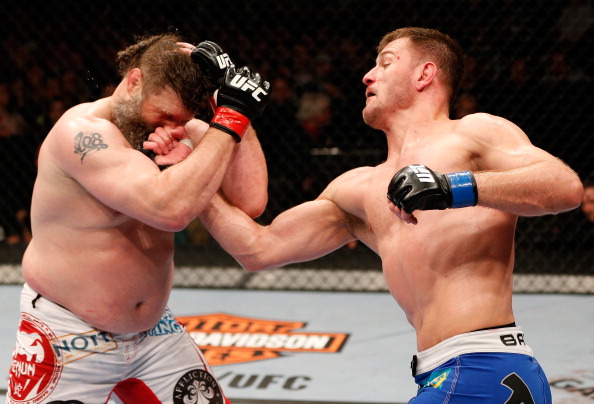 Stipe Miocic: "I guess this was the biggest win of my career. I hit him with some big shots and he took them. I'm a Golden Gloves boxer, I believe in my boxing ability. I' m glad to have put my last fight behind me. This was a big fight for me and I'm very happy I came through it with the win."

Roy Nelson: "I'm just annoyed. I'm fine. I'm going to be sore tomorrow but he didn't hurt me. Sore and annoyed."
-----
Ryan Jimmo defeats Igor Pokrajac via unanimous decision (30-27 x 3)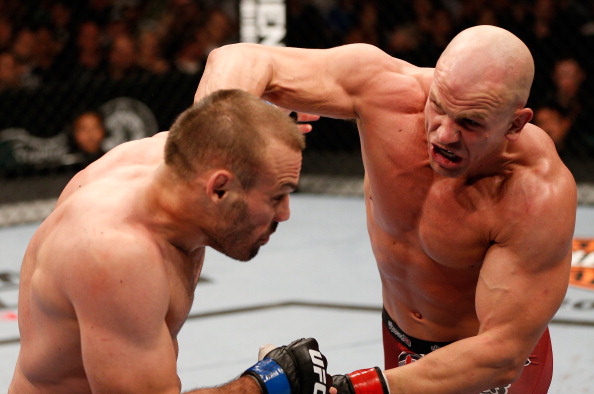 Ryan Jimmo: "I hurt him in the first round but I couldn't follow up. I wish I had because it wasn't a great fight. I apologize to the fans."
-----
Alexis Davis defeats Rosi Sexton via unanimous decision (29-28, 29-27, 29-28)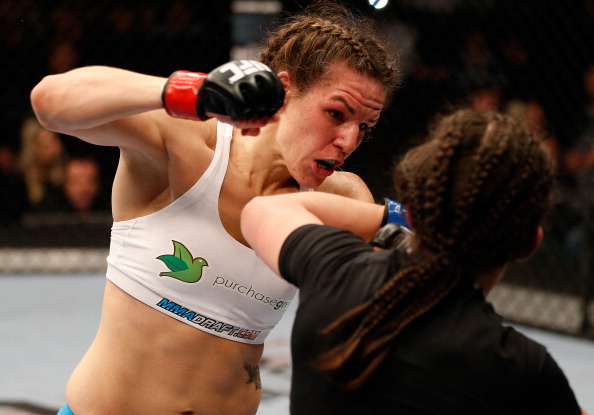 Alexis Davis: "I'm so tired I can barely speak. The adrenaline dump I got when Bruce Buffer said my name was awesome. I wanted to finish the fight in the first round, I landed some big elbows standing but she's tough and so hard to finish on the ground. I can't wait to fight again. I will fight anyone the UFC asked me to."

Rosi Sexton: "The UFC butterflies are real. It is funny, I was very nervous backstage but one the fight started the nerves went away. I did a few things wrong, made some mistakes, but I think it was a good fight."
-----
Shawn Jordan defeats Pat Barry via TKO at 0:59 of Round 1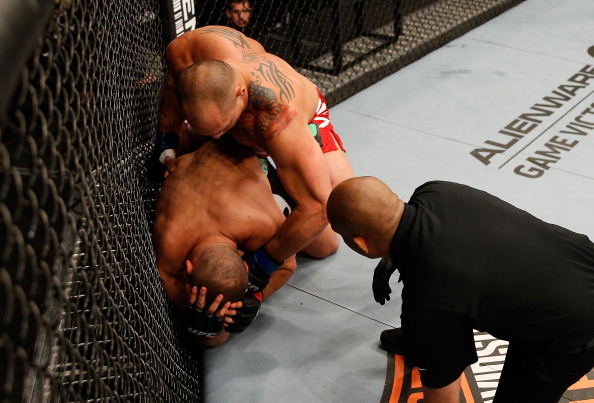 Shawn Jordan: "I came here with a job to do and I did it. I wanted to keep the pressure on and I believe in myself. I'm getting better and better and more confident in the Octagon. This was a big win, here in Canada, for me. I think I'm ready to move up, but I will take anyone the UFC says."

Pat Barry: "I dunno, man. Sometimes you get caught and it sucks. I caught plenty of guys myself. Well done to him."
-----
Jake Shields defeats Tyron Woodley via split decision (27-30, 29-28, 29-28)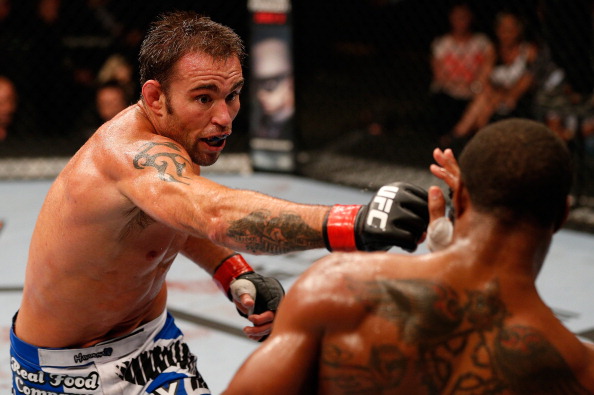 Jake Shields: "It was a lot closer than I would have liked but I won. I was more aggressive, even though our two styles sort of cancelled each other out. I think this puts me back on the main cards, and I want a top five guy. If I could get a Rory MacDonald or someone like that, that's who I am aiming at. If I could pick, I would get Jake Ellenberger again. I did a lot of things wrong in that fight he beat me, I had just lost my dad, and I want to get that win back."

Tyron Woodley: "I am very confused right now. I got a 30-27 on one card, what were the other two judges looking at? He didn't get anything going in that fight, I was the one pressing it. I don't know what to say but WTF?"
-----
James Krause defeats Sam Stout via submission at 4:47 of Round 3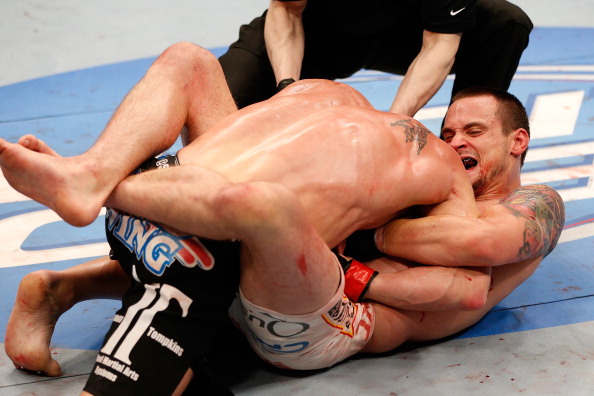 James Krause: "I hurt him badly in the first round with those kicks and knees but, with two weeks' notice for the fight and with him being so hard to finish, I knew I couldn't afford to go crazy to try to finish him. I wanted to finish him, but I couldn't chase him all around the Octagon hoping to land a bomb. I had to apply smart pressure. He hasn't been stopped since 2006, and this is a big win for me.

That punch to the body in the second round really hurt me. I couldn't even disguise it, it hurt so bad. And then Sam kept on going for it in the same spot, and I was like 'I am gonna give you one of those right back!' so I hurt him to the body too.

I thought I was ahead on the scorecards but fighting a Canadian hero who has been with the UFC all these years and had all these great fights, I had to do better than that. I actually prepared for the booing. My teammates and trainers would all root for whoever I was sparring, getting me used to feeling that negative energy and just going about winning."
-----
Sean Pierson defeats Kenny Robertson via majority decision (29-28, 29-28, 28-28)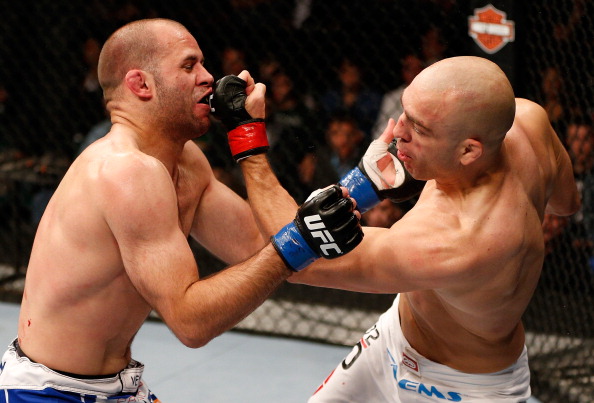 Sean Pierson: "I took the first round rounds but I lost the third and I was kinda upset with myself over that. I hurt him a few times in the first but I couldn't keep it going. I won the first two rounds though. I said I was sorry to my corner because I never want to end the last round on the bottom, I want to make a statement. He hurt me good in the last round, I can't remember what he hit me with, and he controlled it on the ground for longer than I wanted. But I won and I can get better from here."
-----
Roland Delorme defeats Edwin Figueroa via unanimous decision (29-28 x 3)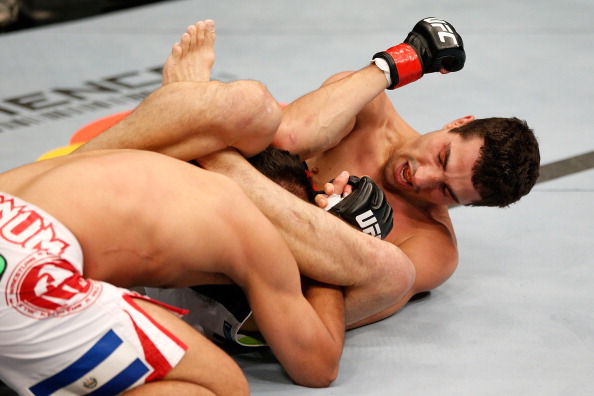 Roland Delorme: "That was grueling. I'm happy with the performance, I've worked my on my submission defense and I needed that tonight."
-----
Mitch Clarke defeats John Maguire via unanimous decision (29-28 x 3)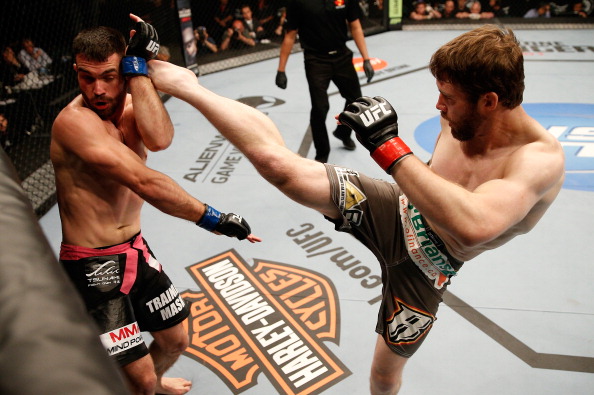 Mitch Clarke: "I wanted to fight in the UFC since 2006, when I was a lazy judo player who was drinking and doing other things that weren't good for me. Having a goal to get to the UFC changed me. It made me a better person. I got rid of so many negative forces in my life."
-----
Yves Jabouin defeats Dustin Pague via split decision (28-29, 29-28, 29-28)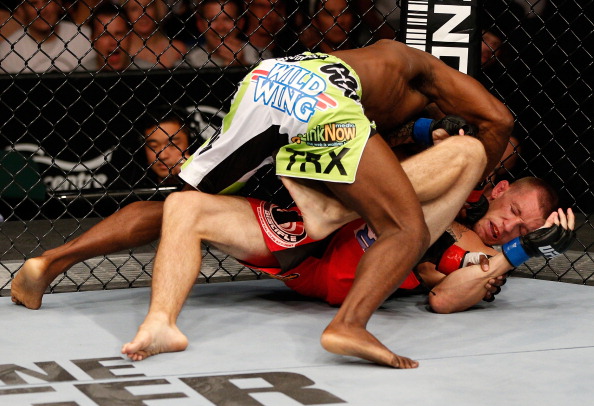 Yves Jabouin: "That was a war, man. I was trying to set up my shots, land a big combination, but after the first shot he'd be right in my face every time. He just kept coming and coming. He was great at setting up his subs, but, honestly, the only time he came really close was in the last round with the armbar. I think because I was so relaxed I was able to get out of it, if I had panicked and trying to muscle out, I would have got caught.

The difference was the damage I did when I was on top. I landed a ton of hard elbows and I thought I was a shot or two away from finishing it. It was a war, I can't wait to go back home and sleep after that."


Dustin Pague: "I gave everything."
*all quotes provided to Bleacher Report MMA via UFC.