Power Ranking Every Detroit Lions Player Under Contract Prior to Training Camp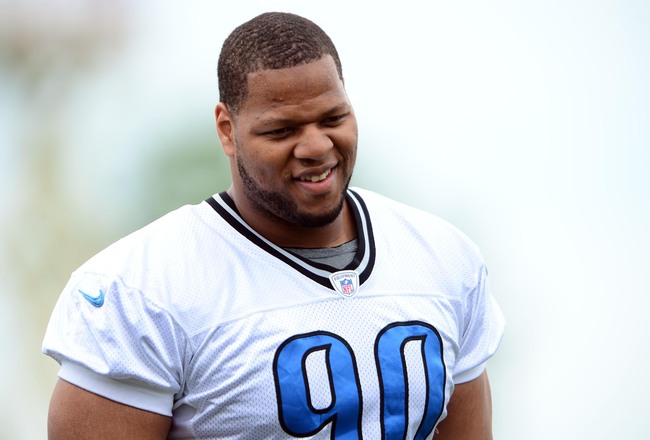 USA TODAY Sports
The Detroit Lions' are heading into 2013 with a lot of new faces and a lot to prove. It's no stretch to say the wheels fell off last season, and when that happens, changes are inevitable. As a result, the Lions will open training camp with more than a few new faces vying for starting spots.
In fact, there are more new faces than ever before. In 2012, the NFL increased every team's roster size to 90 players during the offseason. Fans need a chart just to keep track of all of them.
Training camp starts on July 23, and now is a good time to take a look at the Lions' 90-man roster and see where each player stands.
Here are power rankings for each Lions' player under contract, pre-training camp edition.
90-81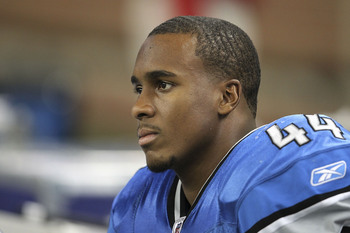 Unfortunately, Best is all but a distant memory for the Lions.
Leon Halip/Getty Images
90. Jahvid Best, RB: When healthy, he's a dynamic change-of-pace back who completes the Lions' offense. Unfortunately, he hasn't played football in nearly two years and doesn't look like he will ever again. He's still under contract, but his career is over.
89. Blake Clingan, P: The Lions have two punters currently on their roster. Clingan is the one they didn't draft. He doesn't stand a chance.
88. Ross Weaver, CB: Weaver has bounced around the NFL and Arena Football league since 2010. Even though he signed a futures contract with the Lions last January, he will continue to bounce around in 2013.
87. Spencer Nealy (UDFA), DE: He might have professional athletics in his genes (his father Ed played in the NBA for 10 years), but he simply lacks the size and skill to compete with the other defensive ends on the Lions' roster.
86. Freddie Bishop, DE (UDFA): This undrafted free agent out of Western Michigan University participated in the Green Bay Packers' rookie minicamp. He's the low man on the Lions' pass-rushing totem pole.
85. Alex Elkins, LB (UDFA): Elkins went from not ever having played football to starting linebacker at Oklahoma State in just two years. His rise up the ranks for the Lions won't be as quick.
84. Jon Morgan, LB (UDFA): He was a decent player at Albany until a knee injury his senior year curtailed his production. He's undersized and won't survive the numbers game.
83. Martavius Neloms, CB (UDFA): The Lions love his versatility, but his speed and ball skills aren't quite there. Probably needs a year or two, and with the young guys who are ahead of him, it won't be in Detroit.
82. Cody Wilson, WR (UDFA): He put up good numbers at Central Michigan University, has return experience and his father is the Lions' team chaplain.
81. Austin Holtz, OT (UDFA): He worked hard to become an NFL-worthy lineman, and it payed off. He's got a shot to make the practice squad.
80-71
80. Dominique Johnson, CB: Johnson is the definition of NFL journeyman. He was an undrafted free agent in 2009, and the Lions are his seventh team. His journey will continue.
79. Darren Keyton, C (UDFA): Keyton is nowhere near NFL-ready, but he is the only other center on the Lions' roster besides Dominique Raiola. Keyton is in a perfect situation to get an invite to the practice squad if he excels.
78. Matt Willis, WR: The most interesting thing about this six-year vet is he appeared on Ninja Warrior! Check it out courtesy of MLive.com.
77. Tyrell Johnson, S: The Lions picked him up last December to replace Erik Coleman, whom they cut. Johnson served his purpose, but there won't be a roster spot for him this year when it's all said and done.
76. Steven Miller, RB (UDFA): He's getting a lot of hype right now, and he deserves it. Miller has impressed with his ability and work ethic. However, the Lions are stacked at running back. Miller should make the practice squad, though.
75. Jimmy Sadler-McQueen, DT: The Lions cut JSM from their practice squad last November, but then their DL was decimated by injury. So in December, they re-signed him to the active roster. Everyone's healthy now, so his days are numbered.
74. Dominique Curry, TE: The Lions are converting Curry, a former wideout, to TE. With all the hype Joseph Fauria is currently getting, Curry is an afterthought. UPDATE: Curry was cut and replaced with TE Matt Veldman according to foxnews.com.
73. Terrance Austin, WR: His return potential was attractive to the Lions in January, however they have a number of speedy slot-receiver types with return potential.
72. Devin Thomas, WR: The Lions' health at receiver is improving, and Thomas already retired from the NFL once. Both things don't bode well for his future in Detroit, however his special teams ability gives him an edge.
71. Don Muhlbach, LS: This is low for a guy who has an almost guaranteed roster spot, but I've never liked designating one spot just for a long snapper. Can't someone else learn to do this?
70-61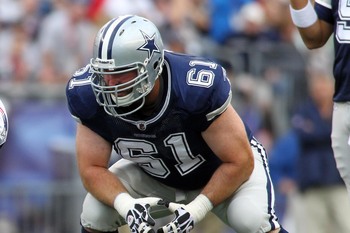 Is Nagy another Jason Fox?
Stew Milne-USA TODAY Sports
70. LaAdrian Waddle, OT (UDFA): He's huge and talented and one day could be a starting LT in the NFL. The Lions would love to stash him on their practice squad.
69. Thaddeus Lewis, QB: He's actually started a game in the NFL for the Cleveland Browns. However, with Shaun Hill healthy and Kellen Moore's continued development, Lewis' window is slowly closing.
68. Shaun Chapas TE/FB: Chapas was a teammate and roommate of Matthew Stafford at the University of Georgia. However, the Lions have no need for a FB and have enough tight ends.
67. Dylan Gandy, G: He's been with the Lions four years and has started five games. He couldn't beat out Stephen Peterman for playing time. The Lions gave him the benefit of the doubt during OTAs, playing him with the first team, but the ride is about to end for Gandy in Detroit.
66. Havard Rugland, K: "Kickalicious" has been impressive during OTAs, and David Akers is still recovering from surgery. With that said, Rugland has zero experience and is up against a six-time Pro Bowler. Those are tough odds.
65. Brian Robiskie, WR: He's a big target, but doesn't have great athleticism and has been injured. Bottom line is that he's a long shot to make the final roster.
64. Rodney Austin, G: The Lions have scads of offensive guards on their roster, and Austin is the one with the least NFL experience. However, he's shown dramatic improvement from last year, so don't be surprised if he shoots up this list during training camp.
63. Bill Nagy, G: Nagy could be the first player Austin passes. The guy can't stay healthy, and if he can't compete, chances are he won't last long.
62. Derek Hardman, G: Are you sensing a trend here? Hardman was an UDFA in 2010 and actually started four games his rookie year. He's vulnerable to be passed up by Austin as well.
61. Carmen Messina, LB: Lions' fans loved Messina for his preseason performance last year. He spent last season on the practice squad, but it will be tough for him to win a roster spot.
60-51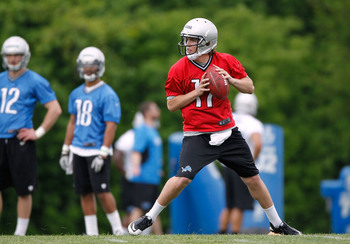 Kellen Moore has shown improved arm strength this offseason.
Gregory Shamus/Getty Images
60. Corey Greenwood, LB: Greenwood is Messina's primary competition. He appeared in all 48 games for the Kansas City Chiefs over the past three years, according to Mlive.com, primarily as a special teams player.
59. Jake Scott, G: Scott is a 10-year veteran of the NFL, and he'll compete for the starting job.
58. Leroy Harris, G: Harris has the edge on Scott because, over the past six years, he started 42 games for the Tennessee Titans, according to Mlive.com. A knee injury last year ended his season, so his health is the biggest factor going forward.
57. Braylon Broughton, DE: The Lions like the former New Orleans Saints practice squad player so much they signed him twice. According to Mlive.com, he was cut in May after failing his physical, but they re-signed him earlier this month. At 6'6", 272 pounds, he is an intriguing prospect.
56. DeQuan Menzie, CB: Like Chris Greenwood, Menzie was a fifth-round pick (of the Chiefs) in 2012 who suffered an injury last offseason and missed his entire rookie year. New coach Andy Reid cut him, and the Lions scooped him up. Not much has been reported on his performance with the Lions, so far, and that's not a good sign.
55. Brandon Hepburn, LB: Hepburn was the Lions' final selection of the 2013 NFL draft. Martin Mayhew isn't in the business of cutting newly drafted players, but the talent pool is deep at linebacker.
54.Ogemdi Nwagbuo, DT: The Lions need depth at defensive tackle, but it's no lock that the four-year veteran makes the roster.
53. Corey Fuller, WR: The Lions selected Fuller in the sixth round this year. The former track star has speed, but is raw. Training camp will clarify whether he's ready for full-time NFL duty.
52. Kellen Moore, QB: Moore has already shown improvement this year, and if that continues, his roster spot is all but assured.
51. Sam Martin, P: The Lions used a fifth-round pick on Martin in this year's draft. Say hello to your new punter Lions fans.
50-41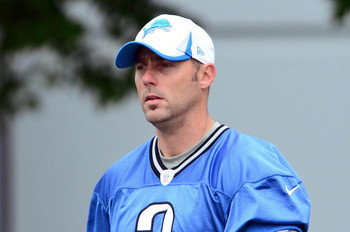 Akers' health is the biggest factor in his bid to replace Jason Hanson.
USA TODAY Sports
50. Ron Bartell, CB: The nine-year veteran was brought in to compete for the starting job, but will more likely provide leadership for the Lions' younger, more talented corners.
49. Joseph Fauria, TE (UDFA): Expectations are high for Fauria who is receiving considerable hype due to his size and athleticism, but it's a numbers game. He could easily make the roster or just as easily be cut.
48. Chris Greenwood, CB: As should be expected, Greenwood has shown flashes of brilliance due to his amazing physical gifts. However, he also has a total lack of NFL experience. It's essentially his rookie year, so don't expect much from him this season.
47. John Wendling, S: He's a valuable special teams player, but if he's forced into the starting lineup again, the Lions are in trouble.
46. Shaun Hill, QB: He's recovering from minor foot surgery, but he'll return, and if all goes well, Lions' fans won't see him all year.
45. Kris Durham, WR: Durham joined the Lions' active roster late last season due to mounting injuries, and he's shown enough to stay there. He's no lock to win a roster spot, but the second former college roommate of Matthew Stafford is in a good position.
44. Theo Riddick, RB: Let's be honest, the Riddick pick has been questioned by many. He's versatile, but RB wasn't exactly a big need for the Lions. It will be interesting to find out what his role will be this year.
43. David Akers, K: Historically, he's great, but last season, he was historically bad. Akers might be the favorite, but if he doesn't rebound from injury—and accuracy—troubles await if Rugland is to pull off a stunner.
42. Michael Williams, TE: Not as athletic as Brandon Pettigrew, Tony Scheffler or Fauria, but look for Williams to make an impact as an extra offensive lineman this year, ala Riley Reiff last season.
41. Ronnell Lewis, DE: The Lions drafted two defensive ends this year who will most likely rise above Lewis on the depth chart. He will find himself firmly entrenched on special teams for the second straight year.
40-31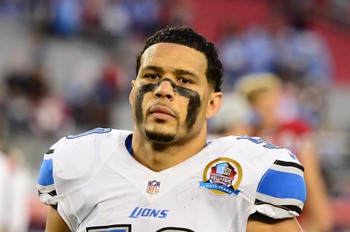 Lewis will compete for the third linebacker position during training camp.
Mark J. Rebilas-USA TODAY Sports
40. Ricardo Silva, S: He was a solid performer in backup duty last season. The health of Louis Delmas and Amari Spievey will determine if he gets another chance this year.
39. Jonte Green, CB: He showed significant improvement as the season wore on last year. However, he missed minicamp with an undisclosed injury. Currently, he's not in the mix to start.
38. Tahir Whitehead, LB: He'll be in the mix for the open linebacker spot vacated by Justin Durant. If he doesn't get it he will remain a solid special teamer.
37. Travis Lewis, LB: Finally healthy, Lewis is poised to compete for the outside linebacker spot as well and has taken the majority of reps with the first-team defense. According to The Detroit News, he feels faster and more explosive than last year.
36. Don Carey, S: According to Chris McCosky of The Detroit News, Carey has impressed and played quite a bit with the first-teamers. He and Glover Quin have looked particularly comfortable playing together, and if Delmas doesn't return, Carey appears to be the favorite.
35. Amari Spievey, S: The assault charges didn't help him this summer, but if healthy, he will be a valuable depth player in the secondary.
34. Mike Thomas, WR: The Lions still need a third outside receiver, but Thomas is not it. He'll fill in the slot while Ryan Broyles heals up, but expectations are low. It's better that way.
33. Montell Owens, RB: He's a special teams ace, former Pro Bowler and eight-year vet. In other words, he's got an assured roster spot.
32. Michael Spurlock, WR: He's another player with an almost assured roster spot because of his ability in special teams, particularly the return game. Spurlock is the favorite to win the returner job in 2013.
31. Devin Taylor, DE: The rookie might be fourth on the positional depth chart, but he'll be part of the regular rotation and see plenty of action.
30-26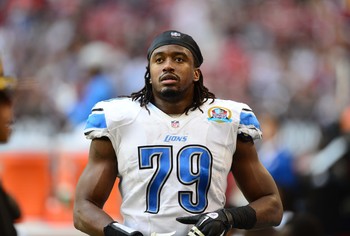 Young has a lot to prove this season.
Mark J. Rebilas-USA TODAY Sports
30. Patrick Edwards, WR: The 2012 undrafted free agent has shown development and is now a favorite to be the third outside wide receiver behind Calvin Johnson and Nate Burleson.
29. Willie Young, DE: Entering his fifth year, Young needs to show improvement. He disappointed last season, and the Lions responded by drafting two pass-rushers. If Young hopes to stay relevant, he better show something this year.
28. Corey Hilliard, OT: Valuable depth guy, or starter at right tackle? It could go either way, and the competition with Jason Fox will be one of the tightest of camp.
27. Ashlee Palmer, LB: The veteran special teams ace is the favorite to win the third linebacker spot. However, he's not heads above the competition. No one will be surprised if he gets beat out.
26. Darius Slay, CB: The rookie has impressed everyone, so far, but he's still recovering from knee surgery. His health and a full training camp with pads on will ultimately prove how NFL-ready he is.
25-21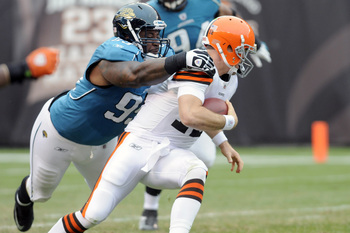 The addition of Mosley will bolster the Lions depth on the defensive line.
Jason Miller/Getty Images
25.Larry Warford, OG: When he was drafted in the third round, Warford was immediately penciled in to replace Stephen Peterman at right guard. Since then, the Lions have gone out and signed two veteran guards to compete for the starting job as well. Perhaps, Warford isn't such a lock after all.
24. Jason Fox, OT: Fox is the favorite to win the position battle with Hilliard for RT, but no one is really sure why. It's not like he's proven anything. The Lions must have kept him around for some reason, right?
23. C.J. Mosley, DT: Mosley was brought in to replace some of the depth lost when Corey Williams and Sammie Lee Hill departed via free agency. Mosley had his best season as a pro in 2012 with Jacksonville, and he'll be a big-time contributor up front for the Lions this season.
22. Bill Bentley, CB: He won the starting cornerback job opposite Chris Houston last year as a rookie, so obviously, he's a legitimate contender to do it again. His performance in OTAs has been top-notch, so far, in 2013.
21. Louis Delmas, S: When healthy, Delmas would make the top 10 of any Lions' power ranking. Unfortunately, times of good health are few and far between for him. He hasn't practiced yet this offseason, and there's no timetable for his return. Regardless of practice, if he's healthy by Week 1 expect to see him in the starting lineup.
20-16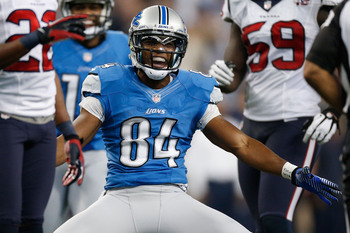 Broyles and the Lions hope he's ready by Week 1.
Gregory Shamus/Getty Images
20. Tony Scheffler, TE: In the final year of his contract and following a down year, Scheffler is not as safe as you might think. Sure, he's a valuable piece to the Lions offense, as they love to utilize two-TE sets. However, if UDFA Joseph Fauria can replicate what Scheffler does during training camp, the Lions will have to consider parting ways with him.
19. Ryan Broyles, WR: Like Delmas, Broyles would likely be in the top 10 if he were healthy. Despite his second major knee surgery in as many years, the Lions are counting on Broyles picking up where he left off last season.
Besides Calvin Johnson, he was arguably their biggest playmaker. In an interview with Josh Katzenstein of The Detroit News (h/t Chris Wesseling of NFL.com), Broyles said he believes he'll be ready by Week 1. You better believe the Lions are keeping their fingers crossed.
18. DeAndre Levy, LB: He's not spectacular, but the Lions know what they're getting in Levy, a solid contributor who plays hard every snap. That's why his starting position is safe. Keep in mind, Levy is only entering is fifth year in the NFL, so the best is yet to come.
17. Dominic Raiola, C: Raiola might be the elder statesman of the Lions, but that doesn't mean he's set in his ways. This offseason he added 15 pounds of muscle and can no longer be considered one of the lightest centers in the NFL.
Not only will competitors find it more difficult to push him around, his younger contemporaries on the Lions will find it difficult to push him out of a job—at least for one more year.
16. Mikel Leshoure, RB: After a disappointing season, the prevailing view among Lions' fandom is that Leshoure is the third-best running back on the roster. He's got a lot to prove this season to say the least.
15-11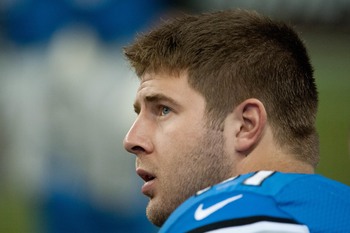 Reiff has some big shoes to fill at left tackle.
Tim Fuller-USA TODAY Sports
15. Rob Sims, LG: What a difference one year can make. Sims is now one of the older guys and will be looked at for leadership on and off the field. He's got the starting left guard position locked down, and the Lions will look to him for help in developing the younger guys into a cohesive unit.
14. Jason Jones, DE: Jones didn't start a single game for the Seattle Seahawks last year, but Jim Schwartz was all too happy to make him a starter in Detroit. He'll take over for Cliff Avril. Expectations are that he can replace Avril's production.
In four years in the NFL, Jones has never put up Avril-type numbers, but he's never played next to Ndamukong Suh and Nick Fairly before either. He should be poised for a career year.
13. Joique Bell, RB: One of the biggest stories and pleasant surprises of 2012, Bell was a revelation out of the backfield and outperformed Lions starter Mikel Leshoure. Expect more of the same from Bell this season—even with the addition of Reggie Bush.
12. Nate Burleson, WR: The old man of the Lions must have found the fountain of youth. He surprised everyone and came back early from his leg injury to join minicamp practices. He may have lost a step, but he can still be very effective. His starting spot on the outside opposite Calvin Johnson is safe for now.
11. Riley Reiff, LT: As many predicted when he was drafted in 2012, Reiff will take over the left tackle position in 2013. Jeff Backus retired and Reiff is the heir apparent to protect the Lions' most valuable asset, Matthew Stafford. It's what he was drafted to do. Even so, there's always anxiety about handing such a responsibility over to someone with little experience.
10. Glover Quin, S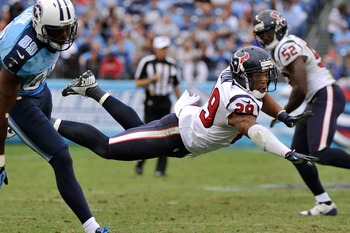 Quin's playmaking ability is key for the Lions defense.
Frederick Breedon/Getty Images
Glover Quin's the new kid on the block, but his role with the Lions is clear. He'll be a starter, and the Lions defense is looking infinitely better because of him.
His versatility against both the pass and run is what makes him so valuable because the Lions don't use free and strong safeties. They expect players to be able to handle all aspects of the game, and Quin has proven he can do that.
To function at it's highest level, the Lions defense needs a healthy Delmas next to Quin. However, everyone knows that can't be counted on.
Quin will make sure the back end of the defense doesn't fall apart without Delmas, and he'll make everyone around him better.
9. Ezekiel Ansah, DE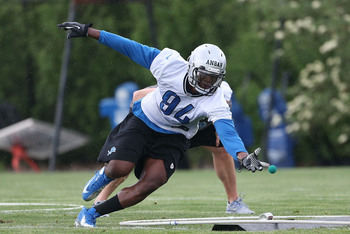 Ansah's work this offseason will determine his success during the regular season.
Leon Halip/Getty Images
Sure, he's unproven and raw and learning the NFL game as he goes, but no one has higher expectations this year than Ezekiel Ansah. That comes with the territory of being a first-round pick.
Fans might preach patience with him, which is a smart approach. However, if the sacks don't start piling up, how much patience will they have
Everyone needs to remember that Ansah can be impactful without racking up sexy numbers (sacks).
Regardless, he'll be the starter to replace Kyle Vanden Bosch and get plenty of chances to get on-the-job training. He's got the physical tools to dominate, but it will take some time for him to put it all together.
8. Stephen Tulloch, ILB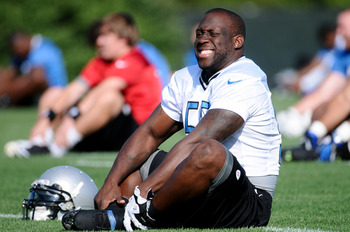 Tim Fuller-USA TODAY Sports
The man in the middle and the vocal leader of the defense, Stephen Tulloch is intelligent, quick and a superb tackler. In 2011, he showed a knack for getting turnovers with three fumble recoveries and two interceptions.
In 2012, the turnovers didn't come, and the Lions are hoping he can return to form this season.
Even if he doesn't make the big plays, he's as solid as they come and a key defensive presence for the Lions.
7. Brandon Pettigrew, TE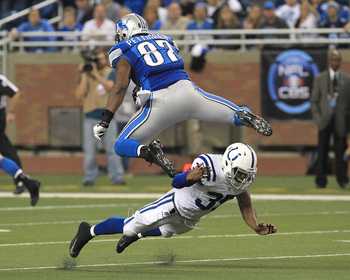 Pettigrew showing the tendency that often got him into trouble last year.
Dave Reginek/Getty Images
Brandon Pettigrew received his fair share of scorn from Lions' fans following his disappointing season. It was well-deserved.
Pettigrew took a step back, and I'm sure he'd be the first one to admit it.
Despite his shortcomings, no one should forget that Pettigrew is an extremely valuable offensive weapon for the Lions. As Chris McCosky of The Detroit News wrote, tight ends that can block and catch 80-90 passes a year are rare.
Pettigrew can do it. In fact, he can do better. The Lions haven't seen the best from him yet, and there's no reason he can't put it all together this year.
The fact that it's a contract year for Pettigrew won't necessarily make him play better, but it can't hurt.
6. Chris Houston, CB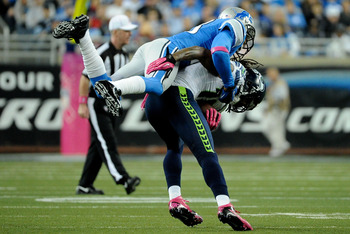 Houston wrapping up a Seattle receiver.
Tim Fuller-USA TODAY Sports
He was a priority to re-sign this offseason, and the Lions made sure he didn't get away. Chris Houston was awarded with a five-year deal worth $25 million, according to Spotrac.
He's not an elite NFL corner, but he's been the best one the Lions have had since he arrived in 2011.
This season, he'll continue to be the No. 1 corner as well as a solid role model for all the young corners the drafted over the past two years.
For that reason, Houston is invaluable on the field and off it.
5. Nick Fairly, DT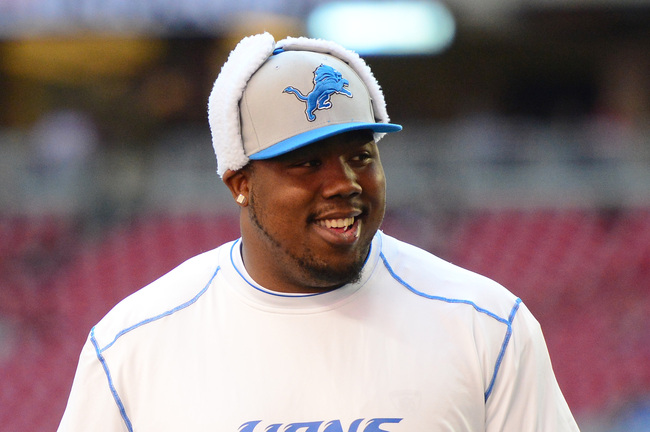 Fairley is poised for a breakout season.
Mark J. Rebilas-USA TODAY Sports
Perhaps more than any other player, Nick Fairly showed up this offseason a changed man—for the better.
Anwar Richardson of Mlive.com reports that Fairly was more focused, vocal and confident than ever before.
Fairly surprised everyone when he placed Super Bowl aspirations on the Lions earlier this spring. Most of the NFL scoffed, but to his credit, Fairly hasn't wavered.
That type of confidence is refreshing, but the biggest thing with Fairly is his health. His first two years, he hasn't been on the field nearly enough.
If he can stay healthy all year, the Lions will have a much better chance of reaching the lofty goals Fairly has set for them.
4. Reggie Bush, RB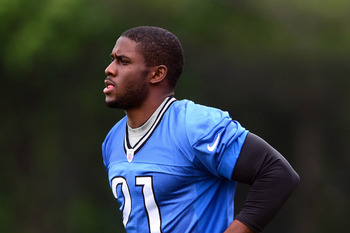 USA TODAY Sports
Reggie Bush was the biggest offseason addition the Lions made, and they were right to make him a free-agent priority.
The Lions hope that Bush can resurrect some of the big-play ability that has been missing from the offense since Jahvid Best went down.
He's certainly shown he can do that, whether it's running or catching the ball, but look for the Lions to use him primarily as a fourth receiver. In that role, he could become the offensive weapon the Lions so desperately needed in 2012.
His presence will open things up for Matthew Stafford and Calvin Johnson. In other words, Bush was right to tell the Detroitlions.com blog there's no reason why Detroit's offense can't be one of the best in the NFL.
3. Ndamukong Suh, DT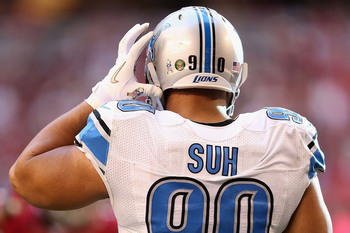 Christian Petersen/Getty Images
Love him or hate him, Ndamukong Suh is an elite defensive tackle and a key to the Lions success. Fans get wrapped up in sacks and expect him to get 10 a year after his spectacular rookie year.
That's unrealistic.
The fact is that Suh is more impactful than most defensive tackles even if he doesn't notch a single sack all year. He requires a double-team each and every down. This makes it easier on teammates like Nick Fairley, Jason Jones and Ezekiel Ansah to do what they do best—pressure the quarterback.
Suh will get his share of sacks this season, but he should be appreciated for who he is and what he does on the field : a supreme talent who can affect the game in multiple ways. Every team in the NFL would kill to have a player like him, so fans should appreciate him while he's a part of the team.
2. Matthew Stafford, QB
USA TODAY Sports
I mentioned earlier that Matthew Stafford is the Lions' most important asset, and that is true. However, he's only No. 2 on this list.
Stafford is exceptionally talented, and ultimately, the Lions offense only goes when he's firing on all cylinders. The last two seasons have shown both sides of the spectrum.
Stafford was on a different level in 2011. He shattered records and led the Lions to the playoffs for the first time in over a decade.
Last season not so much. Sure, he racked up yards, but the touchdowns, accuracy and overall command of the offense just weren't there. The results are obvious.
Stafford has all the talent in the world, the only question is can he solve some of the problems that plagued him last year.
For their part, the Lions have made several personnel changes (Bush, Warford) that will only help him in that pursuit.
1. Calvin Johnson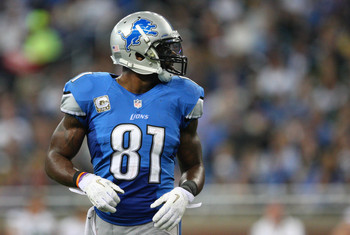 USA TODAY Sports
At this moment, Calvin Johnson is the best wideout in the NFL.
He broke Jerry Rice's single-season record for most receiving yards and did so, despite the fact that opposing defenses routinely keyed on him because the Lions had no comparable weapons on offense.
That's not to say Johnson didn't have struggles. He dropped too many passes, broken fingers or not.
That's what is so scary. Johnson could actually do better if he eliminates those drops and if the Lions develop other options on offense (which they have).
There's no telling how long his reign will last, but for now, he's the best receiver in the league and the best player the Lions have and deserving of his No. 1 ranking.
Keep Reading

Detroit Lions: Like this team?