Texas Football: 3 Things That David Ash Must Do Better in 2013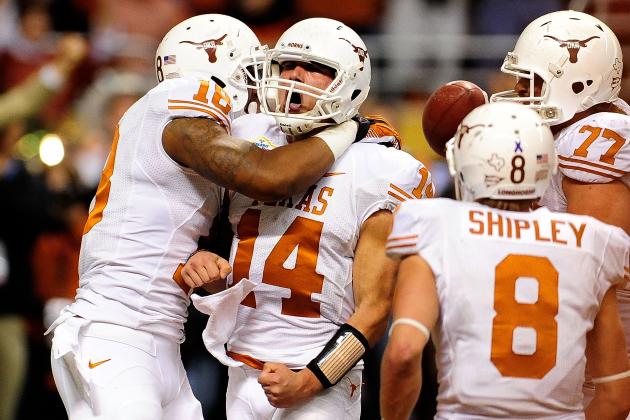 Stacy Revere/Getty Images
If Ash (14) fixes some issues with his game, he should be celebrating a Big 12 title this December.
Returning as the Big 12's most experienced quarterback, junior David Ash is poised for a signature season with the Texas Longhorns. That is, if he can improve in the red zone.
The leap Ash took from his average-at-best freshman season to his sophomore season was stellar. His accuracy jumped over 10 percentage points, he threw for 15 touchdowns, and he led a couple of game-winning drives in taking command of Texas' quarterback position.
Now Ash, along with the rest of his team, is expected to take another step forward in 2013. With the talent surrounding him, a conference title has become the standard for his much-anticipated junior season.
To do that, Ash must correct these issues with his game, starting with his woes in the red zone.
Begin Slideshow

»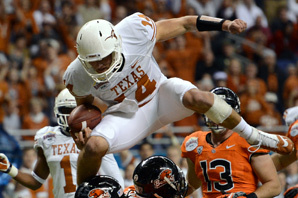 Expect Ash's legs to carry him to better fortune in the red zone, as they did for this touchdown in the Alamo Bowl. (Robert Backman/Cal Sport Media)
David Ash made strides in nearly every facet of his game last season. Unfortunately, red-zone efficiency was an exception in which he was alarmingly deficient. To take the next step as the Texas signal-caller, Ash must change this in 2013.
Texas has struggled finishing drives in the red zone since 2009, finishing 10th and ninth in the Big 12 in its first two years post-Colt McCoy. The 'Horns were better last season when they were fifth in the conference, though they only scored touchdowns 58 percent of the time in their four losses, according to ESPN's Carter Strickland.
Much of this can be chalked up to Ash, who threw seven of his eight interceptions to defenders inside the 20-yard line.
An ineffective offensive line is also to blame, but good quarterbacks do not squander possible scoring opportunities. It is no coincidence that the last two times it went to the national championship, Texas was tops in the conference in red-zone efficiency in 2009, and scored the Big 12's most red-zone touchdowns in 2005.
Ash should get an assist from an improved offensive line and the fact that he will get more freedom to use his legs, which he did for an 11-yard score in the Alamo Bowl. As long as he gets the ball in the end zone, it matters little how it got there.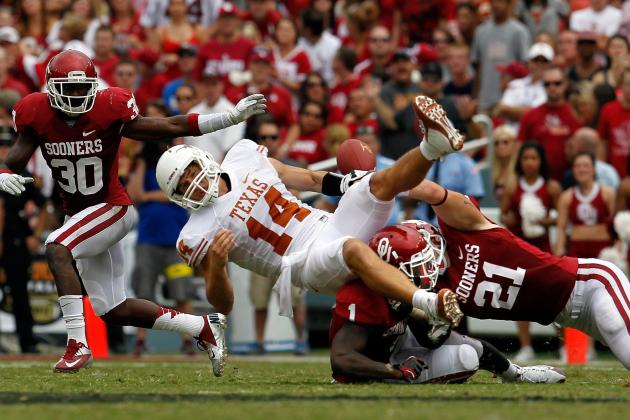 Tom Pennington/Getty Images

Having a short memory is essential to play the quarterbacks. They have to be able to make a mistake, learn from it and move on in the span of just a few minutes. David Ash has had an issue with this, and it crippled him in his three worst games of 2012.
Against Oklahoma, Kansas and TCU, Ash was completed a mere 47 percent of his passes for six interceptions and no touchdowns while his team went 1-2. In all three of these games, Ash threw a first-half interception and struggled to get the ball downfield.
He also failed to recover from these miscues, throwing a subsequent interceptions in the same quarter against both Oklahoma and Kansas. Against TCU, he turned it over on consecutive second-quarter possessions, following his pick on the first series of the game.
Whether this is the result of Ash not being able to move on from his mistakes, pressing to make up for them or simply being too afraid to make another one is up for debate. What is clear is that he was never able to correct the mistake and come back strong.
Ash has to prove he can recover from these rough starts, or we will see more of the same in 2013.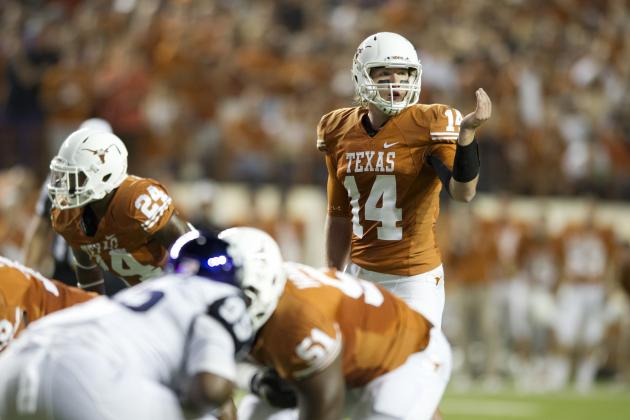 Cooper Neill/Getty Images

The final area in which Ash needs to improve is taking what the defense gives him rather than forcing the issue.
The most frustrating thing about Ash is that he consistently will force the ball or a play that is just not there. Especially downfield, where he likes to stretch the defense with his arm to guys like Mike Davis.
Ash struggled in games which defenses took this away, namely in the three disasters he threw up against Oklahoma, Kansas and TCU. Had he settled for the shorter routes that Case McCoy exploited in the latter two, he would have been much more successful.
Now that he will be running an up-tempo offense that will utilize up to five receivers at a time, Ash needs to settle down and make the safe play as needed. John Wooden hammered his mantra, "Be quick but don't hurry," to his UCLA teams, and that is the exact approach Ash needs to take in his junior season with this offense.