Contender or Pretender for the UFC's Top 10 Featherweights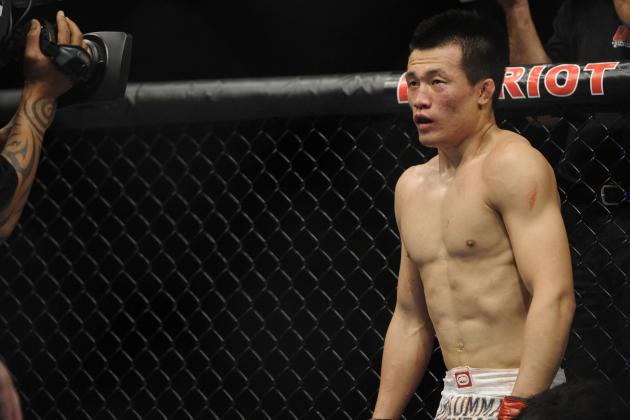 Rafael Suanes-USA TODAY Sports

In lieu of evolving into one of the most diverse and jam-packed divisions in the UFC, the talented featherweight crop has welcomed former champions, budding prospects and revived veterans along the way.
From Frankie Edgar to Nik Lentz, Chan-Sung Jung to Cub Swanson, the weight class has thrived on new arrivals and breakout performances.
But what does all of it mean considering one of the best pound-for-pound fighters on the planet in Jose Aldo sit atop the hill?
It depends. Each and every top-ranked featherweight has one innate ability to challenge the champ, but when it's all said and done, who really possesses the overall ingredient to dethrone a king?
Here's each contender and pretender currently vying for the chance to turn a top-10 ranking into a championship opportunity.
Begin Slideshow

»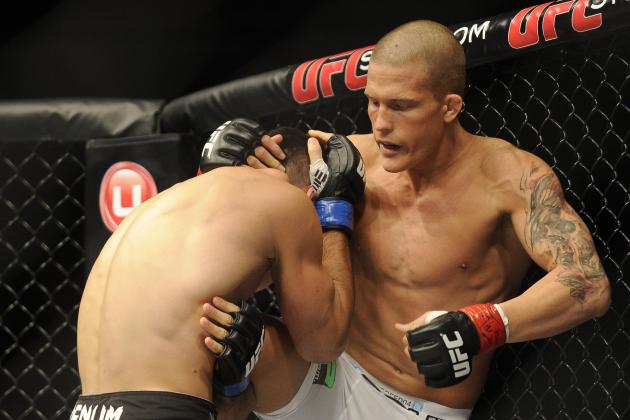 David Banks-USA TODAY Sports

Despite being ravaged at the hands of Ricardo Lamas during his last Octagon appearance, youngster Erik Koch still packs serious potential at the tail end of the featherweight top 10.
The fact of the matter is that Koch's combination of skill and youth will allow him to stay afloat even amidst the toughest of defeats.
His ability to strike, grapple and take a punch all culminate into a future full of spotlighted bouts. Given time to regroup and regain momentum, "New Breed" will continue to set trends as the pedigree of MMA's newest athletic prototype.
Contender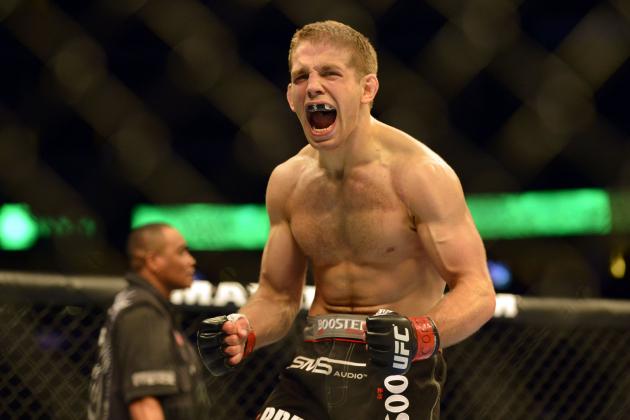 Ron Chenoy-USA TODAY Sports

Nik Lentz is more or less the unsung hero of the featherweight division. People respect his game, but he's never really mentioned when discussing title contenders and future breakout candidates.
But what Lentz has done since moving down from lightweight roughly one year ago hasn't been just good, it's been dominating. Through three tough fights, Lentz has racked off three straight victories, securing a total of 18 takedowns in the process.
If that is any indication as to how his wrestling skills will play out in a diverse division, then it may be time to give the 28-year-old the recognition he deserves.
Once Lentz is able to harness his natural power as a bulkier featherweight, opponents are going to find it very difficult to hurt him.
Contender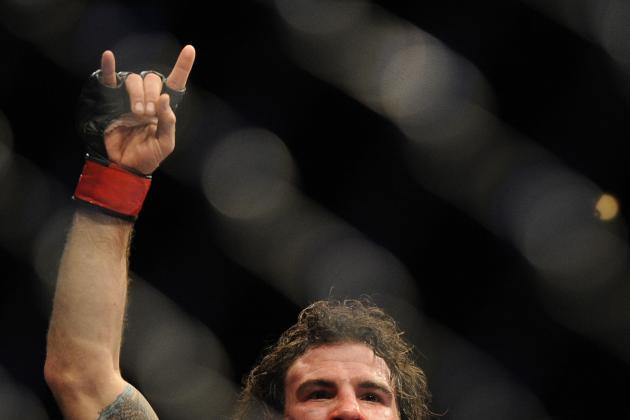 David Banks-USA TODAY Sports

This comes with much hesitation, but it's finally time to consider Clay Guida over the hill. That's a very tough opinion to share and an even bigger pill to swallow, but the fact of the matter is that the 31-year-old fan favorite hasn't looked himself in a very long time.
A recent move down from lightweight was supposed to fuel his fire, but instead, Guida hasn't been able to harness the brawler mentality that made him such an enticing draw during his days as a top 155-pound contender.
So despite a rather spectacular mustache and an even more devilish past, "The Carpenter" doesn't possess the immediate power tools to nail down top opposition going forward.
Pretender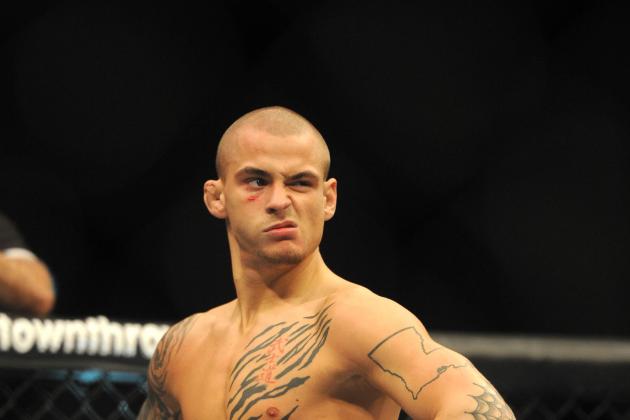 Kelvin Kuo-USA TODAY Sports

For a guy like Dustin Poirier, who many consider the biggest gamer in the featherweight division, making every punch he throws count it something he strives for.
But at this point in his career, considering he's still young enough to evolve into a complete MMA technician, "The Diamond" needs to focus all his attention on winning fights at any cost.
This may mean toning it down, implementing more defense and taking his time when encountering some of the meanest and most dangerous competitors in the world.
If the 24-year-old can right the ship quickly, there's no reason to count him out of title discussions heading into 2014.
Contender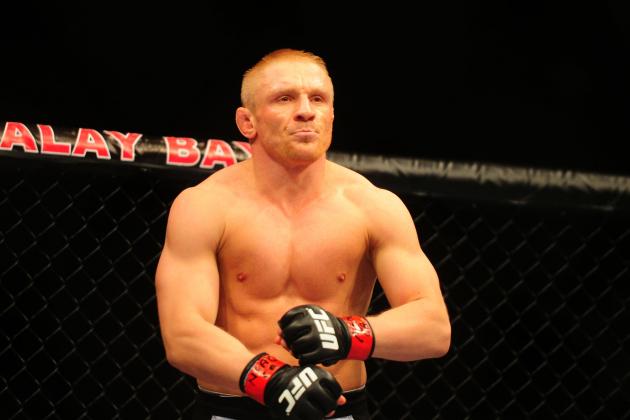 Mark J. Rebilas-USA TODAY Sports

In an MMA world often mapped by rankings, it makes little to no sense that Dennis Siver is No. 6 in the featherweight division.
With only two divisional bouts under his belt, coming against gatekeeper competition at best, the Russian-German kickboxer has done very little to impress as a potential contender just outside of the top five.
Sure, Siver packs serious kicks and has the natural big frame to wallop almost any 145-pound fighter he encounters, but odds are he's going to buckle under the intense conditioning and versatile athleticism that the weight class has to offer.
Pretender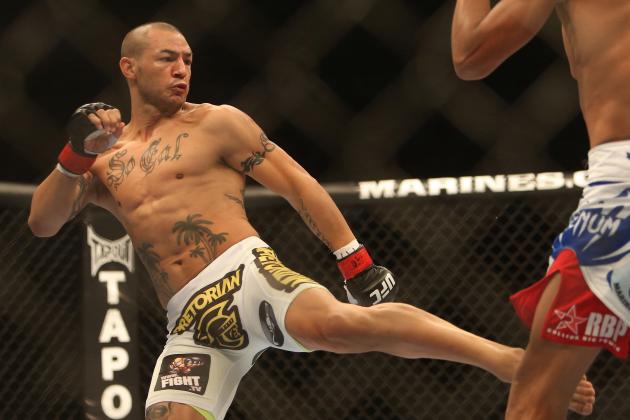 Tom Szczerbowski-USA TODAY Sports

What Cub Swanson has showcased over his last four fights has been borderline perfection. From three straight finishes over key divisional figures to his recent decision victory over Dustin Poirier, the wily veteran has transformed his game completely.
Remember, this is a guy who hadn't won back-to-back fights since 2008. Now he's racked off four straight impressive victories en route to becoming one of the hottest names currently gracing the UFC roster.
The only problem for Swanson and his hopes at a future rematch opposite champion Jose Aldo is that the division sports countless names worthy of challenging the crown.
But if the 29-year-old can maintain his momentum and dispose of Dennis Siver at UFC 162, then his time will surely come.
Contender

Tom Szczerbowski-USA TODAY Sports

Many people have been calling for a Jose Aldo vs. Chan-Sung Jung title fight for quite some time now, and for good reason.
Over his last few UFC appearances, "The Korean Zombie" has been everything but boring. From pulling off unheralded submissions to securing seven-second knockouts, the young Korean is as hot as they come.
It was borderline insulting that an injury to Anthony Pettis meant Jung's only shot at Aldo, but his divisional masterpiece will come to fruition at UFC 163 nonetheless.
Contender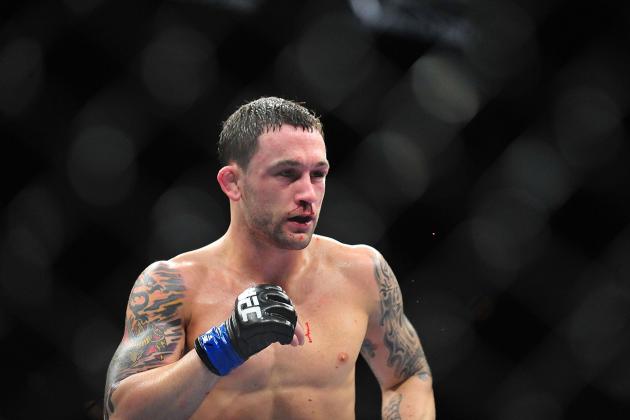 Gary A. Vasquez-USA TODAY Sports

The curious case of Frankie Edgar is truly a tantalizing mystery. For a guy who has competed in strictly title fights over the last three years, it seems unlikely that "The Answer" will get back to his elite ways anytime soon.
But if there's ever been a fighter to defy the odds and make a run at an elusive title, it's Edgar. He just has to maintain relevance and keep his name in the mix.
If the former lightweight champion can run through the always formidable Charles Oliveira at UFC 162, then he'll remind his doubters of the contending potential he overwhelmingly packs. If not, his inevitable decline could follow suit.
On The Fence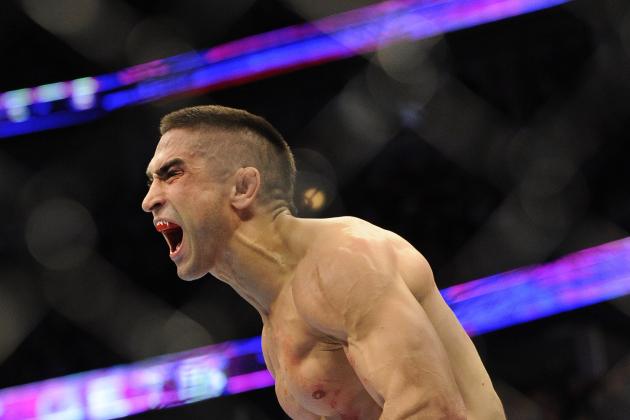 David Banks-USA TODAY Sports

Ricardo Lamas seems like an unstoppable force. He seems like a man on a mission who will stop at nothing to hoist a UFC championship high above his head. He seems ready to make that career goal a reality.
What if, for the sake of argument, Lamas is what he seems to be? What if he was on the fast track to knocking off one of the best fighters of the last five years?
If "The Bully" is what he seems, then his natural power and perfected ground-and-pound could relinquish Aldo's death grip on the division more abruptly than his stoppage of Erik Koch at UFC on Fox 6.
Contender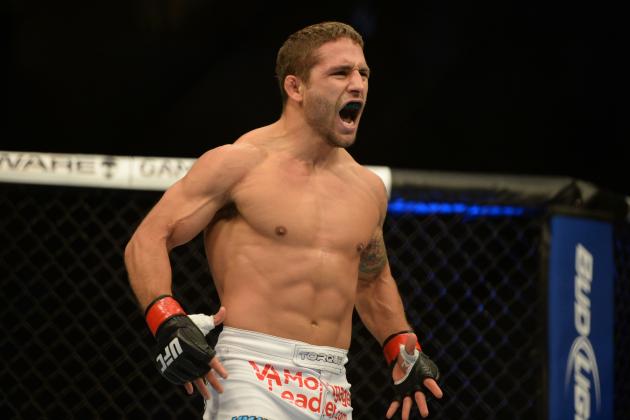 Kyle Terada-USA TODAY Sports

Calling the No. 1 ranked featherweight in the world a pretender could produce some heavy backlash, but it's something that's on the minds of more MMA onlookers than just this "crazed" writer.
The fact of the matter is that Mendes hasn't completely re-proved himself since his dramatic defeat to Jose Aldo at UFC 142 in Brazil.
Sure Mendes has racked off three straight first-round finishes, but against who? Darren Elkins? Yaotzin Meza? Cody McKenzie?
Until Mendes showcases elite skill opposite a top-10 featherweight he isn't going to gain the momentum he once possessed as a well-rounded power wrestler. It's unfortunate, but that's what happens when you run into a Jose Aldo knee with one second left in the round.
Pretender
For more UFC news and coverage, follow @DHiergesell