The Most Shocking Boxing Upset from Every Era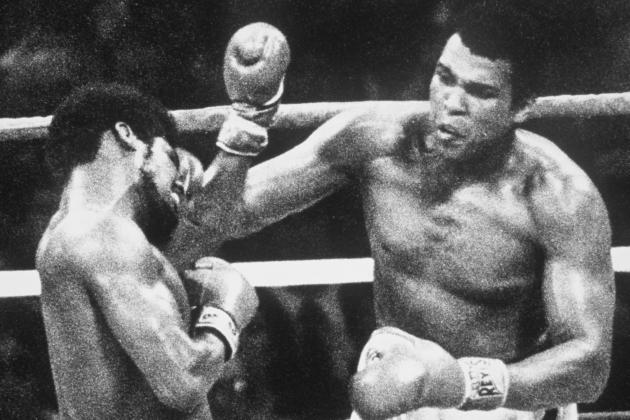 Getty Images/Getty Images

In boxing lore, the upset represents the ultimate dramatic device. With one surprising performance, the established order is overturned and a new king announces his arrival on the scene.
All but one of the entries on this list are heavyweight fights. There have been major upsets in every weight class, but in almost any case where I considered a non-heavyweight bout, there were one or more heavyweight tilts from the era that were even more significant.
It should not be surprising that a high percentage of the most shocking upsets have occurred in the heavyweight division. Traditionally the sport's glamor class, for most of boxing history, the heavyweight crown has been viewed as the biggest title in professional sports.
The men who have held the heavyweight belt have been regarded by the sporting public as giants, and it is almost always a shock to see a giant fall.
Begin Slideshow

»
John L. Sullivan was the first heavyweight champion of the gloved era and modern America's first great sporting hero, a roaring, two-fisted dynamo turned living legend and international celebrity by publications such as The National Police Gazette.
Sullivan had captured the crown from Paddy Ryan in 1882. Ryan was a much larger fighter, but the Boston Strong Boy had manhandled him. Sullivan fought with regularity throughout the mid-1880s, but by 1892, the last several years of his reign had been devoted much more to lucrative public appearances, and legendary hard drinking, than to maintaining his fighting condition.
Still, when Jim Corbett emerged from the West Coast as the next worthy challenger, it was unfathomable to most that the mild-mannered banker, Gentleman Jim, could possibly withstand the mighty John L.
Like many of boxing's most shocking upsets, this one is not such a surprise with the benefit of hindsight. Corbett had emerged from the boxing hot spot of San Francisco and had won the championship of the city's Olympic Club.
The Olympic Club was an institution of rich men who loved boxing. They put up huge purses, and to take their championship automatically made you a worthy challenger to the world champ. Corbett was 25, a gifted natural athlete and a crafty, intellectual fighter in peak physical condition.
In The Heavyweight Championship, the great boxing historian Nat Fleischer describes Sullivan's condition at the time of the fight:
More than three years had elapsed since Sullivan had beaten Kilrain. During that period John L. had not donned a glove except for exhibitions. Idleness, the enervating life of the stage, long nights of carousal with boon companions, all had taken toll of his vitality, shortened his breath, and increased his girth. He was no longer the iron-sinewed youth who had demolished Steve Taylor at Harry Hill's eleven years before. It is doubtful if even Muldoon, who practically rebuilt Sullivan for the Kilrain combat, could have done much toward improving his physical condition at this time.
In the fight, Corbett used speed and clever feints to batter Sullivan from every angle. Sullivan withstood a terrible beating for 20 long rounds before collapsing from exhaustion in the 21st. The public response was universal shock and surprise. The complete opposite of Sullivan in personality, Corbett was never able to fully replace the figure he had toppled from greatness.
By 1915, Jack Johnson, the first African-American to hold the world heavyweight title, had reigned for seven years. His very existence as the toughest man on the planet was a source of anxiety to the racist power structure of the day.
The swaggering Johnson took every pain to boldly flaunt convention and assert his full rights as a man. He was brash and cocky, and most troubling of all to contemporary mores, he associated with white women, even taking one as his wife.
He also consistently turned back every white hope placed in front of him. In 1912, the great James Jeffries had come out of retirement to challenge Johnson and was handed an embarrassing, one-sided beatdown.
Eventually, a legal witch hunt was initiated against Johnson, and the world champ was forced to flee to Europe and live abroad. Meanwhile, in America, the search for a white man who could beat Johnson continued.
Few believed the gigantic, 6'6" Jess Willard was a strong candidate for the job. When he faced Johnson in Havana, the fight started as expected, with the champion piling a beating on the challenger round after round.
But the big cowboy took it all and kept coming. In Round 26, Johnson went down in the hot Cuban sun and was counted out.
Johnson later allowed a statement to be published in which he claimed to have thrown the fight, but Nat Fleischer, noted historian and eyewitness to the bout, strongly disputed the claim in his book The Heavyweight Championship, supporting his own claims with extensive quotes from Johnson's trainer for the fight, Tom Flanagan.
Instead, the picture Fleischer paints is the traditional one, of a great, but over-the-hill, champ going down to a hungry, well-prepared challenger.
In the United States, the 1920s are remembered as an era of national good times and partying. Driven by the explosion of radio broadcasting, professional sports entered a golden age of popularity.
And in the sport's world, there was no bigger star than heavyweight champion Jack Dempsey, save perhaps Babe Ruth.
The Manassa Mauler fought with an explosive, charismatic style, attacking his opponents like a whirling buzz saw. He had emerged as a kind of boxing, barnstorming hobo, traveling the country and fighting whoever would step in front of him.
In 1919, he had chopped down Jess Willard like a tree, winning the championship in three violent rounds. Although he never faced such great African-American fighters as Harry Wills, to the general public he was the unquestioned champ.
By 1926, Gene Tunney had built an impressive record in the light heavyweight ranks. His only loss had come against the legendary Harry Greb, and he had avenged it twice.
Tunney was well-regarded as an intelligent and crafty technician, but Dempsey was seen as a force of nature, a primal power whose triumph was inevitable.
Instead, Tunney fought a smart, tactical fight, using lateral movement and angles to thwart Dempsey's aggression and make him pay for it. In The Heavyweight Championship, Nat Fleischer describes the action:
After the fourth round Tunney had the fight well in hand and knew it. Methodically, as coolly as if he were boxing a rough novice instead of a word's champion, Gene jabbed and ripped Dempsey to pieces. Jack was exhausted, dazed and staggering at the final bell. He barely escaped a clean knockout.
Jim Braddock was the most improbable heavyweight champion during the era before the title devolved into various separate alphabet soup claims. His story is familiar now thanks to the motion picture starring Russell Crowe: He was a former light heavyweight contender who struggled to feed his family as a dockworker during the worst years of the depression, prior to launching his comeback.
Max Baer had survived a punishing battle with Max Schmeling before stopping the former champion, then captured the belt by brutally dispatching the giant Primo Carnera in 1934 in a manner that had reminded everybody of Dempsey taking down Willard.
Baer was a natural entertainer and a popular enough champion, especially in Hollywood, where he had starred in a film, The Prizefighter and the Lady. But in Depression-era America, it was Braddock's story that captured the public's imagination. Sportswriter Francis Albertani dubbed him "The Cinderella Man."
Baer faced Braddock almost a year after winning the belt from Carnera. In The Heavyweight Championship, Fleischer describes Baer as refusing to take his bout with Braddock seriously, training in a "slap-dash, careless manner."
Baer came into the fight in less-than-fighting condition and paid dearly. Braddock was prepared to put everything he had into his big chance, and he fought a tactically brilliant, counterpunching fight that completely neutered the usually explosive Baer.
In the years following World War II, the United States economy boomed with growth and the sport of boxing entered a new golden age. There was no bigger star in the sport than Sugar Ray Robinson, the pound-for-pound king.
Robinson had turned professional in 1940 and had already become a star by the time he entered the Army during the war. He won the welterweight crown in 1946 and vacated that belt to capture the middleweight title from longtime rival Jake LaMotta in 1951.
Going into his 1951 defense against Randy Turpin, Robinson had built a record of 128-1-2, astonishing for an era when everybody fought everybody else, and often. Turpin was a legitimate middleweight contender, to be sure. But Robinson was already an immortal by this point, and he was still in his prime.
But the tough-nosed Turpin turned in the fight of his life against Robinson and lifted the belt. Robinson reclaimed the title two months later by Round 10 TKO. Robinson would continue to reign at, or near, the top of the middleweight division for the rest of the decade.
Turpin would remain a well-regarded competitor into the early 1960s. He tragically committed suicide a few years after retiring.
In retrospect, everybody knows this was no upset. Muhammad Ali, then still known as Cassius Clay, has gone on to establish himself as the greatest heavyweight champion of all time, while Liston is remembered mostly by the hardcore fans, or else as just a notch on Ali's resume.
But at the time, most boxing experts viewed it as a foregone conclusion that Liston would steamroll the brash Louisville Lip. To contemporary observers, Liston appeared to be an unstoppable boxing machine.
He had a battering ram jab and a sledgehammer right, both punches made deadly by the astonishing 84" reach packed onto his 6'1" body. Heading into his defense against Ali in 1964, he had been dominant for a decade and was coming off consecutive Round 1 knockouts of Floyd Patterson.
But in the ring, Liston had no answer for Ali's blinding speed, which was unprecedented in the history of the heavyweight division. Ali outclassed the champion, only running into trouble in the fifth round, when he was temporarily blinded by a mysterious substance that is widely believed to have been rubbed on Liston's gloves as a dirty tactic. Ali won by TKO when Liston quit on his stool after Round 6.
Ali won the rematch in Lewiston, Maine, by Round 1 KO. Liston would fight for another six years, dying under mysterious circumstances in December of 1970, just six months after defeating Chuck Wepner in his final fight.
Leon Spinks had captured the boxing public's interest as a gold-medal winner on the legendary 1976 Olympic team. But when Muhammad Ali chose the then-6-0-1 Spinks as the opponent for his February of 1978 fight, a lot of fans scoffed in disgust.
By this point in his career, Ali was badly shopworn, having endured some of the sport's most legendary wars, and he trained poorly for the fight with the upstart Spinks. Even so, it seemed incomprehensible that a fighter with less than eight professional fights could provide an adequate challenge for the legendary Ali.
Instead, Spinks gave the performance of his career, winning a split decision from the champion that really wasn't very close. The fight was named The Ring's 1978 Fight of the Year.
Ali rededicated himself to his training and won a clear unanimous decision in the September rematch, becoming the first man to ever win the world heavyweight championship three times. Spinks would never again come close to his early career glory. He retired in 1995, a journeyman with a career record of 26-17-3, with 14 knockouts.
When Mike Tyson went down to James "Buster" Douglas in Tokyo in February of 1990, I was stationed with the Army in Germany, on field maneuvers at the Hohenfels training area. News could reach you slowly when you were there, and in the days immediately following the fight, Tyson's downfall was the first piece of information exchanged at chow lines, supply pickups and evac points.
Tyson going down in defeat in 1990 was nearly impossible to comprehend. He enjoyed a level of stardom unknown to all but a few of his predecessors, and unmatched in the years since.
The fight was competitive, and Tyson even managed to knock Douglas down in Round 8. But Douglas kept coming all night, and by Round 10, he had the fight under control and was able to knock the champ out.
This was another upset that doesn't seem so surprising in hindsight. After becoming the youngest heavyweight champion in history, Tyson's life had begun to spiral out of control following the death of his mentor and trainer, Cus D'Amato.
Eight months and 15 pounds after his great night against Tyson in Tokyo, Douglas dropped the belt to Evander Holyfield. Tyson would end up losing four years of his career from 1991 to 1995, serving a prison sentence after being convicted of rape. He would eventually regain portions of the heavyweight crown, but he would never be the same dominant force that he was early in his career.
By 2003, Wladimir Klitschko was the WBO heavyweight champion, having captured the belt by knocking down Chris Byrd twice on the way to a one-sided unanimous decision. Heading into his fight with Corrie Sanders, he had spent 2002 stopping Frans Botha, Ray Mercer and Jameel McCline.
True enough, Klitschko had suffered a Round 11 TKO against the lightly regarded Ross Puritty in 1998. But five years later, he seemed firmly back on track as the future of the division.
Klitschko controlled Sanders for most of the first round with his potent jab, but Sanders managed to catch him inside the final minute of the round, and turned the action ugly. He floored Klitschko twice within the last 30 seconds of the first.
Klitschko came out for the second on unsteady legs and got dropped again just 10 seconds into the round. Klitschko made it back to his feet, and Sanders continued the assault before the referee waved the action off.
Sanders lost by TKO to older brother Vitali Klitschko in his next fight and never faced another significant opponent. Wladimir stumbled again against Lamon Brewster the next year, getting TKO'd once more. However, eventually he came under the guidance of Emanuel Steward and has dominated everybody he has faced for the past nine years.