Fans Actually Show up for the Prelims
It was nice to see people in the crowd when the first preliminary card fight began at UFC 161. Far too often when the camera scans the first few rows, we see only empty seats, but that was not the case on Saturday night in Winnipeg.
I'd say the arena is about 85-90% full before the first fight. Very impressive, Winnipeg. They're loving everything.

— Ariel Helwani (@arielhelwani) June 15, 2013
I Don't Know if Yves Jabouin Has Kids, But He Got an Early Father's Day Gift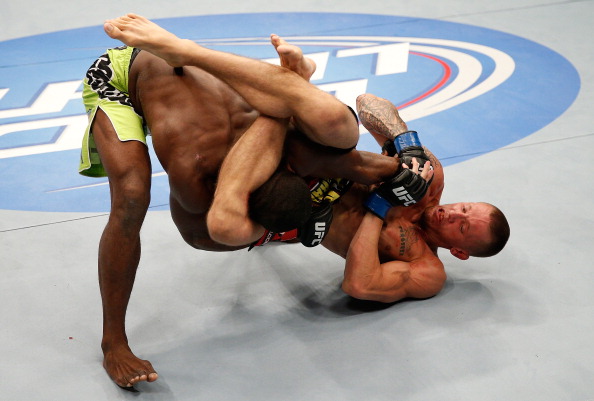 You could argue that Yves Jabouin deserved the victory in the opening bout on the UFC 161 fight card, but you would be wrong. He did not deserve the win over Dustin Pague.
Pague's problem was that he dominated the fight from his back. Pague threw multiple submission attempts at Jabouin from his back, forcing Jabouin to play defense for most of the fight. Jabouin was able to defend every submission attempt, but how that translates to a win is beyond me.
We all know that defense is one of the criteria for scoring an MMA fight, but shouldn't offense and aggression score more than just defense? I'll answer that if you are puzzled—yes, it should.
Pague got the shaft from two of the judges. They seemed to see that Jabouin was in top position for most of the fight and scored in his favor, despite the fact that he was the one in danger for most of that time.
I know this is nothing new. The fighter in top position has been gifted victories before, but at some point, the judges have to get it right...don't they?
This is a stick-up, everybody get face down.... #UFC161

— Chuck Mindenhall (@ChuckMindenhall) June 15, 2013
Mitch Clarke's Celebration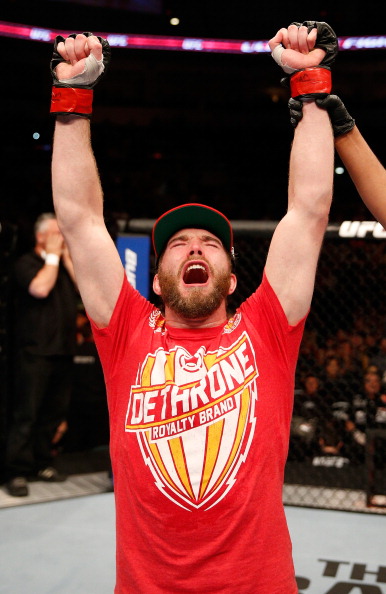 Mitch Clarke's bout with John Maguire may have been a mostly forgettable affair, but Clarke's celebration after earning the unanimous decision was memorable.
After the scores were read, Clarke's eyes welled up as he said, "That's all I wanted."
The win was also something that Clarke very much needed. The win improved his record to 1-2, most likely saving his job with the UFC.
The loss leaves Maguire's future in doubt. His record is now 2-3 with the promotion, with all three losses coming in his last three fights.
Ugly Fight, But the Right Call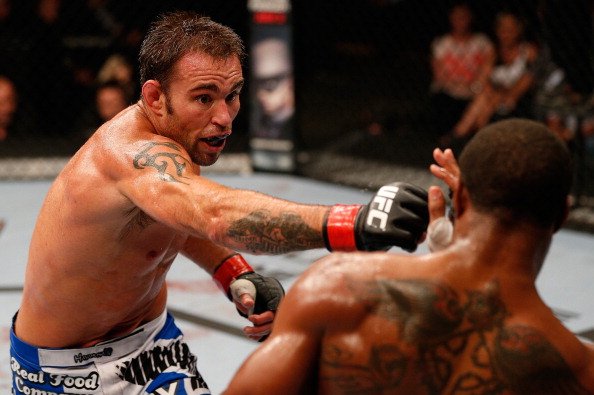 There was some controversy around the Jake Shields vs. Tyron Woodley decision.
Won rounds 1 & 2 by going forward. No offense from Woodley early "@danawhite: Does anyone think Jake won that fight!?! WTF???"

— Kenny Florian (@kennyflorian) June 16, 2013
The fight was not the most exciting scrap of the night, but to call Shields' win controversial or a robbery is just plain wrong.
Woodley was outstruck by Shields (57 to 35 in significant strikes and 91 to 53 overall), and all of his offense was pretty much neutralized by Shields. Shields moved forward, attempted takedowns and controlled the fight in the clinch. Yes, Woodley was able to stop all 18 of Shields' takedown attempts, but he did nothing after that.
Was it pretty? Not at all, but Woodley was unable to hold any advantageous position. The best moment for Woodley came when he landed a spinning backfist that Shields shrugged off like nothing.
Let's call this one an ugly grinding decision and put it behind us.
What's Next for Pat Barry?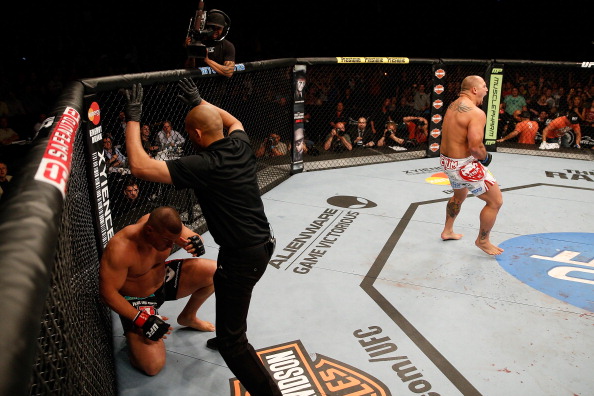 You have to wonder what the UFC is going to do with Pat Barry. He's 5-6 with the promotion and has never put together two consecutive victories since signing in December 2008.
Normally, that kind of record would spell release for a fighter, but Barry has charisma and has gone to the end of the third round only one time during his UFC tenure.
That puts him in the group of fighters who always "bring it" and look to end their fights. While they may never earn title shots and struggle to put together winning streaks, they put fans in the seats, and that has a lot of value to the UFC.
The question now is: Just how many butts does Barry put in the seats and will the UFC be content paying for that value?
Do Dana White's Tweets Hurt More Than Help?
I imagine that stepping into a locked cage and fighting is a stressful way to make a living. Knowing that your boss is also quick to blast you to his more than 2.5 million Twitter followers has to increase that stress level.
Shortly after Ryan Jimmo had his hand raised in victory on Saturday, Dana White tweeted:
That fight SUCKED!!!!!

— Dana White (@danawhite) June 16, 2013
One has to wonder how that affects a fighter psychologically going forward.
Sure, negative criticism is a part of every job, but that's usually delivered one on one. How would you feel if your negative job performance review was sent to 2.5 million people? I'd imagine pretty lousy, maybe even just a little angry.
Roy Nelson May Have Lost Any Bargaining Strength He Had Before UFC 161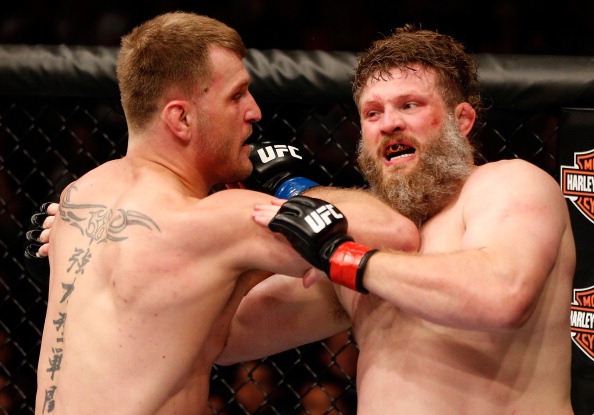 UFC 161 marked the end of Roy Nelson's contract with the UFC. Had Nelson delivered a strong performance, he would have picked up a bargaining chip in negotiations. To be kind, Nelson did not deliver a strong performance.
Stipe Miocic outworked Nelson on Saturday, and "Big Country" ran out of gas early. I would not be surprised if his performance weakened his position to the point where his next UFC offer will be worse than the one he turned down prior to UFC 161.
Nelson is a popular fighter, but the UFC is not about any one fighter—it is about the brand. There is no doubt that the promotion will attempt to re-sign Nelson, but the UFC will re-sign him on its terms, not his.
The UFC has let popular fighters walk before, and it will do so again. If Nelson doubts that can happen to him, he's misguided.
This will be an interesting negotiation to follow.
Did the Fight Card Suck?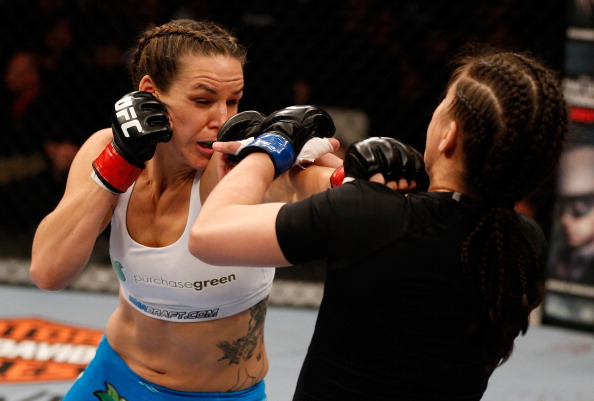 I'm loath to say that any fight card sucks. After all, we're talking about individuals stepping into a cage and attempting to leave another individual in a sweaty, bloody, broken heap. That's not something most of us would be willing to do as entertainment for others no matter how much we think or say that we would.
Instead, I'll say that the card didn't live up to my expectations.
I thought that Tyron Woodley would have been able to do more than he did against Jake Shields, and I thought that Roy Nelson would look to deliver a much more memorable performance in his contract-ending fight against Stipe Miocic. I also felt that Alexis Davis suffered a bit from Octagon jitters, which affected her performance against Rosi Sexton.
The above took away from the value of the card, but I wouldn't go as far as saying the card sucked, and neither should you.