Phil Mickelson took the next step in his quest to capture his first career U.S. Open title on Saturday, shooting one-under par to remain atop the leaderboard in Round 3 action.
"Lefty" started Day 3 with plenty of pressure to continue his standout play at Merion. According to ESPN Stats & Info, he's been the 36-hole leader at the U.S. Open three times now but failed to win in his previous two attempts.
3rd time's a charm for Phil? This is Mickelson's 3rd 36-hole lead at the U.S. Open ('99, '04). He finished runner-up the previous 2 times.

— ESPN Stats & Info (@ESPNStatsInfo) June 15, 2013
In the early going, it appeared that Mickelson would be adding to that trend. As Bob Harig of ESPN tweeted, Mickelson failed to collect a single birdie in the first few holes and fell three back from the lead.
Phil, who began day tied for lead, now 3 back, no brdies #USOpen

— Bob Harig (@BobHarig) June 15, 2013
However, Mickelson wasn't done quite yet. He survived the opening nine holes with just two bogeys and collecting seven pars to open up his round, slowly gaining momentum on the greens. Putts like this one are the reason he remained in contention despite the rocky start.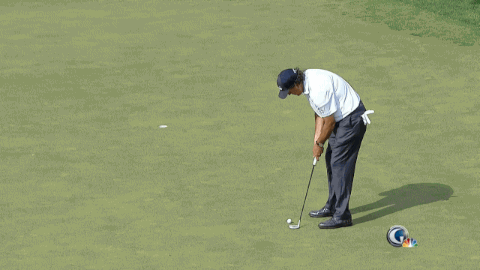 Hitting the back nine, Mickelson played them as well as anybody has in the tournament. He started out with back-to-back birdies on Nos. 9 and 10. His short game was sharp as he placed several shots, including this one, near the hole.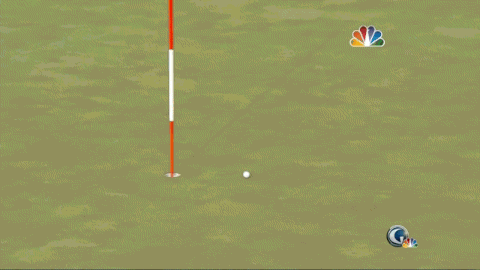 He would par holes 11-16 and miss an opportunity to take the lead with a birdie putt on No. 16. But he soon made up for it by regaining the top position with this clutch putt on No. 17.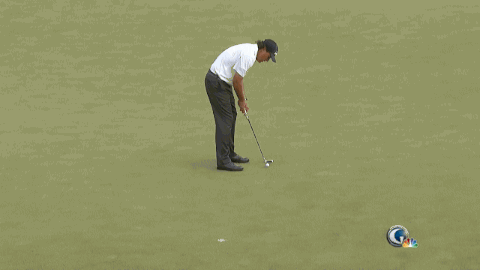 Mickelson would go on to bogey No. 18 but retained the clubhouse lead on Day 3 at Merion with even-par for the day and one-under par for the tournament.
As Mike Shumann of ABC7 pointed out, Lefty could be in for the greatest day ever. He will turn 43 on Father's Day with a shot at capturing another U.S. Open.
Phil Mickelson turns 43 on Father's day at the U.S. Open. Birthday-Dad's day and an Open Title ? Hollywood ending. Just saying.

— Mike Shumann (@MikeShumann) June 16, 2013
With one of golf's biggest stars angling for a title after three career runner-up finishes, many viewers, including Seth Davis of CBS, will be glued to the TV.
Gonna be a riveting final round tomorrow. I really hope Phil wins it. Best of all it's Fathers Day so I get to sit on the couch and watch!

— Seth Davis (@SethDavisHoops) June 16, 2013
Regardless of how he finishes, Lefty is making the final day of the U.S. Open compelling. Sunday could wind up being one of his finest moments.