WWE Payback Live Results, Reaction and Analysis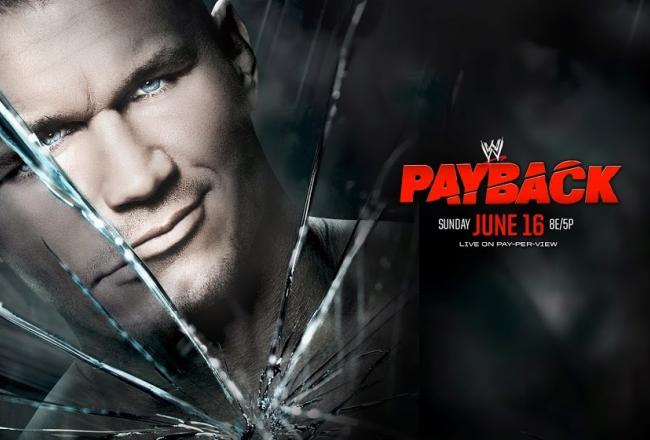 WWE.com

Welcome to the Bleacher Report live coverage for WWE's first Payback pay-per-view.
The card is stacked with six title matches and also features the highly anticipated return of CM Punk against Chris Jericho.
We have AJ Lee vs. Divas champion Kaitlyn; The Shield defending their U.S. and tag titles; Wade Barrett defending his intercontinental title against The Miz and Curtis Axel; world champion Dolph Ziggler defending against Alberto Del Rio; and John Cena facing Ryback in a Three Stages of Hell match for the WWE title.
Will Daniel Bryan finally get over his weakest link issues?
Can The Shield retain all their gold against three of WWE's best?
Will CM Punk turn babyface in his hometown of Chicago?
Will The Wyatt Family make their debut at the expense of someone else?
And lastly, will Triple H, Stephanie and Vince McMahon have any involvement?
Make sure to bookmark this page and come back Sunday at the start of the pre-show for live coverage of all the action as it happens on PPV.
Thanks for reading and feel free to leave your thoughts below. Follow me on Twitter @BR_Doctor.
Thank you all for joining me for live coverage of WWE Payback here on Bleacher Report. Make sure to come back tomorrow for live coverage of all the Payback fallout on Raw.
Good night everyone, and Happy Father's day to all the dads out there.
The ambulance needs an ambulance. @WWE #PAYBACK

— Joey Styles (@JoeyStyles) June 17, 2013
What a great PPV. I might not have liked all the outcomes, but I liked every match that took place, which is not something I can usually say at a PPV.
The impending return of RVD is likely to be a huge topic of discussion, but I think the match of the night is going to be a tough one to call.
I enjoyed the main event a lot more than I thought I would. Both guys put each other through hell.
Cena celebrates in the ring as the ambulance drives away with Ryback inside, although I don't think it's street legal with all those missing parts.
Ryback vs. John Cena WWE Title Match (Ambulance) Part 6
Cena picks up the door and hits Ryback with it. I haven't seen anyone use a car door as a weapon since Tommy Dreamer in ECW.
Ryback rips a fender off the ambulance and starts beating on Cena with it. Ryback gets back dropped onto the hood and Cena goes on top of the ambulance to rip off the light box on top.
He uses it like a bat to hit Ryback, taking him down again. Cena gets Ryback on top of the ambulance and AA's him through the roof of the ambulance for the win.
Winner and still WWE Champion: John Cena
Ryback vs. John Cena WWE Title Match (Ambulance) Part 5
Ryback is back up quickly and he starts to take the announce table apart. He grabs Cena and powerbombs him through the announce table.
Cena's body is going to be battered and bruised tomorrow. He has taken some big falls.
Ryback tells Cena it only gets worse from here and picks him up to try to get him over to the ambulance.
Ryback gets Cena to the ambulance, but Cena gets away and shoves Ryback into the ambulance.
Cena opens up a compartment on the ambulance and grabs a crutch, but Ryback kicks him before he can use it. Ryback tries for a punch, and Cena moves, causing Ryback to punch right through the window of the ambulance.
He picks up Ryback and runs him into the side of the ambulance. Ryback fights back, but Cena Irish whips him into the open ambulance door, taking the whole thing off the ambulance.
Ryback vs. John Cena WWE Title Match (Tables) Part 4
Cena gets another table from under the ring and sets it up inside, but he doesn't see Ryback with the steps.
Ryback puts him on the table by hitting him with the steps, but he tries to smash the steps through Cena and the table, only to see Cena move out of the way.
Ryback throws the steps at Cena again, and they go flying up the aisle. Cena starts to fight back with some signatures, but Ryback plants him with a huge spinebuster.
Ryback lines up for the Meat Hook in the corner and hits it to put Cena down yet again. He goes outside for a third table which he brings in the ring and sets it up.
He grabs Cena for Shell Shocked, but Cena gets out and puts Ryback through the table with an AA to win the second fall.
Winner of the second fall: John Cena
Ryback vs. John Cena WWE Title Match (Tables) Part 3
Ryback starts off with a hard shoulder block in the corner to keep Cena down before grabbing a table from under the ring.
Ryback picks up Cena for a powerbomb, but Cena counters, only to get taken down with a standing spear by Ryback, which of course makes the crowd chant Goldberg.
Ryback presses Cena above his head, but Cena squirms out and grabs Ryback on his shoulders. Ryback does the smartest thing he's ever done and flips the table over before Cena can put him through it.
Cena gets sent into the steel steps outside the ring, and the steps go flying. Ryback tosses the steps in the ring before rolling Cena back in the ring.
The crowd is half behind Cena, half against him, but nobody is cheering for Ryback as he hits Cena with the steps.
Ryback throws the steps at Cena, but he moves and they end up breaking the table. Cena grabs the steps and knocks Ryback to the mat.
Ryback vs. John Cena WWE Title Match (Lumberjack) Part 2
Ryback tosses Cena out a third time, but this time some babyfaces come to help Cena. Ryback is in firm control as he stomps away at Cena.
Ryback gets tossed out of the ring, but none of the lumberjacks will touch him. He gets back in the ring and Cena starts going to work with signatures.
Ryback avoids the Five Knuckle Shuffle and he presses Cena over his head and throws him out of the ring.
The lumberjacks all converge on Cena to put him in the ring again. Ryback calls for Shell Shocked, but Cena counters and sends Ryback out of the ring.
Cesaro tries to pick him up and gets shoved, causing him to go after Ryback. An all out brawl breaks out as Cena leaps from the top rope onto all of them.
There are about three tons of wrestlers all fighting on one side of the ring. Both men get sent back into the ring worse than they left it.
Cena trips Ryback and locks in the STF. Ryback is too powerful and he gets up and puts Cena up for Shell Shocked and the first pin.
Winner of the first stage: Ryback
Ryback vs. John Cena WWE Title Match (Lumberjack) Part 1
Cena's reaction tonight is better than he got last year at Extreme Rules in Chicago, but it is still mostly boos. Cena looks at the camera and says he loves this town.
It doesn't seem like the Chicago crowd is into either of them during the intros, although I can see a lot of Cena shirts in the crowd.
The bell rings and the first fall is underway. Ryback shoves Cena to the mat and starts pounding on him in the corner.
Cena comes back for a moment, but Ryback grabs him in a powerslam for a two count. Let's go Cena/Cena sucks chants break out.
Cena tries for a cross body, but Ryback grabs him and hits a fallaway slam. I like how Cole brings up a lumberjack match where King Kong Bundy took out Hogan.
The lumberjacks argue as they roll Cena back in the ring at one point. Cena gets tossed out a second time and some heels beat on him before putting him back in the ring.
The lumberjacks make their way out for the first fall as we get set for the main event of the evening.
I don't think we have seen a bad match all night. Even the ones where the outcome was not ideal, the matches still delivered.
The main event 3 Stages of Hell match is up next.
I am really surprised Orton and Bryan did not have a confrontation, but that might be saved for Raw.
The Shield vs. Randy Orton and Daniel Bryan Part 3
Bryan hits his series of kicks to Reigns for a close two count. Bryan sends Rollins and Reigns out of the ring, but he ends up hitting Orton when he goes for a suicide dive on accident.
Reigns puts Bryan on his shoulders before tagging in Rollins, but Bryan breaks free and shoves Reigns into Rollins on the ropes.
Bryan goes up top and hits a huge double underhook superplex for a close two count.
Bryan puts Rollins in the No Lock, but Reigns causes a distraction to break the hold. Bryan tries for it again, and again Reigns stops him.
Orton and Bryan have some issues and Bryan gets hit with a spear and knee to the head from Rollins for the pin and the win.
Winners: The Shield
That was a fun match. There was never a break in the action, and everyone looked like they were on top of their game.
The Shield vs. Randy Orton and Daniel Bryan Part 2
Orton hits the DDT on Rollins before lining up for an RKO, but Rollins rolls out of the ring. Reigns ends up taking out Orton with a huge shot to the head.
Rollins and Reigns take control of the match, keeping Orton grounded in their corner.
The crowd starts an RVD chant again as Orton takes a beating in The Shield's corner. Rollins taunts Bryan before sending Orton's head into the second turnbuckle.
Orton gets hit with a Samoan Drop from Reigns for a two count. Rollins comes back in and the crowd tries to get behind Orton as he comes back with a European uppercut.
Rollins hits a kick to take him back down to the mat. Reigns comes in, but Orton ends up getting the advantage, sending Rollins into Reigns with a T-Bone suplex.
Bryan gets the tag and he dropkicks both men from the top rope before he starts going nuts.
The Shield vs. Randy Orton and Daniel Bryan Part 1
Orton is wearing black and white trunks. I don't think he has worn anything but dark colors in a very long time.
Bryan gets a massive reaction when he comes down, as he should. Get ready for a great match.
Reigns and Bryan kick things off. Reigns puts Bryan in the corner, but Bryan counters and starts kicking Reigns.
Bryan does his back flip in the corner, but Reigns takes his head off with a clothesline. Rollins tags in and gets a few shots in before tagging Reigns back in.
Reigns grounds Bryan with a headlock. Bryan tries to fight out of it, but Reigns puts him down with a knee to the gut.
Bryan and Reigns both make the tag and Orton goes right to work on Rollins with clotheslines and a powerslam.
Orton grabs Rollins for a rope-hung DDT, but he ends up hitting it on Reigns instead. Orton takes a boot to the face, but he grabs Rollins coming off the rope for another powerslam and a near fall.
The Shield make their way to the ring for the Tag title match, which might see Bryan get the only pop as large as Punk's.
Orton certainly got a nice reaction when his music hit.
I am very curious to see if Punk will indeed turn babyface, or if he will continue to be a heel with Heyman as a manager.
Punk vs. Jericho Part 4
Jericho grabs Punk's legs for the Walls, but Punk counters with a cradle for a near fall. They start trading shots in the middle of the ring and Punk gets the upper hand.
He goes for a hurricanrana, but Jericho catches him and locks in the Walls again. Heyman pleads with Punk not to tap as he sits in agony in the Walls of Jericho.
Punk screams NO and starts to hit Jericho's arm, breaking it into a single leg crab. Punk fights up to his feet and he hits Jericho with a ton of right hands.
Punk nails Jericho with two GTSs for the pin and the win.
Winner: CM Punk
That was a great match. Not the best from these two, but certainly a great way for Punk to return to WWE in his hometown.
I think a lot of people will peg this as the match of the night, and they might be right.
Punk vs. Jericho Part 3
Punk calls for the GTS. He gets Jericho up, but Jericho counters and goes for the Walls again. Heyman gets on the apron and distracts Jericho.
Punk counters again, but Jericho counters him and almost wins with a rollup.
Jericho gets pissed and starts kicking Punk on the ground and yelling at him. Punk comes back and starts to build some offense with a running knee and clothesline in the corner.
Punk goes to the top rope and hits the Macho Man elbow. He calls for the GTS again and this time he hits it.
Jericho kicks out at the last second and Punk seems frustrated. The crowd chants one more time and Punk nods his head in agreement.
He gets Jericho up, but Jericho fights out of it. He goes for a Codebreaker, but Punk shoves him off and clotheslines him over the top rope before hitting a suicide dive to Jericho outside the ring.
Punk goes to the top rope and leaps off right into a Codebreaker from Jericho, which makes Heyman freak out, until Punk kicks out.
Jericho starts hitting elbows on Punk as the crowd chants this is awesome.
Punk vs. Jericho Part 2
Punk locks in a short-arm scissors, but Jericho fights his way out by punching Punk in the head numerous times.
Jericho runs right into a boot from Punk, but Jericho avoids the springboard clothesline.
Jericho takes control and hits a one-handed bulldog. Punk avoids the lionsault and hits a swinging neckbreaker for a two count on Y2J.
Punk hits the high knee in the corner, which gets a big pop.
Jericho ends up locking the Walls of Jericho, but Punk counters out and locks in a standing Anaconda Vice.
Punk takes him down to the mat and locks it in.Jericho almost taps, but he manages to a foot to the ropes to break the hold.
Chris Jericho vs. CM Punk Part 1
Punk comes out to a nice pop from the crowd. He is wearing a Gracie Jiu Jitsu hoodie. I wonder if he got it from Eve Torres.
The crowd chants Punk's name once his music stops and he soaks in the reaction from his hometown crowd.
I love that Punk has Blackhawks stuff on his trunks.
They lock up after the bell, and Jericho backs him into the corner. They start shoving each other before locking up again.
They do a little chain wrestling, countering each other with every move. Punk takes down Jericho with a dropkick before locking him in a headlock.
Punk works over Jericho's arm a bit, but Jericho fires right back with a hard chop to the chest.
Jericho rips Punk off the middle rope before sending him over the top rope with a clothesline. Jericho dropkicks Punk through the ropes into the barricade as he tries to get back in the ring.
Jericho tries for the triangle dropkick, but Punk pulls his neck down over the top rope. Punk climbs to the top rope and comes off with a double axe handle for a two count.
We get a promo for Chris Jericho and CM Punk, which probably means the match is up next.
Ricardo Rodriguez and Del Rio come out again and Del Rio asks for a cheer for his title win, but he gets boos. He says he proved to the world why he deserves to be the champion.
He says he does everything for the fans, and tonight he asks for their support. The boos get louder.
I can't tell if he is trying to turn heel or not. He is putting himself over in a way most babyfaces wouldn't.
What the hell, Mathews! Why would you bad-mouth the Cubs in Chicago?
This article is
What is the duplicate article?
Why is this article offensive?
Where is this article plagiarized from?
Why is this article poorly edited?