US Open 2013 Results: Breaking Down Tiger Woods' Round 3 Struggles at Merion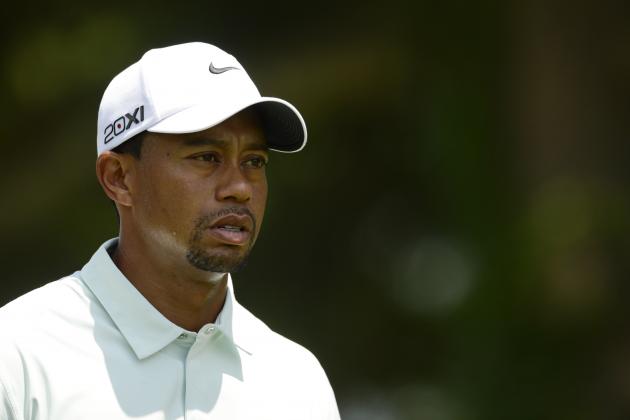 JD Mercer-USA TODAY Sports

Off the mark.
That's the simplest way to describe Tiger Woods' third round in the U.S. Open at Merion Golf Club.
He had a great chance to get himself into contention for a final-round run but let that possibility get away quickly, and he'll now be out on the course well before the contenders on Sunday morning.
Here's a breakdown of his third round and how he fell out of contention to win a U.S. Open title.
Begin Slideshow

»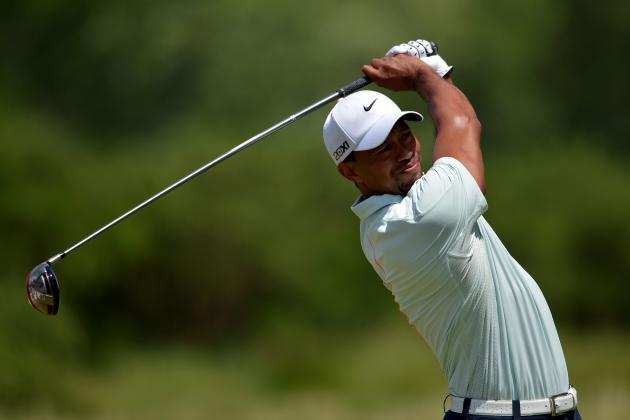 Drew Hallowell/Getty Images
Tiger Woods couldn't get off the tee on Saturday.
This might have been the best part of his game, and that's not saying much.
He barely hit 50 percent of his fairways, which is really nothing to write home about.
It didn't matter if he used his driver, hybrid, iron—whatever. There was a good chance it was going to be off the mark.
Success off the tee has always seemed to get Woods fired up, and that didn't happen nearly enough on Saturday.
Grade: C-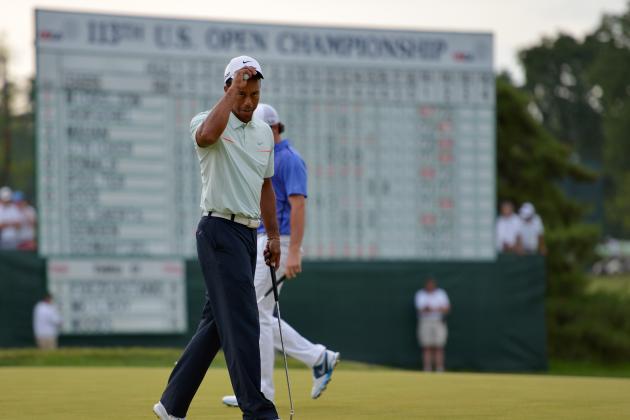 Drew Hallowell/Getty Images
Tiger Woods had one of his worst-ever putting days Saturday.
Maybe it's time to come to the conclusion that his horrible putting performance at the Memorial Tournament was not just a fluke after all.
It was amazing just how bad he was on Jack Nicklaus' greens in Dublin, Ohio, and it's beginning to look a lot like that all over again.
After the birdie on No. 1 Saturday, Woods made nothing.
Part of the blame goes to his iron play and how badly he struck those, leaving him with low-percentage putts, most of which he missed.
This says it all: 36 putts today in a round of 76.
Grade: D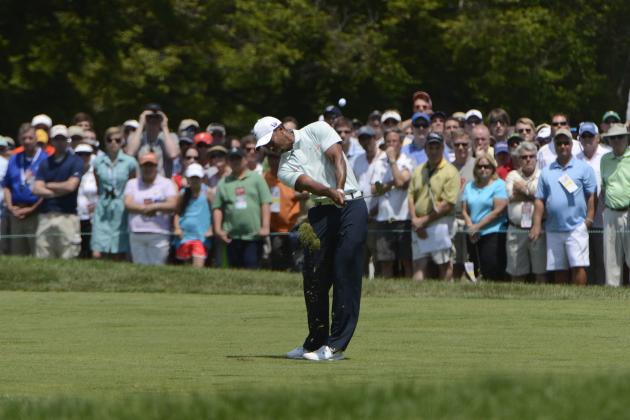 Eileen Blass-USA TODAY
Tiger Woods couldn't get his irons close to the pins on Saturday.
It's hard to actually determine what was the worst part of his day, but how poorly he utilized his irons in a perfect setting for going low has to be near the top of the list.
Tiger fans were hoping he'd climb back into the tournament in the third round.
But when he started leaving himself 20- to 40-foot birdie putts and a 50-footer for par on the 12th, it became apparent that the chase for his 15th major had ended.
Grade: D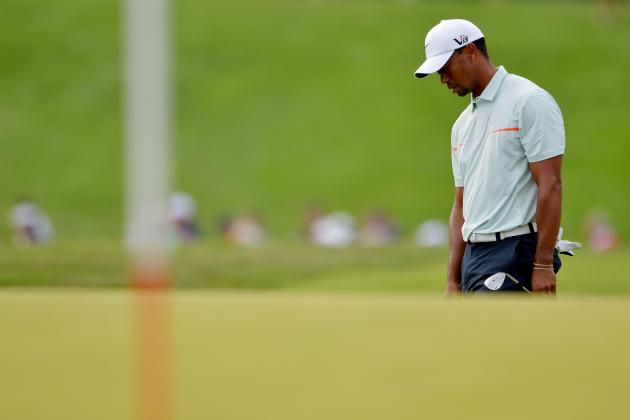 Drew Hallowell/Getty Images
The man wasn't a happy camper all day.
There was little or no management of any kind.
Tiger lost control early, which was really surprising since he rolled in a 20-footer for birdie on the first hole to trigger a lot of false hope among his followers.
After that, it was just another in an increasingly long line of majors without a win.
Woods and his new approach of playing small-ball when necessary seemed to be a good fit for Merion, but he didn't perform remotely close to the way he did when he registered four wins on the PGA Tour.
Grade: D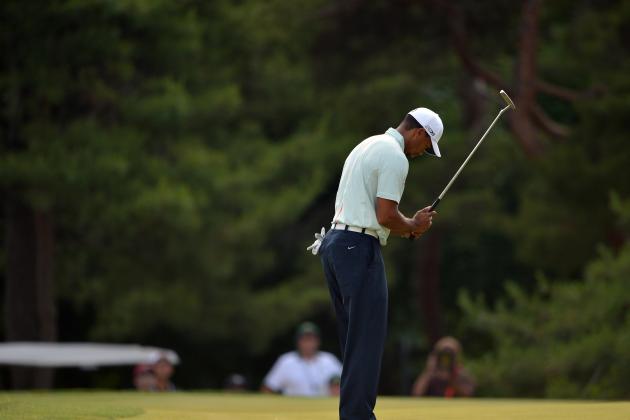 Drew Hallowell/Getty Images
Not many smiles for the world's top player on Saturday.
The easiest way to characterize this category would be to say it was lacking.
It's sometimes hard to tell what's going on based on body language, but in this case, Woods' actions spoke louder than any words he could say.
He never seemed in the game Saturday and appeared almost listless at times.
And that quickly led to a string of bogeys (five in his first 12 holes), which turned into a 76 and his highest 54-hole total as a professional, at nine over par.
Grade: D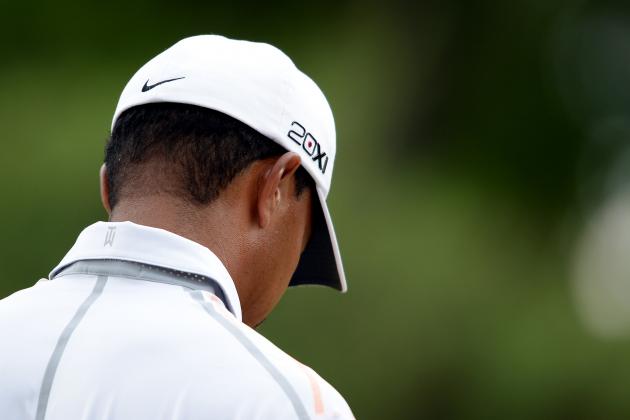 Ross Kinnaird/Getty Images
It was a day for walking around with his head down for Tiger Woods.
There's really no amount of Photoshopping and editing that can change Tiger Woods' round on Saturday into something other than a mess.
There was nothing good about his round from beginning to end, including seven bogeys to just one birdie for a round of 76.
In last year's third round of the U.S. Open, he posted a 75 with six bogeys.
He couldn't hit fairways, couldn't hit greens and putted terribly.
For a bit of a historical perspective, Woods has now gone 11 rounds on the weekend without posting a score in the 60s.
Grade: D