Confederations Cup 2013 Results: Brazil Scores Surprising Win on Day 1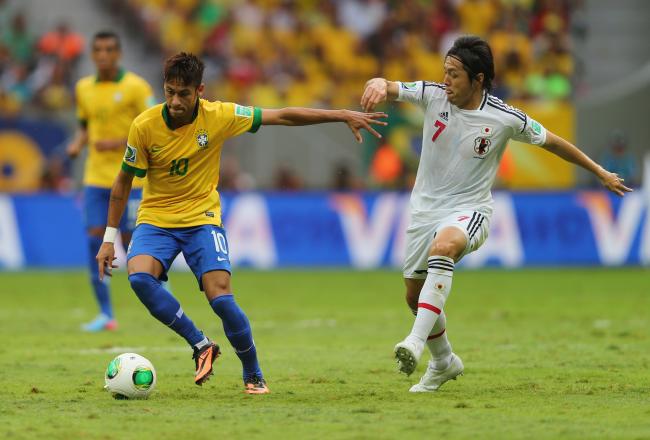 Clive Rose/Getty Images
It wasn't surprising that Brazil won its opening match at the 2013 Confederations Cup, but rather how, burning a quality Japan side three goals to nil on Saturday.
Neymar started the scoring early—very early—taking a beautiful set up from his teammates and rifling a shot from the top of the box. His strike was majestic, sailing on a rope to the top right corner where goalkeeper Eiji Kawashima was helpless to get in its way.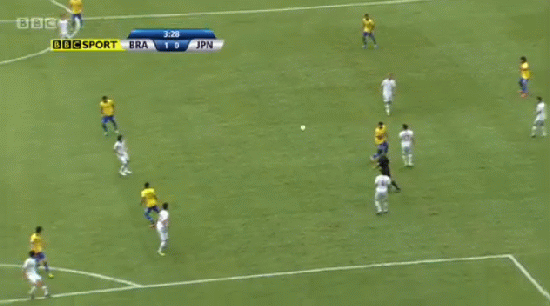 Though Brazil thoroughly dominated possession, Japan didn't go without threat in the first 45 minutes. At times, their counterattack looked sloppier than Brazil's gelatinous jersey collars, but on other occasions, they threatened to break through. The hosts managed to bend, but not break, though, and Japan would come to regret not capitalizing.
The second half started like the first, except quicker, Brazil needing just over three minutes to net their second goal.
Lazy defense on the Japanese back line—particularly inexcusable since, you know, the players had just returned from the locker room—allowed a bouncing cross to end up right on the foot of Paulinho. And with far too much time to set up, the Corinthians middie fired a low shot that barely got by Kawashima.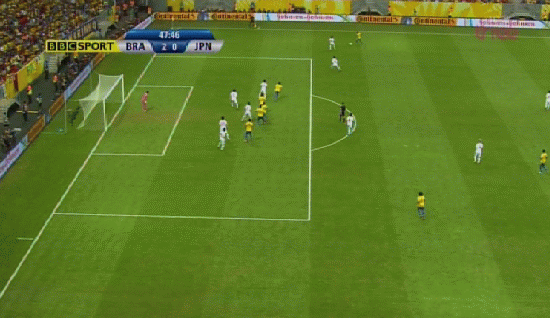 It was all formulaic from there, scant legitimate chances arising for either team in regular time. In stoppage time, however, Oscar found himself with far too much space and played Manchester City striker Jo on a perfect diagonal ball in the box. With fresh legs beneath him and no defender in front, Jo buried a clinical strike in the 93rd minute.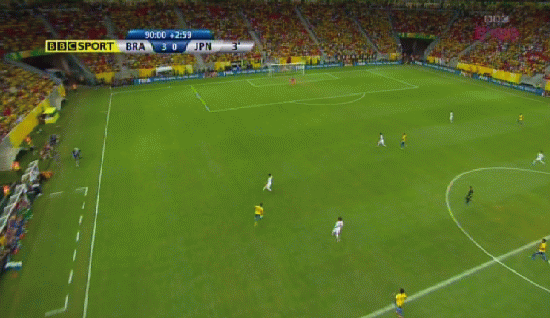 That last goal might seem like window dressing, and for the self-contained entity of this match, it surely was. But in a proper tournament such as this, ceding a third goal could come back to haunt the Japanese. Their goal differential now drops to a repugnant minus-three, meaning they'll likely have to beat, not draw, their remaining two opponents.
As those two opponents are Mexico and Italy, that feat should prove easier said than done.
Grades
Neymar (BRA): A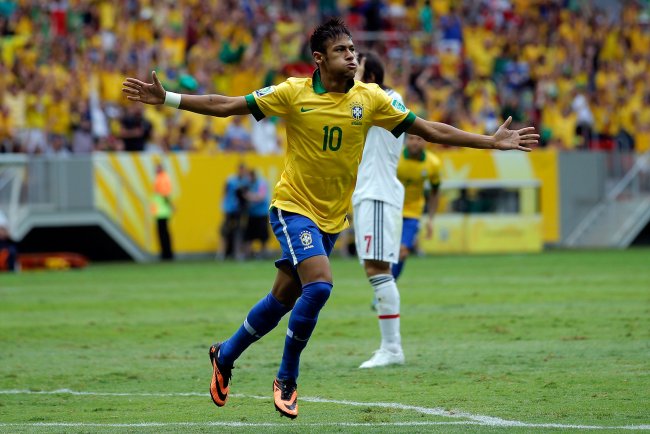 Dean Mouhtaropoulos/Getty Images
Neymar wasn't the ubiquitous, ankle-breaking dribbler we all know from Santos, but he was plenty good enough.
His goal in the third minute, just like any other goal, only counted as one on the scoreboard. But it had a much more profound effect. It was a statement from both Neymar and Brazil about the next two major tournaments: When you come play Brazil in Brazil, this is what you have to deal with.
The shot was perfect in almost every sense of the word, demoralizing a Japan side that came in with confidence, having qualified for the World Cup before every other on-host nation in the world.
Neymar got rid of that confidence in under four minutes.
Keisuke Honda (JPN): B+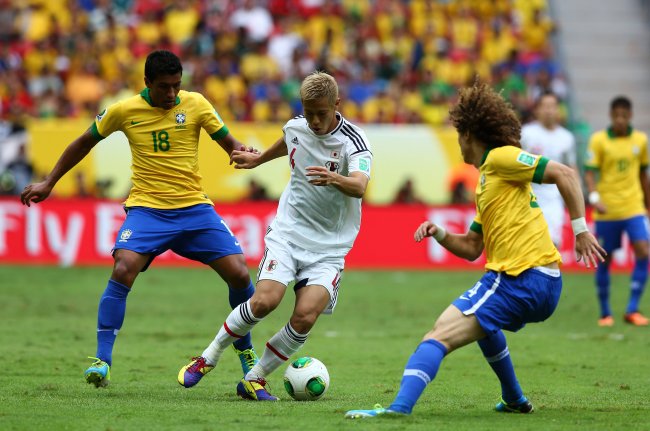 Robert Cianflone/Getty Images
The brightest Japanese player on a day where none shone, Honda, long one of the ballast's of his nation's attack, was one of the only Japanese players sniffing at the goal—especially in the set attack.
Japan, as mentioned above, did an OK job countering the first half. But other than that, for the most part, they were stagnant and unassertive.
Honda is the lone exception. He put his head down and fired a couple of challenging shots. He'll need to retain that aggression if Japan hopes to survive.
Oscar and Fred (BRA): A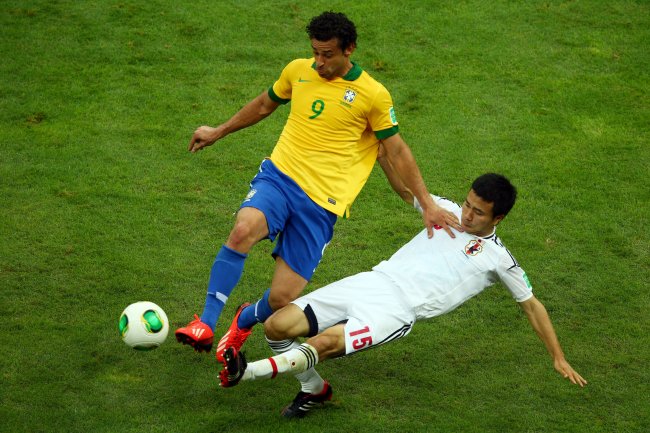 Clive Mason/Getty Images
Neither Oscar nor Fred found the scoresheet for themselves on Saturday, but each made the critical pass that led to Brazilian goals.
Fred played the ball for Neymar in minute three, settling an aerial cross with his chest and placing the ball, with confidence, at the feet of his team's best player.
Oscar, one of two Chelsea men in Brazil's starting attack, played the picture-perfect ball to Jo in stoppage time, giving Brazil a goal that may, but probably won't, become vital to their advancement.
But you can never be too safe.
BRAZIL:
| | |
| --- | --- |
| Player | Grade |
| 12 Julio Cesar | A- |
| 2 Dani Alves | A |
| 3 Thiago Silva | A |
| 4 David Luiz | B+ |
| 6 Marcelo | A- |
| 10 Neymar | A |
| 11 Oscar | A |
| 17 Luis Gustavo | B |
| 18 Paulinho | A- |
| 19 Hulk | A- |
| 9 Fred | A |
| 7 Lucas Moura (on '74) | B |
| 8 Hernanes (on '75) | B |
| 21 Jo (on '81) | B+ |
JAPAN:
| | |
| --- | --- |
| Player | Grade |
| 1 Kawashima | B |
| 5 Nagatomo | B |
| 6 Uchida | B- |
| 15 Konno | B- |
| 22 Yoshida | B- |
| 4 Honda | B+ |
| 7 Endo | B |
| 8 Kiyotake | B |
| 10 Kagawa | B+ |
| 17 Hasebe | B- |
| 9 Okazaki | B- |
| 18 Maeda (on '51) | B- |
| 13 Hosogai (on '78) | B- |
| 19 Inui (on '89) | N/A |
What's Next?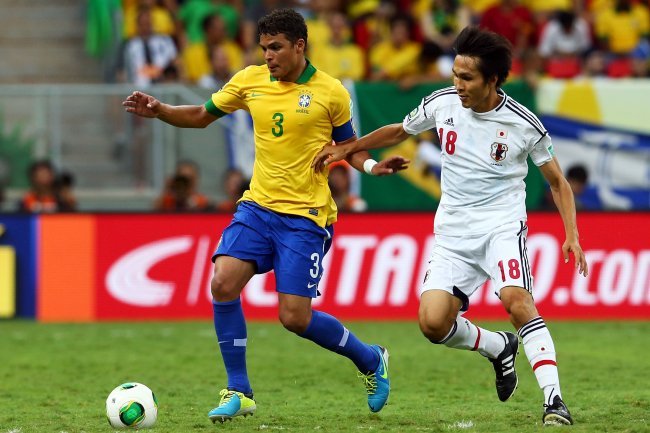 Robert Cianflone/Getty Images
As alluded to above, Brazil and Japan share Group A with Mexico and Italy.
In the next leg, Brazil faces Mexico and Japan faces the Italians. Both games take place on Wednesday, June 19.
Japan is in desperate need of a good result against Italy which, pending the outcome of Italy-Mexico, could mathematically eliminate them next week.
This article is
What is the duplicate article?
Why is this article offensive?
Where is this article plagiarized from?
Why is this article poorly edited?