Power Ranking the Aggies' 2013 Schedule from Easiest to Toughest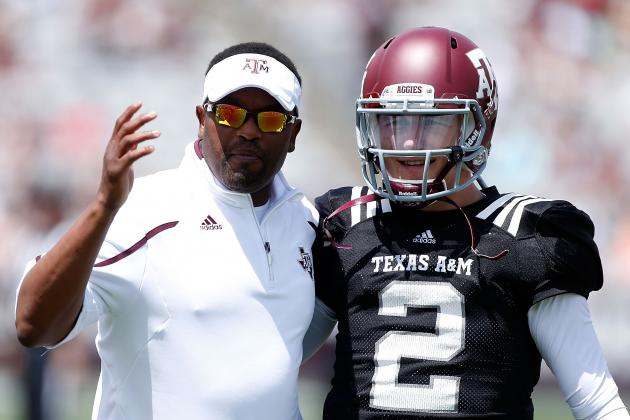 Scott Halleran/Getty Images

The Texas A&M football team is poised for a historic season in 2013. The Aggies have a schedule that is ideal for a making a run to a national championship.
The 2013 version of the Aggies will be ranked in the top five of the polls when the season begins. They are in a great position to end up in the BCS title game in January of 2014.
The Aggies play only four road games in 2013. They played six games on the road in 2012, including a three-game stretch of Auburn, Mississippi State and Alabama that helped define the season. With eight home games in 2013, including a September 14 matchup with defending national champion Alabama, they should have plenty of opportunities to attract the interest of the pollsters.
The 2013 schedule is a challenging one, but it is manageable because of the large number of home games. If the Ags can take care of their business at home, they have a very real chance of winning their first national championship since 1939.
This is a ranking of Texas A&M's 2013 schedule from the easiest games to the hardest games.
Begin Slideshow

»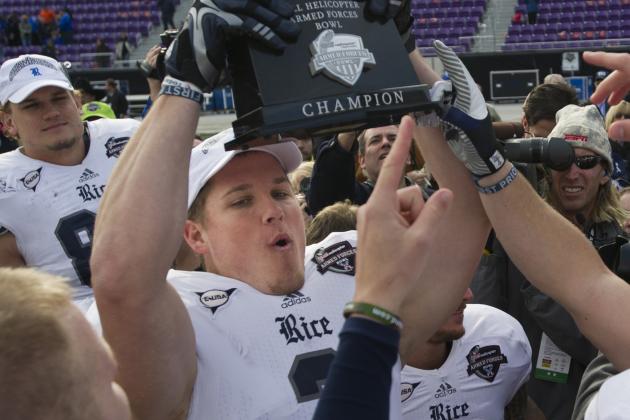 Cooper Neill/Getty Images

The Ags open the 2013 season at home against the Rice Owls. The Owls were 7-6 in 2012 with a 33-14 win over Air Force in the Bell Armed Forces Bowl.
Some people may question why a game against an FBS team is thought of as easier than a game against am FCS team like Sam Houston State. The answer to that question is that SHSU is a very solid program with players who are accustomed to winning games.
Sam Houston State runs a spread-rushing attack that can give defenses problems. The Owls also play A&M during the first game of the year, so the Ags should be relatively healthy for the game.
Rice does not face teams with the talent that the Ags possess on a regular basis. It should be a blowout in favor of the Aggies.
The Sam Houston State Bearkats were 12-3 in 2012 and reached the FCS title game for the second season in a row. They are one of the best programs in FCS.
The Bearkats have multiple players on their roster who could play for FBS schools. Senior running back Timothy Flanders rushed for 1,642 yards and 17 touchdowns in 2012.
Chance Nelson spent a year in Aggieland before he transferred to Hunstville, He caught 35 passes for 671 yards and nine touchdowns in 2012. He also had three receptions for 57 yards in 2012.
The Bearkats run the ball out of the spread offense. They run some zone-read and the option from a spread formation. They rushed for 268 yards per game in 2012.
SHSU does not have athletes to stand up to A&M for four quarters. But it will be playing the Ags the week before the Alabama game, and there is a chance that some players will be looking ahead.
The Ags should win this game going away, but SHSU is not going to be intimidated by Kyle Field.
Ronald Martinez/Getty Images

UTEP has a new head coach in Sean Kugler and will feature former Aggie Jameill Showers at quarterback. The Miners were only 3-9 in 2012, but the presence of Showers should be worth two or three more wins in 2013.
Showers graduated from A&M in 2013 and has two years of eligibility left at UTEP. He will be able to play immediately for the Miners. He is a very good quarterback who will eventually play on Sundays and will be very comfortable throwing passes at Kyle Field against the Aggie secondary.
With Showers at quarterback, the Miners offense will be a challenge. However, UTEP is not a good football team, and the Ags will beat them. The Ags play UTEP on November 2, though, so injuries could have an impact on the team at that point.
This should be an Aggie win by multiple scores, but any team with Showers at quarterback will be able to put some points on the board.
The Vanderbilt Commodores were 9-4 in 2012 and 5-3 in the Southeastern Conference. Vanderbilt head coach James Franklin has built the team up from a laughingstock to a solid SEC program.
Vandy wins games by grinding out wins. It features a strong running game and one of the best receivers in the nation in Jordan Matthews. Zach Stacy rushed for 1,141 yards in 2012, but he has moved onto the NFL. Matthews led the SEC with 94 receptions for 1,323 yards in 2012.
Vanderbilt has a solid defense that's led by linebacker Chase Garnham. He had 12.5 tackles for loss and seven sacks in 2012 and will compete for All-SEC honors in 2013.
Vanderbilt is a solid SEC team, but it has never played anyone like Johnny Manziel and the Aggie offense. The Aggies will get up on the Commodores early in the game by multiple scores, and Vandy will not recover.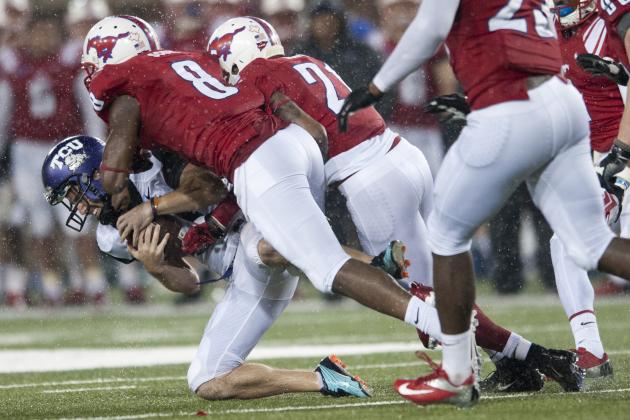 Cooper Neill/Getty Images

A lot of people may question how SMU can be a tougher game than Vanderbilt. First of all, SMU has faced Johnny Manziel before, so it knows how explosive the Aggie offense can be.
Secondly, the Ags face SMU the week after they play Alabama. If the Aggies win the game, they could be so high after the win that they will not take SMU seriously. If they lose to Alabama, there could be a hangover.
SMU has Hal Mumme as its offensive coordinator. Mumme, along with his protege, Mike Leach, basically invented the spread offense.
If SMU quarterback Garrett Gilbert can find comfort in Mumme's system, then the SMU offense could be very prolific. It could be good enough to get into a shootout with A&M.
SMU lost Zach Line and some very talented receivers from the 2012 squad, but you should never count out a team that has Mumme on the coaching staff.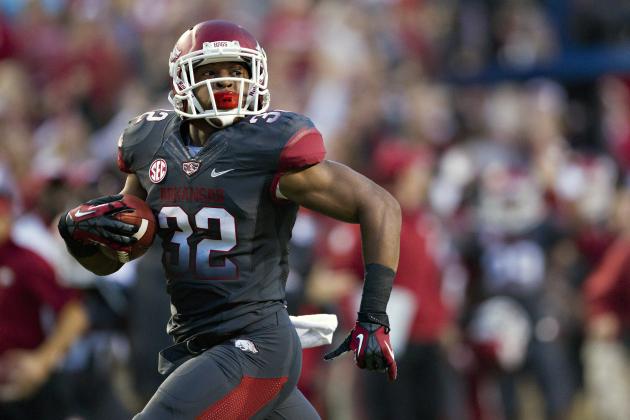 Wesley Hitt/Getty Images

Arkansas lost its best offensive players from a disappointing 2012 squad when Tyler Wilson, Cobi Hamilton and Knile Davis went to the NFL. It has a new head coach in Bret Bielema and will be installing new schemes on offense and defense.
The Razorbacks will be going through a transition year in 2013. Arkansas was able to win games in the SEC under Bobby Petrino because it passed the ball a lot and Petrino was a brilliant play-caller.
Bielema is going to try to win games by grinding it out on offense like he did at Wisconsin. This Arkansas team is not built for that kind of football.
Sophomore running back Jonathan Williams is very talented and will likely approach 1,000 yards rushing in Bielema's scheme. The question is whether Bielema has the talent in place to run that scheme effectively against good SEC defenses.
Arkansas will be a tough game because it is in Fayetteville, but it is a game the Ags should win while the Hogs are in the rebuilding mode.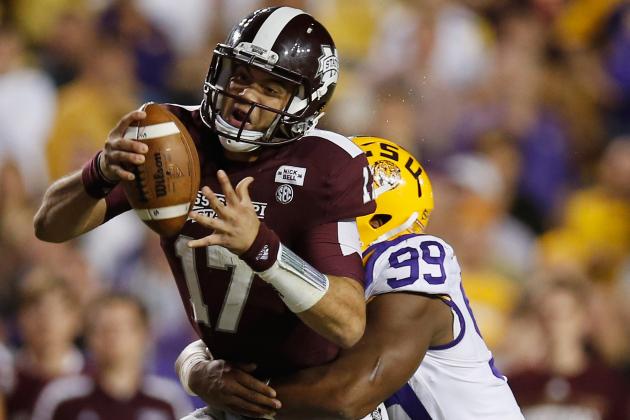 Chris Graythen/Getty Images

Mississippi State was an 8-5 football team in 2012. The Bulldogs started off the season 7-0 and then only won one of their last six games.
This is a vital year for head coach Dan Mullen in Starkville. State's rival, Ole Miss, has received a lot of national attention from a 7-6 season and its ensuing recruiting class. One of Ole Miss' wins was over MSU.
If Mullen cannot find a way to have a standout year in 2013 and beat Ole Miss, he may find himself looking for a new job.
The Bulldogs will have one of the better backfields in the SEC with senior quarterback Tyler Russell and senior running back LaDarius Perkins returning. Russell completed 58 percent of his passes for over 2,800 yards, while Perkins rushed for 1,024 yards.
The issue for MSU is a defense that allowed 165 yards rushing per game and opposing quarterbacks to complete 64 percent of their passes. If MSU's defense struggles again, then Mullen may find himself out of a job.
This game should be a win for the Aggies at home. MSU will replace three starters in its secondary and will not have enough on defense to slow down Johnny Manziel and friends.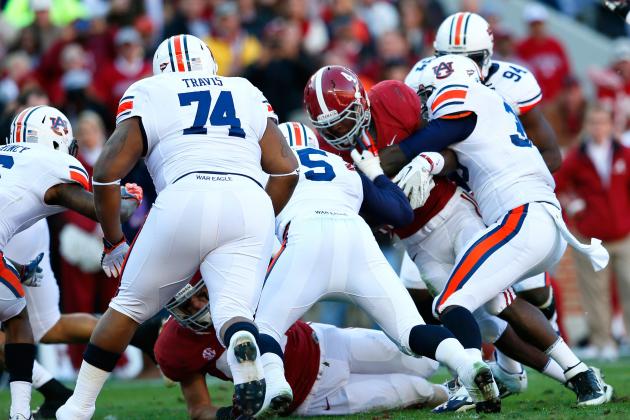 Kevin C. Cox/Getty Images

Auburn is going to surprise a lot of people in 2013. Gus Malzahn is an excellent coach, and he will have the Tigers in a bowl game in his first season as the head coach on the plains.
Malzahn has won everywhere he's been as an offensive coordinator and head coach because he is a brilliant play-caller. He will find weaknesses in defenses and exploit them.
Expect Auburn to win seven or eight games in 2013. The Tigers will be a tough team to beat for the Aggies, even though the game is a home game.
Texas A&M will win the game, but it will not be a blowout like 2012. Auburn is on the right track to get back to being a respectable program.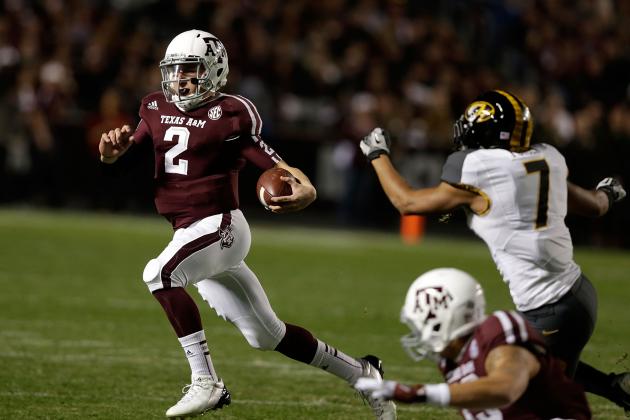 Scott Halleran/Getty Images

Missouri entered its inaugural season in the SEC talking trash and limped out of it with a 5-7 overall record. The Tigers only won two of their eight conference games.
Mizzou was ravaged by injuries in 2012. The team lost starting running back Henry Josey to a knee injury during the 2011 season, and he sat out all of 2012 while he recovered. Starting quarterback James Franklin was never 100 percent, and he struggled throughout the year.
The Tigers just never seemed to get in sync on offense. They were a spread team in the Big 12 who liked to recruit smaller players who could make something happen in space. Mizzou needs to get bigger at the skill positions if it wants to have extended success in the SEC.
The Ags get Mizzou on the road, and it is never an easy task to win there. The Aggies should win a close game in Columbia.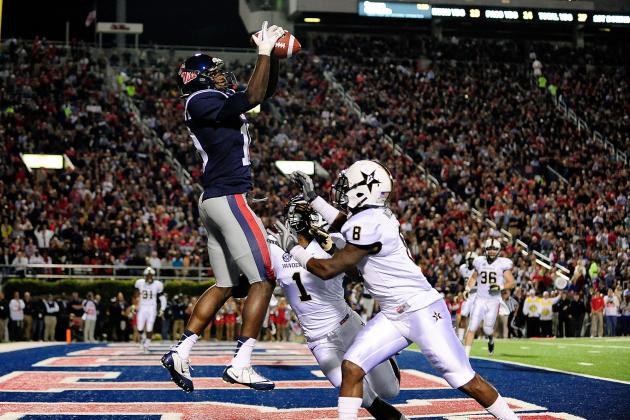 Stacy Revere/Getty Images

The University of Mississippi Rebels will be a team to watch in 2013. If the Rebels play with the confidence they displayed at the end of 2013 when they beat Mississippi State and Pittsburgh, they will be a threat to win nine games.
Ole Miss no longer enters every game thinking it's going to lose. Hugh Freeze has the program headed in the right direction.
If the Rebels can avoid injuries, they could be a major player in the SEC West race. They have Bo Wallace returning at quarterback, Jeff Scott at running back and Donte Moncrief at wide receiver. All three are legitimate candidates to win All-Conference honors.
The Rebels are led on defense by linebacker Denzel Nkemdiche, who had 13 tackles for loss as a redshirt freshman.
The Aggies have to travel to Oxford to play Ole Miss for the second year in a row. In 2012, the Ags escaped with a 30-27 victory despite committed six turnovers. Expect the Aggies to do a better job of hanging onto the ball in 2013, but Ole Miss should be an improved team overall.
It should be a win for the Ags, but winning on the road is never a given in the SEC.
The September 14 game between Texas A&M and Alabama will be one of the biggest to ever occur at Kyle Field. The game will be broadcast nationally on CBS.
The Ags were the only blemish on Alabama's 12-1 national championship season in 2012. The 29-24 victory over Alabama helped propel Johnny Manziel to the Heisman Trophy.
The Crimson Tide will be looking for revenge, but they have to travel to Kyle Field this time. Nick Saban has struggled against mobile quarterbacks who run the hurry-up spread offense.
Much has been made of Saban having an entire year to prepare for Manziel. But people forget that Manziel has had a year to improve in Kevin Sumlin's system.
It will be interesting to see how the Tide respond after losing three of their offensive linemen from 2012. This will be a very close game that will be decided in the fourth quarter, but the Ags will come up victorious again.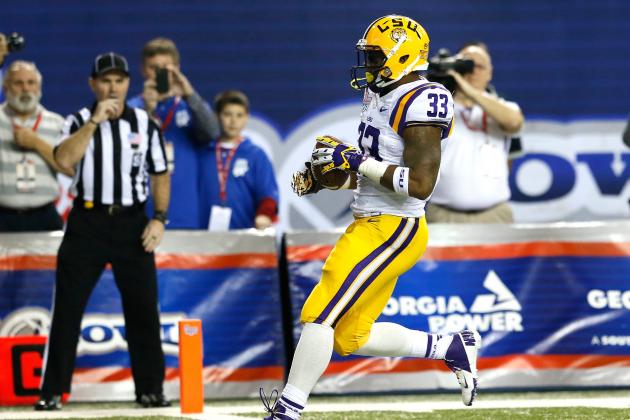 Kevin C. Cox/Getty Images

The LSU game in Baton Rouge will be the toughest game on the Ags' schedule in 2013. LSU lost a lot of talent from its 2012 team, but playing the Tigers at Death Valley will be a tough challenge for any team.
The Tigers seem to have an endless supply of difference-makers on defense. Their offense has the pieces in place to be very good, but even it's pedestrian, the team finds ways to get the job done at home.
Going undefeated in any season is a tall order. There have been multiple teams in the SEC that have lost a game and still won the national title.
Aggie fans should expect A&M to drop a game at LSU, but to still win enough games to play in the SEC and BCS title games.