Ranking the Boston Bruins Stars' 2013 Playoff Performances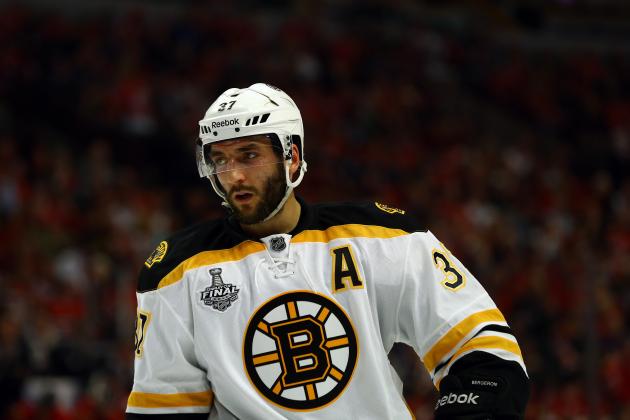 Bruce Bennett/Getty Images

The Boston Bruins have had a rather miraculous run to the Stanley Cup Final, and power ranking their top performers from top to bottom really brought home just how much depth this team has.
From Patrice Bergeron's incredible effort in Game 7 against the Toronto Maple Leafs to Zdeno Chara saving a sure goal with his glove in the closing seconds of Game 4 against the Pittsburgh Penguins, Boston's run has been full of special moments.
They'll need to come up with a couple more "Because It's the Cup" plays from throughout the lineup against the Chicago Blackhawks in the Final. As it stands right now, this is how we think Boston's top players have performed through the postseason.
Begin Slideshow

»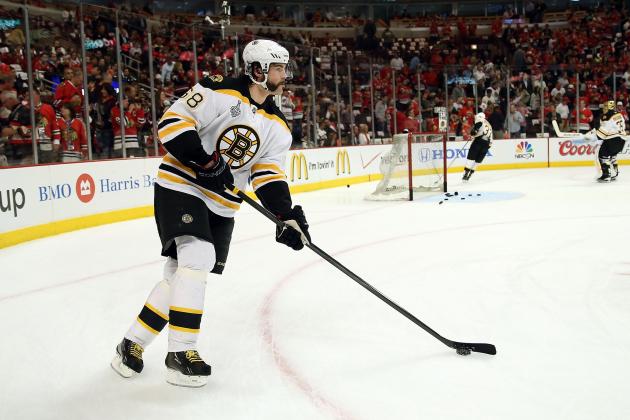 Bruce Bennett/Getty Images

The Boston Bruins traded a solid package to the Dallas Stars for Jaromir Jagr after missing out on Jarome Iginla. The hope was that the 41-year-old super-veteran could bring some scoring punch to the middle of the lineup while bracing a limping power play.
Barring some kind of ridiculous outpouring of points from Jagr, it doesn't appear that the Bruins will be getting their trade's worth from No. 68. Two prospects and a first rounder more or less flushed as Jagr has yet to score a goal in the playoffs.
Boston's top players have prevented this from being a real issue, but it's a disappointing outcome nonetheless.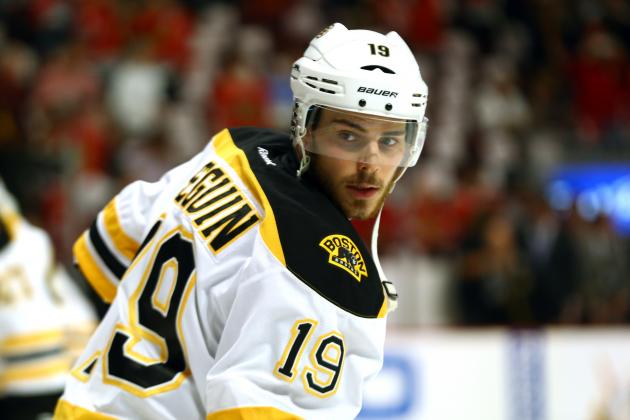 Bruce Bennett/Getty Images

While some could forgive Jaromir Jagr for his lack of output—his is literally a greybeard, after all—there really aren't any excuses for Tyler Seguin. The 21-year-old has had countless opportunities to be a factor for the Boston Bruins.
Since the first round against the Toronto Maple Leafs, he's appeared to be one of the most dangerous players out on the ice. In fact, no one on the Bruins has more shots than Seguin's 62.
Yet all he has to show for the effort is one goal and four assists, giving him a mind-numbing 1.6 shooting percentage. Ouch.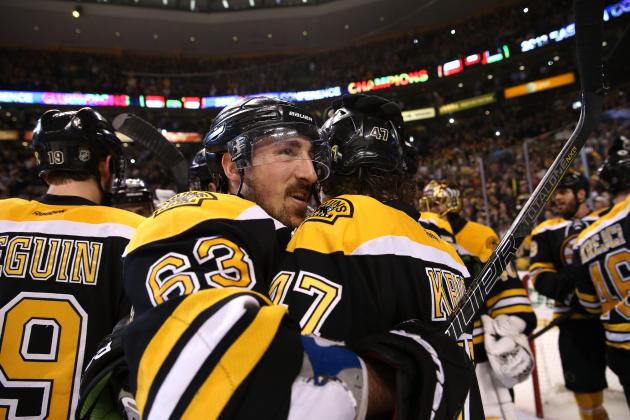 Bruce Bennett/Getty Images

This is where things get a little interesting in this slideshow. Brad Marchand clicking in at No. 7 is in no way meant to detract from what he's meant to the Bs throughout these playoffs. If anything, it's a testament to how incredible the team has played from top to bottom.
Aside from scoring one of the most ruthless goals we've ever seen, Marchand has been a thorn in the side of opposing teams while posting timely markers like this one.
He's been relentless on the forecheck on every shift and has been an Energizer Bunny-type player for the Bruins. Anytime they've needed a big play, Marchand has been part of a rotating cast that scores big goals and seizes the bigger moments.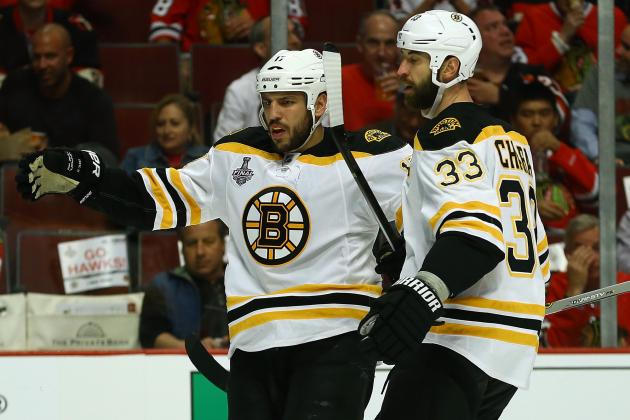 Bruce Bennett/Getty Images

Again, Milan Lucic "sliding" to No. 6 on this list isn't meant to detract from how good he's been. His re-emergence as a legitimate scoring threat has been one of the key storylines for the Boston Bruins en route to the Stanley Cup Final.
After having what many onlookers considered to be an off year during the regular season, Lucic exploded as soon as he hit the playoffs.
In Round 1 against the Toronto Maple Leafs, Lucic formed a nearly unstoppable trio along with David Krejci and Nathan Horton. Those three now posses the first, second and third spots in playoffs scoring. Lucic has 16 points through 17 games and has scored several outstanding goals along the way.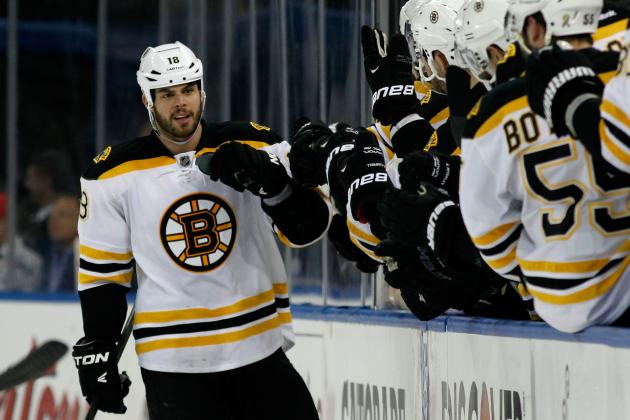 Bruce Bennett/Getty Images

Despite battling what appears to be a severe upper-body injury, Nathan Horton has still provided the Boston Bruins with plenty of offensive chops through the first three rounds of the postseason. Along with David Krejci and Milan Lucic, Horton has used his size and skill to dominate the opposition, regardless of what they try to do to stop them.
His 18 points through 17 games is good for second overall in playoff scoring, and it's scary to think about what Horton would be doing right now if a nagging shoulder issue wasn't holding him back.
He's been one of the most effective players through the postseason as a whole and has been remarkably important for the Bruins down the stretch.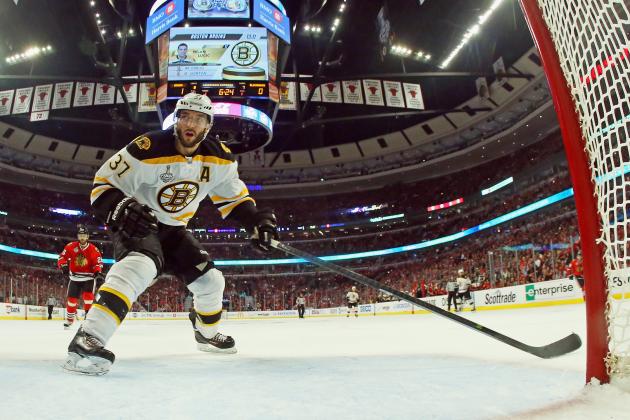 Bruce Bennett/Getty Images

Mr. Big Goal himself, Patrice Bergeron has blended Selke-quality defensive play with timely scoring to perfection in these playoffs. His six goals and six assists through 17 games is outstanding, especially when you consider who he's been responsible for covering on the defensive end of things.
Phil Kessel, Rick Nash and Sidney Crosby are three of the best players in the NHL. Bergeron shut them all down without mercy, limiting the trio to five goals total through three rounds of play. It's even more impressive when you consider that four of those goals came from Kessel in the first round, and that Crosby failed to register a single point in the Eastern Conference Final.
While keeping players like Crosby off of the scoresheet with regularity takes a team effort, it all starts with Bergeron, his uncanny stick lifts and his countless faceoff wins.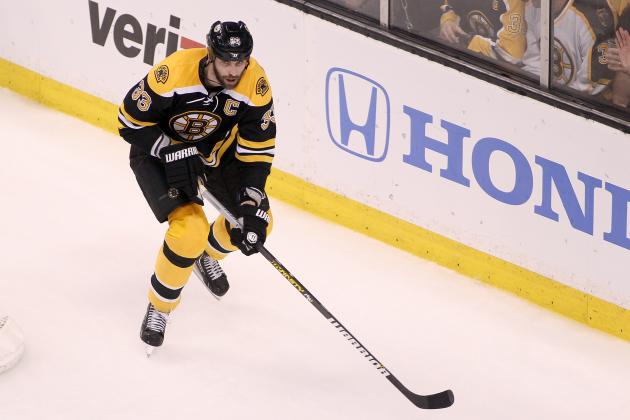 Alex Trautwig/Getty Images

Since Round 1 against the Toronto Maple Leafs, Zdeno Chara has been a barricade. A barricade that also happens to fire cannonballs from time to time.
The big man has 11 points through 17 playoff games, but where he's been truly outstanding is on the defensive side of things.
Chara has been a shot-blocking monster for the Boston Bruins while playing loads of minutes against the opposition's best players.
He's been responsible for getting on the ice with the likes of Sidney Crosby and Patrick Kane and then shutting them down. Chara is out there for nearly every shift against guys like this, and as always, he's been outstanding.
It's likely that Boston wouldn't be in the Stanley Cup Final if not for the heavy play of their captain.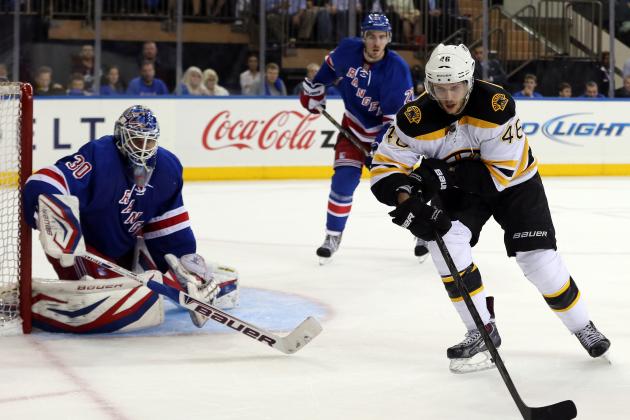 Bruce Bennett/Getty Images

The leading scorer in these playoffs, David Krejci seems to score a goal every time he touches the puck. He's been video-game-effective since the postseason began, making every pass a perfect one and every shot a precisely targeted one.
His 23 points through 17 games played shouldn't come as a surprise to anyone who was along for the ride the last time the Boston Bruins won the Stanley Cup. Krejci was their leading scorer in 2011 as well and has been the most effective scorer over the last three years of postseason action.
When Boston needs a goal, they send this guy over the boards. So far in 2013, they've received dynamite results.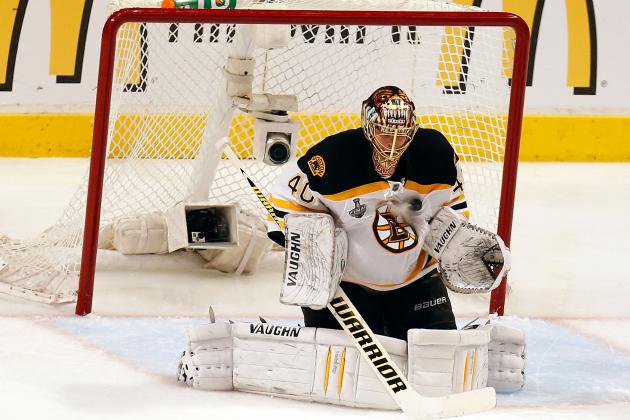 Gregory Shamus/Getty Images

All the goals in the world don't mean anything if you don't ice a goalie that can prevent them.
Tuukka Rask has been more than sound though—he's been playing out of his mind, giving the Boston Bruins a chance to win games even when they are outplayed. Rask has been there with huge saves on awesome players throughout the playoffs, stonewalling point-blank chances from guys like Evgeni Malkin and Nazem Kadri on a nightly basis.
His .942 save percentage is tops in the NHL by a wide margin, and his 1.78 GAA is only .05 away from Corey Crawford's leading average.
If the Bruins win the Stanley Cup this season, it won't be surprising to see Rask skating around with the Conn Smythe Trophy before the ceremony begins.