Mikey Garcia Dominates Juan Manuel Lopez, Wins by 4th-Round TKO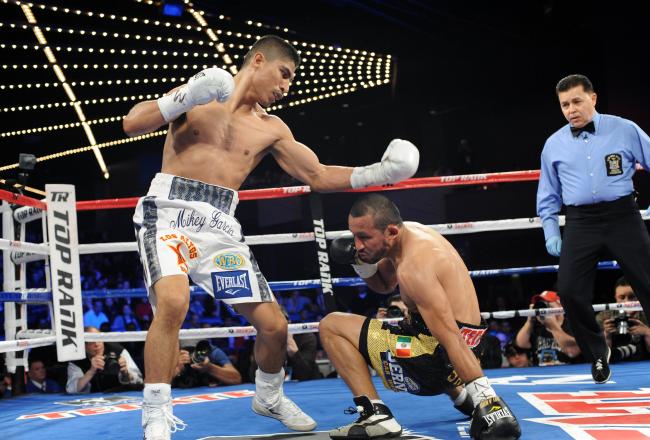 Garcia won his second straight in dominant fashion.
Joe Camporeale-USA TODAY Sports
Former WBO featherweight champion Mikey Garcia struggled on the scales on Friday but had no struggles in the ring on Saturday night.
Garcia (32-0, 27 KO) dominated former featherweight champion Juan Manuel Lopez on Saturday in Dallas, dropping him twice and forcing the referee to stop the bout in the fourth round.
The fight was never close. Garcia stood poised behind a sharp jab from the opening bell as Lopez stalked him around the ring, attempting to land one looping shot and change the fight.
But that shot would never come as Garcia punctuated his second straight dominant performance of the year with a dynamite left hand that left Lopez sprawled near the ropes. He was able to beat the count but clearly didn't have his legs under him, which forced the stoppage.
With Garcia's win, the WBO featherweight title remains vacant, since he wasn't eligible to win it after failing to make weight.
That'll do it for us tonight fight fans! We hope you enjoyed our live coverage of Mikey Garcia's impressive fourth round stoppage victory over Juan Manuel Lopez.
As always stay tuned to Bleacher Report for all your post-fight analysis!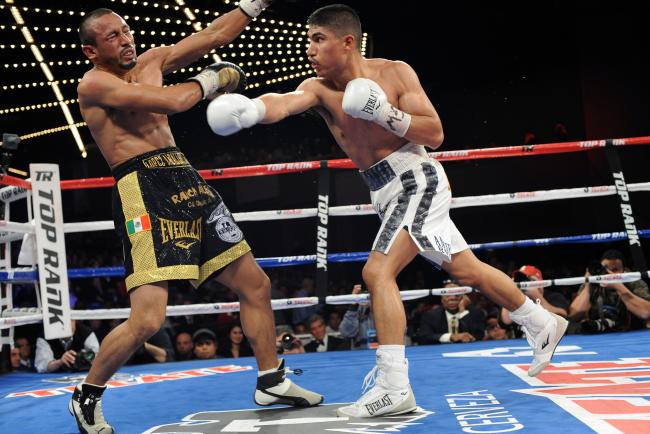 Garcia has been mentioned as the next opponent for Rocky Martinez at 130-pounds. Personally would much rather see him in there with Abner Mares.
Mikey doesn't get too much credit, as it is assumed widely that JuanMa was shot. But Mikey is REAL GOOD

— Michael Woods (@Woodsy1069) June 16, 2013
JuanMa was shot. Clear from the opening bell. No offense to Garcia, because he is really good, but this win doesn't mean a whole lot in the big picture.
Garcia should move up. More challenges there for him and why struggle like that to make weight?
What a performance from Garcia. He's really, really good. As for JuanMa, it's time to get out before someone hurts him. He was a dynamic offensive force once. But that time is gone.
Lopez down again from a perfect left hook. This fight is a massacre and the referee just says enough.
Garcia TKO 4 Lopez!!!
Very easy fight to score thus far. Lopez is either just as shot as people suspected or Garcia is really that good.
Garcia lands a nice left hand to punctuate the third round. JuanMa is just throwing wide, looping punches that Garcia is easily able to move away form. He's gonna need to change something drastically and soon.
30-26 Garcia after three.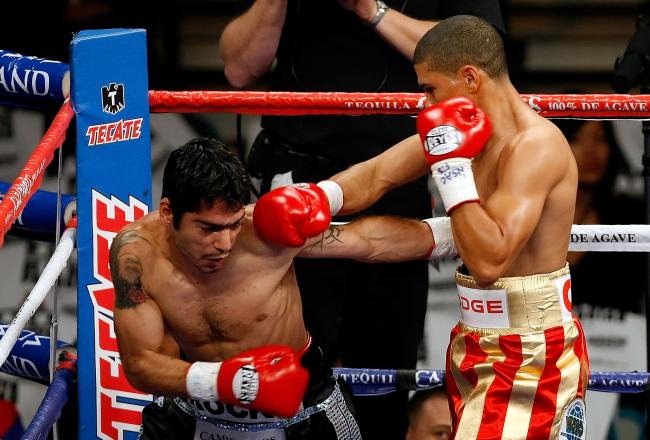 Mikey Garcia thus far is fighting the perfect fight. Lopez not able to get close enough to land anything of real consequence and eating a steady diet of jabs.
Garcia is clearly, clearly the better fighter at this point. That much is clear.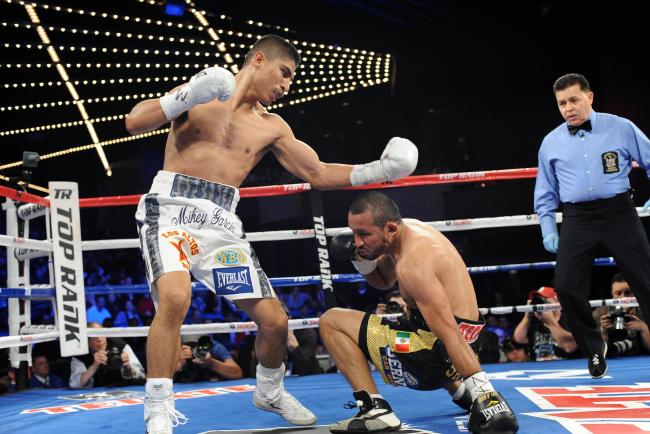 Great round for Garcia. Controlling the action with his jab and poise in the ring, and he scores the first knockdown of the fight. He leads two rounds to none.
20-17
The crowd really behind Garcia now after the knockdown.
Perfect right hook from Garcia and JuanMa is DOWN in the second round!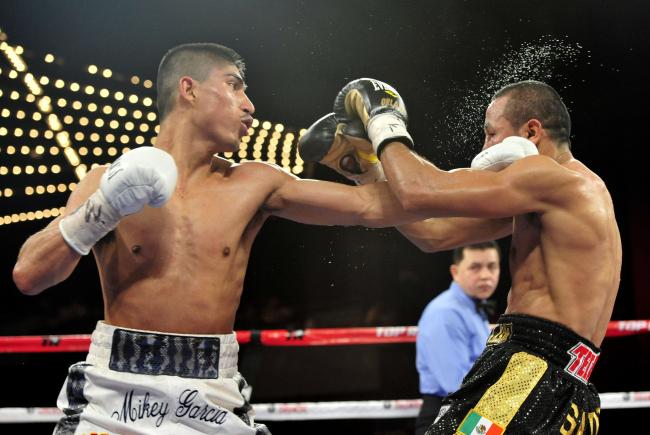 He does. Lopez threw some nice left hands that connected but didn't do a ton of damage. Depends on what you prefer in that round.
Gave it to Garcia for using his stiff jab to control distance and keep JuanMa outside.
10-9 Garcia
Lopez has landed a few straight lefts here in round one. Nothing particularly damaging but its been working for him thus far.
You can already see JuanMa trying to shoot that left hand right up the pike and check Garcia's chin.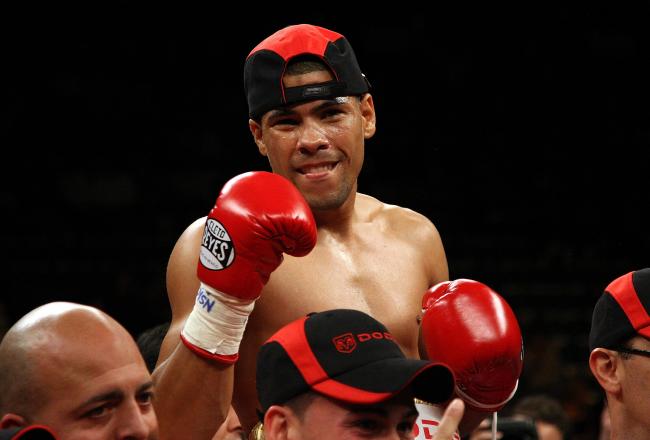 Keys to the right:
For Garcia box effectively and wait for your opportunities.
For Lopez just go in there and get some.
Round One underway.
Absolutely. It's his best chance. Garcia really hasn't been checked too much and with the weight struggles it could be interesting to see how he takes Lopez's shots.
Garcia has some questions to answer in this fight after failing to make weight. He looked drawn out at the weigh-in. Is he ready to go tonight? Or can JuanMa pull the upset?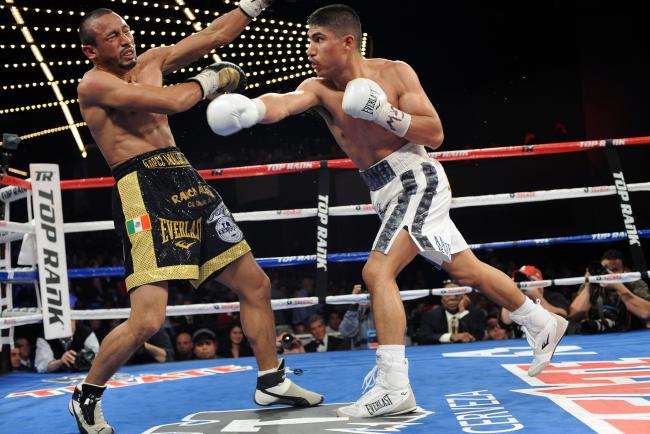 Up next will be Mikey Garcia vs. Juan Manuel Lopez. Remember, only Lopez can win the WBO title tonight since Garcia failed to make weight.
Eh. Gotta beat a guy of consequence to talk like that. Time to step up.
Crawford did his job tonight. But he hasn't beaten anyone yet that shows he's ready for prime time.
Yeah the HBO comparisons to Roberto Duran were a little...ridiculous?
Sanabria got caught with a big left hook on the button and out he went. Good stoppage there. He was definitely out on his feet.
This article is
What is the duplicate article?
Why is this article offensive?
Where is this article plagiarized from?
Why is this article poorly edited?