Tiger Woods at the US Open 2013 Tracker: Day 3 Score, Highlights and Analysis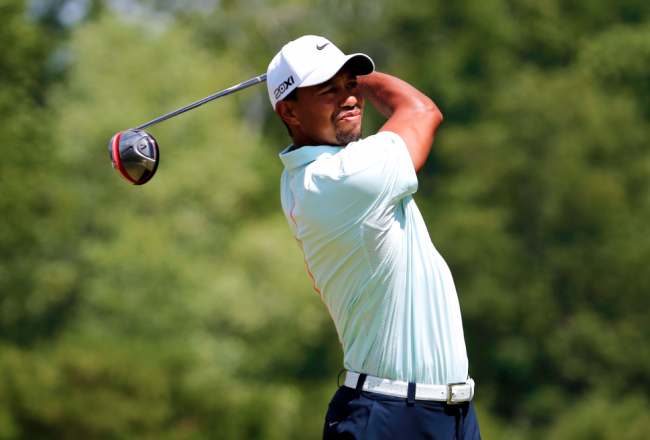 Tiger Woods was within striking distance to begin the day, but couldn't find the remedy to poor iron play and obvious discomfort on Merion's putting greens.
The No. 1 ranked player in the world posted a 76 in his third round and is now +9 for the championship. Rory McIlroy was no better, posting a 75 and is now +8 overall.
Never say never at a U.S. Open, but it looks like neither of the two highest ranked players in the field will be in contention Sunday.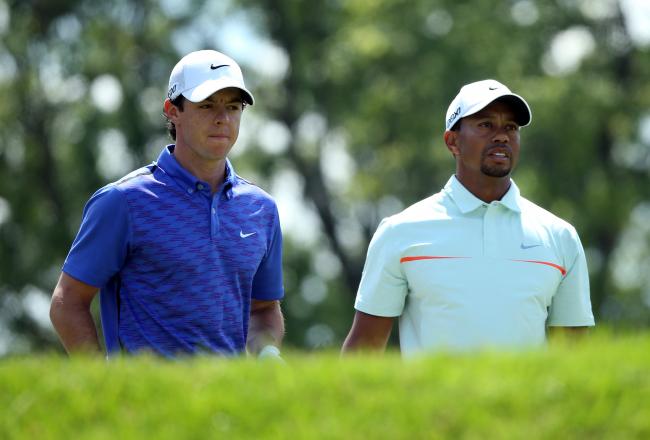 A hugely disappointing round from both Tiger Woods (+9) and Rory McIlroy (+8).
Woods posts a six-over par, 76, and McIlroy a five-over, 75.
Tiger (76) and Rory (75) were paired together and gave everybody their money's worth: 14 bogeys between them--seven apiece.

— Dan Jenkins (@danjenkinsgd) June 15, 2013
It looks like the lead at the end of the day will be somewhere around -2, meaning the two highest ranked players in the field will be about 10 shots back.
This U.S. Open looks to be done for these two, but there's still a lot of golf to be played Sunday at Merion.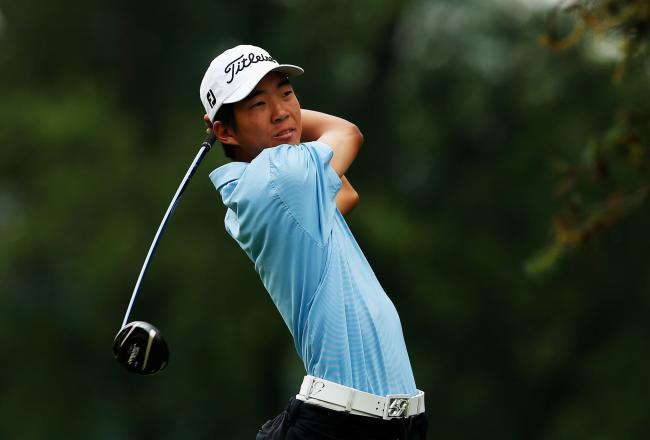 Here's one of the best stories of the U.S. Open thus far.
19-year-old Michael Kim, a golfer from the University of California, Berkeley, is five shots clear of the closest amatuer and +4 for the championship.
Remember Beau Hossler from last year's U.S. Open at Olympic Club? This is like round two of an amateur stealing the spotlight.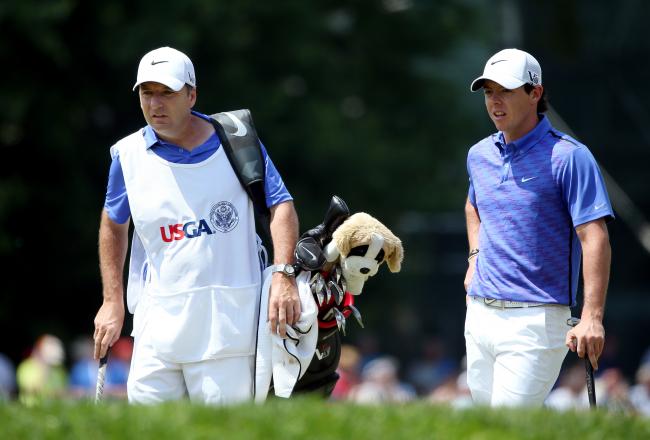 Woods (+8) and McIlroy (+8) survive the tough, 257-yard par-3 17th hole with a pair of pars.
A full 10 shots off the leaders, Luke Donald (-2) and Charl Shwartzel (-2), they've seemingly played themselves out of this championship and tomorrow will be a practice round.
It will take another round tomorrow to diagnose whether this performance was just a hiccup or rather a representative of larger issues in their respective games.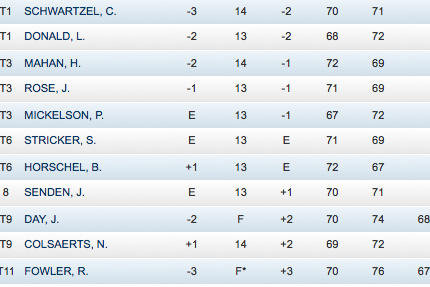 Take a look at the current U.S. Open leaderboard.
When Tiger Woods isn't a factor in major championship it feels like the world is of its axes. Something about it doesn't compute.
Yet that is the reality here at the 113th U.S. Open.
Woods has attempted to play defense against the grueling conditions at Merion, but this beast of a course has got the best of him.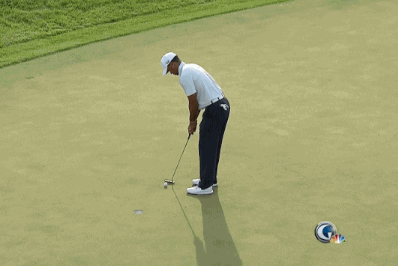 Woods lips out for par at the par-4 16th hole, now five-over par on the day and +8 overall.
McIlroy also grabs his seventh bogey of the day and drops to +8 as well.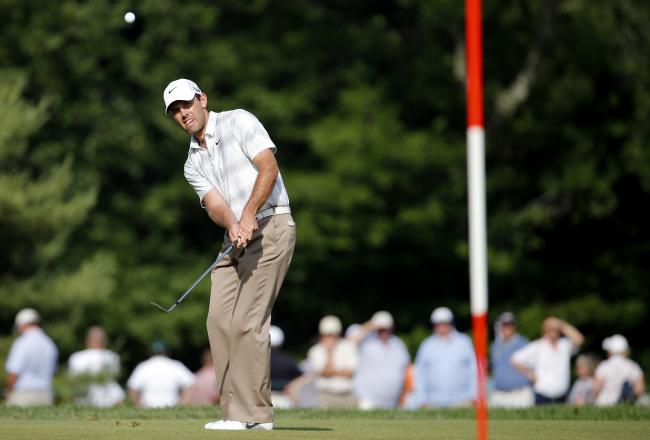 "Mistake free golf" doesn't often get an opportunity to be said at a U.S. Open. Since making a bogey at his second hole, Charl Schwartzel has played mistake free golf.
He's currently three-under par on the day and the leader at -2 for the championship.
Schwartzel's tied for the lead for most birdies this week with 12, has hit 10 of 13 greens in regulation and seven of 10 fairways.
That type of consistency paired with the fact that he's clearly grasping the speed and break of these greens may be the winning formula to winning his second major championship.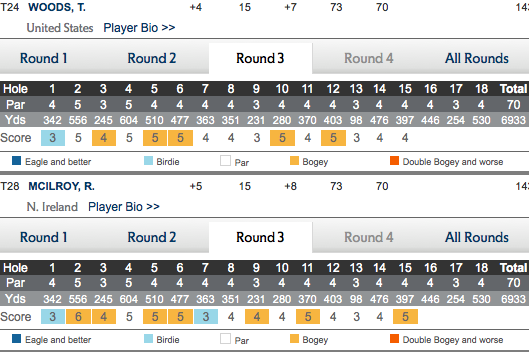 Very mediocre rounds for Rory McIlroy and Tiger Woods, the highest ranked players in the field, who are now +7.
They continue to trudge along Merion, but aren't gaining any ground on the leaders who are a full nine shots in front.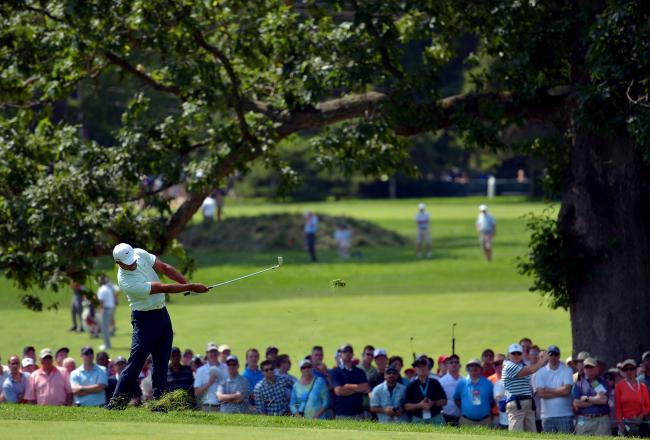 Bizarre how strong Woods started, sinking a downhill, severely breaking putt, only to have that be his ONLY birdie of the day.
McIlroy may have more birdies than Tiger (two), but he also has more bogeys (six versus five).
Both players remain +7 for the championship, nine off the leaders, Luke Donald and Charl Schwartzel (-2).
Here's the real indicator that Tiger Woods is struggling.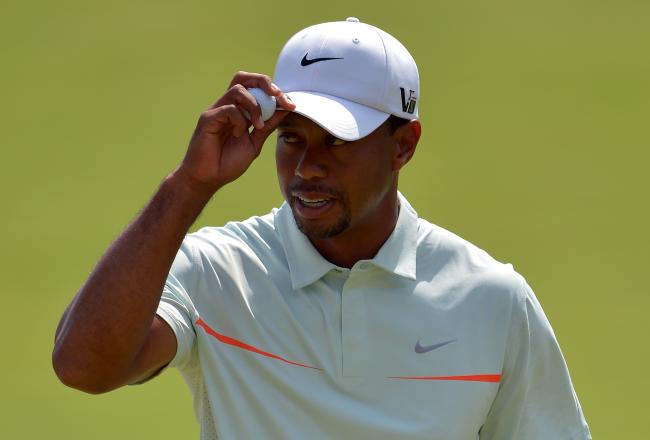 Moving into the toughest stretch of holes on the back nine, Woods and McIlroy make par at the 14th as they head to the 367-yard 15th hole, a narrow par-4 that requires an accurate tee shot.
These two players continue to lose ground on the leaders, who are now Schwartzel and Donald at -2. Mickelson one of the pace at -1.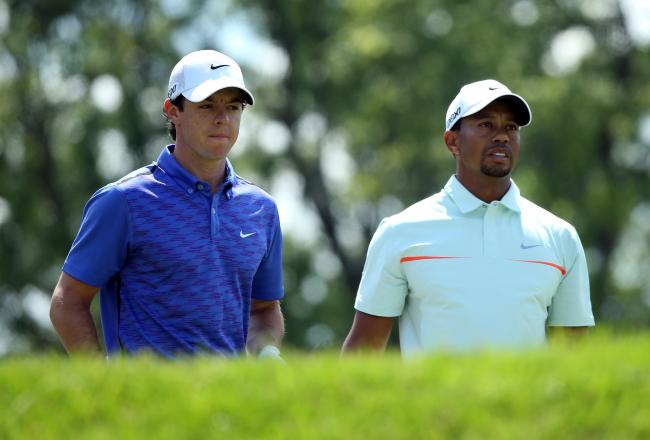 Both Woods (+7) and McIlroy (+7) have made a pair of bogeys and zero birdies to counter them on their back nines.
Heading into the week, Tiger was the clear favorite in the field because when your last name is Woods, just about any course should suit your game. Having won four of his last eight tournaments this season didn't hurt him either.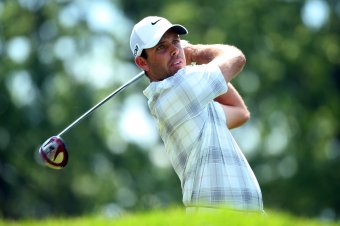 Andrew Redington/Getty Images
For McIlroy, despite a bout with inconsistency in 2013, his strength with his irons paired with his history of thriving in majors (2011 U.S. Open and 2012 PGA Championship) made him another serious contender.
Both players put themselves in position to make a run Saturday, moving day at the U.S. Open, but each player has struggled to create any sense of momentum. Birdies to start boded well for the two highest ranked players in world, but costly mistakes have put them both now nine shots back of the leader, Charl Schwartzel (-2).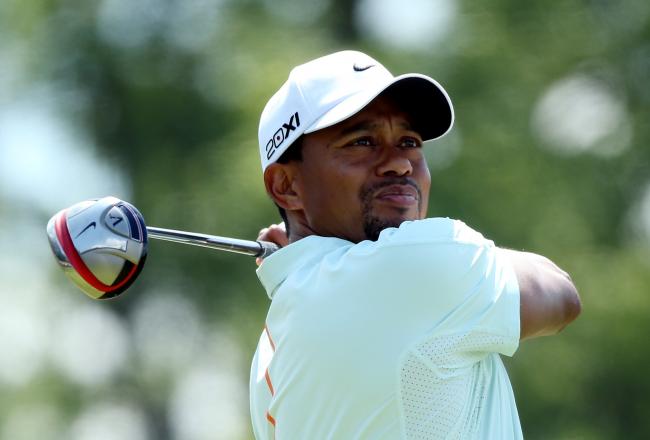 What does it mean that Tiger ran away with the win at the Farmer's Insurance Open, the WGC-Cadillac, the Arnold Palmer Invitational and again at the Players Championship, yet is nowhere near contention at the U.S. Open?
Is Woods' major magic gone?
Today, it's his iron play and putting that's let him down. Hitting fairways is crucial at Merion and he's hit nine of 10 on the day. But there's glaring holes in his game that Merion's exposed.
Or have they?
Has Tiger buckled under the pressure of the U.S. Open? He was the undisputed favorite this week and despite two days of relatively solid golf—he was +3 and just four behind the leader after Day 2—he's taking himself out of this championship with poor mistakes. Whether they are mental or physical is tough to say about the No. 1 ranked player in the world.
Whatever it is, Woods is +7 for the championship and four-over par today.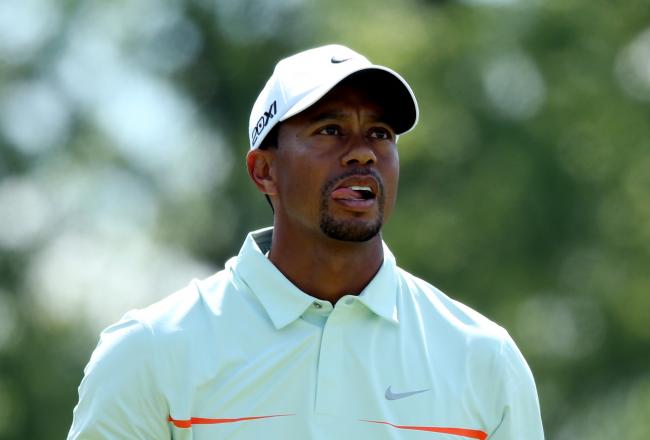 Strangely, Woods has hit 90% of his fairways today, yet been unable to convert because of problems with his wedges.
This is especially confusing considering Tiger's ability to knock it tight with his wedges led to his victory at the Players Championship just a few weeks ago, and has been an integral part of his success this season, winning four of eight tournaments.
He's hit nine of 12 greens in regulation in his third round, but only a few have been in the right portion of the green or close enough to convert for birdie.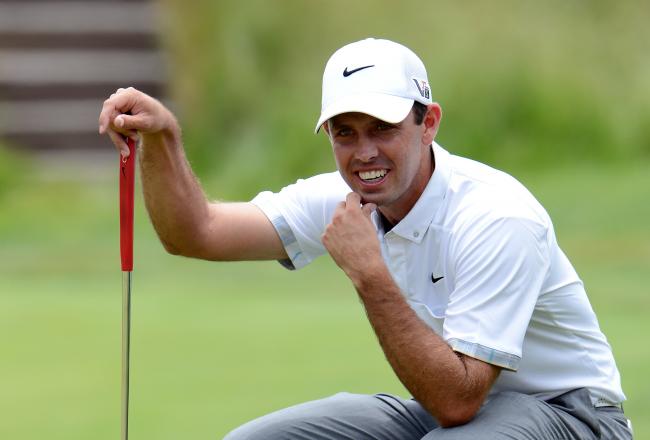 Charl Schwartzel (-2) made his fourth birdie of the day at the 10th hole to take sole possession of the lead at the U.S. Open at Merion Golf Club.
This leaderboard has been changing rapidly, but Schwartzel is the kind of player who can hold steady on a course like Merion. He's incredibly accurate with his long irons, precise with his wedges and has one of the best short games in golf today.
Plus, the fact that he's a proven major champion (Masters 2011) means he understands the pressure of the moment in a historically significant environment like Merion.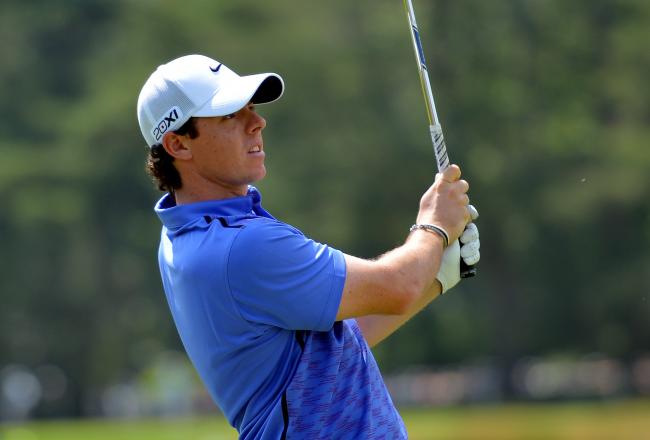 Woods (+6) makes par at the 11th hole and has now played four of the easiest holes on the course at one-over par. Granted this course doesn't have many 'easy' holes, but the fact that they are short means you can hit a long iron off the tee and leave yourself a wedge to play an aggressive shot.
Tiger, however, is not only struggling with his distance control, but cannot read these greens to save his life today.
McIlroy's bogey at the 11th is now his sixth of his round; he made nine bogeys total between rounds one and two. The two-time major champ looks lost and is +7 for the championship.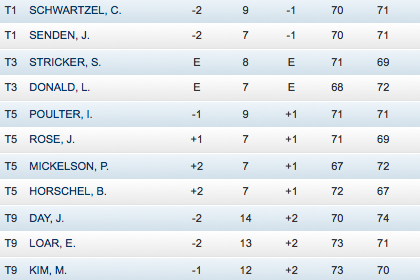 Phil Mickelson (+1) and Billy Horschel (+1) began the day atop the leaderboard at -1, but they've slightly fallen off and been replaced by the 2011 Masters champ, Charl Schwartzel (-1).
Unfortunately Tiger Woods (+6) and Rory McIlroy (+6) have been complete non-factors so far Saturday through 11 holes.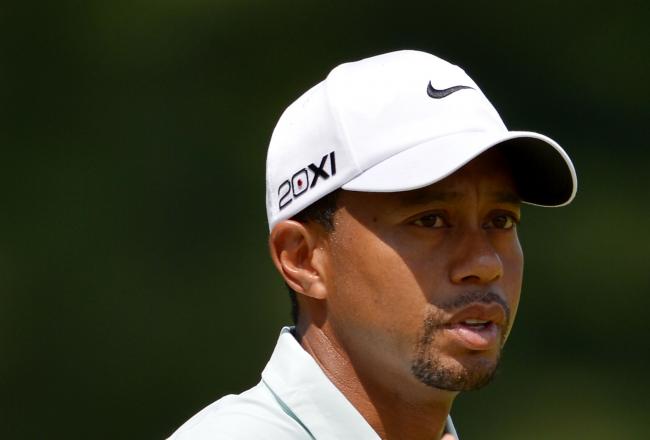 An unfortunately true observation from Yahoo! Golf writer Shane Bacon.
What will be on Tiger's pro golfing tombstone - the best of all-time with the lead. Average at best when trailing.

— Shane Bacon (@shanebacon) June 15, 2013
Woods is 53-4 when he has at least a share of the lead going into Sunday. But he's never won a major when not in the top 5 after 36 holes.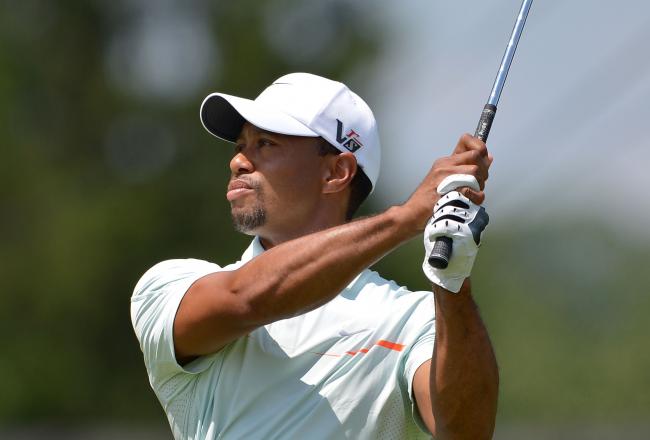 Woods has been anything but himself today.
No swagger in his walk down the fairway. No fist pumps, on account of making zero clutch putts since the first hole.
But most of all, no rhythm. He hasn't established any momentum since his birdie at the first. Since then, despite hitting most of his fairways, he's been unable to knock his irons close and the putting stroke that won him four of eight tournaments this season appears to have vanished.
He's now +6 after making bogey at the 10th hole.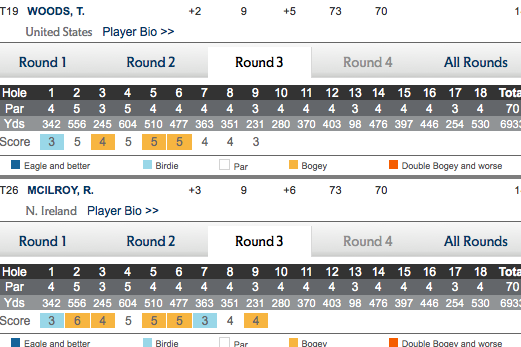 Here's how the two highest ranked players in the field played on their front nine's at the U.S. Open.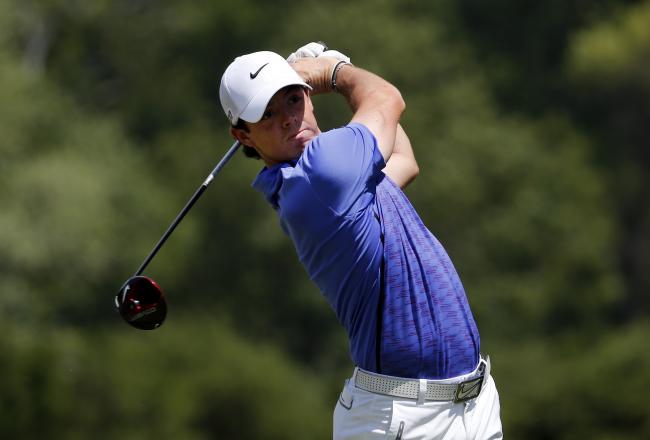 Tiger (+5) escapes the par-3 ninth hole with a par, but the No. 2 ranked player in the world, Rory McIlroy, was not so lucky.
McIlroy cards his fifth bogey of the day and falls back to +6 overall, seven behind the leaders.
So far McIlroy's scorecard features only two pars, two birdies and five bogeys. That's just a bit different than Steve Stricker, who has made par on every hole of the day so far, now even-par through his first six holes.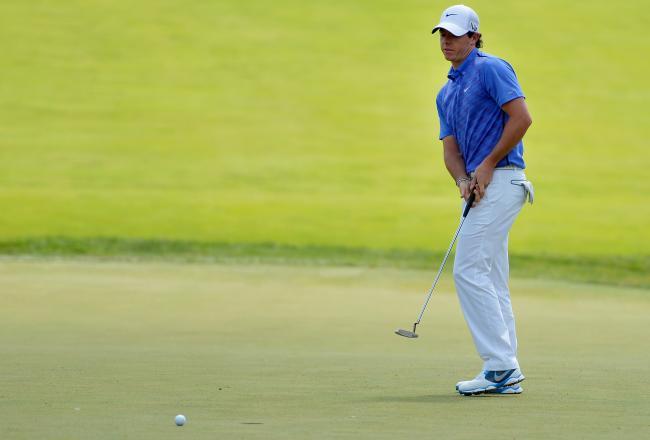 Tiger and Rory are currently T19 in the field, both +2 on the day and +5 for the championship, six shots behind the pace.
For McIlroy, his irons have let him down in this third round. He's hit just four of nine greens in regulation and 25 of 45 so far in this championship. You can attribute that to his switch to Nike clubs or just say that he's having a bad week. Whatever it is, if he doesn't make the adjustment he's going to find himself nowhere near contention.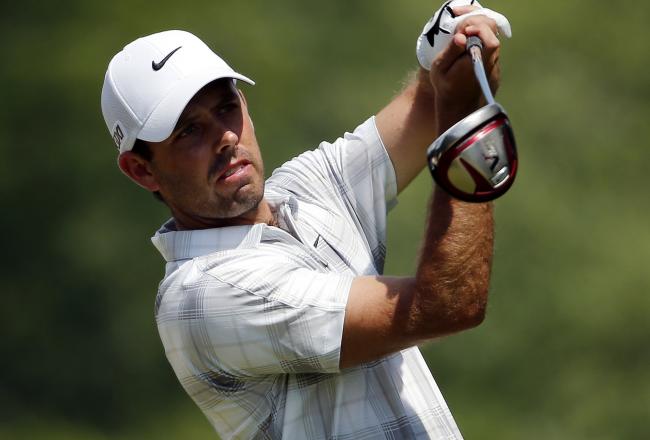 When the best players in the world are bouncing back and forth on the leaderboard you know they're facing a brutal test.
Merion continues to stifle everyone from Tiger Woods (+5) to Phil Mickelson (+1).
They're all chasing our new leaders Charl Schwartzel (-1) and Luke Donald (-1).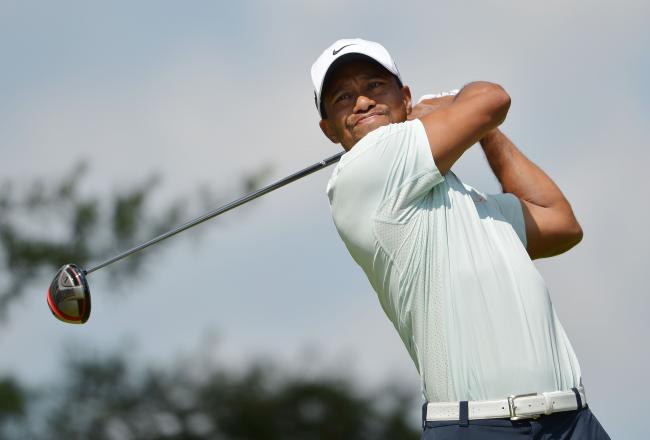 Tiger (+5) is along way from done, but also a long way away from the leaders (Senden/Donald at -1).
What's most frustrating of all is that Woods is finding the fairway, which is easily the most difficult feature of Merion's grueling test. However, his inability to hit it close or convert on crucial birdie and par putts has hurt his chances.
He's coming up on his ninth hole and continues on a stretch of the shorter, more approachable holes at Merion before reaching the devilish batch of holes 14 through 18.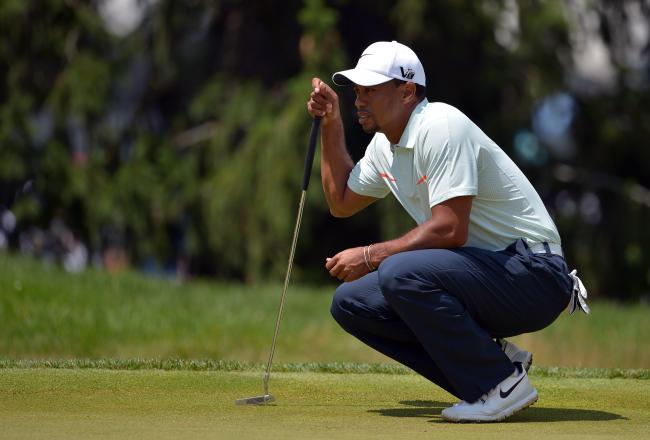 Woods can't buy a putt right now.
After setting himself up with another terrific birdie opportunity at the 8th hole, Woods was not even close to making that one.
Perhaps Steve Stricker can give him a mid-round putting lesson?
This article is
What is the duplicate article?
Why is this article offensive?
Where is this article plagiarized from?
Why is this article poorly edited?