His was not the name on the top of anyone's list going into Merion, but Phil Mickelson is showing once again why he cannot be underestimated whenever the U.S. Open rolls around.
The man whose five second-place finishes are the most in Open history has put himself in excellent position to make personal history and card his first win going into the weekend.
Leaving the best for last, Mickelson finished up a par-laden scorecard with a birdie on the 18th, the toughest hole on the course.
While the golf world wondered how Tiger Woods, Matt Kuchar, Rory McIlroy and Adam Scott would perform this weekend, it is Phil who has emerged as the front-runner.
As darkness suspended Friday's round, Phil was tied for the lead with Billy Horschel at one under, the only two in the field in red numbers.
With its unforgiving rough, narrow fairways and table top, multi-tiered greens, Merion has shown itself a worthy opponent as reflected in the plethora of over-par scores.
Yet, Phil played near-perfect Open golf, at one point scoring 10 straight pars until lipping out a putt on No. 12. He followed that with another bogey on the 123-yard 13th hole and looked to be headed downhill as he approached the toughest stretch of the golf course.
Righting himself, he cruised through the last five holes in one-under.
Depending upon how you look at it, the round was either completely frustrating or tremendously uplifting.
Phil probably had as many birdie opportunities as he had pars. Yet, as the day went on, and the greens got faster, his putter let him down.
Still, probably no one else on the course, save Tiger, knows what it takes to perform at a high level at an Open tournament, and Lefty just kept plugging and grinding. That is what 13 pars tells you.
On a day when just about the entire field fell backward, Phil's round of 72 must have felt like a 65.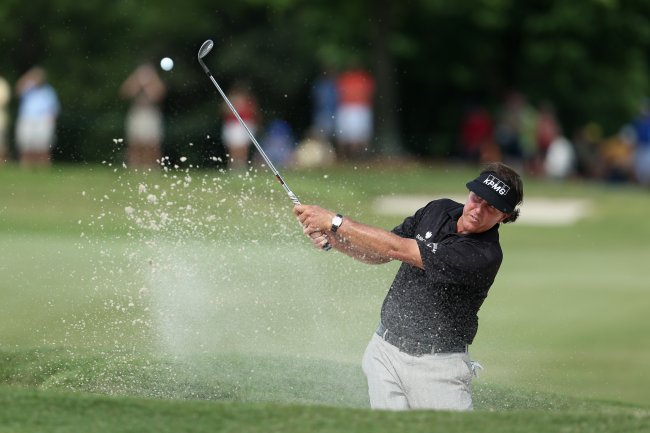 Andy Lyons/Getty Images
He is playing with remarkable iron control, hitting 75 percent of both his greens in regulation and fairways. He has forsaken his driver for fairway woods and irons off the tee. He is playing to his second shot, managing the course, avoiding the rough and getting out of trouble in typical Lefty fashion.
Take hole No. 2 where he flew the ball onto the green from a fairway trap, a seemingly inescapable lie that he turned into a par.
At the 313-yard ninth hole, he mishit his drive, knocked the next shot in the sand, then pounded the ball out of the sand within inches of the cup.
On the next hole, he drove it 240 in the middle of the fairway to set himself up for a pitch shot to the 10th green. His next shot landed just 20 feet from the cup. Another par.
Remember, pars at the Open are like birdies on any other course, and Phil showed his complete understanding of that concept.
Will Phil Mickelson continue his path toward his first US Open win?
From the time Phil decided to go to this daughter Amanda's eighth grade graduation in California, leaving him an all-night flight back to Merion to make his early morning tee time, Phil has been in control.
For whatever reason, golf pundits had failed to recognize Phil's uncanny ability to play at the highest level at the Open. Kind of silly when you think not only about his record at Open tournaments but that he had just finished second at the St. Jude Classic and third at the Wells Fargo Championship in early May.
The last four Open winners have all been first-timers.
Phil can add his name to the list by continuing to grind his way around Merion.
He might also want to sleep in his plane tonight.