UFC 161 Results: Most Impressive Performances from Winnipeg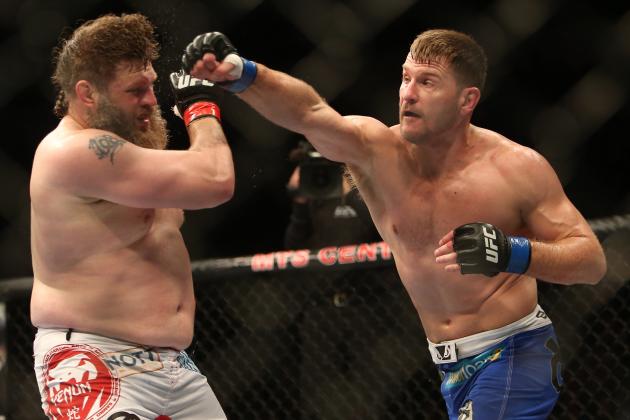 Tom Szczerbowski-USA TODAY Sport

UFC 161 was destined to be a dud once the interim bantamweight title bout between current champ Renan Barao and top contender Eddie Wineland fell apart.
To make things even worse, Antonio Rogerio Nogueira had to pull out of his fight with Mauricio "Shogun" Rua due to a nagging back injury. Chael Sonnen stepped up to replace Nogueira, but visa issues nixed that possibility. Now Sonnen will face "Shogun" in the main event of the inaugural UFC on Fox Sports 1 card.
There were a number of other fighter changes, leaving UFC 161 as little more than a shell of its former self. The card was further plagued with questionable decisions, several lackluster bouts and only two finishes.
However, there were a few bright spots—even on a card as dreadful as UFC 161. These are the fighters who had the most impressive performances in Winnipeg.
All statistics were obtained via FightMetric.
Begin Slideshow

»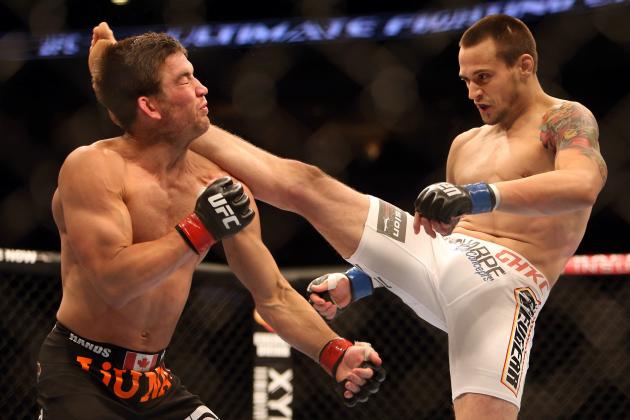 Tom Szczerbowski-USA TODAY Sport

James Krause has racked up 20 victories over the course of his career, and though he's had fights in the WEC and Bellator, he never got a win on the big stage. That all changed Saturday night.
Krause was a late replacement for Sam Stout's original opponent, Isaac Vallie-Flagg. However, the Virginia native displayed little in the form of Octagon jitters.
Krause and Stout battled back and forth for three thrilling rounds. Each fighter threw over 200 total strikes apiece, with Krause landing better than 50 percent.
Based solely on the FightMetric numbers, Krause probably would have walked away with a hard-fought decision, but he didn't bother leaving it in the judges' hands.
He only landed one takedown, but he made the most of it, catching Stout with a tight guillotine choke. The finish came with only 13 seconds left in the fight, marking Krause's 13th win via submission.
Krause's performance netted him both the Submission and Fight of the Night bonuses. Now, it will be interesting to see who the UFC pairs him up with next.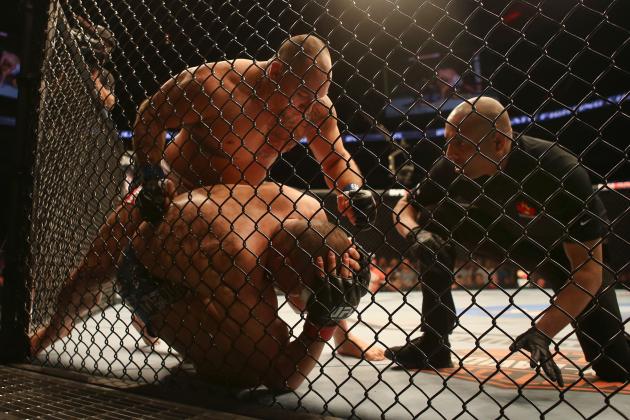 Tom Szczerbowski-USA TODAY Sport

Shawn Jordan made short work of Pat Barry, knocking him out less than a minute into the first round.
He connected with two hard uppercuts that dropped Barry and then followed up with several unanswered shots, forcing ref Jerin Valel to step in.
Jordan landed 10 of 15 significant strikes, which equates to an accuracy of 67 percent. That is a comparable number to Jordan's two other UFC wins against Mike Russow (58 percent) and Oli Thompson (57 percent). Both of those wins also came via knockout.
The win may be bittersweet given Jordan's friendship with Barry, but it is still the biggest of his burgeoning career. The finish also earned him an extra $50,000 for Knockout of the Night honors—not too bad for 59 seconds of work.
Heavyweight is in dire need of fresh talent, and a power-punching bruiser like Jordan could easily start making waves in the deep-as-a-puddle division.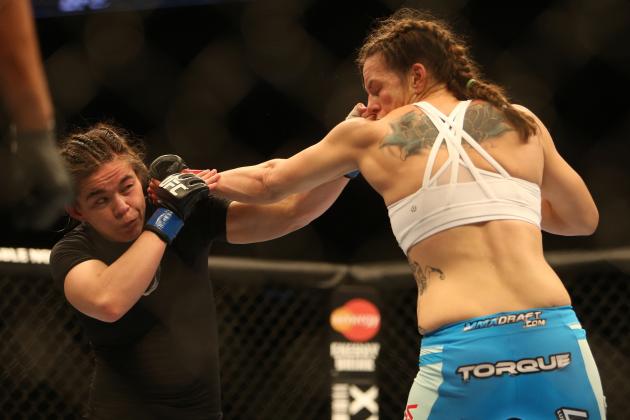 Tom Szczerbowski-USA TODAY Sport

While it may just be "The Ronda Rousey Show" right now, there are a number of really impressive fighters currently in the women's bantamweight division.
In only the fourth women's fight in UFC history, Alexis Davis and Rosi Sexton slugged it out in a closely contested three-round affair.
The numbers show Davis clearly won the second round, but the first and third were up for grabs. Each fighter landed a similar number of total strikes.
Sexton also stuffed all three of Davis' takedown attempts. When the fight went to the ground, however, Davis, a Brazilian jiu-jitsu black belt, was definitely more active. Davis tried locking up a triangle choke and a rear-naked choke but wasn't able to get Sexton to tap.
Even though Davis walked away with the unanimous decision (29-28, 29-27, 29-27), there really wasn't a loser in this bout. Both women looked great and put on one of the best performances of the night.
This fight was another shining example of why it was a great decision for the UFC to add a women's division.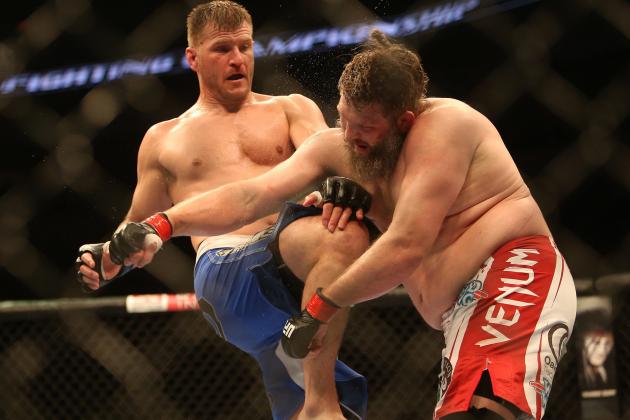 Tom Szczerbowski-USA TODAY Sport

In his last UFC appearance, Stipe Miocic was knocked out by Stefan Struve. The loss marked the first of his professional career.
Originally, Miocic was to make his return against Soa Palelei. After the main card shuffle, though, the little-known Palelei was replaced with fan favorite Roy Nelson.
Nelson was only six weeks removed from his Knockout of the Night win over Cheick Kongo at UFC 159. Regardless, this is easily the worst "Big Country" has looked inside the Octagon. On the other hand, Miocic has never looked better.
The Croatian blasted Nelson with 106 significant strikes, connecting 62 percent of the time. Only former heavyweight champ Junior dos Santos landed more significant strikes against Big Country, though his overall accuracy (46 percent) was lower than Miocic's.
Miocic also successfully avoided Nelson's power. Big Country threw 130 total strikes but only connected on 25—a measly 19 percent.
The 265-pound division is wide open, and with a victory over the No. 5-ranked heavyweight, Miocic finds himself in the driver's seat. If he can string together a few more high-profile wins, then a title shot won't be too far behind.