Treacherous weather conditions left golfers running for the clubhouse and rounds unfinished in Round 1, but that was nothing compared to the despair felt by many players in Friday's second round.
While rain played no factor in Round 2 action, the world's top golfers faced even more difficult conditions on Friday—Merion Golf Club's difficult East Course. With about half of the field still needing to finish their Round 1 action after Thursday's suspension, the marathon day proved to be a little more than some players could handle.
Scores in the second round went into the mid-to-high 70s (with a few exceptions) as deep rough and demanding hole locations left most of the field hoping for par.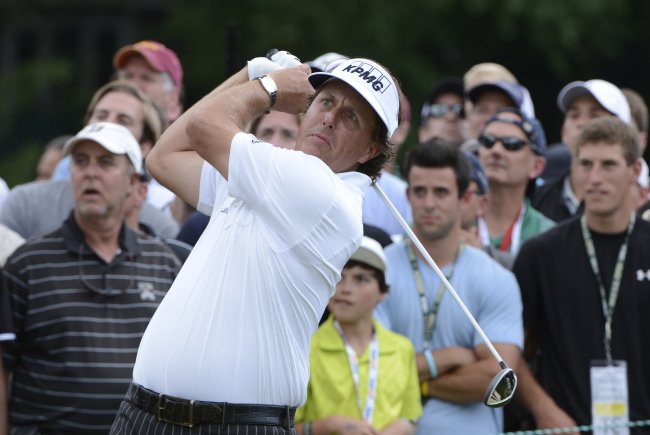 Eileen Blass-USA TODAY
Two men stood above the test.
Sitting in the clubhouse lead—there are still plenty of players whose second rounds were unable to finish Friday due to darkness—are Billy Horschel and Phil Mickelson.
Firing accurate shot after accurate shot, Horschel had the best score of the day with a three-under score of 67, combining with his two-over 72 in the first round for a one-under overall lead. As noted by ESPN's Justin Ray, Horschel was a complete anomaly in the field on Friday, with his score being 7.5 strokes better than the average when he walked into the clubhouse.
Billy Horschel (hit all 18 greens in regulation) shot 67 today - 7.5 shots better than the current average score in round 2.

— Justin Ray (@JRayESPNGolf) June 14, 2013
Phil Mickelson, who was the clubhouse leader after a Day 1 score of 67, faltered a bit in his quest for his first U.S. Open title—at least until his final hole. The five-time runner-up had matched his three-under score with an equal score in the opposite direction in Round 2, but he was given an opportunity for one last shot on No. 18 before play ended.
Lefty drained his birdie putt, his only one of the day, to tie Horschel heading into the clubhouse.
Play has ended at the Open,....but Mickelson, with option to finish 18, rolls in a birdie to tie Horschel

— Mark Whicker (@MWhickerOCR) June 15, 2013
Horschel and Mickelson sit one stroke ahead of a five-man gaggle of golfers, including Justin Rose. Here is a look at how the remainder of the second-round leaderboard looks, with golfers still yet to finish their second rounds.