2013 Stanley Cup Final: Boston Bruins' Keys to Rebound in Game 2
Harry How/Getty Images

The Boston Bruins are trailing in a playoff series for the first time in the 2013 campaign after dropping Game 1 of the Stanley Cup Final to the Chicago Blackhawks 4-3 in triple overtime.
However, this isn't an unfamiliar spot for the Bruins to be in at this stage of the postseason. Boston lost the first game of the 2011 Cup Final on the road to the Vancouver Canucks and then lost Game 2 in overtime to fall behind 0-2. The Bruins recovered to win the series in seven games, and this experience will help the club two years later.
"We've been through a lot," said Bruins head coach Claude Julien on Thursday. "Again, when you go back to the year we won, we were down 2-0 to Montreal losing our first two games at home. We bounced back from that. We're down 2-0 against Vancouver in the final and we came back.
"I don't think much is going to rattle our team. We're a pretty resilient group of guys."
Let's look at five keys to a Bruins victory on Saturday as they aim to even the series before it travels to Boston.
Begin Slideshow

»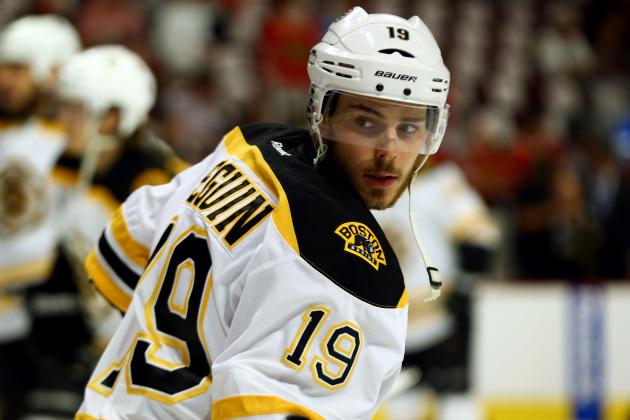 Bruce Bennett/Getty Images

Tyler Seguin will have to start scoring goals and make a real impact offensively for the Bruins to win four games against a fundamentally sound Blackhawks team that's also getting strong goaltending from Corey Crawford.
Julien put Seguin on the Bruins' first line when veteran winger Nathan Horton left Game 1 during the first overtime with an upper-body injury. But the 21-year-old wasn't able to find the back of the net despite creating some high-quality scoring chances with his impressive speed and playmaking skills.
The former No. 2 overall draft pick has tallied just five points (one goal, four assists) in the playoffs, which has hurt the team's scoring depth.
Seguin has been playing on the third line since the second round, and that's not the best place for him because Rich Peverley and Chris Kelly are not centers who can create scoring chances.
He needs to be on the first line with David Krejci and Milan Lucic or the second line with Patrice Bergeron and Brad Marchand to rediscover his impressive offensive form. Even if Horton plays on Saturday, the Bruins would be wise to put their young star on the second line and move veteran winger Jaromir Jagr down to the third line.
Seguin, Bergeron and Marchand developed some great chemistry last year by playing together all season. They were the highest-scoring trio on the team in 2011-12 and should be reunited for Game 2.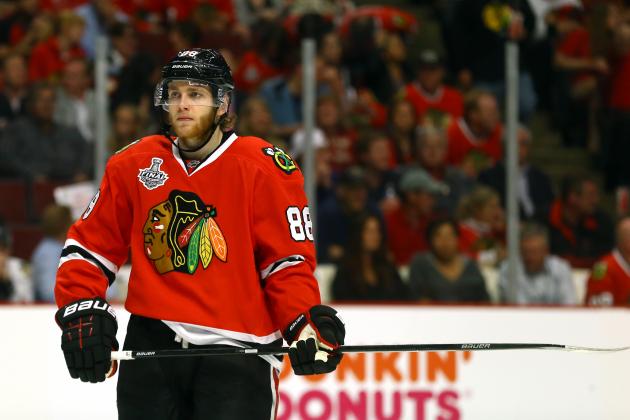 Bruce Bennett/Getty Images
Patrick Kane
One of the positives from the Bruins' Game 1 performance was their defensive work against the Blackhawks' top-six stars, including Jonathan Toews, Patrick Kane and Patrick Sharp.
These three forwards combined for zero points and a minus-two rating in the series opener.
Kane scored a hat trick in Chicago's series-clinching win in Game 5 of the Western Conference Final against the Los Angeles Kings, and Toews added two assists. But they were unable to generate many quality scoring chances against Bruins defensemen Zdeno Chara, Dennis Seidenberg and Johnny Boychuk.
Even without the last change as the road team, Julien was able to get Chara on the ice for Toews' first 15 shifts at even strength. Winning the matchup game will have a huge impact on the outcome of Game 2.
The Blackhawks were fortunate to take Game 1 despite many of their best offensive players failing to contribute offensively, and they won't win the series if this trend continues. If the Bruins keep playing a physical game and maintain their good neutral-zone defense against Chicago's top six, they will win Game 2.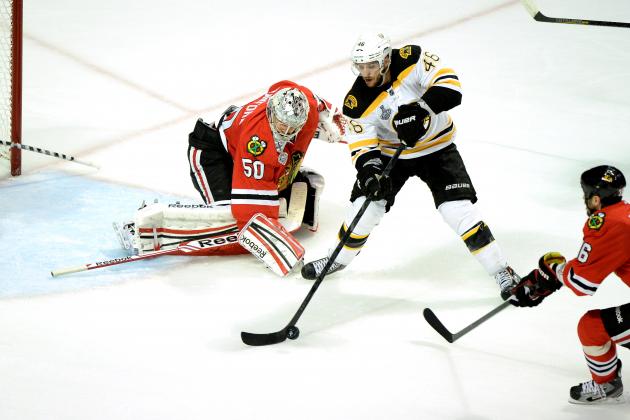 Harry How/Getty Images

Corey Crawford, like a lot of good goaltenders, is often vulnerable glove side, especially when the puck is shot up high.
As TSN's Stats Guy explained on Twitter, the Bruins used this strategy in the series opener and found impressive results:
Crawford: allowed more goals this season(14) high glove than anywhere else. BOS shot high glove 30 times in Game 1, scored all 3 goals there
The Bruins took 54 shots in Game 1, their highest total in a single game during the playoffs. Boston does have players in its top-six forward group capable of beating Crawford high glove side consistently, including Bergeron, Marchand, Seguin and Krejci. Even though Lucic is not a great goal scorer, he did score two nice goals high glove side on Wednesday.
Getting traffic in front of Crawford and screening him will also help pucks find the back of the net. The Bruins didn't establish enough of a net-front presence throughout Wednesday's game. Expect them to make this adjustment in Game 2.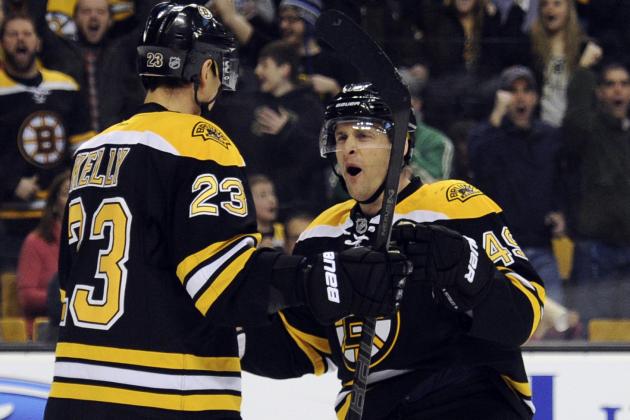 USA TODAY Sports

The Bruins acquired Chris Kelly and Rich Peverley at the trade deadline a few months before the team's championship run began in the 2011 playoffs. They came to Boston as depth players but ended up making a strong impact at both ends of the ice, especially in the Cup Final against the Canucks.
These two veterans also shined in the Bruins' disappointing first-round exit to the Washington Capitals last year. Kelly scored the game-winner in overtime of Game 1, and Peverley led the team with five points in the series.
After awful regular-season performances, Kelly and Peverley have contributed very little to the Bruins' success in the 2013 playoffs. Winning over 56 percent of their faceoffs isn't good enough for these veterans; at some point they must start scoring.
Here's a comparison of their performance in this year's playoffs compared to two years ago:
| | | | | | | | | | | | |
| --- | --- | --- | --- | --- | --- | --- | --- | --- | --- | --- | --- |
| 2011 | | | | | | | 2013 | | | | |
| Player | GP | G | A | P | +/- | | GP | G | A | P | +/- |
| Kelly | 25 | 5 | 8 | 13 | 11 | -- | 17 | 0 | 0 | 0 | -9 |
| Peverley | 24 | 4 | 8 | 12 | 6 | -- | 16 | 1 | 0 | 1 | -6 |
| Total | | 9 | 16 | 25 | 17 | -- | | 1 | 0 | 1 | -15 |
Boston's bottom-six forwards were badly outplayed in Game 1 with zero points during 5-on-5 play. The Blackhawks' third line combined for two goals, one by Dave Bolland and the other by Andrew Shaw in the third overtime.
The Bruins need scoring depth to win this series, which means that Kelly and Peverley need to start producing offensively and creating more scoring chances in Game 2.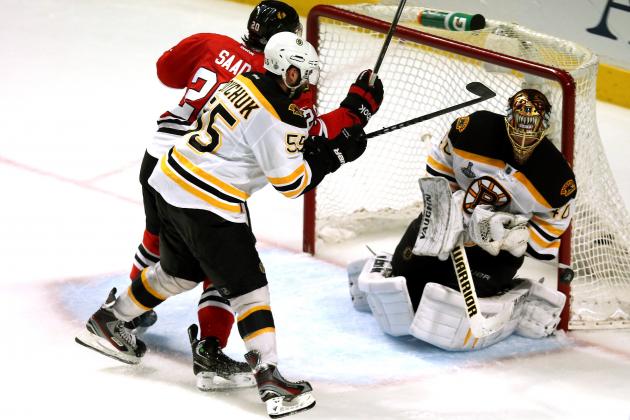 Jonathan Daniel/Getty Images

Tuukka Rask allowed more goals in Game 1 against the Blackhawks (four) than he did in the four games against the Pittsburgh Penguins during the conference finals (two), but you could argue that at least three of the goals he gave up on Wednesday were not his fault.
Chicago's second goal resulted from an awful turnover by Bruins defenseman Torey Krug, its third goal found the back of the net after deflecting off Andrew Ference's skate and the overtime winner found the back of the net after being deflected twice within 15 feet in front of Rask.
Rask actually played really well in Game 1, especially in the first period, when the Blackhawks started off strong and spent most of the opening 10 minutes in the attacking zone. He made a playoff career-high 59 saves, including some excellent stops during the Bruins' three short-handed opportunities.
With Blackhawks goalie Corey Crawford winning eight of his last nine games and playing with a ton of confidence right now, the Bruins need Rask to be excellent in each game of this series. Boston won't win a high-scoring series because it lacks the same amount of offensive depth and firepower that Chicago brings to the ice.
Nicholas Goss is an NHL Lead Writer at Bleacher Report. Nick was a credentialed reporter at the 2011 Stanley Cup Final and 2012 NHL playoffs, and he will also be a credentialed writer at the 2013 Stanley Cup Final in Boston. All quotes obtained firsthand or from NHL media notes.