Derrick Rose is finally back in MVP form, over 13 months after infamously tearing his ACL in the Chicago Bulls' first game of the first round of the 2012 NBA playoffs.
His head coach, Tom Thibodeau, told Jon Greenberg of ESPN Chicago that the superstar point guard is now showing the same explosiveness and exuding the same confidence that made him one of the league's best young talents before going down with injury.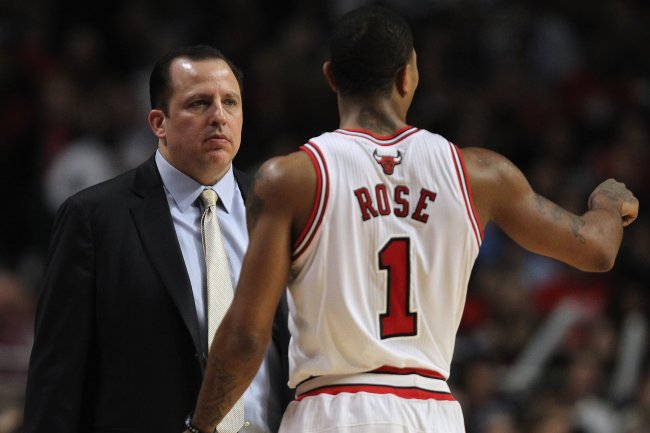 Jonathan Daniel/Getty Images
Speaking on a telephone call regarding a workout approximately one week ago, Thibodeau said:
Watching the way he's moving now, there's a confidence. [Reporters] may not have been able to see the total work he was putting in. But he was putting in an enormous amount of work each and every day. He just never got to the explosiveness he was comfortable with. I think he's there now. He feels great, and that's the most important thing.
After enduring immense amounts of scrutiny for missing the entire 2012-13 campaign and postseason—which ended for the Bulls after a five-game series against the Miami Heat—Rose has to come back better than ever for the 2013-14 tipoff.
Many detractors felt D-Rose let his team down by not participating in the playoffs, especially after the Bulls managed to steal Game 1 on the road against the heavily favored Heat in the conference semifinals.
Critics cited the report of the young point guard being cleared to play by team doctors in the spring and the fact that he was participating in five-on-five scrimmages as early as mid-February as enough evidence that he could participate and excel in a playoff situation.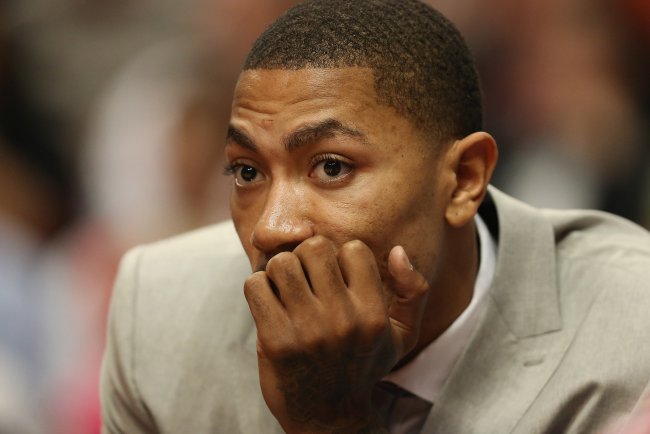 Jonathan Daniel/Getty Images
Throughout it all, Rose remained resilient. He continued to work hard on his rehabilitation and never completely shut down the potential for a return.
While it may have been a perceived distraction by the media, his teammates had his back the entire time and never wavered in their support.
Thibodeau took the time to comment on Rose's decision to leave the door open, as per ESPN:
The kid was being totally honest. At the end of the day, you have to respect that. He wanted to be out there very badly. But no one knew when he would be ready, including him. It was a smart decision to wait. If you're not quite sure, and you're going to err, err on the side of caution. That's what he did. And now he feels great.
How will Rose fare in 2013-14?
It seems that Rose made the right choice in sitting out, as he's now "dominating" in practice and making the cuts and explosive changes of direction that enabled him to beat out LeBron James for league MVP after the 2010-11 campaign.
If he's able to come out and impress from Day 1 of the 2013-14 season, you can expect all the doubters who disrespected Rose throughout his missed season to start making amends and heaping praise on the 24-year-old star.
With the way things are currently going, there's no reason to doubt Derrick Rose.