20 Coolest Football Tricks on the Pitch This Year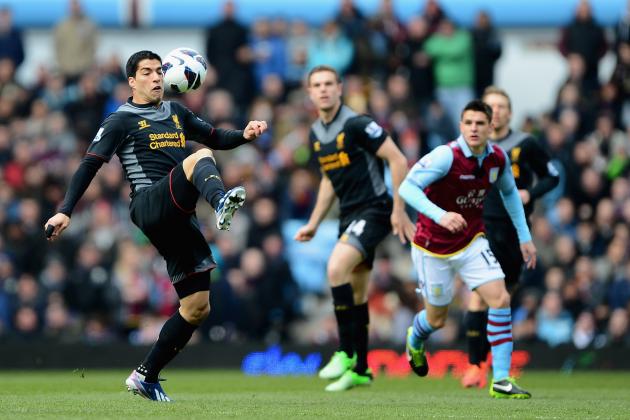 Laurence Griffiths/Getty Images

Football's about goals. It's about winning matches, winning trophies and being the best.
Despite that, the truth is we're still suckers for entertainment. We all want to see our teams playing good football as well as getting positive results.
Deep down, we have a penchant for a bit of flair too, and there's been plenty of that this past season.
Whether it's a breathtaking piece of skill to beat a man, set up a goal, score a goal—or even stop one—it's covered in the following slides...
Begin Slideshow

»
Little Philippe Coutinho's made quite the impression on Merseyside since his move from Inter Milan.
His dragged pass to Jose Enrique, and continued involvement in the buildup to Luis Suarez's goal, show why.
Didier Drogba has scored all sorts of goals in his career; this one against Real Madrid was particularly cool.
Galatasaray were briefly threatening an unlikely comeback when the Ivorian flicked home past Diego Lopez.
Putting a save in here—controversial?
Maybe, but this Petr Cech save—for him at least—has to be the equivalent to executing some insane trick, no?
Trickery and teamwork at its finest from one of the teams of the season.
Marco Reus' pass is a treat, then Lewandowski superbly lifts it over Willy Caballero before finishing—good work all round.
It's not fun scouring the web for Neymar clips. There are dozens—too many—of compilations which last five minutes and feature dodgy music.
This dribble up and down the line against Botafogo was nice though, even if he does run the ball out of play eventually.
You've got all four of Robert Lewandowski's goals against Real Madrid here, but it's the third one you need to pay attention to.
The turn and finish are sublime—and in a Champions League semifinal too.
Watching Lionel Messi wriggle through the Athletic Bilbao defense here is like watching the slalom kayaking at the Olympics.
It's just a shame he didn't make the Bayern Munich match a few days later.
Transporting you all the way back to August, here is Cristiano Ronaldo scoring against Barcelona in the Supercopa.
It's not about the goal though, it's about the tasty flick which sends him through.
Take your pick from either of these two pieces of trickery, as Ronaldinho reminds of what a difficult customer he is to deal with.
Nice to see the no-look pass is still creating goals too.
Rarely have long balls created such beautiful goals.
Luis Suarez may have his problems, but technique and skill are clearly not two of them—as this goal against Newcastle United proves.
Real Sociedad must have known they were going to qualify for the Champions League when Alberto de la Bella scored this goal back in December.
The left-back's only scored four league goals for the club, so to have the fleet of mind to do this was impressive.
Eden Hazard's had plenty to say during his first season with Chelsea in the Premier League.
This, against West Ham, had a little bit of everything.
Not to be confused with his namesake, the Roma striker, is Brazilian forward Osvaldo.
Here he is in one of his two appearances for Brazil, showing all the kids out there how to execute the perfect chapeu.
It's moments like this that have brightened many a weekend for La Liga watchers this last season: Isco teasing defenses.
It's also moments like this that make him one of the most wanted men in Europe this summer.
In the commentary, former Liverpool forward Stan Collymore says he wants to give Zlatan Ibrahimovic a "man-hug" after witnessing this goal.
After watching this clip, would anyone care to join him?
Galatasaray's Selcuk Inan produced this in a recent international for Turkey against Latvia.
If the skill to beat his man is good, the volleyed pass which follows is pretty sweet too.
Bet you didn't expect to be delving into the SPL, right?
This demonstration of football gold from Dundee United's Gary Mackay-Steven is worth its place in this list though
Golazo.
And from a center-back too—who would have know Philippe Mexes had this in his locker?
Not that Falcao, another one. Although you may have already seen it, as it went viral at the end of 2012.
This is a Brazilian Falcao quite simply showing off in a futsal match, scoring an unbelievable goal.
Goal of the season? It's definitely up there.
Let Benfica's Lima and Nicolas Gaitan show you how every goal should be scored.