Denver Broncos: Why Willis McGahee Was Cut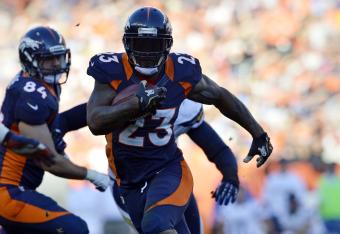 Ron Chenoy-USA TODAY Sports
On Thursday morning, the Denver Broncos unexpectedly cut running back Willis McGahee as they entered their final day of minicamp.
It wasn't so much that it was unexpected that the Broncos would cut Willis McGahee—considering that McGahee will turn 32 years of age during the 2013 season, with the Broncos having drafted two running backs with high draft selections over the past two years, the writing has been on the wall for awhile.
However, it wasn't expected that McGahee would be cut so soon—he had just returned to the Denver Broncos for minicamp two days ago after missing OTAs due to "family reasons."
After telling reporters that he "plans on starting Sept 5th," in reference to Denver's season-opening game versus the Ravens, the Broncos made the decision that they were ready to part ways with the nine-year NFL veteran.
The question is, why did the Broncos wait so long to cut McGahee, when they've had several months to do so, including the past two months after having drafted Montee Ball in the second round of this year's draft?
The Writing Was On the Wall
Ironically, the night before McGahee was cut, I wrote an article in response to McGahee statement "I plan on starting Sep. 5th."
"But the inside track—as mentioned earlier in the article—belongs to Montee and Hillman. It's their job to lose," I remarked.
As simple as it sounds—this is the main reason why McGahee was cut.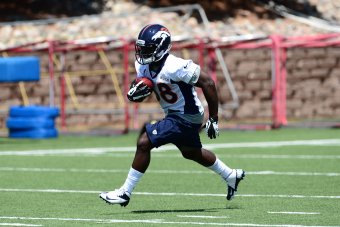 Ron Chenoy-USA TODAY Sports
Although it was just OTAs, Montee and Hillman impressed the Broncos coaching staff enough while receiving first-team reps due to Willis's absence, that it made the Broncos organization feel confident enough to move on from the veteran—just two days into minicamp.
There were no telltale signs leading to the veteran's abrupt cut, but considering the praise that teammates and coaches were giving the two young rookies over the course of OTAs, the writing was on the wall for McGahee's eventual release.
How was the "writing on the wall"?
Take for instance, Peyton Manning's comments, according to Bill Williamson of ESPN, on Ball following OTAs:
"I have taken Montee after practice each day and just kind of going through plays, going through games, getting him comfortable hearing audibles at the line of scrimmage," Manning told reporters in Denver. "We are going to count on him in a big way this year. He's a rookie, but Coach (John) Fox is not going to bring him along slowly. We are going to put him in there and make him a contributor this year. So, the more repetitions we can get out here talking football, talking scenarios, I think the more comfortable he'll be once the regular season gets here."
Age
This was a huge reason for the University of Miami product's release.
Take this into consideration—there was just one running back of the league's top 60 rushers in 2012 who was older than McGahee—Buffalo's Fred Jackson, who ranked 35th in the league in rushing with 437 yards. Jackson is eight months older than his fellow veteran.
The point is this—it's a young man's game, and never is this more evident than at the running back position, where players are replaced at a high rate with rookies and second-year players that resemble Ball and Hillman.
According to Mike Morris of DenverBroncos.com:
At the nucleus of the organization's decision, according to Fox, was the importance of maintaining a young backfield of contributors who are well-equipped for the Broncos' offense in 2013 – and beyond.
In that same article, Fox reinforces the notion that age played a pivotal role in McGahee's abrupt release:
"It gives us a better opportunity to give some of these young guys more reps," Fox said after Thursday's minicamp session, noting that the progress rookie Montee Ball, second-year Ronnie Hillman, and fifth-year Knowshon Moreno have made in the offseason influenced the decision. "It's just a conscious decision for us to get younger."
Other Factors
It's obvious that the impressive showings of Ball and Hillman during offseason workouts, mixed in with McGahee's age, played roles in the release of the nine-year veteran—however, why did it happen so soon and seemingly out of nowhere?
Well, there are a couple of reasons for this.
One reason being, after Ball and Hillman reinforced Denver's belief during OTAs that they could carry the load as running backs entering 2013, the Broncos had already made the decision to rid themselves of McGahee's services.
Having said that, although OTAs concluded a couple of weeks prior to McGahee's release, the Broncos wanted to allow Willis to at least return to the field before cutting him—out of respect.
He had missed OTAs due to "family reasons," but the veteran has annually missed OTAs—the only thing that was different this year was the reasoning.
That's not to say that the reasoning was an excuse, but the fact that the two young runners took advantage of the elder's absence during the course of OTAs did not improve his stock in the eyes of coaches.
This decision was not made today—it was made after the conclusion of OTAs.
It wasn't before OTAs, because the Broncos would have released McGahee either before the drafting of Ball in April, or quickly after they had drafted the University of Wisconsin product.
And so they chose to allow McGahee to return for a couple of days of minicamp "out of respect" and decency before choosing to part ways.
Should the Broncos Have Released Willis McGahee?
The early release also benefits the veteran, because he now has the opportunity to go through a full training camp with a new team, while being comfortable in new surroundings. That is exactly what he plans to do, as he has stated to his intentions of playing in 2013.
Conclusion
The Broncos made a swift decision in releasing their leading rusher over the past two years, but it was with the belief that their two young running backs—Hillman and Ball—will be able to take over where McGahee left off.
It makes the Broncos a lot younger at the position, which is what they desired—and gives McGahee the opportunity to continue his NFL career elsewhere.
This article is
What is the duplicate article?
Why is this article offensive?
Where is this article plagiarized from?
Why is this article poorly edited?

Denver Broncos: Like this team?