Pac-12 Football: Power Ranking Every Coach by Job Security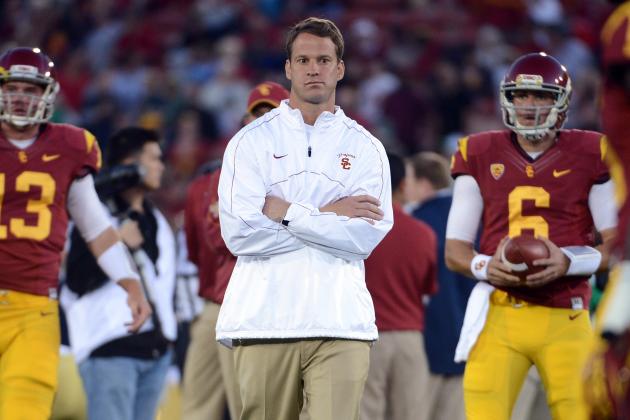 Harry How/Getty Images
USC coach Lane Kiffin
Ah, the old Pac-12 football coaching hot seat: offseason edition.
In a league that appears to be trending upward, there aren't too many coaches that ought to be worried about their spot on the sidelines in 2014. New coaches Todd Graham and Rich Rodriguez (of ASU and U of A, respectively) both had solid 2012 campaigns.
Jim Mora has UCLA on the doorstep of becoming a conference power once again, and Mike Riley's seat cooled off a bit after the Beavers went 9-4 last season. And of course there's David Shaw, who can do no wrong at Stanford after upsetting the Ducks in Autzen Stadium and leading his team to a Rose Bowl victory over Wisconsin.
But not everybody is quite as comfortable, and next season will go a long way in determining the direction of several programs.
How do you define job security? The way I see it, the most secure job belongs to the guy who can withstand a zero win season with multiple blowout losses. The guy on the hottest seat is the one who must meet or even exceed expectations in 2013. Even a bad loss to a rival might cause him to get the boot. This may give you an idea of who bookends the list.
Read on to find out where your teams' coach ranks in terms of job security.
Begin Slideshow

»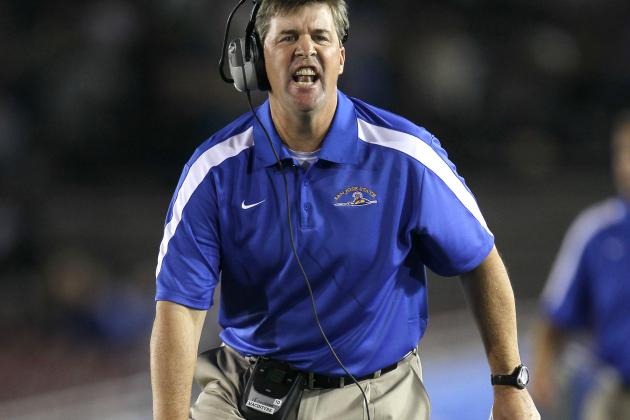 Stephen Dunn/Getty Images
Can the former San Jose State coach revive a struggling CU football program?
This one should come as no surprise as the Colorado Buffaloes are coming off a one win season in which they lost to rival Colorado State as well as FCS team Sacramento State.
In short: there are no expectations whatsoever for Mike MacIntyre's first season as head coach.
That's not to say that a second straight one win campaign would appease the fanbase, because there would surely be grumbling following the season. But barring a complete and utter disaster of a year, MacIntyre's seat is as cool as it gets.
That's typically the case when a three win season would be considered average and anything more than four wins would be hailed as a step in the right direction.
Colorado fans will want to see improvement in 2013, but however the season plays out, you can bet you'll see MacIntyre on the sidelines once again in 2014.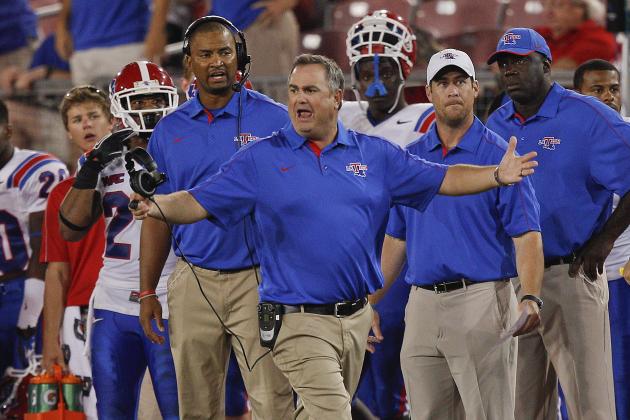 Bob Levey/Getty Images

With the hiring of Sonny Dykes, Cal fans are hoping that both the offense and the overall win total will improve in 2013.
But without an established starting quarterback it's safe to say that expectations aren't very high in Berkeley.
The Bears won three games last season and that might not cut it next year, but you can count on Sonny Dykes getting some time to integrate his high-flying offense, even if that means a couple bad seasons.
Former coach Jeff Tedford was on the hot seat for seemingly several seasons as his teams continually regressed until hitting rock bottom in 2012. Fans should understand that in order to get back up near the mountaintop where North Division rivals Stanford and Oregon currently reside, it may take some time.
But what Dykes brings with him, more than anything, is optimism and the feeling of a fresh start. Running back Brendan Bigelow won't be shelved any longer and the offense will put everything on the table even in defeat.
This kind of attitude, on a team toiling in mediocrity, means that Dykes' seat is safe.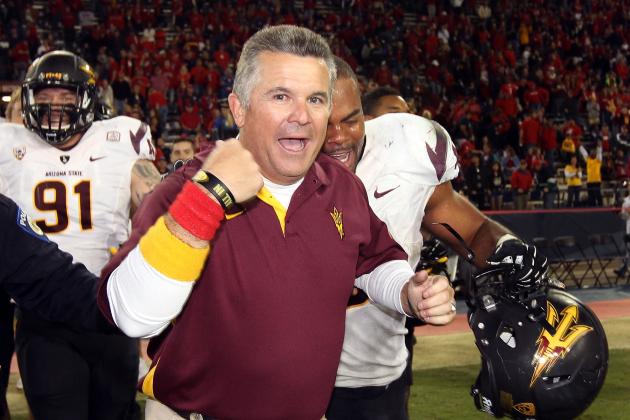 Christian Petersen/Getty Images
ASU coach Todd Graham
Todd Graham's first season as Arizona State's head coach ended in a bowl victory over Navy.
Fans now eagerly await the encore, where the front seven on defense will be stout and the underrated Taylor Kelly returns to lead the offense.
Graham has typically been known as the guy who jumps from place to place without any trace of loyalty to his former players, but his stint with the Sun Devils, at least on the surface, looks different.
The offense is much-improved and has the kind of athletes that teams need to compete in the fast-paced Pac-12 conference.
So how safe is Graham's job? Well it isn't quite Fort Knox, but it's a safe bet that he'll still be around after the season regardless of what happens.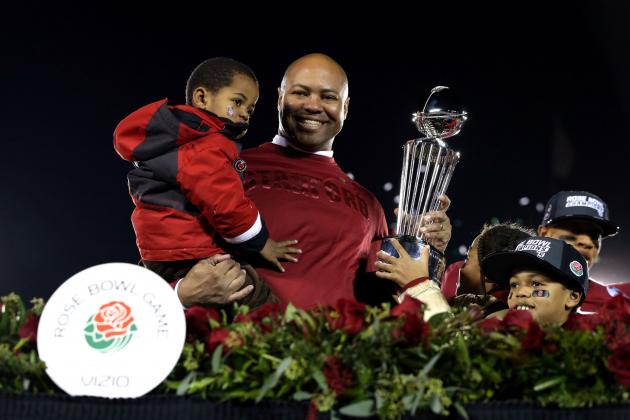 Jeff Gross/Getty Images

David Shaw has led the Cardinal to two straight BCS bowl games (Harbaugh was the coach for the first of the three straight) and has one of the most secure jobs in all of college football? So why isn't he even lower on this list?
Expectations.
Shaw may be in a dream situation with no end in sight, but when you reach the realm of college football's elite teams, an expectation develops among the fanbase that you are expected to stay there.
With the Cardinal being ranked anywhere from No. 2 to No. 8 in various lists, a major drop off would make Shaw's seat a little less cozy.
He's proven to be a terrific head coach and no matter what the 2013 season brings it's hard to see a scenario in which Shaw gets the boot. But when you're the head coach of a conference-winning team, greatness is expected and Shaw's team must continue to deliver.
Stephen Dunn/Getty Images

Perhaps no coach in the Pac-12 conference had a better first year than Jim Mora.
He led the Bruins to a South Division title and despite getting rocked by Baylor in the Holiday Bowl, UCLA appears to be knocking on the doorstep of a BCS bowl.
Of course, none of the other first-year coaches had quarterback Brett Hundley at their disposal, either. The redshirt freshman led the Pac-12 in passing yardage and already has an NFL arm.
There are some questions at wide receiver and running back, but Hundley is a guy who can make the entire offense better. The defense is fast and athletic, and led by surefire first-round draft pick Anthony Barr.
Like the previous slide, the only reason Mora isn't lower in this list is that the expectations have now risen to the point where is a disappointing season is not acceptable. Fans now expect UCLA to be the best team in Los Angeles and anything less than continued improvement could create minor rumblings.
Still, it would take nothing short of major disaster for Jim Mora to not survive the season, and for that reason he checks in at number eight in terms of job security.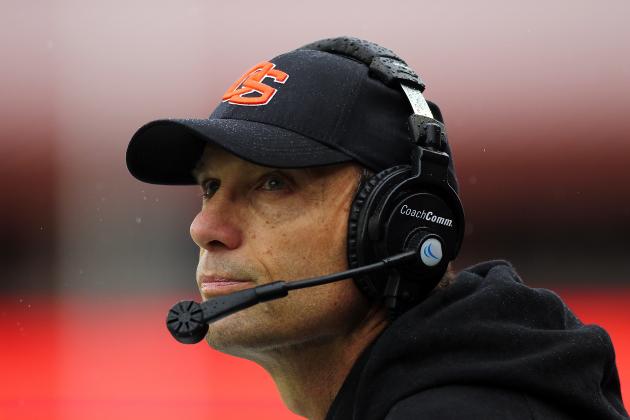 Jonathan Ferrey/Getty Images

Had this list been done a year ago, Mike Riley would be near the very top after his Beavers won just three games in 2011.
But a bounce-back 2012 put Riley back in a familiar, secure position as head coach. He is, after all, the man credited with beginning the resurrection of the program in the late '90's and continuing that effort once again several years later after Dennis Erickson left for the NFL.
Mike Riley is Oregon State football and it's hard to imagine him not roaming the sidelines of Reser Stadium or riding his bike through the streets of Corvallis.
But you have to remember that the team is just a year removed from its worst season in a decade, and given the improvement in 2012, another fall from grace wouldn't make fans too happy.
His job is pretty secure, but don't be surprised to see a little heat if the season results in anything less than seven or eight wins.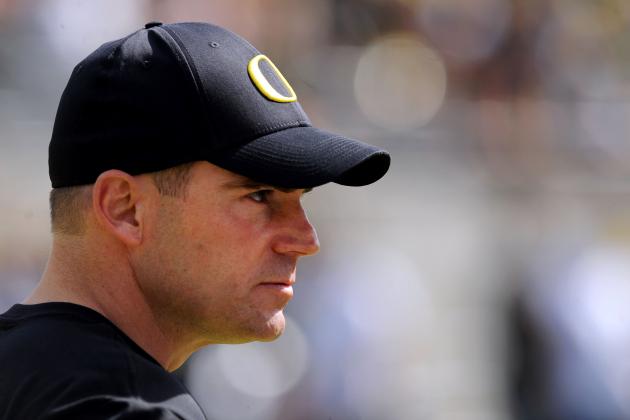 Steve Dykes/Getty Images

Mark Helfrich is the man tabbed with following in the footsteps of Chip Kelly at Oregon, but he won't have the same luxury of job security as fellow first year coaches Sonny Dykes and Mike MacIntyre.
In fact, he'll have surprisingly little job security for a guy just starting out. But that is to be expected when you lead a team boasting the most talented offense in the league and a defense that has been good if not great for the past several years.
Fans will expect 10 wins at the very minimum and the pressure cooker of scrutiny will fall squarely on the shoulders of Helfrich as every decision he makes is compared to what Kelly might have done.
But given that he has yet to coach a game, there's no way he can go any higher on this list. Oregon fans might not be very forgiving of a couple bad losses occuring, but it's hard to imagine a scenario where Helfrich is gone after one season. It would take circumstances unexpected by everybody, and even then you might see the school keep him around for another year.
But expectations are as high as they've ever been at the University of Oregon, and while Helfrich's seat is devoid of any temperature at the moment, it won't stay that way if wins aren't piling up.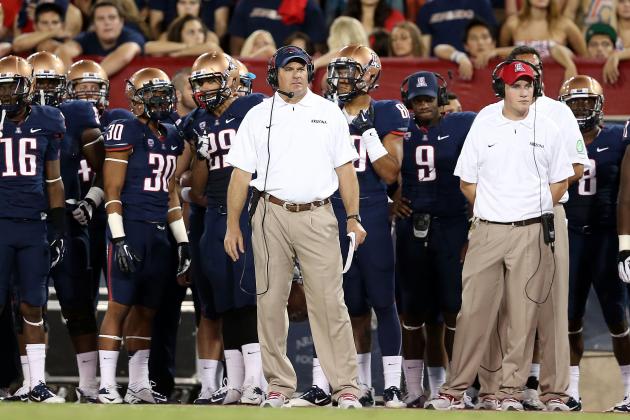 Christian Petersen/Getty Images
Rich-Rod on the sidelines
Even as we reach the top half of the list, we're talking about coaches who have pretty secure jobs. Arizona coach Rich Rodriguez falls into that very category.
After a solid season in 2012 led by quarterback Matt Scott and running back Ka'Deem Carey on offense, Rodriguez' team returns next season without Scott and with some question marks at receiver after standout Austin Hill tore his ACL during the spring.
Still, the defense should be improved and Carey is back as one of the best backs in college football. But the reason Rich Rodriguez is all the way up at number five is partly due to his previous stint at Michigan, where he managed to develop a lethal offense but the defense failed to deliver and his teams regressed.
Despite the upward trend of the program, that thought has to be somewhere in the back of every Arizona fan's mind.
As I mentioned though, Rodriguez' job is pretty safe, if only slightly less so than the other coaches listed before him.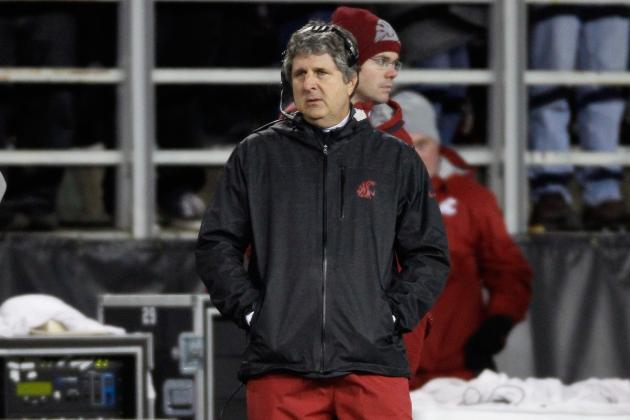 William Mancebo/Getty Images
WSU coach Mike Leach
Now we begin to find some coaches whose seats have a little heat on them.
In the case of Mike Leach, the heat isn't very noticeable, but after a 2012 campaign in which there wasn't a whole lot of improvement, his patented air-raid offense must begin to deliver. In fact, the team actually won one fewer games than it did in 2011.
Leach was supposed to bring his unique style that utilizes an up-tempo passing attack to sling the ball all over the field. There were spurts, too, such as the 4th-quarter comeback in the Apple Cup.
But for the most part, the Cougars failed to dramatically improve in any single area and that gives some cause for concern heading forward.
Leach is definitely safe, but a second-straight season of failing to improve could lead to some burning offseason questions next winter.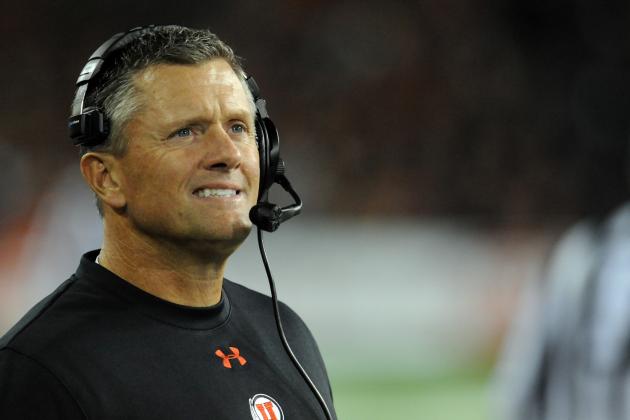 Steve Dykes/Getty Images
Utah coach Kyle Whittingham
Kyle Whittingham and the Utah Utes were on the doorstep of a South Division crown in 2011 before losing to lowly Colorado. In 2012, they were squarely on the doormat of the division along with the Buffaloes.
That kind of season, particularly when fans are expecting at least seven or eight wins, is not the kind that helps coaches keep their jobs.
In Whittingham's case, his seat is only lukewarm, but the Utes went from overachieving conference contender to struggling near the bottom of the league in just one season.
Even with Whittingham's prior achievements, namely the Sugar Bowl win over Alabama, he must show some sign of getting his team back on the right track.
It would be surprising to see Whittingham not on the sidelines in 2014, but next season is critical for the Utah program and the long-time coach has to come through.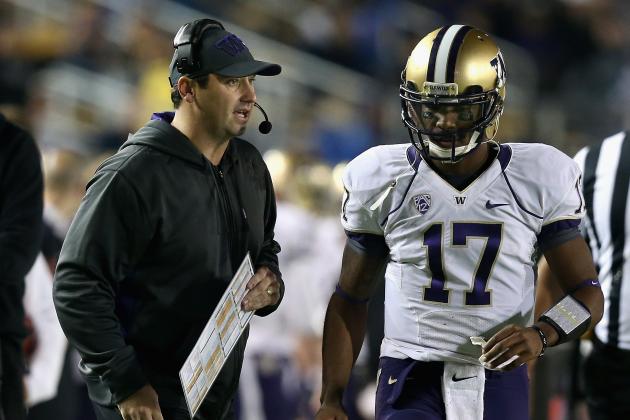 Ezra Shaw/Getty Images
Does Sark's future depend on the play of his quarterback?
For several years now, the Washington Huskies have been hailed as the team about to take the next step. But despite wins over Oregon State and Stanford last season, the dawgs were just as far from the North Division crown as they've ever been.
Steve Sarkisian brought this team back from the dead, but he must take the Huskies to the next level in 2013. They don't necessarily have to win the division, but a blowout loss to the Ducks won't be acceptable any longer, and neither will a defeat in the Apple Cup.
Sark has his quarterback, his running back and two of the best pass-catchers in the game in Austin Seferian-Jenkins and Kasen Williams. The defense, led by Shaq Thompson, has the talent to hang with the majority of offenses.
Should the Huskies fail to improve with what is surely their best roster in seven or eight years, Sarkisian's seat won't just be warm, it will be toasty.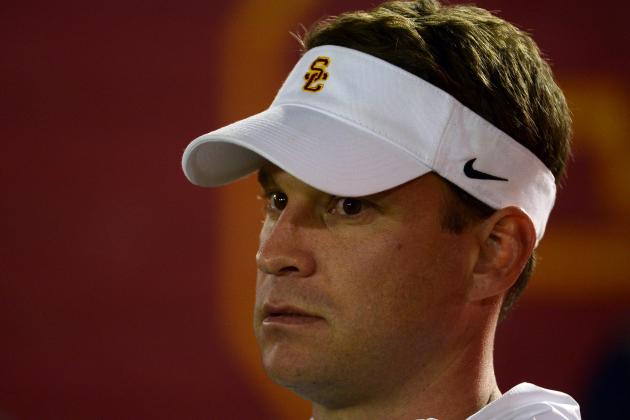 Harry How/Getty Images
Lane Kiffin
The top spot is occupied by none other than Lane Kiffin, which should surprise exactly no one.
Kiffin's seat is hotter than any other in college football right now, and after one of the most disappointing seasons by any team in recent memory, his Trojans need a bounce back year in the worst way.
This time around, Kiffin doesn't have the benefit of putting Matt Barkley on the field, but the rest of the team is much deeper than last year's group.
Step one on offense should be "get Marqise Lee the ball" and Kiffin may just survive the season if he follows that rule. But his job is so far from secure that one bad loss may just be enough for the school to cut ties with the much-maligned coach.
Lane Kiffin has the least secure job in the Pac-12 conference.