Luke Donald birdied his final three holes on Thursday to get to four-under par through 13 holes, one stroke ahead of Phil Mickelson for the lead at the 2013 U.S. Open after the first day of action.
Multiple rain delays at Ardmore, Pa.'s Merion Golf Club prevented many players from completing their opening rounds—including the marquee grouping of Tiger Woods, Rory McIlroy and Adam Scott. The reigning Masters champion is at minus-three through 11, though, while McIlroy is at even par and Woods is plus-two.
Even with the dampened and perceptibly more favorable scoring conditions, the majority of the field had a rough go at it on Thursday, as the Global Golf Post's Ron Green Jr. observed:
So far, Merion looks plenty tough despite the rain. Miss a fairway or green and the penalty is severe.

— RonGreenJr (@RonGreenJr) June 13, 2013
It was somewhat unfortunate that Donald—a former world No. 1 still in search of his maiden major—couldn't keep his momentum going, especially considering how tough the final five holes at Merion are.
Donald was pleased overall with how things developed, as he's in prime position to contend for the trophy. As USGA on Twitter noted:

"I feel like I'm in pretty good control of my game...it's nice to get off to such a nice start," said Donald.
Golf analyst Steve Elling had a feeling about Donald this week:
Radio guy asked me yesterday what type of player Merion favors. I said, "I'd pick Luke Donald, but he hasn't played well all year." D'oh!

— Steve Elling (@EllingYelling) June 13, 2013
Other than two top-four finishes, it's true that Donald hasn't been his usual, consistent self in 2013. Here he is, though, sitting atop the leaderboard entering Friday at the 113th U.S. Open.
However, Mickelson was the fifth group to tee off in the morning and was able to post a wonderful number and get in the clubhouse.
A three-putt bogey at Mickelson's opening hole got him off to a less-than-ideal start. That raised suspicions that he may have been suffering from jet lag after attending his daughter's eighth-grade graduation in California last evening.
Apparently that wasn't the case, because Mickelson played the rest of the difficult venue in minus-four, and what got him to three-under was this putt at his 17th hole of the day—the par-four 10th: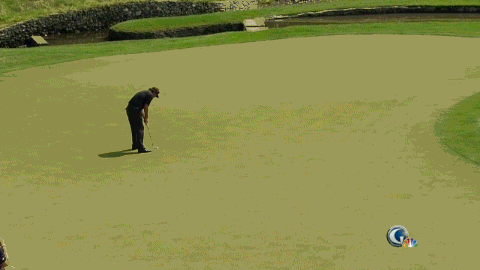 The other top finisher from what was originally the morning wave was Nicolas Colsaerts. With enviable nicknames such as "The Muscles from Brussels" and "The Belgian Bomber," he is one of the most captivating active players due to his ridiculous distance.
That attribute helped Colsaerts hang tough to start the year's second major championship and allowed him to post a one-under 69. Merion's No. 17 is a par three that was playing 243 yards, and Colsaerts hit a six-iron off the tee. Talk about some serious power.
Steve Elling points out that Colsaerts had a brush with greatness playing alongside reigning champion Webb Simpson in last year's final round:
Trivia stumper: Who played alongside US Open winner Webb Simpson in final round at Olympic Club last year? Nicolas Colsaerts, now leading.

— Steve Elling (@EllingYelling) June 13, 2013