After losing the first matchup of the 2013 ICC Champions Trophy, Sri Lanka found redemption by beating England in front of the English crowd at the Kia Oval in London by a score of 297-293.
This intense matchup featured two of the best sides in the world going head to head, and it highlighted one of the greatest players in the sport today, Sri Lanka's Kumar Sangakkara.
The star was named Man of the Match after amassing an astounding 134 runs, according to The International Cricket Council's Official Twitter account:
Man of the Match: Kumar Sangakkara #ct13 #engvsl

— ICC (@cricketicc) June 13, 2013
The ICC broke down Sangakkara's performance and revealed just how historical he was against England:
At the Oval, Kumar Sangakkara's 134* propels @OfficialSLC to a 7 wicket win over @ECB_cricket #ct13 #engvsl pic.twitter.com/fhfxVvqR1e

— ICC (@cricketicc) June 13, 2013
Kumar Sangakkara reaches his 15th ODI century in 111 balls here at The Oval #ct13 #engvsl

— ICC (@cricketicc) June 13, 2013
This was a huge victory for Sri Lanka after losing a tough matchup against New Zealand to start the tournament by a score of 139-138. The win brings the squad into a draw on the table with England in Group A.
England beat Australia in the side's first meeting of the ICC Champions Trophy, 269-221, but will have to adjust moving forward if it wants to be a viable threat throughout this tournament. While England is tough offensively, it must bowl better to be a top-tier team.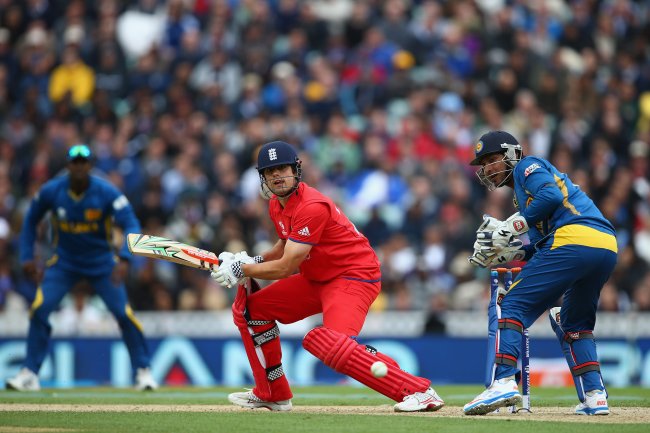 Paul Gilham/Getty Images
Thursday's matchup was all about offense for both sides. While Sangakkara may have stolen the spotlight by registering 134 runs, Nuwan Kulasekara also impressed, as he managed to add 58 runs on just 38 balls for Sri Lanka.
Sangakkara: "It was a good confidence boost. You go in and out of form at certain times but when you work hard, it pays off" #ct13 #engvsl

— ICC (@cricketicc) June 13, 2013
England was in a great position after batting first, and saw top star Jonathan Trott grab an impressive 76 runs, Joe Root grab another 68 and Alastair Cook score 59 runs.
As well as England played, it just wasn't enough to stop Sri Lanka.
The teams will now get ready for more action. England will square off against New Zealand in Match 11 at Cardiff Wales Stadium on June 16 in the team's next matchup. Meanwhile, Sri Lanka goes against Australia in Match 12 at The Oval on June 17.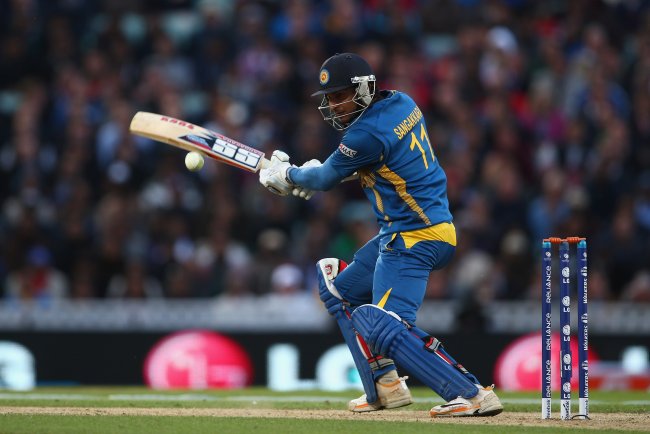 Paul Gilham/Getty Images
ICC Champions Trophy Points Table
Group A
Pos

Team
Matches
Won
Lost
Tied
N/R
Net RR
Points
1
New Zealand
2
1
0
0
1
+1.048
3
2
England
2
1
1
0
0
+0.289
2
3

Sri

Lanka

2
1
1
0
0
-0.517
2
4
Australia
2
0
1
0
1
-0.960
1
Group B
| Pos | Team | Matches | Won | Lost | Tied | N/R | Net RR | Points |
| --- | --- | --- | --- | --- | --- | --- | --- | --- |
| Q | India | 2 | 2 | 0 | 0 | 0 | +0.979 | 4 |
| 2 | South Africa | 2 | 1 | 1 | 0 | 0 | +0.410 | 2 |
| 3 | West Indies | 2 | 1 | 1 | 0 | 0 | -0.086 | 2 |
| 4 | Pakistan | 2 | 0 | 2 | 0 | 0 | -1.108 | 0 |
*Courtesy of ICC-Cricket.com