Full Training Camp Roster Breakdown for the New Orleans Saints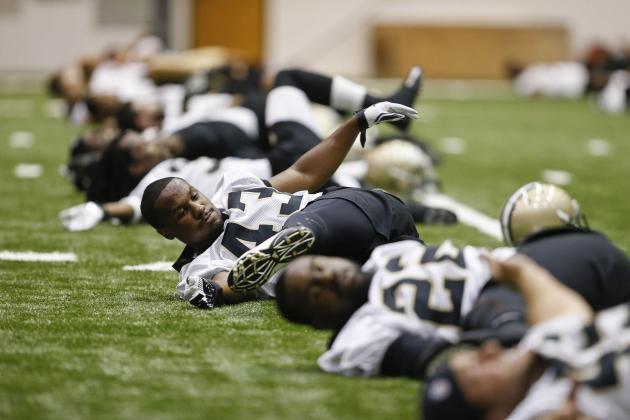 Derick Hingle-USA TODAY Sports

The New Orleans Saints will enter their 2013 training camp with a roster stocked with offensive talent but in transition on the defensive side.
Quarterback Drew Brees rejoins with head coach Sean Payton, who was suspended for the 2012 season, to lead an offense that threw for 4,997 yards and 43 touchdowns. The Saints will want more from a running attack that finished 25th in yards.
On defense, new defensive coordinator Rob Ryan is transitioning to a 3-4 defense. The Saints hope a change in leadership will be for the better, as the 2012 defense gave up more yards than any in NFL history.
A return to balance on offense and a new, attacking defense should also help the Saints improve on their seven wins from a season ago.
In the following slides, we'll break down the Saints' 90-man roster as training camp approaches. Included will be commentary on what each player needs to do to crack the final roster.
Note: Listed next to names are given roster numbers.
Begin Slideshow

»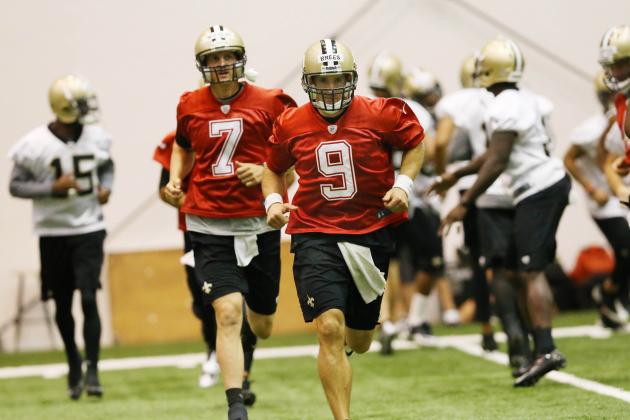 Crystal LoGiudice-USA TODAY Spor

Drew Brees (No. 9)
Few NFL offenses ask more out of their starting quarterbacks than the Saints, who have attempted over 1,300 passes with Brees over the last two seasons. Despite turning 34 years old in January and coming off a season in which he threw 19 interceptions, Brees is firmly entrenched as the Saints offensive leader. New Orleans will only go as far as Brees will take it.
Luke McCown (No. 7)
Chase Daniel's departure in free agency has opened up the backup job. The 31-year-old McCown will be the likely favorite to win that role, as he performed the same job in Atlanta last season after spending training camp in New Orleans.
Seneca Wallace (No. 10)
Wallace will turn 33 in August, and he hasn't played in an NFL game since 2011. He'll now compete with McCown for the primary backup job. His 21 career starts and mobility will help his cause, but Wallace will need a big summer to be the Saints No. 2 in 2013.
Ryan Griffin (No. 4)
The undrafted free agent stands 6'4" and hails from local Tulane. He may not have a big arm, but his high completion percentage in college (over 62 percent his senior season) and strong predraft work (MVP of of Texas vs. Nation All-Star Game) give him an opportunity to push for the backup job. More than likely, his best-case scenario is landing on the practice squad and developing in a no-pressure role.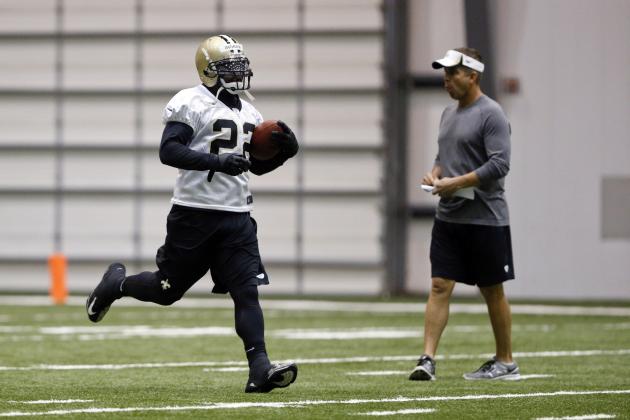 Derick Hingle-USA TODAY Sports

Pierre Thomas (No. 23)
Thomas has combined to rush for over 1,000 yards with an impressive average of 4.8 yards per carry over the last two seasons. Dealing Chris Ivory opens up more opportunities across the board, with Thomas likely to receive in the vicinity of 100 carries again. Barring an injury, he should remain a big part of the Saints' plans on the ground.
Mark Ingram (No. 22)
Ingram's first two seasons have been marred by injury and inconsistency, leaving 2013 as an important year for the former first-rounder. Like Thomas, Ingram should see a greater percentage of carries with Ivory in New York. The Saints will once again have an opportunity to use the hot hand at running back, but a talent like Ingram should be expected to emerge as the top option. He needs to stay healthy throughout camp.
Darren Sproles (No. 43)
Sproles' role in the Saints offense remains clear. He can handle 50-100 attempts in the running game while still catching 70-80 passes as the game's most dangerous pass-catching running back. With Sean Payton back on board, it's not unrealistic to think Sproles can come close to replicating his 2011 output (603 rushing yards, 710 receiving).
Travaris Cadet (No. 39)
The Saints gave Cadet training at both running back and receiver in 2012, plus some returning duties. Cadet all but forced his way onto the roster after an impressive preseason in which he caught 30 passes for two scores. He'll need to be better a pure runner to snatch some of Ivory's touches, but another strong preseason should guarantee Cadet is the Saints' fourth running back.
Khiry Robinson (No. 29)
At 6'0" and 220 pounds, Robinson has NFL-ready size. The Saints will attempt to see if they found another Ivory in the small-school Robinson, who spent just two seasons at West Texas A&M. A big summer from him could force the Saints to keep five running backs on the roster for a second straight season.
Jed Collins (No. 45)
Collins has been the Saints' starting fullback in each of the last two seasons. It would be a big upset if he doesn't make it three straight in 2013.
Austin Johnson (No. 35)
A former college linebacker at Tennessee, Johnson will attempt to make the roster as a fullback/linebacker hybrid. His chances of carving out a roster spot appear slim. He'll need to impress on special teams to have a legitimate shot.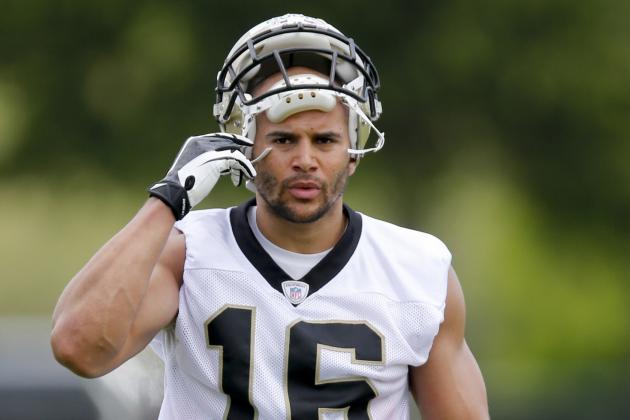 Derick Hingle-USA TODAY Sports

Marques Colston (No. 12)
Few receivers in the game are as underrated as Colston, who has produced at least 1,000 yards and seven touchdowns in six of his seven NFL seasons. He's now 30 years old, and there have been problems with his knees in the past, but Colston should be a solid lock for another 80-catch, 1,000-yard season. He remains Drew Brees' favorite target.
Lance Moore (No. 16)
Quietly, Moore recorded his first 1,000-yard season of his career in 2012. He caught 65 passes and finished with six scores, which pushed his three-year totals to 183 and 22. The soon-to-be 30-year-old Moore might not repeat a 16-yard average in 2013, but he figures to be a consistent option. His only season under 50 catches since 2008 was an injury-shortened year in 2009.
Courtney Roby (No. 15)
Roby has just two catches since arriving in offensively rich New Orleans in 2008, but he's stuck around via his efforts on special teams. If he's on the roster again in 2013, Roby's role as a special teams ace should remain unchanged.
Chris Givens (No. 17)
At 6'2" and 211 pounds, Givens has impressive size. As a possession receiver only, he could push to eventually become Colston's replacement. He'll need to beat out a bunch of other receivers first.
Joseph Morgan (No. 13)
Morgan caught just 10 balls his first season with the Saints, but produced 379 yards and a score. He's the Saints' best vertical threat, but he'll need to improve as an all-around receiver to lock up the No. 3 job. His roster spot should be secure.
Kenny Stills (No. 84)
A fifth-round pick from Oklahoma (where passing is as prevalent as it is in New Orleans), Stills has a chance to be a first-year contributor. He posted big numbers for the Sooners, in large part to his quickness and separation skills. He should stick, but a poor camp could bury him on the depth chart.
Nick Toon (No. 88)
Toon, a fourth-round pick last April, missed the entire 2012 season with a foot injury. Staying on the field has been his biggest problem, but at 6'2" and 215 pounds, Toon reminds some of a young Colston. Another injury in camp could put him on the roster bubble.
Jarred Fayson (No. 11)
After going undrafted out of Illinois, Fayson spent the 2012 season on the practice squads of New England and New Orleans. He might need an injury to secure a roster spot in camp, but the practice squad isn't out of the question.
Preston Parker (No. 87)
Parker caught 40 passes for 554 yards and three scores with the Buccaneers in 2011, but he hasn't hauled in a reception since. Experience returning kicks and punts could help him, but Parker is already 26 years old.
Andy Tanner (No. 14)
The 25-year-old from Midwestern State lacks size at 6'0" and 183 pounds. A member of the practice squad during each of the last three seasons, Tanner is running out of time to make the 53-man roster.
Saalim Hakim (No. 18)
Hakim, who spent the final two games of 2012 on the active roster, is the younger brother of former Rams receiver Az-Zahir Hakim. He has great speed but lacks football experience. He'll need some splash plays during the preseason to have a chance.
Brent Leonard (No. 86)
The undrafted free agent from Louisiana-Monroe caught over 100 passes his senior season. He's 6'2" but a thin 186 pounds, making him a long shot to crack the roster.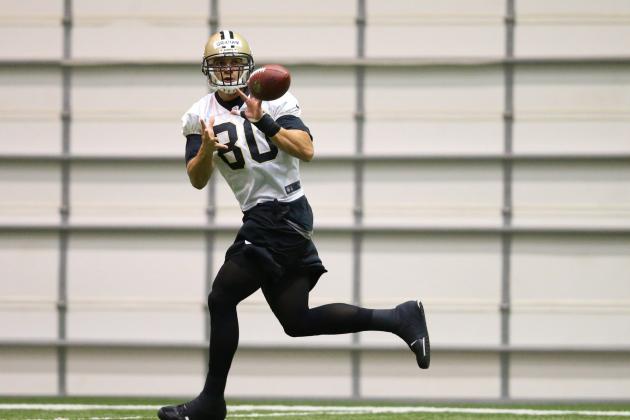 Crystal LoGiudice-USA TODAY Spor

Jimmy Graham (No. 80)
At 6'7" and 265 pounds, Graham might be the most physically dominate tight end in the NFL. He's produced with the size, too. Since 2011, Graham has over 2,300 receiving yards and 20 touchdowns. Expect another big year.
Ben Watson (No. 82)
Watson is 32 years old, but he's coming off a season in which he caught 49 passes for 501 yards and three scores for the Cleveland Browns. Barring an injury, he'll be the primary backup to Graham.
Mike Higgins (No. 81)
Higgins has been promoted from the practice squad in each of the last two seasons. He has four career NFL appearances and just two catches for one yard. He has the inside track to being the No. 3 tight end, but only because there's so little behind him.
Josh Hill (No. 89)
At 6'5" and 226 pounds, Hill is more of a receiving tight end than anything else. He probably doesn't have the necessary weight to crack the roster in Year 1.
Keavon Milton (No. 83)
The 293-pound tight end caught just 25 passes in 45 career collegiate games. As an undrafted free agent, he's unlikely to make the jump to the active roster.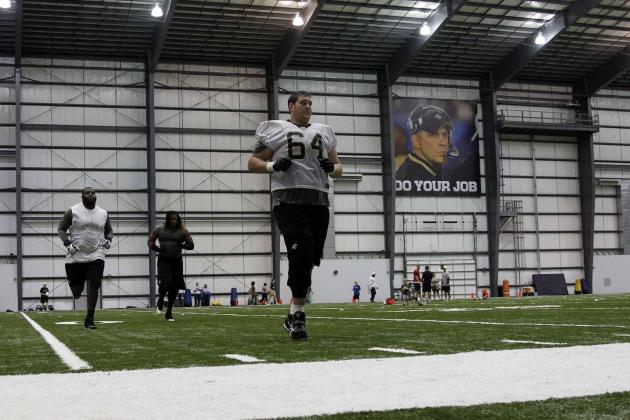 Derick E. Hingle-USA TODAY Sports

Terron Armstead (No. 72)
The third-round pick from Arkansas-Pine Bluff is an impressive athlete. He's making a big jump competition-wise, but there's nothing to suggest he can't beat out both Jason Smith and Charles Brown to start at left tackle for the Saints come Week 1.
Zach Strief (No. 64)
Now 29 years old, Strief has made 23 starts at right tackle over the last two seasons. Barring an injury in camp, he's the clear front-runner to start there again in 2013.
Jason Smith (No. 78)
The former No. 2 overall pick in the 2009 NFL draft is starting to bounce around. His one-year deal in New Orleans guarantees nothing. However, he did play 16 games as a swing tackle for the New York Jets last season—a role he could continue in New Orleans.
Charles Brown (No. 71)
Brown is a former second-round pick of the Saints, making it entirely possible that he wins the job vacated by Jermon Bushrod at left tackle. Armstead and Smith will be his main competition to start. A number of injuries have limited Brown to just eight career starts over three NFL seasons.
Bryce Harris (No. 79)
Harris saw action in two games last season as an injury replacement. He then broke his leg and was placed on injured reserve. He might face an up-hill road to regaining a roster spot.
Marcel Jones (No. 70)
Jones has great size at 6'6" and 320 pounds, but injuries have slowed his career. The former seventh-round pick in 2012 needs to stay healthy to fight for a spot on the final 53.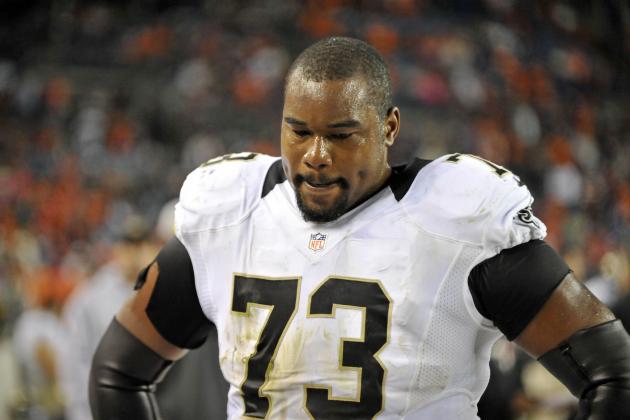 Ron Chenoy-USA TODAY Sports

Jahri Evans (No. 73)
Evan remains one of the top right guards in the NFL. He's now going on his eighth-straight season anchoring a guard spot in New Orleans.
Ben Grubbs (No. 66)
Losing All-Pro Carl Nicks was negated by signing Grubbs, previously of the Baltimore Ravens. Evans and Grubbs continue to make New Orleans one of the better interior offensive lines in football.
Ricky Henry (No. 65)
Henry, a 25-year-old guard from Nebraska, saw action in one game last season after being called up from the practice squad. He's a candidate to land there again if he can't secure a backup spot.
Tim Lelito (No. 68)
An undrafted free agent in 2013, Lelito arrives in the NFL after starting 45 games for Grand Valley State. He'll have a chance to win a job backing up either Evans or Grubbs.
Eric Olsen (No. 69)
The Saints signed Olsen off the Redskins' practice squad late in the 2011 season, mostly for depth purposes. His ability to play guard and center helps his cause.
Andrew Tiller (No. 67)
A sixth-round pick in 2012, Tiller tore his triceps last preseason and missed the entire year. He'll be expected to be a front-runner for a depth job this summer.
Jeremiah Warren (No. 63)
Warren arrived in New Orleans after a brief stint with the Arizona Cardinals. He has good size (6'4", 327 lbs), but he'll be a long shot to make the roster.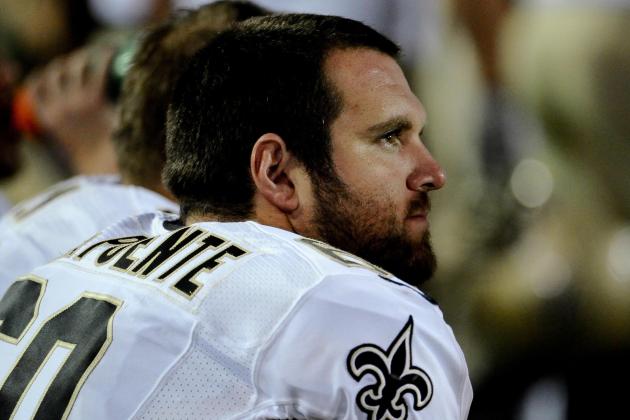 Tim Fuller-USA TODAY Sports

Brian de la Puente (No. 60)
After bouncing around a number of different teams, de la Puente has found a home with the Saints. He's now started the last 28 games for New Orleans at center. His job and roster spot are safe.
Elliot Mealer (No. 61)
Mealer started all 13 games at center during his senior season at Michigan. A backup job at center potentially exists, giving Mealer a chance to win a role this summer.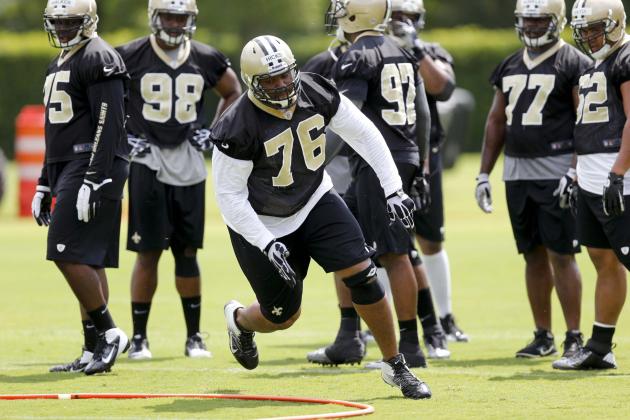 Derick Hingle-USA TODAY Sports

Cameron Jordan (No. 94)
The Saints' first-round pick in 2011 registered eight sacks as a 16-game starter last season, but he'll now be transitioning to the 3-4 defensive end. He has experience there from college, which help the switch. He could be a Cullen Jenkins-type disruptor against both the run and pass.
Kenyon Coleman (No. 99)
Coleman is 34 years old, but he has experience working with Rob Ryan from his time in Dallas. His speciality is stopping the run, and that ability could give him a chance to see a big role on the defensive line. At the very worst, Coleman will provide quality depth.
Akiem Hicks (No. 76)
At 6'5" and 318 pounds, Hicks will present a handful for offensive linemen as a 5-technique. He may even have an opportunity to move onto the nose in certain looks. Either way, the second-year defensive lineman should be expected to play a leading role in the Saints defense.
Tom Johnson (No. 96)
Signed out of the CFL in 2011, Johnson has produced three sacks over 28 games over the last two seasons. He might be out of place in the 3-4 defense, but he'll compete to find a rotational role.
Jay Richardson (No. 97)
Every 3-4 defense needs length at the 5-technique, and the 6'6" Richardson provides just that. He hasn't played a role since 2010, giving him long odds to contribute in 2013.
Glenn Foster (No. 74)
As a senior, Foster started 12 games for Illinois at defensive tackle. He'll slide outside to the 5-technique for New Orleans, where his 6'4" frame could come in handy.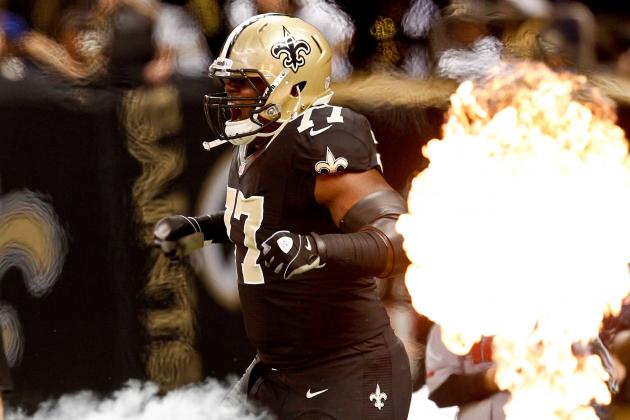 Derick E. Hingle-USA TODAY Sports

John Jenkins (No. 92)
The 3-4 defense needs a clogger in the middle, and that's exactly what the Saints think they have in the 346-pound Jenkins. The former Georgia Bulldog also has experience in the three-man front. He'll be expected to play a big role right away.
Tyrunn Walker (No. 75)
Walker now has two years of NFL experience after the Saints signed him out of Tulsa in 2011. At 294 pounds, he's probably undersized to play on the nose. It's likely he'll also see time at defensive end.
Brodrick Bunkley (No. 77)
Bunkley has always been at his best as a 4-3 defensive tackle who can attack a gap. He's on the smaller side for a nose tackle, but Rob Ryan will find a way to use an effective defensive lineman like Bunkley. He could still start.
Isaako Aaitui (No. 62)
His size (6'4", 315 pounds) is appealing for a 3-4 defensive line. For a unit in transition, Aaitui will have a chance to state his case for a roster spot this summer.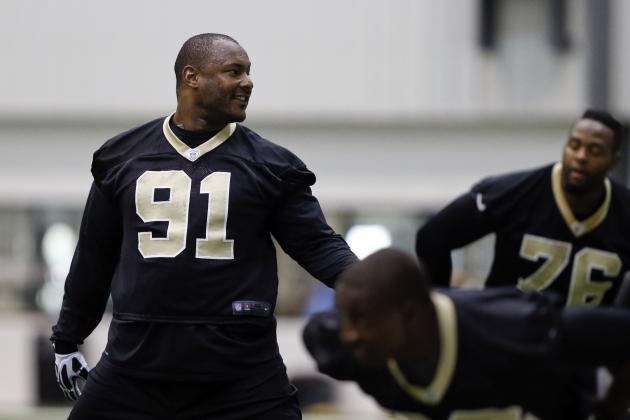 Derick Hingle-USA TODAY Sports

Victor Butler (No. 90)
The 25-year-old linebacker was a break-out candidate before tearing his ACL during OTAs. He's a long shot to contribute to the Saints in any way during the 2013 season and will likely land on injured reserve.
Martez Wilson (No. 95)
The defensive switch to a 3-4 could really benefit Wilson, who was a standup rush linebacker at Illinois. At 6'4" and 252 pounds, he's the ideal-size for either strong or weak-side linebacker in the three-man front. Butler's injury gives Wilson the edge to start.
Will Smith (No. 91)
A base 4-3 defensive end his entire NFL career, the 292-pound Smith is attempting to make the difficult switch to standup linebacker. The experiment is a difficult one, but the Saints are giving him every chance to start at one spot. If he can't grasp the transition, Smith could be a candidate for release following camp.
Junior Galette (No. 93)
Standing 6'2" and weighing 258 pounds, Galette is of ideal size to stand up and play on the edge. His pass-rushing flashes are promising for the Saints, too. He'll likely have to win the job in camp, but the expectation should be that Galette is a Week 1 starter opposite Wilson at outside linebacker.
Chase Thomas (No. 58)
Few collegiate outside linebackers were more productive than Thomas over his last three seasons at Stanford. His slow 40 times are the big worry, and a big reason why he went undrafted in April. His experience in the three-man front should give Thomas a real chance to stick around.
Rufus Johnson (No. 59)
The Saints drafted Johnson at No. 183 overall with the thinking that his impressive size (6'5", 265 pounds) could translate somewhere in the 3-4 defense. He'll start as an edge-rusher at outside linebacker, but added weight could send him to the 5-technique. Johnson will likely have to settle with special teams duties early in his career.
Baraka Atkins (No. 98)
A former fourth-round pick from Miami in 2007, Atkins hasn't played a down in the NFL since 2008. His time away from the game should make him a long shot to make the Saints' 53-man roster. He stands 6'4" and weighs 271 pounds and should have positional versatility.
Ray Shipman (No. 46)
A Florida transfer with a basketball background, Shipman was signed out of UCF in April. He'll have to make an impact on special teams to have a chance at making the roster in 2013, but the practice squad seems like a possibility.
Eric Martin (No. 55)
Undrafted out of Nebraska, Martin was mostly a 4-3 defensive end. He had 8.5 sacks his senior season but will now have to transition to outside linebacker. It can be a tough switch for a young player who is fighting for a roster spot.
Derick Hingle-USA TODAY Sports

David Hawthorne (No. 57)
After three straight seasons with 100 or more tackles in Seattle, Hawthorne arrived in New Orleans and registered just 37 over 11 games in his first season with the Saints. The switch to a 3-4 defense opens up more opportunities inside, but Hawthorne might struggle to win first-team snaps without a big summer.
Curtis Lofton (No. 50)
Lofton led the Saints in tackles last season with 123 and will be expected to do the same again in 2013. He can play either inside linebacker spot, which should allow him to gobble up tackles between the tackles. He's the Saints' most complete linebacker.
Jonathan Vilma (No. 51)
Even at 31 years old, Vilma appears the front-runner to start inside alongside Lofton. Hawthorne is his major challenger, but Vilma is a better overall player and plenty capable of winning the job in camp.
Ramon Humber (No. 53)
Humber is undersized for the 3-4 defense at 5'11" and 232 pounds, but he'll win a spot by playing well on special teams. Last season, Humber was second on the team in coverage tackles. His ceiling is that of linebacker depth.
Will Herring (No. 54)
The 29-year-old Herring is another special teams player who isn't likely to compete for playing time in the base defense. Like Humber, a strong camp on special teams should be enough for him to win a spot on the active roster.
Chris Chamberlain (No. 56)
A former starter for the St. Louis Rams, Chamberlain is now making the switch from 4-3 outside linebacker to 3-4 inside linebacker. His recovery from a torn ACL in 2012 and how he adjusts to a new position will determine whether or not he sticks.
Kevin Reddick (No. 52)
The Saints signed Reddick as an undrafted free agent out of North Carolina. He has the size and athleticism to play the thumper role in the 3-4 defense, but he'll first need to prove his worth on special teams.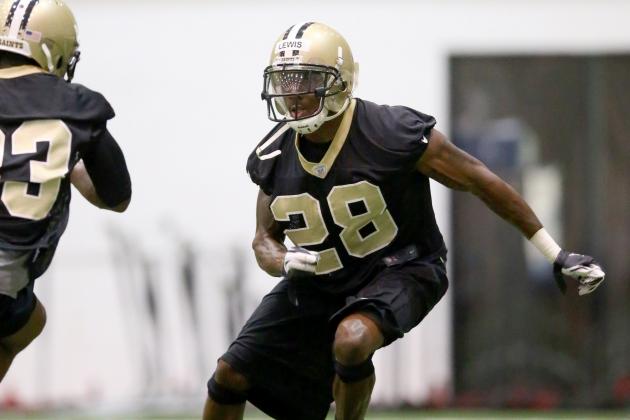 Crystal LoGiudice-USA TODAY Spor

Jabari Greer
Greer is now 31 years old, but he's still a near lock to start outside for the Saints in 2013. It would likely take a camp injury to keep him out of the Week 1 lineup. Over four seasons with the Saints, Greer has eight interceptions and four defensive touchdowns.
Keenan Lewis (No. 28)
The Saints spent $25.5 million to lure Lewis away from Pittsburgh, where he started all 16 games for the Steelers last season. He's now expected to become a fixture in the New Orleans secondary opposite Greer. His size will be appealing for Rob Ryan's press-heavy defense.
Patrick Robinson (No. 21)
The former first-round pick has been a big disappointment for New Orleans, and it now looks likely that he'll fall out of the starting lineup. His seven career interceptions are overshadowed by numerous coverage mistakes. He'll need to turn things around in camp to avoid becoming a second-stringer.
Corey White (No. 24)
A knee injury ended White's rookie campaign in Week 10. The former fifth-round pick will enter 2013 with a good chance of winning a nickel cornerback role, even above Robinson. He can handle the slot.
A.J. Davis (No. 20)
An undrafted free agent out of Jacksonville State, Davis appeared in just one game last season but totaled no statistics. He's a long shot to crack the final 53-man roster, but a big camp could make the Saints think twice.
Ryan Steed (No. 30)
Steed failed in making the New York Jets roster last summer after latching on as an undrafted free agent. He's getting a second chance in New Orleans, but he'll need to be much more active this time around to stick with the corner-needy Saints.
Rod Sweeting (No. 38)
The 6'0" Sweeting signed an undrafted deal with the Saints in April. He intercepted five passes over his final two seasons at Georgia Tech, but it will take a strong camp for Sweeting to be on the final 53-man roster.
Korey Lindsay (No. 34)
Lindsay has bounced around a number of different practice squads and active rosters since going undrafted in 2011. He's a little undersized at 5'10" and 194 pounds to think he has a great chance at winning a spot, but with a good camp, who knows.
Chris Carr (No. 40)
Carr has eight years of NFL experience after spending time with Oakland, Tennessee, Baltimore and San Diego. He can provide depth as a slot corner, but at 30 years old, his ceiling is very low. He could win a spot with special teams skills.
Dion Turner (No. 31)
Turner spent time on the Miami Dolphins practice squad last season before signing a futures deal in New Orleans. Even with a good summer, the practice squad might be his best chance at staying around.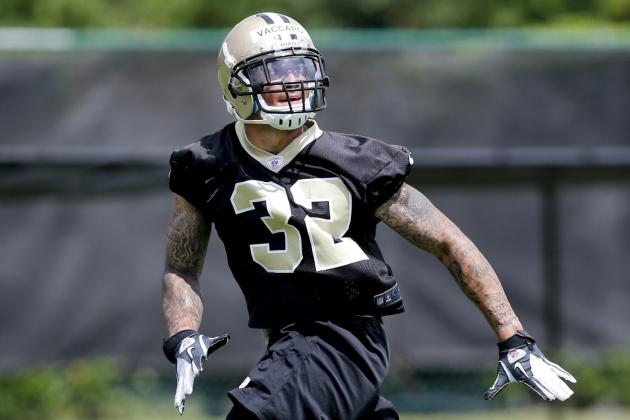 Derick Hingle-USA TODAY Sports

Kenny Vaccaro (No. 32)
The Saints' first-round pick in 2013 is too versatile not to see the field in a big role right away. At his best as a free safety, Vaccaro can cover the deep half with range or come up near the line of scrimmage and handle slot duties. A big summer will guarantee he is a Week 1 starter.
Malcolm Jenkins (No. 27)
A former first-round pick, Jenkins is still only 25 years old. But if he plays as poorly as he did for long stretches of last season, the Saints will have to think long and hard about taking him off the field. His roster spot might not be in immediate danger, but it's clear Jenkins is at a career crossroads.
Roman Harper (No. 41)
Restructuring his deal might have saved Harper from an eventual release. Now, with a more team-friendly cap number, Harper can come into camp and feel confident in his place on the roster. His role is harder to define, but it's possible the Saints could employ Harper, Jenkins and Vaccaro in three-safety formations in 2013.
Rafael Bush (No. 25)
Bush saw time in all 16 games last season, mostly as a key special teams contributor. His role next season should look similar. He's a strong depth player who thrives on punt and kick coverage units.
Jim Leonhard (No. 36)
Now 30 years old, Leonhard may no longer be a candidate to start. But with experience playing in the 3-4 defense, he should be able to help the Saints and their safety group with the transition. Leonard is likely veteran insurance.
Jerico Nelson (No. 37)
Nelson played in three games in 2012 after the Saints signed him as an undrafted free agent the previous spring. A strong summer in 2013 could earn him a longer stay on the active roster, but landing on the practice squad might be the more practical guess.
Isa Abdul-Quddus (No. 42)
Abdul-Quddus made three starts in 2012 while injuries wrecked the Saints secondary. He made 45 tackles and intercepted two passes. He'll likely fight for a depth role during training camp.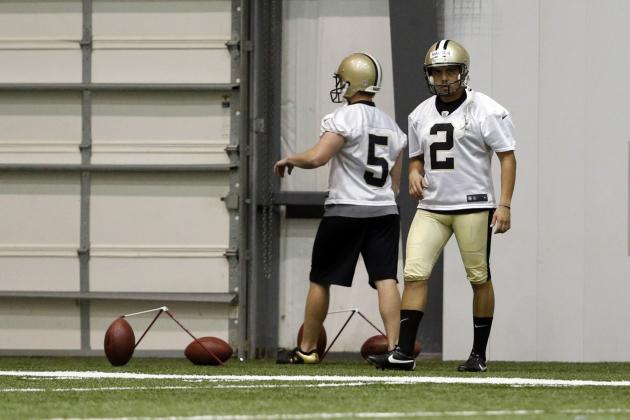 Derick Hingle-USA TODAY Sports

Thomas Morstead (No. 6)
The 27-year-old Morstead is locked up through 2018. His effectiveness as both a punter and kickoff specialist guarantees he'll be asked to do both for New Orleans in 2013. It helps he's the only punter on the roster, too.
Garrett Hartley (No. 5)
Hartley has finished above 80 percent accuracy in each of his four NFL seasons, including 2012. He's signed through 2015, which gives him a big advantage in any kind of competition this summer.
Jose Maltos (No. 2)
A Mexican native, Maltos arrives in New Orleans with a big leg. He'll need to blow away the coaching staff in camp to unseat Hartley as the Saints kicker.
Justin Drescher (No. 47)
Like most teams, the Saints have just one long snapper on the roster. Barring a mental breakdown in camp, Drescher will once again be that guy for New Orleans in 2013.