US Open 2013 Results: Biggest Winners and Losers From Day 1 at Merion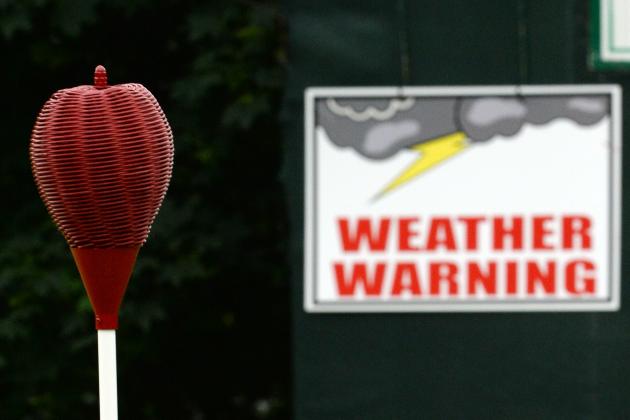 Ross Kinnaird/Getty Images
And the rain came.
Severe weather put a damper on the U.S. Open, allowing some to benefit and some to be relegated to the long Friday to follow from the delay in play.
The rain proved to be a good omen for the first groups of players going out, many of whom were shooting under par out of the gate. At first, it looked like they were just tossing darts at the pins, spinning shots out of the traps and having a virtual field day that would lead to big sub-par production.
But, the super-narrow 6,996-yard Merion course is no gimme. So far, the 100-year-old course is averaging plus-4.41. Compare that to last year's Open at the Olympic Club in San Francisco, which finished plus-4.92, and we can see where we are headed.
As the weather subsides and the course dries up, the relatively short Merion will definitely give players fits.
In the meantime, here's a list of the winners and losers from the first day's action.
Begin Slideshow

»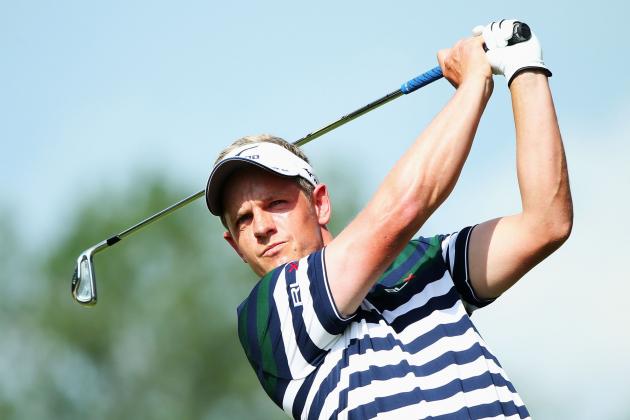 Andrew Redington/Getty Images

Luke Donald does not have the best record at the U.S. Open, either missing the cut or placing well out of the money over the last five years.
But watch out now, as Donald has surged to the top of the leaderboard on the first day and will most definitely be a force to reckon with.
Donald may be the best player on the tour not to have won a major. He has won 14 times around the globe and is the only player to have topped the money list on both the European and American tours.
He has shored up his putting recently and now ranks fourth among tour players in total putting. That should serve him very well at Merion as the greens dry up and the speed picks up.
Donald scorched the field today with a masterful round of four under after 13 holes when play ended.
He will face a true test on Friday during an extended day of play.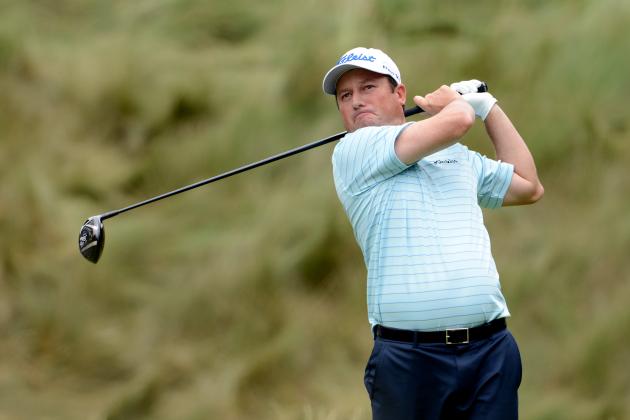 David Cannon/Getty Images
The hybrid is Tim Clark's club of choice.
Once scoffed at by pros, the hybrid may be the most essential club in players' bags at the Open this weekend. With a hybrid, you can whack a ball out of the rough and get both distance and loft. A cross between an iron and a wood, it gets the ball into the air more quickly and is more forgiving.
The hybrid offers a big advantage when approaching a quick green from distance, as it has the ability to land a ball softly. In many cases, players are replacing their 2, 3 and 4 irons with hybrids.
Ironically, Merion is the course made famous by Ben Hogan's wondrous 1-iron shot from 213 yards that helped him win the 1950 Open. It was considered so amazing they placed a plaque at the 18th hole to memorialize the shot.
Because of Merion's short length and tight fairways, some players do not even have a driver in their bag, let alone a 1 iron.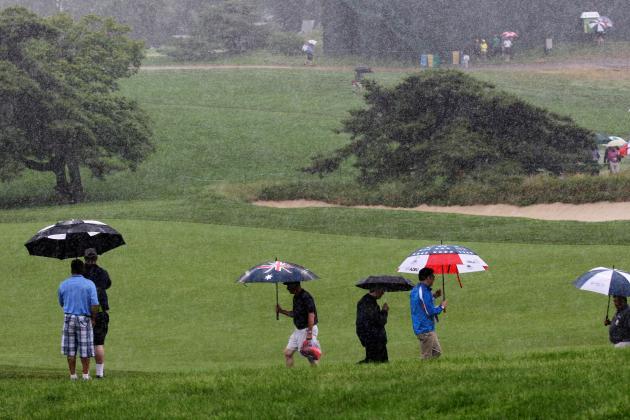 Rob Carr/Getty Images

Imagine being Tiger Woods, Rory McIlroy, Adam Scott or any number of the 50-plus players watching as others went out on the course after the rain delay. No doubt they were dreaming of being able to attack the toothless course now softened by the early morning rains.
But as the day went on, the guys at the back of the pack not only had upward of a three-hour wait, they were then faced with inclement and unpredictable conditions.
It appeared impossible to gauge putts...would they be slow due to the rain or fast as the greens dried out?
Players also had to get their rhythm back. Graeme McDowell yanked his first drive into the rough. Tiger did too, then bogeyed. David Toms bogeyed the first par five, then two more holes in a row.
With another rain delay in the afternoon, many players would not finish the first round, making Friday a long and crazy day.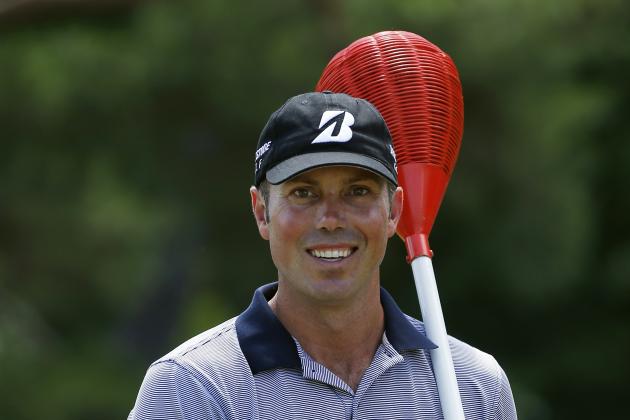 Scott Halleran/Getty Images

If you are a traditionalist, you are probably wondering what is with those red wicker baskets atop the pins.
Rather than decorative flags waving in the wind, Merion's "flagsticks" are steel rods sporting the hard, egg-shaped wicker. It is known as a standard and is yet another thing that sets Merion apart from all other clubs.
And why not? Let's face it, when the wind is up, the flag provides an obvious advantage to the golfer lying 200 yards from the pin. He knows which way to shape his shot, can gauge the velocity and resistance of the wind that much better and even has a better grasp of the distance.
Wouldn't it be fun if more courses took Merion's lead? How about a surfboard atop the pin at Kapalua? Or an big replica of a giant peach top the pins at the Masters?
2007 Masters Champion Zach Johnson told The New York Times, "The baskets could be a factor if it gets a little windy. I'm not a big fan of them because it's not consistent with what we normally use. I'm not anti-Merion, but we're so used to seeing flags."
Such adornments are more common in Scotland, but no one really knows why Merion uses them instead of flags. And if it gives the course that much more of an edge, well, so be it.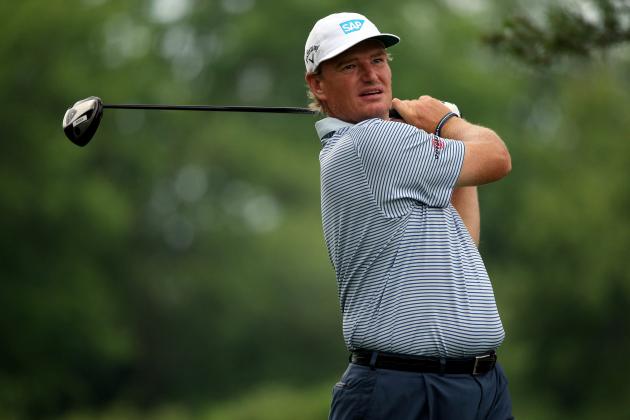 Andrew Redington/Getty Images
Ernie thought Merion would be too soft.
As the U.S. Open at Merion approached, there were those who said it was too short to rate an Open competition. With wet weather looking to dampen the course, there were fears it would be too soft as well.
"I think it's not going to bare its teeth the way it should," Els told reporters on Tuesday. "I know guys were hoping for a firm test."
At 6,996 yards, Merion runs a few hundred yards short of other Open venues, which have all been over 7,000 yards for the last nine years.
We are in an era in which better, bigger technology demands bigger, better courses. Merion defies those tendencies as golfers return to a place that hasn't hosted a major since 1981.
"I thought they had skipped over Merion, and I didn't know why, because I thought Merion was a great course," said Jack Nicklaus, who lost a playoff there to Lee Trevino in 1971. "I don't think it's all about what you shoot. It's about who's the best player on that golf course. And I think Merion is a wonderful golf course."
As we have already seen from Thursday's play, it is somehow, some way, in very traditional Open fashion, wreaking havoc on the players' scores.
Early on, just after the rain delay, it looked like the pros were going to make mince meat of the course, with guys like Ian Poulter scoring four birdies in the first five holes.
But then the course took over.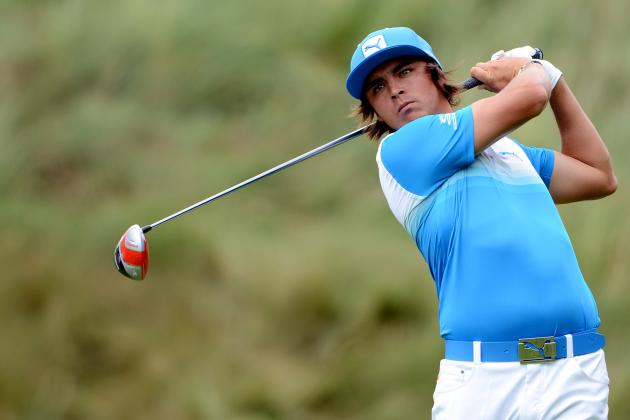 David Cannon/Getty Images

It is always great when a player plays to his potential.
Rickie Fowler has been one of the most touted young stars on the PGA since turning pro in 2008, but he only has one win.
He began the year strong, finishing in the top 10 in four of his first eight starts. While he has been scoring in the middle of the pack of late, Fowler finished the first round with a 70, just three back of the leader. He has not performed well at previous Open venues, but winning at Merion would obviously be a huge breakthrough for him.
As we have already seen from Thursday's play, in very traditional Open fashion, the course is wreaking havoc on the players' scores.
Early on, just after the rain delay, it looked like the pros were going to make mince meat of the course, with guys like Ian Poulter scoring four birdies in the first five holes.
But then the course took over.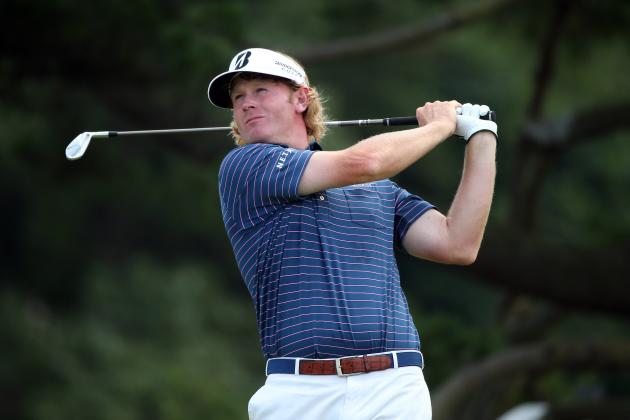 Andrew Redington/Getty Images

Wouldn't it be great if Brandt Snedeker was playing up to par? That is, instead of four above it? The seventh-ranked golfer in the world has apparently lost his touch.
Considered one of the best putters on the tour, Snedeker is coming off two missed cuts in an otherwise stellar year that includes six top-10 finishes and a win.
There are few players who fit the Open mold of player than Snedeker. He ranks ninth in driving accuracy, 11th in scoring average, 12th in greens in regulation and third in birdie average. Last year, he was No. 1 in putting.
He also won the FedEx Cup in 2012 and looked like he was on his way to superstardom, or at least a chance at a major or two.
Right now, he sits seven behind the leader at Merion and anything can change. He just has to figure out what he needs to fix.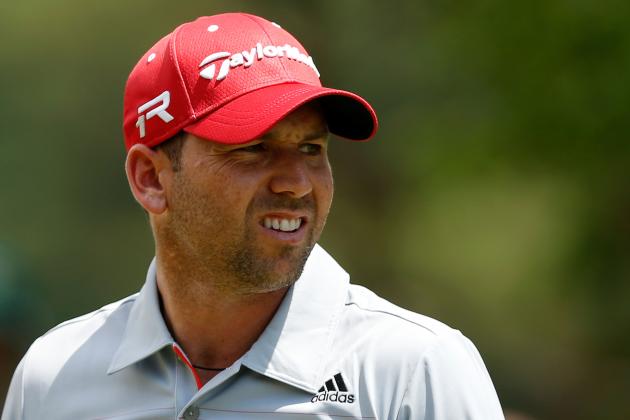 Scott Halleran/Getty Images

When Sergio Garcia stepped to the tee, it could have been one of those ugly sporting spectacles, but instead, it turned out to be a case of ultimate courtesy and respect.
He could have been heckled for any number of reasons, including his poor play at The Players and the Masters, but most notably for the ill-advised "fried chicken" remarks he made regarding Tiger Woods.
But as Garcia said, via The Philadelphia Inquirer, "No, I think there were a couple (of hecklers) here and there, but there was I felt the people were very nice for the whole day. I think that they almost all of them were behind me and that was nice to see."
Except for two holes—his double on 14 and quad on 15—Sergio had a very respectable day, posting a 73. His card included an eagle and four birdies.
And no hecklers.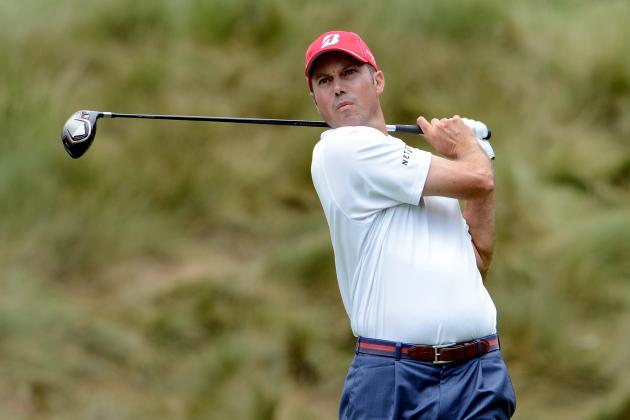 David Cannon/Getty Images

The hottest golfer coming into the Open has cooled off.
Matt Kuchar shot himself up the rankings with a win at Memorial and a second-place finish at Crowne Plaza the week before and now sits at No. 4 in the world.
He has the driving accuracy, iron play and putting stroke to win at Merion, not to mention a cool demeanor under pressure.
But that all seemed to disappear in his first round, as he posted a very uncommon score of 74. At one point in the round, he bogeyed three straight holes, ending with a total of five for the day.
Kuchar has scored in the top 10 at the Open twice in the last four years. Ranked fourth in scoring on the tour, he has proven himself time again as worthy of a major victory.
To his credit, he ranks third in second-round scoring average, which may provide him with a bounce back on Day 2.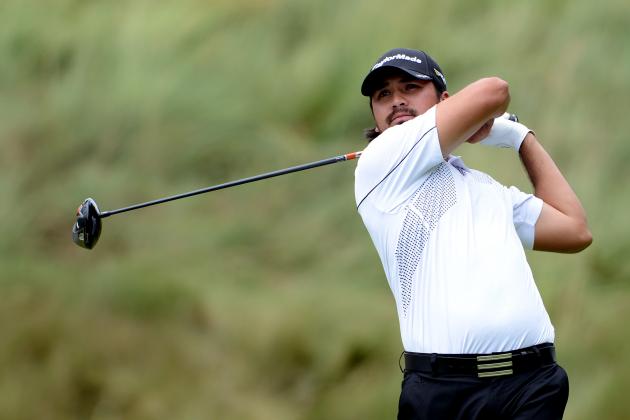 David Cannon/Getty Images

Dustin Johnson, Jason Day and Bubba Watson, three guys who can really pound the ball, performed well at a course that demands conservative, accurate play.
Not necessarily their particular forte.
After the first round, Day is at 70 and Watson and Johnson both shot 71.
None of these guys are within spitting distance of the top 100 most accurate drivers off the tee, so you would think they wouldn't have a chance at a place like Merion. But, they are in the top 20 in driving distance.
All, of course, are among the best players on the tour. All three have been on the major stage too, with Watson winning the Masters and both Johnson and Day having had majors within their grasp on the last day of play.
It is unusual for big hitters to be able to rein it in at an Open venue, but would also be great to see these guys whip out their drivers with the tournament on the line.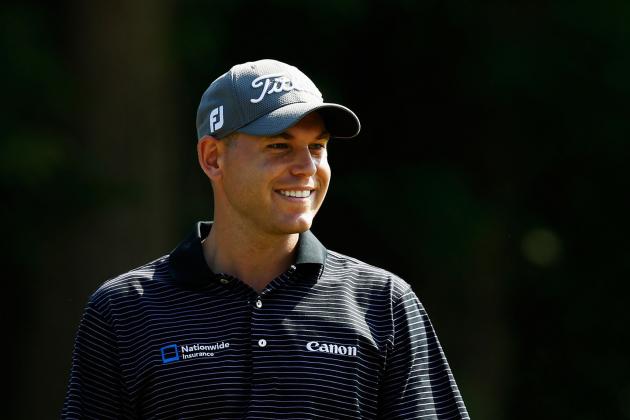 Scott Halleran/Getty Images

Bill Haas is another player who performed under his capabilities on the first day. The former FedEx Cup winner is coming off a fourth-place finish at the Memorial and his game has been looking better.
Haas is currently No. 1 in top-10 finishes on the tour—the type of statistic you can take to the bank. But does it produce wins?
Going into the Open, he was a dark horse. Unfortunately, he ballooned to a 77, which makes it tough for him to make the cut.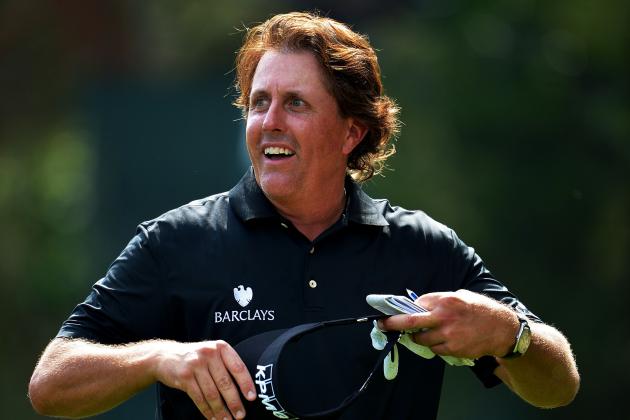 Drew Hallowell/Getty Images

Phil Mickelson took an errant and definitely unorthodox route to Merion, arriving at 4 a.m. Thursday from California, where he attended his daughter Amanda's eighth-grade graduation.
Even if he doesn't win the U.S. Open, he surely is up for "Father of the Year."
After his Day 1 finish with a three-under 67, he may finally have given himself that opportunity to win. Phil has finished second five times at the Open, the last three years getting off horribly with scores of 76, 74 and 75.
He took advantage of both the rain delay and the softened course. The conditions definitely played into his wedge-wielding hands, as was apparent on a nifty sand shot with the cup cut just a few feet from the rough. Then, his second shot at the seventh hole landed just inches from the cup.
Lefty also played smart. He literally took the driver out of his hands by not bringing one, thus managing the course in a conservative fairway to green manner that we are somewhat unaccustomed to seeing.
Phil turns 43 this weekend, and it would be quite a present to himself to score at win at Merion.