One Label Each Stanley Cup Final Star Has Earned in the Postseason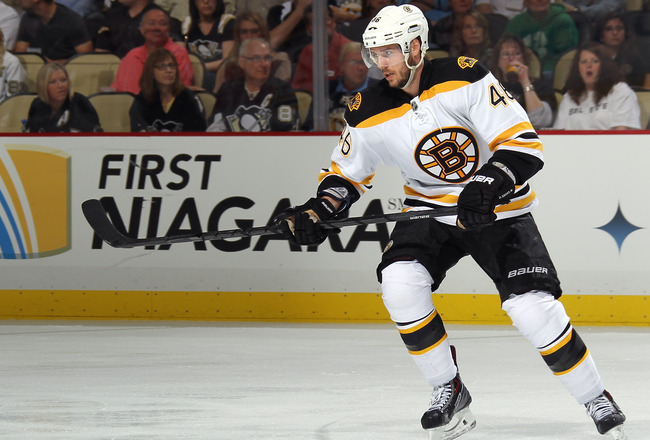 Bruce Bennett/Getty Images
Reputations can be secured and destroyed in an instant during the Stanley Cup Final. 2013's matchup is no different, as the Boston Bruins and Chicago Blackhawks both boast lineup cards that are full of stars and standout players.
While it can take a season or two to cement "labels" during the regular season, stories and histories are created almost overnight during the postseason.
One prime example of this phenomenon is Chris Kreider of the New York Rangers. Another prime case from these playoffs is Torey Krug, who went from lower-league no-namer to Stanley Cup squad staple in literally no time.
All it takes is one goal, one hit, one shot or one play, and a guy could end up with a label that will last a lifetime. Or at least until another postseason rolls around and new storylines are created.
Marian Hossa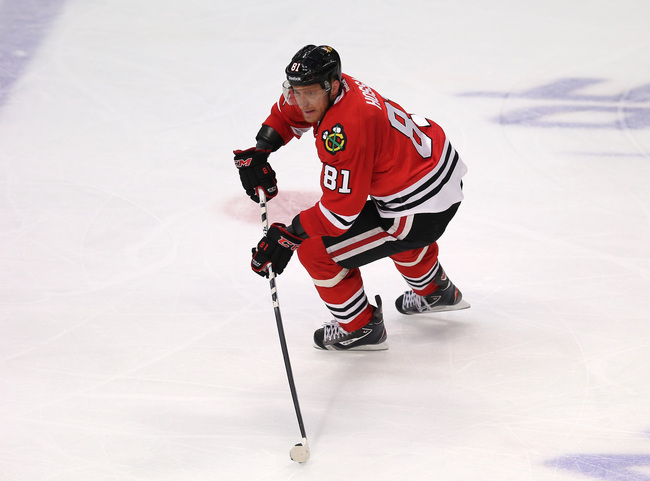 Jonathan Daniel/Getty Images
Label: Worth It
It may not seem like a big deal now, but when the Chicago Blackhawks inked Marian Hossa to a 12-year, $63.3 million deal, it raised a lot of eyebrows.
That was a lot of cheddar at that stage of the CBA game, and Hossa didn't exactly have a clean bill of health at that juncture, either. Questions about his ability to stay healthy grew as he missed long stretches of time in 2010 and in 2011.
All that is behind him right now, though, as Hossa is the leading scorer for the 'Hawks. He's put up 15 points from a spot on the second line. The nearly $8 million Chicago will pay him this year seems like a bargain for that sort of output.
Nathan Horton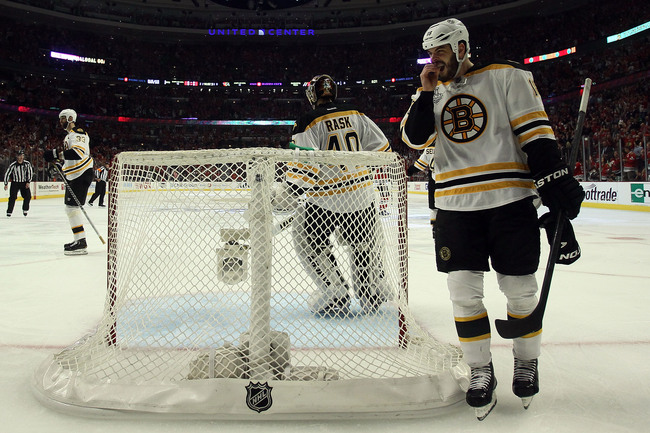 Bruce Bennett/Getty Images
Label: Big Money
This isn't Nathan Horton's label just yet, but after his performance throughout the 2013 playoffs, it will be in due time. The big man currently has 18 points through 17 postseason games played and is poised for a big payday as an unrestricted free agent.
His expiring six-year deal was worth $4 million per season.
Based on his clutch output for the Boston Bruins, he's due for a substantial raise. NHL teams have shown time and time again that they are willing to put up big bucks for perceived playoff performers. Heading into the offseason, there won't be a more "clutch" guy on the market.
Patrick Sharp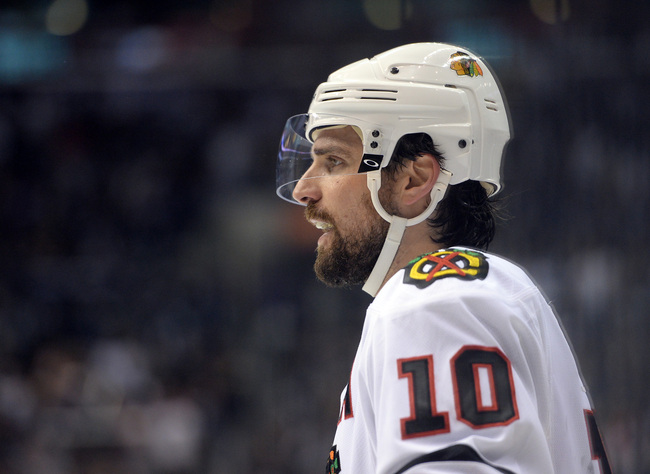 Harry How/Getty Images
Label: Not the "Other" Patrick
Patrick Sharp has been one of the most underrated scorers in the NHL since 2008, when he first broke the 30-goal barrier. There might not be a less assuming 30-goal guy in the entire league.
Now, on the biggest of stages, Sharp is showing casual observers and fans that there's more than one Patrick worth knowing about playing for the Chicago Blackhawks.
He's been battling for the playoff goal-scoring lead since the first round and is currently second on the 'Hawks in points with 14.
Patrice Bergeron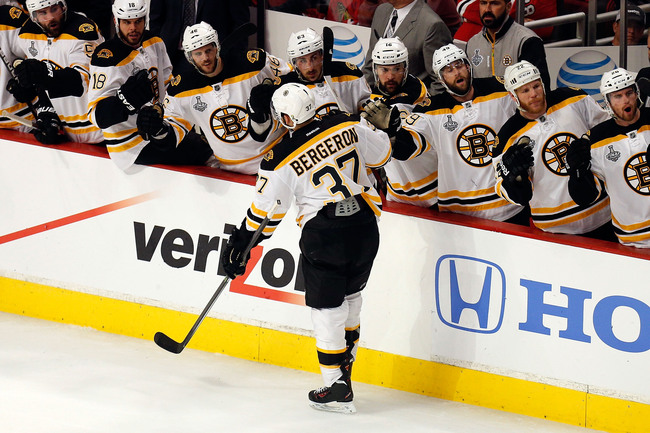 Gregory Shamus/Getty Images
Label: Annual Selke Winner in a Pavel Datsyuk-less Universe
In Game 1 of the Stanley Cup Final, the Chicago Blackhawks had dozens of chances to finish things off in overtime. It just seemed like every one of their efforts was stuffed by either Tuukka Rask or a ridiculous backcheck from Patrice Bergeron.
If there was any doubt about Bergeron's abilities as a defensive forward, they are gone now. He was responsible for shutting down Sidney Crosby entirely in the Eastern Conference Final and looked just as poised without the puck against the 'Hawks in Game 1.
While he knows how to get it done offensively as well, Bergeron is cementing himself as arguably the best defensive forward in the NHL.
Jonathan Toews
Bruce Bennett/Getty Images
Label: Nightcrawler (the X-Man, not the fish bait)
You're never quite sure where he is or when he'll turn up, but when he does, he'll be dangerous because of his special abilities.
Jonathan Toews has had a Nightcrawler-like performance in these playoffs. He had issues asserting himself through the first two rounds against the Minnesota Wild and Detroit Red Wings and really didn't come on against the Los Angeles Kings until the last few games.
While he's not hitting the scoresheet with regularity, Captain Serious appears to have at least secured some self-confidence. He's looked dangerous with the puck over the last three or four games, and it's only a matter of time before he makes an impact in the Stanley Cup Final.
Brad Marchand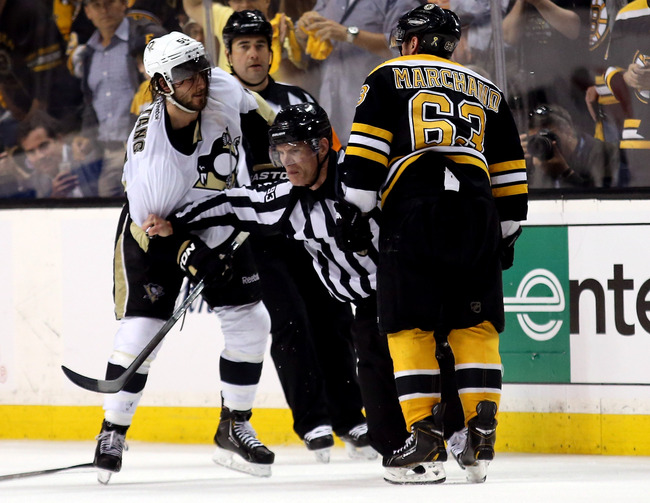 Bruce Bennett/Getty Images
Label: NHL's Best Pest
One minute he's agitating the best players on the other team, and the next he's celebrating a goal while staring down whichever star he just lit up with a body check.
That's Brad Marchand in a nutshell. He harks back to the skilled grit players of the '90s, when forwards like Darren McCarty and Claude Lemieux were drawing penalties by being downright pests while maintaining an above-average skill level.
Marchand brings more than "just OK" talents to the ice every night, though. He's quick and agile with the puck and is a threat to score when he carries it with speed into the slot. At this point, he's the best pest in the league.
Duncan Keith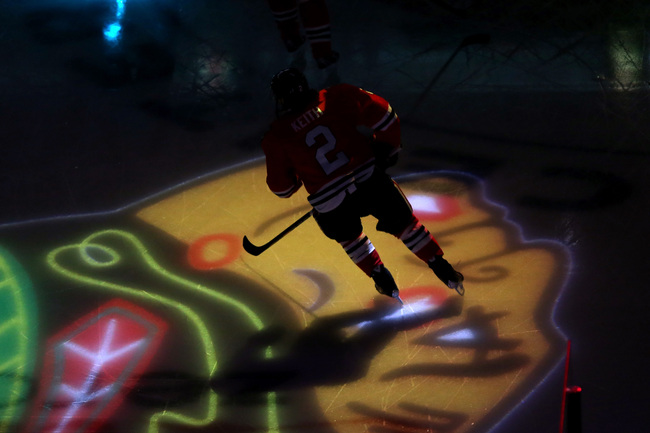 Jonathan Daniel/Getty Images
Label: Elite (still)
Over the last few seasons, the NHL and its fans have developed crushes on certain puck-moving defensemen. P.K. Subban and Erik Karlsson come to mind. In the wake of these revelations, Duncan Keith has been lost in the mix a bit when it comes to discussions about who the best offensive defenseman is.
That shouldn't be the case, and it won't be after these playoffs are all said and done.
Keith has reemerged this postseason as a devastating threat with the puck, skating it out of trouble at will and hitting the neutral zone-skipping stretch pass with alarming regularity.
It's served as a reminder that Keith is still among the best defensemen in the game and should still be considered elite.
Zdeno Chara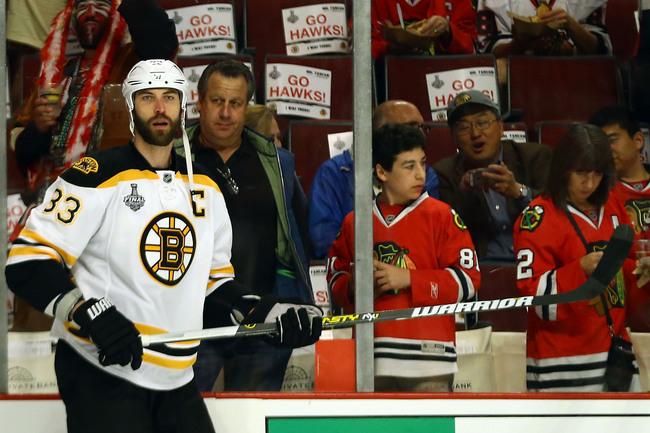 Bruce Bennett/Getty Images
Label: Star Killer
Zdeno "Star Killer" Chara kind of has a nice ring to it, doesn't it?
That's exactly what the Boston Bruins captain has been through these playoffs. He's been assigned to shutting down the best player on the opposing team through three rounds of action, and that's precisely what he's done.
Since Phil Kessel managed to post four goals in seven games against the Bruins, no star forward has even approached an effective level. Sidney Crosby and the high-powered Pittsburgh Penguins scored two goals through four games in the Eastern Conference Final. Rick Nash only scored one time in Round 2 while Brad Richards found himself in the press box as a healthy scratch.
Will Jonathan Toews and Patrick Kane be Chara's next victims?
Corey Crawford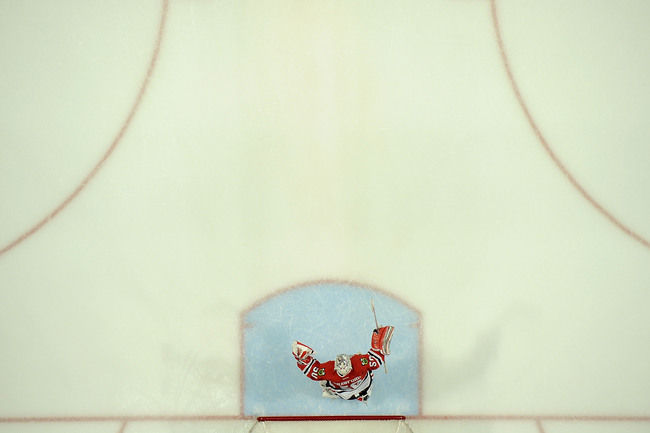 Harry How/Getty Images
Label: Chris Osgood
Perhaps it's just the curse that comes with playing on outstanding hockey teams. Maybe it's just the effect of simple names like "Corey" or "Chris." It could just be an Original Six thing.
Regardless of the why, the what is that Corey Crawford just can't seem to get any respect. While he's posted numbers that are almost identical to those of Tuukka Rask, he's received nowhere near as much love from sports media pundits around the NHL.
There's no real reason for it, so Crawford could very well be this generation's version of Chris Osgood. Which probably wouldn't bother Chicago's netminder in the slightest, given the success that Ozzie managed to have with the Detroit Red Wings.
Tuukka Rask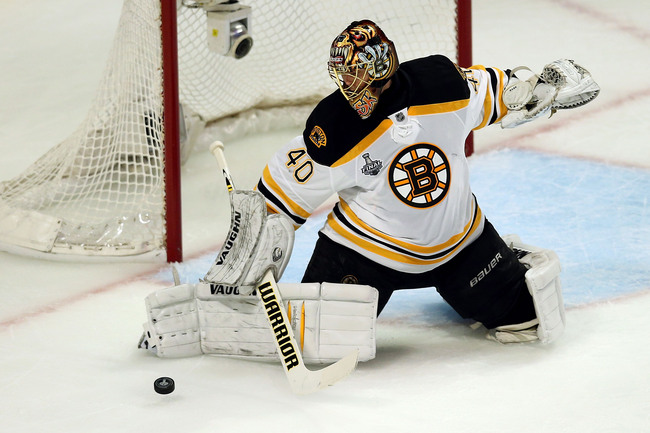 Jonathan Daniel/Getty Images
Label: The Replacement
Tim Thomas gained notoriety for his Stanley Cup playoff acumen long before his days as a government-hating wingnut. He pushed the Boston Bruins to the Stanley Cup almost single-handedly in 2011, posting an incredible 1.98 GAA and a .940 save percentage along the way.
Tuukka Rask has done the remarkable and made a hockey-crazed city forget all about Thomas and his heroics.
Rask has been lights out in these playoffs. His .942 save percentage is tops in the postseason, and his 1.78 GAA is second to only Corey Crawford. It's not the Thomas show any more. It's Tuukka's time now.
Patrick Kane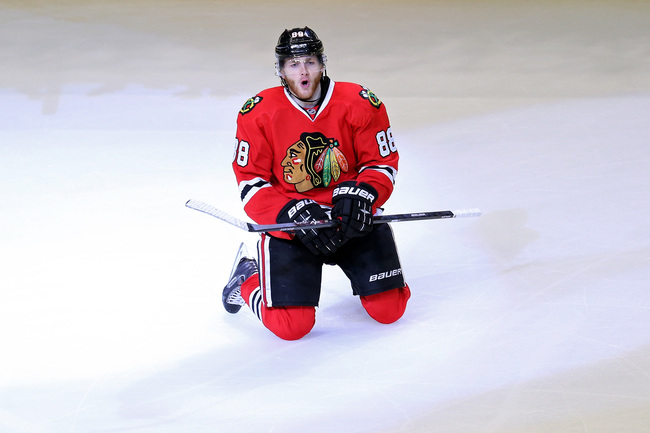 Jonathan Daniel/Getty Images
Label: _______________
Patrick Kane hasn't been labeled anything through these playoffs. No photos have emerged of him partying after a series win. He hasn't made headlines for his shenanigans off the ice. Not once. No one has called him a party boy or a spotlight-hogging kid.
We've witnessed a teenage phenom evolve into an adult before our very eyes, and the lack of a label entirely is a step in the right direction for Kane and the Chicago Blackhawks as a whole.
No one is talking about what Kane is doing off the ice. Everyone is mesmerized by his recent swagger with the puck, and after a hat trick in Game 5 against the L.A. Kings, he seems poised for a big finals against Boston.
David Krejci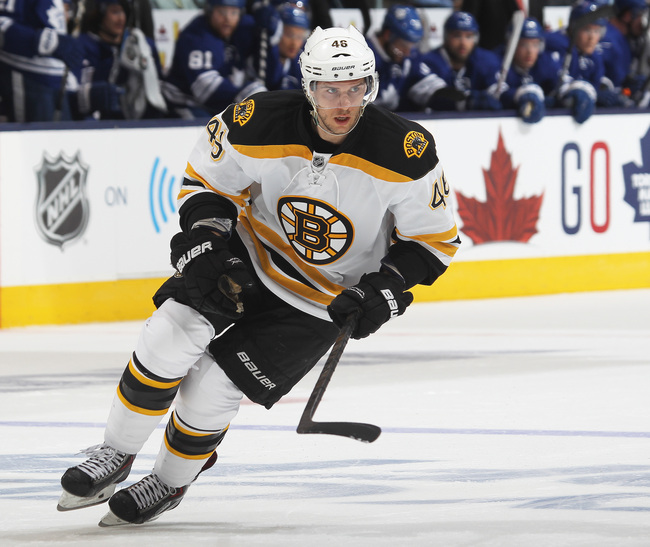 Claus Andersen/Getty Images
Label: Superstar
Better late than never.
Since 2010, no other player in the NHL has scored more points in the playoffs than David Krejci. Not Sidney Crosby or Evgeni Malkin. Not Alexander Ovechkin or Brad Richards or Claude Giroux or anyone else.
Krejci is the man when it comes to postseason scoring. He led the Boston Bruins in points when they last won the Stanley Cup in 2011, and he's five points ahead of the second-best point producer in this postseason. There's no real flash to his game. All he does is finish, or set up plays that are going to end up in the back of the net.
Krejci has earned his stripes as one of the best players in the NHL. It's time to treat him like a superstar.
Keep Reading