10 MLB Pitchers to Keep an Eye on in the 2nd Half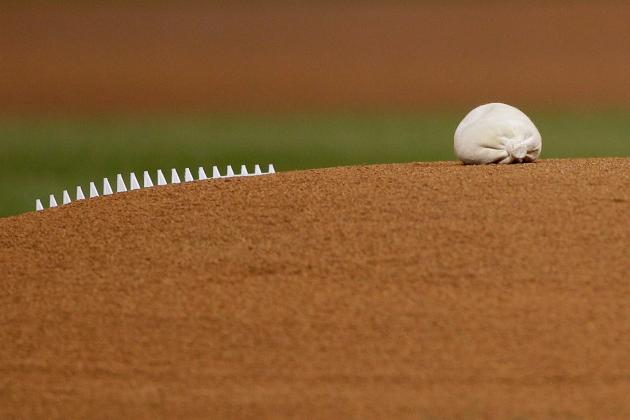 Rob Carr/Getty Images

The 2013 MLB season is nearing its midpoint, and quality pitching is becoming more important week to week.
While some veterans such as Bartolo Colon and Francisco Liriano are having bounce-back seasons, young guns such as Patrick Corbin and Mike Minor are stepping into the limelight.
Teams such as the Pittsburgh Pirates, Arizona Diamondbacks and Oakland A's have surprised fans with their success this season. This is, in part, thanks to solid contributions from their pitching staffs.
It takes a lot to be a successful pitcher in the majors. These 10 not only have the stats but the intangibles that make them ones to keep an eye on.
As the MLB season closes in on the Midsummer Classic, let's take a look at the 10 pitchers to keep an eye on in the second half.
All stats, unless otherwise indicated, come from ESPN.com.
Begin Slideshow

»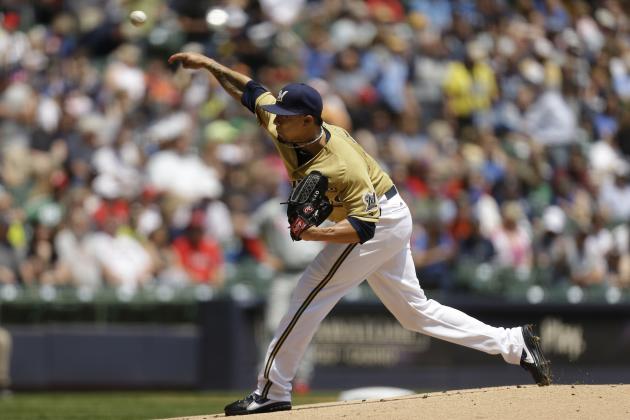 Mike McGinnis/Getty Images
Kyle Lohse earns an honorable mention as one to keep an eye on in the second half.
C.J. Wilson
Stats: 5-5, 3.90 ERA, 82 SO, 1.43 WHIP
While C.J. Wilson's stats are mediocre this year, his intangibles earn him an honorable mention as one to watch in the second half of this MLB season.
Wilson hasn't seemed the same since he left Texas to become an Anaheim Angel. He does, however, have all the skills to be a Cy Young pitcher.
While it would appear as if Wilson is destined for another season of mediocrity, fans should keep their eye on him.
Wilson has been a streaky pitcher this year. He has had a four-game win streak and two losing streaks of three games each.
Fans should keep their eye on Wilson, though, because he is currently coming off a three-game skid.
If his performances from earlier this season are any indication of the future, Wilson should right the ship soon and string together some wins.
Heath Bell
Stats: 12 SV, 4.05 ERA, 30 SO, 1.54 WHIP
Heath Bell had a rough start to his tenure with the Arizona Diamondbacks.
Bell allowed four runs in his first 2.1 innings of work in the desert. It seemed like Bell was destined for another season of disappointment.
Things began to turn around for the 35-year-old closer on May 7, though.
Since then, Bell has racked up 11 saves in 15 appearances.
The injury bug bit the Diamondbacks this year, but Bell has stabilized their closing role.
If Bell continues to assume closing duties for the D-Backs, he's someone to keep an eye on in the second half.
Kyle Lohse
Stats: 2-6, 4.03 ERA, 46 SO, 1.24 WHIP
Milwaukee signed Kyle Lohse with the hopes that he would be one of its top-end starters.
Lohse's numbers are not great. Actually, they're pretty bad for a guy who was supposed to solidify Milwaukee's rotation.
Lohse, however, had an amazing second half last year.
The right-hander only lost one game between July and September. He also had a post-All-Star Game ERA of 2.95.
Brewers fans hope that Lohse can have a similar second half this year. If he does, he will be a pitcher to keep an eye on.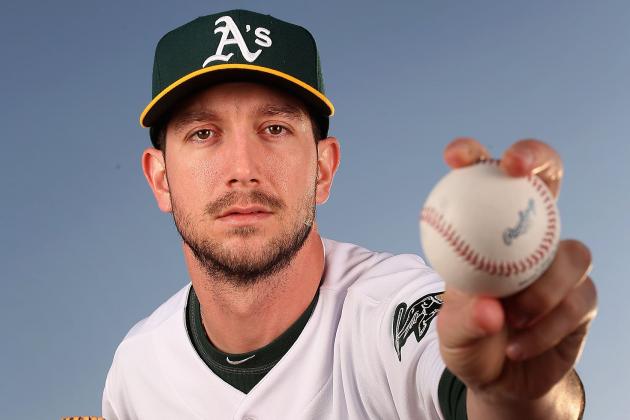 Christian Petersen/Getty Images
Jerry Blevins is having a career year for the Oakland A's.
Stats: 0 SV, 2.12 ERA, 25 SO, .98 WHIP
Jerry Blevins has been the rock of the Oakland A's bullpen this year. He has appeared in a team-high 31 games.
Blevins has been in the majors for six years and has had a sub-three ERA for the past two seasons.
The reason Blevins is one to watch is because of his dominance on the road this year.
Away from Oakland, Blevins has a 1.06 ERA in 17 innings pitched. Opponents are only hitting .158 off of Blevins when he is pitching away from Overstock.com Coliseum.
The Oakland A's are recreating the magic from last season.
If Oakland goes to the playoffs again this year, it will be, in part, thanks to the help of Blevins coming out of the pen.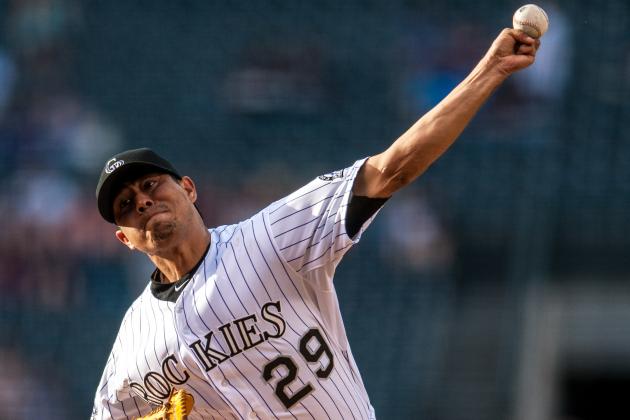 Dustin Bradford/Getty Images
Jorge De La Rosa is one to watch in the Mile High City.
Stats: 7-4, 3.49 ERA, 53 SO, 1.33 WHIP
Jorge De La Rosa has come on strong recently, having only lost one game since May 7.
His seven wins on the year put him in a three-way tie for eighth in the National League.
While his numbers don't jump off the sheet, he has done the little things a quality pitcher needs to do. De La Rosa has only walked 27 batters on the year and forced 11 ground double plays. He's also only thrown one wild pitch this year.
All this and more add up to De La Rosa having a 2.7 wins above replacement. This basically means De La Rosa has contributed 2.7 more wins than the best perceived player the Rockies would replace him with.
That's the 11th-best WAR in all of baseball for a pitcher.
The reason fans should watch De La Rosa in the second half, though, is because he could be the difference between the Rockies making a playoff push or not.
Colorado is currently only 2.5 games back of Arizona in the NL West. De La Rosa has become the ace of the staff.
If he can finish the season strong, he can help keep the Rockies in the hunt in a very winnable division.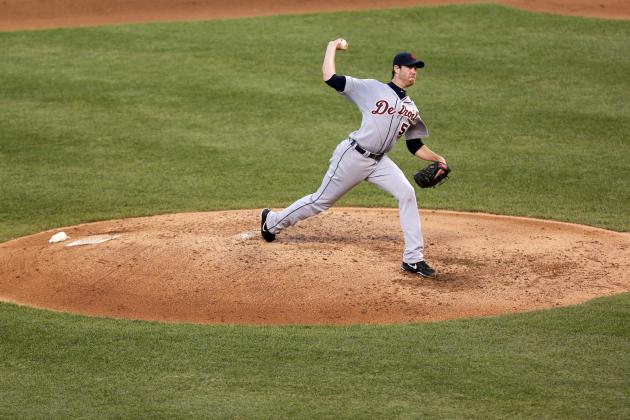 Ed Zurga/Getty Images
Doug Fister has had a rocky past month, but he will turn it around soon.
Stats: 5-4, 3.28 ERA, 69 SO, 1.18 WHIP
In Doug Fister's four years in the majors, he has yet to put together a successful full season. That is to say he hasn't had a winning record come year's end.
This year appears to be different.
Fister has seen his ERA drop considerably after the All-Star Game the past two seasons. He also has a combined 16-7 record after the Midsummer Classic during that same span.
The 29-year-old starter is off to the best start of his career, and if the past is an indication of the future, he is set to finish the season strong.
Max Scherzer has emerged as the best pitcher for the Detroit Tigers so far this season. While Fister is currently a middle-of-the-rotation guy, he could play a crucial role down the stretch.
Justin Verlander will get back on track, but if Scherzer falters at all during the second half, this could be Fister's year to step into the limelight.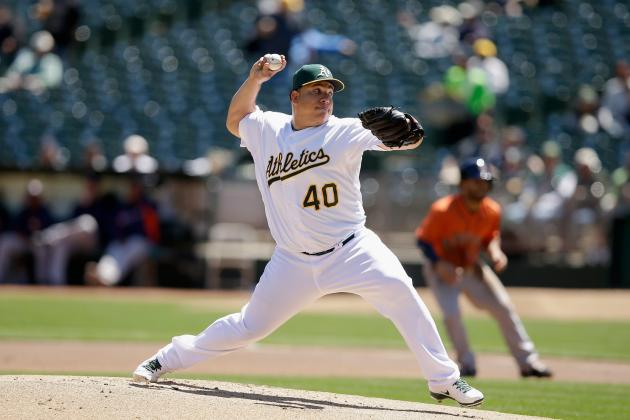 Ezra Shaw/Getty Images
Bartolo Colon, at 40, has only lost two games this year.
Stats: 8-2, 2.92 ERA, 49 SO, 1.09 WHIP
The Oakland A's are currently in first place in the AL West.
This is, in part, thanks to the great year Bartolo Colon is putting together. Colon is sporting an 8-2 record on the year. His eight wins are the third most in the AL.
The 40-year-old hasn't lost a game since May 20.
Colon has also been eating up innings, having pitched at least six innings in every start since May 14.
Colon is one to watch simply because of what he is doing at his age. As pitchers age, their arms should be getting weak, and they should be losing some of their stuff.
Not Colon.
The reason Colon finds himself at No. 7 on the list is because while his numbers are great, at his age, there isn't much upside to him. It appears he's on track for a 19-win season, but his age may catch up to him.
Colon hasn't won more than 10 games since 2005. After a rough past few seasons, however, Colon is back with vengeance.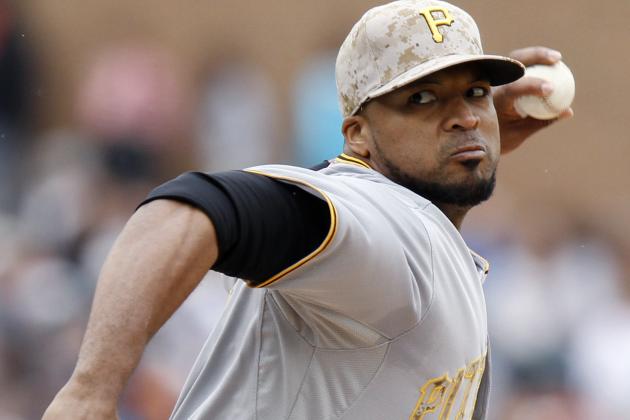 Duane Burleson/Getty Images
Franscico Liriano has recovered from his injury in impressive fashion.
Stats: 5-2, 2.36 ERA, 49 SO, 1.26 WHIP
Francisco Liriano had an interesting start to his 2013 season after breaking his arm during a Christmas prank.
After recovering from this freak injury, Liriano has returned with something to prove.
He had a sub-one ERA until his last start and has already posted two shutouts this year. Liriano is a big reason the Pittsburgh Pirates are fighting for the division lead in the NL Central.
One key to his success this year is his ability to locate his pitches. He has kept the ball low in the zone, especially on counts where he is behind.
2010 was the last time Liriano has won double-digit games. 2013 may change that.
Fans should keep an eye on Liriano this year, because he could be an integral part in a Pirates playoff push.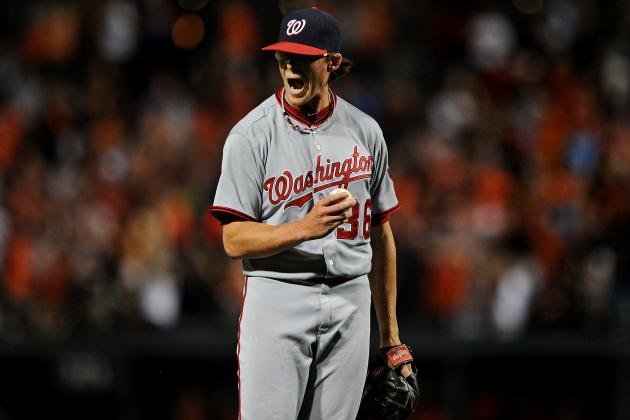 Patrick Smith/Getty Images
Tyler Clippard is putting together another solid campaign.
Stats: 0 SV, 2.57 ERA, 30 SO, 1.04 WHIP
The Washington Nationals have gotten off to a bit of a rocky start, but nobody told Tyler Clippard.
Clippard has appeared in 29 games and hasn't allowed an earned run since May 31.
The 28-year-old relief pitcher had a rough start to the year but turned it around quickly.
Clippard has done an excellent job as a setup man this year as he leads the team with 10 holds.
The Nationals have struggled at times to score runs this year, ranking near the bottom in nearly every offensive category.
This makes Clippard all the more important. Clippard is No. 5 on the list for this reason. While there are four guys ahead of him, Clippard is definitely one to watch because of his potential impact in one-run games.
If the Nationals want to make the playoffs again this year, they will need to win some tight, one-run games, and Clippard will play a key role in helping them do that.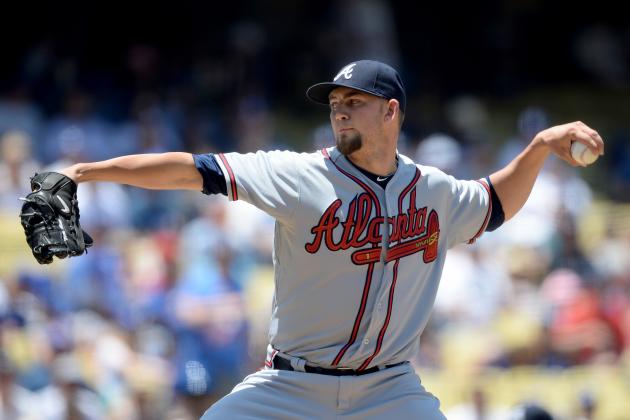 Harry How/Getty Images
Mike Minor hasn't lost a game since May 3.
Stats: 8-2, 2.44 ERA, 78 SO, .94 WHIP
Mike Minor has been dominate this year.
Minor hasn't lost a game since May 3 and has given up a combined nine earned runs over his past seven starts.
Right now, ESPN has him projected to finish the year 19-5. Not bad for the 25-year-old out of Chapel Hill, Tenn.
Minor leads the Atlanta Braves in wins, strikeouts and ERA, and he is taking command of the pitching staff. His win total is fourth best in the NL, and he's third in WHIP.
One key to his success is his how he pitches with runners in scoring position. Opponents have hit only .196 off of Minor with runners in scoring position.
Atlanta has depth in its rotation, but Minor is emerging as the ace. Minor is one to keep an eye on not only for the second half of this year, but for years to come.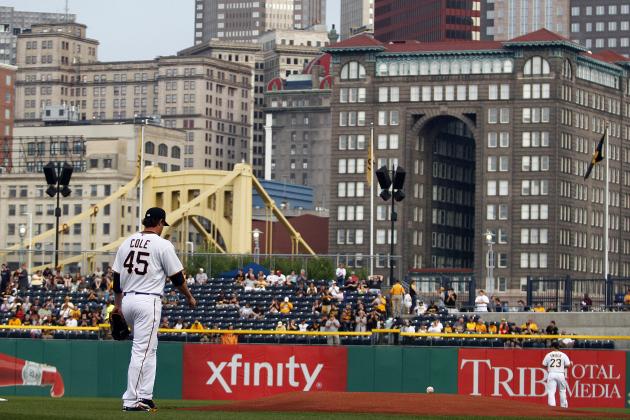 Justin K. Aller/Getty Images
The Pittsburgh Pirates are planning on Gerrit Cole being the future of their pitching staff.
Stats: 1-0, 2.84 ERA, 2 SO, 1.11 WHIP
Pittsburgh Pirates fans have been waiting to see Gerrit Cole take the mound at PNC Park, and he didn't disappoint in his first career start.
Cole went 6.1 innings, giving up only two earned runs in an 8-2 victory over the San Francisco Giants.
While he won't become the ace of the Pirates staff overnight, Cole has all the intangibles to become the leader of the staff with time.
His fastball has topped 102 mph at times, and he also can utilize a two-seam, changeup and slider well.
It would appear that if Cole can work on his pitch location, the sky is the limit.
Cole is No. 3 on the list because while he only has one start on the year, he has tremendous upside.
The Pirates have put together an impressive first half in part thanks to solid contributions from their starters. Cole is one to keep an eye on in the second half because he could play an important role in helping the Pirates achieve their first winning season in over a decade.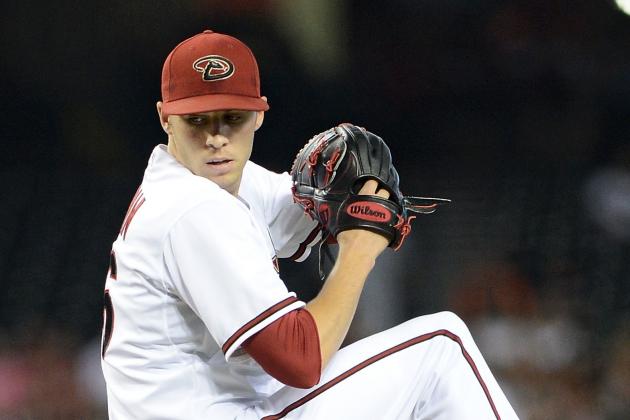 Jennifer Stewart/Getty Images
Patrick Corbin has become the ace of the Diamondbacks staff.
Stats: 9-0, 2.28 ERA, 67 SO, 1.07 WHIP
When the Arizona Diamondbacks traded Dan Haren to the Angels, D-Backs fans weren't happy.
Arizona got back Joe Saunders, Patrick Corbin and a player to be named later. That player would eventually become Tyler Skaggs.
Who's upset now?
Corbin hasn't lost a game this year and has the seventh-best ERA in the National League. He also currently ranks second in wins with nine.
He has become the ace of Arizona's pitching staff and is making a case to be the All-Star Game starting pitcher.
This is also only his second year in the majors.
Corbin lands at No. 2 because he is the biggest reason the D-Backs are currently sitting at the top of the NL West. With all the injuries and struggles of Arizona's pitching staff, Corbin has been the rock.
While it is only a matter of time until Corbin finally loses a game, fans need to keep an eye on him during the second half of the year.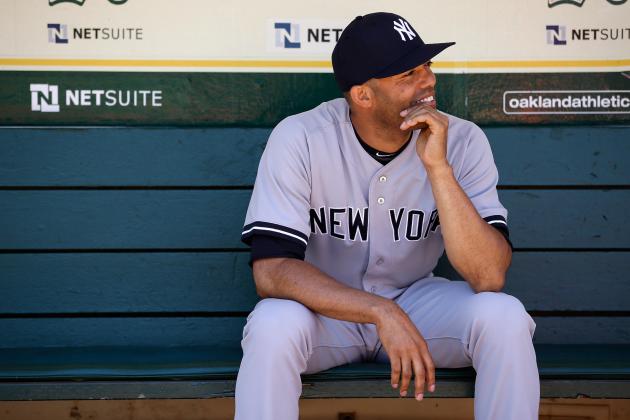 Ezra Shaw/Getty Images
Mariano Rivera is the No. 1 guy fans should watch in the 2nd half.
Stats: 23 SV, 1.48 ERA, 23 SO, 1.23 WHIP
Mariano Rivera announced before this season that this would be his final campaign. The veteran closer has been a fixture of the Yankees franchise for the past 18 years.
Watching him throw his cutter is like watching an artist paint.
Rivera has been named an All-Star 12 times and won the Cy Young six times in his Hall of Fame career.
Rivera earns the top spot as a pitcher to watch in the second half because fans may not see a closer quite as dominate ever again. Rivera has left his mark on the game of baseball, and this is the final time fans can appreciate his work.
Rivera also will play an important role for the Yankees down the stretch doing what he does, closing out wins.
It's also the last time anyone will wear No. 42 in the majors.