5 Reasons Why Matt Cassel Could Replace Christian Ponder This Season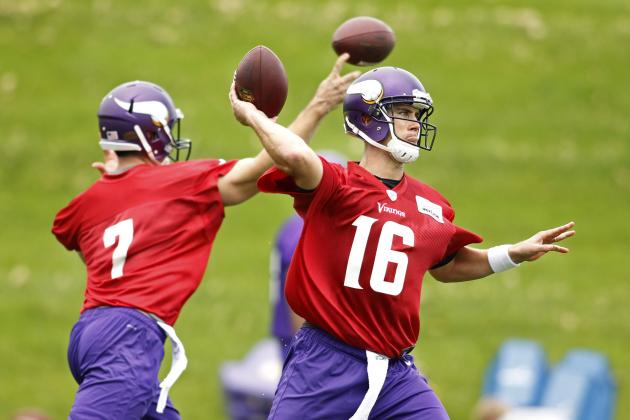 Bruce Kluckhohn-USA TODAY Sports

When Matt Cassel signed with the Minnesota Vikings earlier this year, it was assumed that Cassel would serve strictly as a backup and to provide competition with starting quarterback Christian Ponder.
Cassel, a player who has endured quite the roller-coaster career since being drafted out of the University of Southern California, provides the Vikings with an experienced quarterback who could end up making a play for the starting job if things deteriorate for Ponder.
As it stands right now, the role of starter and backup couldn't be any clearer. Christian Ponder is the starter and Matt Cassel is the backup.
But after unexpectedly reaching the playoffs last season and bringing in a crop of fresh talent to help better the team this offseason, expectations for the franchise have been set incredibly high.
While most Vikings fans—myself included—want to see Ponder break out and thrive this season, we all realize that nothing is guaranteed. There's always a chance Cassel could end up landing the starting gig at some point during the year.
With all of that being said, start the slideshow below and take a look at five reasons why Matt Cassel could end up replacing Christian Ponder this season.
Begin Slideshow

»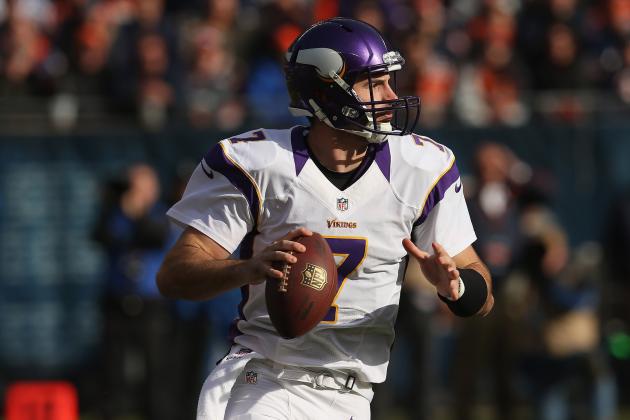 Jonathan Daniel/Getty Images

The most obvious reason for why Matt Cassel could end up as the starting quarterback comes down to Christian Ponder's production.
According to Pro Football Focus' formula for grading players (subscription required), Ponder finished last season as the 34th-ranked quarterback in the NFL.
Whether you agree with that ranking or you don't, one thing we all can agree on is that last season there were plenty of times where Ponder simply looked overwhelmed. While he had the luxury of Adrian Peterson behind him churning out a near record-breaking season, it felt like Ponder always struggled to find his rhythm downfield.
According to Pro Football Focus (subscription required), when throwing the ball 20 yards or further, Ponder's average QB rating was a disappointing 46. Compare that to when he threw the football between zero and nine yards, where his average was a very respectable 103.3, and you begin to understand the limitations that hampered the Vikings offense.
Even during a down season in Kansas City that was plagued with organizational issues and injuries, when throwing the ball 20 yards or further downfield, Cassel's average QB rating was 70. Not a huge improvement by any means, but an improvement nonetheless.
With the addition of guys like Greg Jennings and Cordarrelle Patterson, the Vikings offense should be able to attack the field better vertically than it did last season.
That's why if Ponder struggles once again to find his weapons downfield, Cassel could be called on.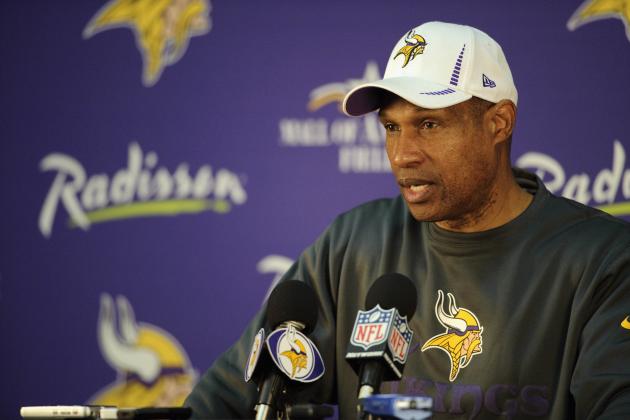 Hannah Foslien/Getty Images

When the Vikings selected Christian Ponder in the first round of the 2011 draft, a lot of fans were stunned.
For starters, Ponder was criticized leading up to the draft by the likes of Mel Kiper Jr. and other scouts for various reasons.
But on draft night, the Vikings were incredibly decisive. They realized that in order to give this team a real chance to succeed, they needed to roll the dice on a potential franchise quarterback.
Now entering his third full season as the starter for the prestigious purple-and-gold machine, while the Vikings aren't saying it, they understand that this is Ponder's make-or-break campaign.
Putting his play aside, when it comes down to it, the NFL is a business. And Ponder being a third-year player gives the Vikings an option this offseason to add a fifth year to his contract. If he doesn't perform up to par this season, the front office won't extend his deal, in effect ending his tenure as the starter of this team.
With Matt Cassel inked to a low-risk contract, if this season falls off the rails, the team could slide him into the starting role and let him prove to the front office that he still has something left in the tank.
If Cassel excels or plays even reasonably well, he could end up earning himself the starting job next season while the team searches for its franchise QB.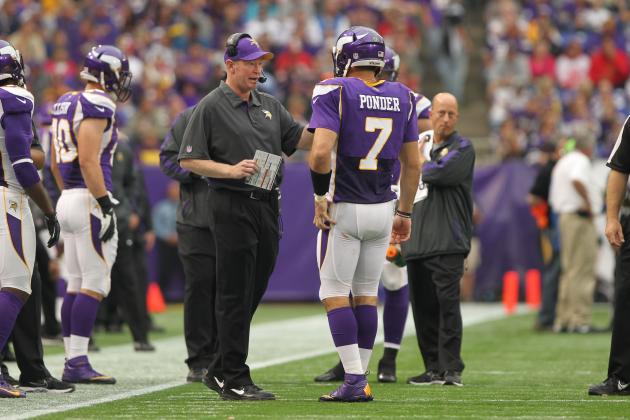 Brace Hemmelgarn-USA TODAY Sports

A forgotten factor in this whole Christian Ponder as the starter conversation is offensive coordinator Bill Musgrave.
If Ponder—or any QB for that matter—is to have any success in Minnesota, Musgrave must not only find a groove for him with his play-calling, but also make sure he improves each and every week in the classroom.
Ponder, who's still a young quarterback, has a lot of things he needs to work on if he expects to carry this team into playoff contention once again.
While no one has ever knocked Ponder's smarts and understanding of the game—same goes for Cassel—it's crucial for Musgrave to develop a game plan and allow whoever his quarterback is to take control of a situation rather than be designated to the cliche "game manager" role
With Cassel waiting in the wings, if things start to go south for Ponder, you'd have to figure Musgrave is going to want Cassel starting—and hopefully playing well—to save his own skin.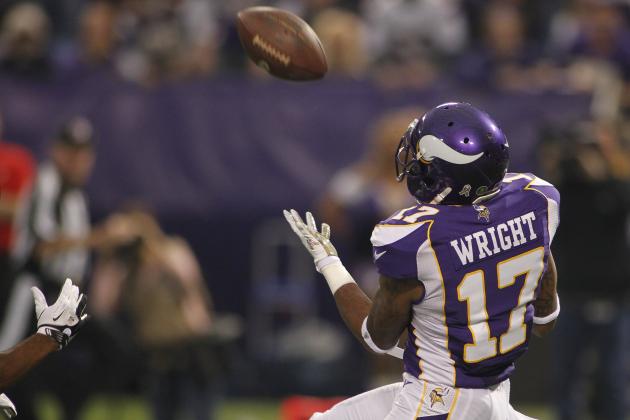 Andy King/Getty Images

Lost in all of the talented offensive weapons on the Vikings roster is wide receiver Jarius Wright.
Wright, the second-year man out of Arkansas, is a shifty slot weapon who helped Ponder out tremendously when he played last season.
According to Pro Football Focus (subscription required), Wright was at his most effective last season when he was catching passes between zero and nine yards on the left side of the field. Wright's ability to shine in close yardage situations gave Ponder a chance to dump the ball off quickly and let Wright pick up yards after the catch.
With Greg Jennings, Jerome Simpson, Kyle Rudolph and Cordarrelle Patterson at his disposal, it's Wright who could end up the most important option for Ponder.
If his health falters or he struggles at all, that translate to issues for Ponder, which in turn could lead to Matt Cassel getting a chance as the season wears on.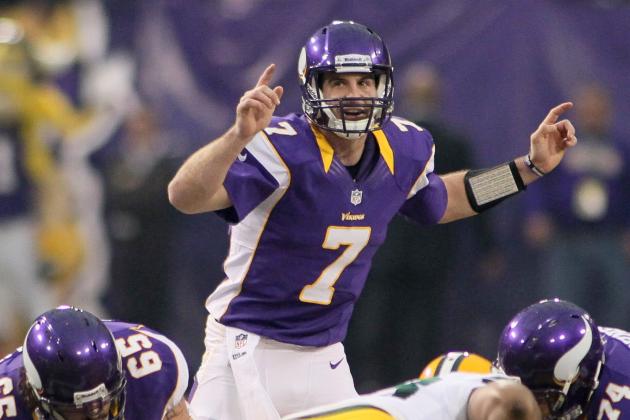 Andy King/Getty Images

When it comes down to it, if Matt Cassel has any chance to replace Christian Ponder this season, it all boils down to high expectations.
Coming off a surprising 10-6 season, this offseason the Vikings went out and made sure that they improved on offense.
With the addition of a solid No. 1 receiver in Greg Jennings, the growth of players like Jarius Wright and Kyle Rudolph and the beast we call Adrian Peterson sitting in the backfield, Vikings fans have understandably have set the bar incredibly high this season.
It's simple. We want a playoff run, and we want Christian Ponder to lead us there.
With the pressure to succeed this season riding on his shoulders, the true character and quality of Ponder as a player will surface.
Thanks to general manager Rick Spielman, the Vikings are ready to contend. We just need a quarterback who can lead us to the promise land. Whether his name is Christian Ponder, Matt Cassel or Shane Falco, Vikings fans deserve a winner under center.