Down, but not out, the Miami Heat look to tie the series against the San Antonio Spurs. Coming off an impressive Game 2 victory, the Heat were bombarded with a barrage of three-pointers in Game 3 losing by a score of 113-77.
Now, with the Heat's horrific performance in the past, Erik Spoelstra must look to take control of his team before Gregg Popovich and the Spurs implode them.
Here's how Spoelstra can make adjustments and outsmart Popovich in Game 4.
Go Against the Grain
Mix it up. Spoelstra can use James to his advantage here. Go with a big lineup and put James at the point.
Streeter Lecka/Getty Images
Like Rajon Rondo gets baited into shooting in Boston, James was baited into shooting in Game 3. Yet, Rondo is still able to create, score, and help his team out. Spoelstra might have to use James like the Celtics use Rondo. And, with Ray Allen on the court, Spoelstra can run plenty of screens and pick-and-rolls with James up top.
Or, to mix it up, Spoelstra can continuously send in a parade of substitutions. Popovich might have to throw the game plan out when facing a different look every five minutes.
For Spoelstra to outsmart Popovich, he'll have to try something new.
Hack a Kawhi?
Kawhi Leonard has shot 62.2 percent from the free-throw line this postseason. Whether it's just been a stroke of misfortune or poor shooting, he's down from his 82.5 percent in the regular season.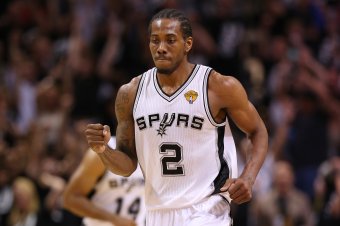 Mike Ehrmann/Getty Images
Give Popovich a dose of his own medicine.
Foul Leonard and send him to the line. Spoelstra can slow down the Spurs three-point shooting and make them earn it from the stripe. Not only that, but the lights could be too bright for the budding star and he could come up short.
Is the risk worth the reward?
Opening Up the Playbook
Popovich and the Spurs left LeBron James wide open in Game 3. They gave James plenty of room to shoot, taking away his ability to drive the lane.
Spoelstra needs to open up the playbook.
For Spoelstra to outsmart Popovich, he'll need to use how the Spurs defend James to his advantage. Similar to going against the grain, Spoelstra will have to dig deep in his playbook to find something that works.
LeBron James was 2-for-14 on shots taken outside the paint in Game 3. A look at his shot chart pic.twitter.com/4QZnuOflz5

— ESPN Stats & Info (@ESPNStatsInfo) June 12, 2013
Get Physical
Danny Green and Gary Neal must have given Spoelstra nightmares after Game 3. But, surely there is no way Neal can exceed expectations again.
Green, on the other hand, has been on fire in the NBA Finals. Connecting on 16-of-23 three-pointers, Green has been unconscious.
"The most important thing is our energy level and to be able to disrupt" @MiamiHEAT Coach Erik Spoelstra pic.twitter.com/DMW9t2BTHO

— NBA (@NBA) June 6, 2013
Spoelstra must get physical and make Green earn his baskets. Send the veteran Rashard Lewis in to bully the younger Green. Lewis is expendable so it wouldn't hurt the Heat if he fouled out.
Game 4
Can Erik Spoelstra outsmart Gregg Popovich?
If the Heat lose Game 4, the Spurs will be looking to close-out at home in Game 5. In other words, Game 4 is as must win as they come for the defending champs.
Expect Spoelstra to get his players more involved this game, including the veteran Shane Battier. Not to forget, the Heat did blow out the Spurs in Game 2, and they are fully capable of evening up this series.
Look for Spoelstra to run some plays, get physical, mix it up a bit and get the Heat back to playing team basketball.