As free agency approaches, the talk of where Los Angeles Lakers center and impending free agent Dwight Howard will end up signing this offseason has been the talk of the NBA.
According to Steve Kyler of USA Today, Howard has now reportedly expanded his destination options to several more teams:
Sources also say that the field for Howard's free agency has widened considerably... Houston, Dallas, Atlanta, San Antonio, LA and Brooklyn

— Steve Kyler (@stevekylerNBA) June 13, 2013
Where is Dwight Howard's best landing spot?
Howard limiting himself to just a few teams was not the right move for the future of NBA star, and expanding the options to include franchises with different styles and positions in the league was the smart choice.
There is little doubt that Howard will be the most coveted free agent this offseason, and he must learn from his time with the Orlando Magic and the Lakers about what he is looking for in a team and an organization.
If the latest report is accurate, the new possibilities—the Brooklyn Nets and San Antonio Spurs—are just as intriguing as all the others.
Brooklyn Nets Are An Option Again
The Brooklyn Nets were all-in on Howard before the Magic traded him to Los Angeles, and with another chance to sign him, the franchise would do whatever it takes to coax the star center to New York.
The problem for Brooklyn is that not only does the franchise have to compete with other teams across the league for Howard's services, but if he agreed to a deal, the Nets would need to make the necessary trades and cost-cutting changes to make the deal work financially.
According to Kyler, that wouldn't be easy:
Brooklyn would have to complete a complex sign & trade to get at Howard, but sources say they are willing to do whatever it takes.

— Steve Kyler (@stevekylerNBA) June 13, 2013
The Brooklyn Nets would have to be under the salary "apron" after a sign and trade, which means finding a third or fourth team to take $$$.

— Steve Kyler (@stevekylerNBA) June 13, 2013
While it would be a tough move to pull off for Brooklyn, the fact that Howard would be coached by one of the hardest-working players in league history, Jason Kidd, during his first attempt at being a head coach in the NBA (h/t ESPN) would make this is a long-term project the free agent can invest in for the future.
San Antonio Spurs Now Being Considered?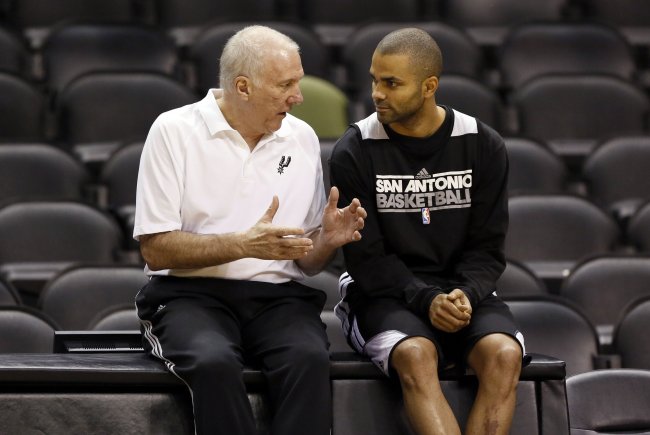 Soobum Im-USA TODAY Sports
While the entire San Antonio Spurs franchise may be focused on winning the 2013 NBA championship, the report claims that Howard would consider signing with the perennial Western Conference contender.
On paper, this doesn't look like an ideal fit for a player that doesn't give 100 percent effort on every play and can be mentally shaken by situations. However, if there is a coach in the NBA that can help Howard blossom into one of the greatest of all time, it's Gregg Popovich.
Add in the fact that San Antonio will have some cap space, according to Kyler, and the possibility that both parties could be intrigued by a possible relationship will climb after the season is over:
San Antonio has just $32.8 million in salary commits and could have as much as $26 million in capspace in July.

— Steve Kyler (@stevekylerNBA) June 13, 2013
The Spurs haven't become one of the best organizations in sports over the last decade without testing every possible option and taking educated risks. If Howard is considered a top player by the team and a viable option in free agency, Popovich would have the big man playing fundamental basketball and taking responsibility immediately.
With Tim Duncan not getting any younger, this would be a perfect fit for both parties.