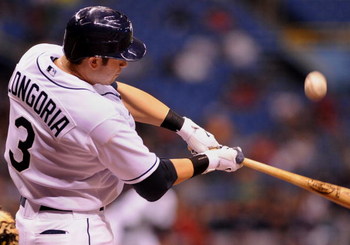 I realize that, to many out there, 24 seems like an arbitrary number to be a cutoff for an "All-MLB" team. In truth, the decision was made in large part by intuition. It seems to me that most of the game's stars don't reach their elite status until (or after) that particular age, with few exceptions.
So, in an effort to research this theory of mine, I set out to create an entire roster of players who, as of April 1 of this year, were under that age. In other words, all the players on this roster were born after April 1, 1985.
This means no Felix Pie, Justin Masterson, Matt LaPorta, Brandon Wood, Ryan Sweeney, Jeff Samardzija, or Emmanuel Burriss. For Daniel Murphy, who was born on that exact date, I decided to use the old baseball saying of "tie goes to the runner."
To make the decision process easier, I eliminated all players that have never appeared in a Major League Baseball game. This means that Matt Wieters is also out.
Before anyone makes a case for any player not included, make sure that they qualify under these stipulations.
So here's to the best baseball players who can't yet rent a car on their own without inciting extra fees.
Catcher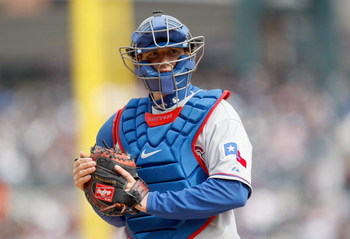 Starter: Jarrod Saltalamacchia, TEX (pictured)
Backup: Pablo Sandoval, SF
This was a fairly easy decision. Saltalamacchia was the only starting catcher who qualified and Sandoval was the only other qualifying player with big league catching experience.
Salty has always been known as a great hitter and recently has become a much better defensive catcher. Last year saw a drop-off at the plate, but he has picked it back up in the early goings this season. A switch-hitter, he is a very valuable piece of the Texas Rangers puzzle.
Sandoval is another switch-hitting catcher who can hit. This year, the Giants are using him primarily as a third baseman, but he is also acting as Bengie Molina's backup behind the plate.
Infield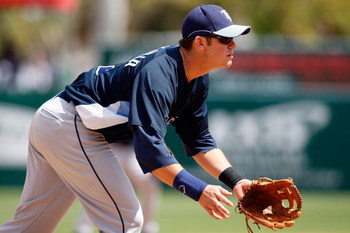 1B: Chris Davis, TEX
2B: Emilio Bonifacio, FLA
3B: Evan Longoria, TB (pictured)
SS: Elvis Andrus, TEX
Backup: Ian Stewart, COL
Backup: Asdrubal Cabrera, CLE
Chris Davis showed what he's capable of last year when he hit 17 home runs and had a .285 batting average in 317 plate appearances. A former third baseman, he offers up some good defense as well. His big hole? Strikeouts.
Considered by some scouts to be the fastest player they've ever seen, Emilio Bonifacio was a shoe-in for a roster spot. The Marlins leadoff hitter showed off that speed earlier this year when he hit an inside-the-park home run on Opening Day. Though he's been playing third base most of this year, he has typically been a second baseman with a great glove.
Evan Longoria needs no introduction to baseball fans. He is one of the game's best defenders, has a very strong arm, can hit for average and power, and can even steal the occasional base. Most likely, he is the player on this roster closest to achieving star status (if he hasn't already).
The nod at shortstop goes to 20-year-old Elvis Andrus. His defensive prowess is causing some to compare him to his backup, 11-time Gold Glove winner Omar Vizquel. While his bat may still be a question mark at the big league level, he has plenty of opportunity to develop that particular skill set.
Ian Stewart and Asdrubal Cabrera are penciled in as the infield backups. Both players have shown versatility that helps their role on this squad. Stewart can handle the bat pretty well and Cabrera holds his own at the plate. Either of them could step into the lineup and do a more than decent job.
Outfield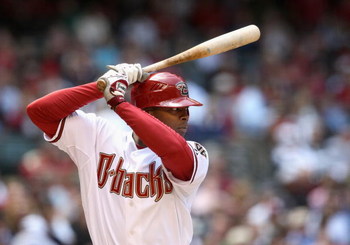 LF: Dexter Fowler, COL
CF: Adam Jones, BAL
RF: Justin Upton, ARI (pictured)
Backup: Cameron Maybin, FLA
Backup: Jay Bruce, CIN
This was by far the most difficult part of the roster to make decisions on. It's tough to turn away guys like Travis Snider, Jordan Schafer, Colby Rasmus, Carlos Gomez, Delmon Young, and Daniel Murphy.
Baseball America said that "there are few players with as complete a package of tools as Fowler" and that he has "no glaring holes." That's high praise from baseball's premiere periodical. He has already showcased his speed this season with Colorado by stealing five bases off of the same pitcher in the same game. He's fairly new to switch-hitting, so expect him to put up even better stat lines once he becomes accustomed to batting from the left side.
Entering his fourth year in the big leagues, Adam Jones has drawn comparisons to Mike Cameron. His defensive abilities are surely similar and many believe that he could become a consistent 20-20 threat. As with many players on this team, he needs to improve his discipline at the plate and reduce his strikeouts.
Upton is a potential five-tool talent. He has a strong arm, huge power potential, the ability to hit for average, and speed that helps him cover a lot of ground. While he doesn't attempt to steal many bases, he very easily could. Although 2009 didn't start out the way he wanted, he has recently come out of it with a bang.
Maybin is yet another potential five-tool outfielder. He's a little more raw than the others in this group, but has the same potential. Bruce burst onto the scene last year with 21 home runs. He's a good defender and will likely raise his batting average as he matures.
Starting Rotation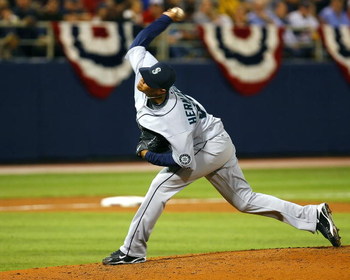 1. Felix Hernandez, SEA (pictured)
2. John Danks, CHW
3. Yovani Gallardo, MIL
4. Johnny Cueto, CIN
5. Jair Jurrjens, ATL
King Felix has been recognized as an elite talent since he came up as a 19-year-old with the Mariners in 2005. His star status is only being held back by the small media market he plays in, his team's losing records, and a few injuries.
John Danks is slowly moving up the ranks of the great left-handed pitchers in the game. His stuff is top-of-the-rotation material. With the addition of a cutter and a continued reduction in fly balls, he should continue on that path.
Gallardo is only 23 and is already the staff ace for the Milwaukee Brewers. With four pitches, he is only a few years away from dominating the NL Central. Problems with his surgically repaired left knee are the only concern with this young hurler.
Johnny Cueto has a great three-pitch repertoire featuring a low- to mid-90s fastball, and a mid-80s slider and changeup. Once he masters command of his pitches, he will be a very dangerous pitcher.
Jurrjens is another great talent. He pitched very well in his 31 starts with the Braves last year and is doing fairly well this season with a 1.89 ERA. His past injuries bring about concerns with his durability, but still projects to be a strong second starter.
Bullpen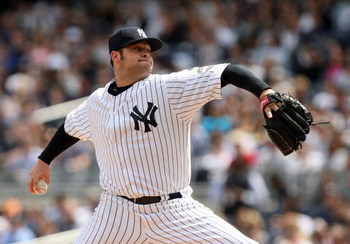 CL: Joba Chamberlain, NYY (pictured)
SU: Chris Perez, STL
MR: Clayton Kershaw, LAD
MR: David Price, TB
MR: Chris Volstad, FLA
MR: Jordan Zimmerman, WSH
MR: Rick Porcello, DET
Although Joba is now a starter, he has shown that he can be a dominating reliever. On a team that has plenty of depth with starters, but almost none with relief pitchers, he's more valuable as a closer. In real life, I still believe that he should be Mariano Rivera's heir apparent. But that's an argument for a different article.
Chris Perez is the only pitcher on this roster that actually pitches in relief. His mid-90s fastball and a good slider helped him have a very good 2008 campaign out of the St. Louis bullpen. This year appears to be more of the same so far. Watch out for him to possibly become the Cardinals closer by season's end.
Kershaw projects to be a better pitcher than Jurrjens (the fifth starter on this team) in the long-run, but he still needs to mature as a big league pitcher. His mid-90s fastball, mid-80s changeup, and low-70s curve-ball should be a good mix against hitters once he becomes more consistent with his command.
The rest of the bullpen is comprised of up-and-coming starters. Everyone should know by now what David Price is capable of. As for the others, just watch them pitch when you get a chance. You'll see why they're here.
Nick Adenhart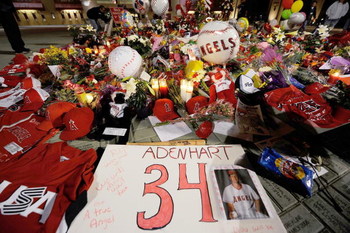 Finally, a list of great players under 24 years of age would not be complete without Nick Adenhart. If I had written this article on Opening Day, Adenhart would have easily cracked the starting rotation.
The 22-year-old was listed as the Angels' top prospect heading into this season and lived up to the hype in his only start of this year. He shut out the A's over six innings and struck out five, but failed to factor into the decision.
The command troubles that held him in Triple-A last year were behind him for at least one night, the best start of his big league career. Nick Adenhart, the man and the athlete, will be sorely missed by the baseball community.
Keep Reading