What Should and Will Happen at WWE Payback 2013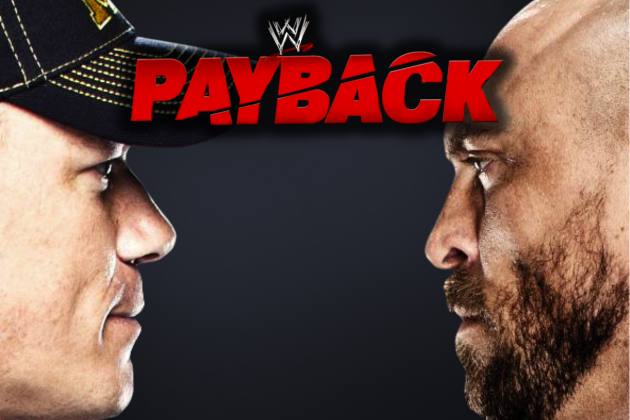 All logos and superstar images credit to WWE
Tomorrow night will mark the premiere of the WWE's newest pay-per-view event, Payback. So with the show making its debut in always-ready Chicago, Illinois, we can we expect to see?
Will John Cena survive against Ryback in their Three Stages of Hell Match?
Can CM Punk shake off his latest letdowns and prevail against Chris Jericho?
And will The Shield be able to walk out of the Allstate Arena with all their gold still intact?
For predictions and thoughts on all of those questions and more, here is what should and will happen at WWE Payback 2013.
Begin Slideshow

»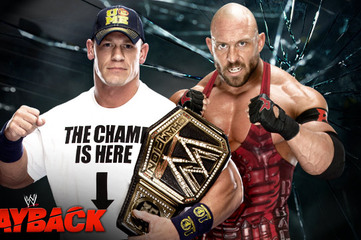 Photo Credit to WWE/WWE.com
What Should Happen: Ryback wins
This tune is growing a bit old, but Ryback undoubtedly needs a victory to maintain any credibility he has remaining.
Despite his extremely hot start when re-emerging with the company in 2012, the artist formerly known as Skip Sheffield has gone 0-6 (along with a no-contest at Extreme Rules) in his last seven pay-per-view matches. His last win on a Sunday stage came on July 15 of last year when he defeated the team of Curt Hawkins and Tyler Reks at Money in the Bank.
Now that we're approaching nearly a year's time between such victories for Ryback, Payback should be the time to finally throw some momentum his way. And although this particular feud between these two is coming up rather bland of late, a small extension of the storyline is a small price to pay for a solid long term investment.
A WWE Championship reign, long or short, would work as a nice step in solidifying Ryback as one of the premier stars the company has to offer. Dropping yet another match would prove rather costly for his viability as a main-event contender.
What Will Happen: John Cena wins
In case you have yet to hear, John Cena is booked for a successful title defense Sunday in the least intimidating Three Stages of Hell Match of all-time. According to numerous sources, Vince McMahon wants to use this match as "a vehicle" to get Cena over for the summer.
Well, whether he needs the win or not (hint: he doesn't), the leader of Cenation is set to prevail.
Cena will drop the first stage by losing in the lumberjack stipulation, but close it out with victories in the tables and ambulance matches.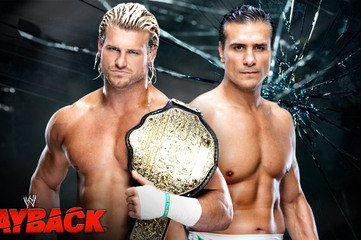 Photo Credit to WWE/WWE.com
What Should Happen: Dolph Ziggler wins
With Alberto Del Rio constantly in the fold, the World Heavyweight Championship scene is in a holding pattern. The Mexican aristocrat has defended or fought for the strap in every pay-per-view since late-January, including his #1 Contender's Match against Jack Swagger.
Dolph Ziggler and his World Heavyweight Championship must move on from Del Rio.
Ziggy, as AJ so affectionately calls him, must go over and must go over clean. Dolph finally needs a win void of any outside shenanigans from AJ and Big E. Langston in order to further along his championship credibility.
What Will Happen: Dolph Ziggler wins
As stated earlier, Del Rio has been involved with this title for much too long. A Ziggler victory in this bout makes plenty of sense for both participants.
Ziggler, however, will pick up the victory with his patented Zig-Zag after some say-so from Langston and/or AJ.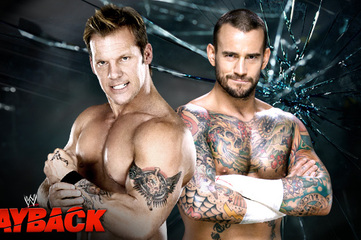 Photo Credit to WWE/WWE.com
What Should Happen: Chris Jericho wins
The CM Punk saga has become rather interesting. After big-time losses on big-time stages to The Rock and The Undertaker, the former WWE Champion is in a state of disarray.
Punk will make his first appearance this Sunday since walking out on the April 15th edition of Monday Night Raw. So as he makes his return, what can we expect to see from Punk?
If the WWE really wants to tap into something interesting, they'll allow Chris Jericho to keep Punk's slump going. Not only would this set up an intriguing rebuilding of sorts for one of the most popular figures of the industry, but it would also allow for a much-needed face turn for the Straight Edge Messiah.
Now why the face turn in a company that lacks a decent amount of main-event heels?
Well no matter what cheap heat Punk and the WWE wants to draw, the crowd still loves him. Whether it was disrespecting the memory of the deceased Paul Bearer or making a mockery of wrestling icons in Rocky and Taker, a considerable amount of the live audience was fully behind Punk.
So why beat them when you can join them?
A loss would influence Punk to reevaluate his standing. He would perhaps question the guidance of manager Paul Heyman and ultimately turn on the man who praised his very presence for the better half of the past year.
What Will Happen: CM Punk wins
Something tells me that the WWE wants to feed into Punk's hometown of Chicago. Something also tells me that they do not want to further damage the image of their second biggest superstar with yet another loss.
In what should be the match of the night, Punk will squeak out a win against Y2J with a GTS and may still take a sudden face turn by rejecting Heyman's help.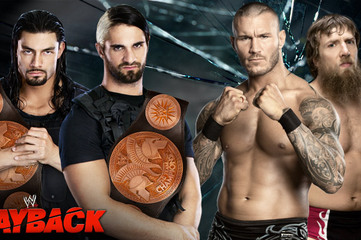 Photo Credit to WWE/WWE.com
What Should Happen: Reigns & Rolins win
There's not much to see here.
Roman Reigns and Seth Rollins should be in line for a successful title defense. There should only be two questions concerning this match. One is if we'll end up seeing a high-caliber performance.
Any match of late involving The Shield and Daniel Bryan, on Raw or SmackDown, has certainly delivered. Hopefully we get another worthwhile match on Sunday.
The other question surrounds the possible heel turn of either Bryan or Randy Orton.
In my opinion, Orton would be much better served as emerging as the heel. For one, Bryan is absolutely on fire in the past month.
No superstar, including Cena, is more over than Bryan at the moment. Turning him heel would be the worst action to take, as it would completely water down his hot streak with the crowd.
Orton, on the other hand, needs a change of character. Both the WWE Universe and Orton have grown rather bored of his current gimmick. Orton is still one of the larger draws in the company and must undergo some transformation to rejuvenate that.
What Will Happen: Reigns & Rollins win
Despite dropping their six-man tag match to Bryan, Orton and Kane, Reigns and Rollins will come out on top.
In addition, do not be surprised if Orton or Bryan remain face. WWE creative tends to lead its audience on at times, going against what many fans suggest. Although it seems like Orton is ready to jump the fence, he could very well remain under his face persona.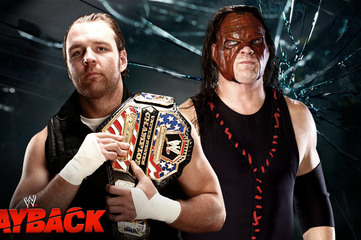 Photo Credit to WWE/WWE.com
What Should Happen: Dean Ambrose wins
The same idea applies to this match as in the last one.
Besides Bryan, The Shield is the hottest thing going in the company today. Their dominance should continue on Sunday.
With Kofi Kingston out of his way, Dean Ambrose is ready to benefit even more from a considerably more legitimate opponent in Kane.
What Will Happen: Dean Ambrose wins
Although this match leans more towards the impromptu side, it has the potential to be a nice gem on this card.
Expect Ambrose to retain with his headlock driver.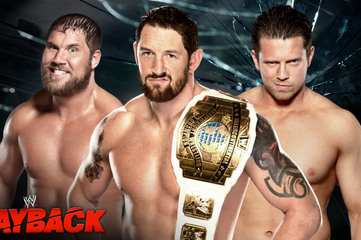 Photo Credit to WWE/WWE.com
What Should Happen: Curtis Axel wins
After strong backstage endorsements from The Rock and Triple H, Curtis Axel has experienced quite the push. And as we can tell over the past month, this isn't exactly your typical push.
Axel has defeated industry giants in John Cena and Triple H. The technicalities and the aftermath of the matches, however, is what has Axel taking a backseat.
As Cena and Triple H have turned their attention towards Ryback and Mr. McMahon, Mr. Perfect Jr. is just sitting back and chalking up the wins.
So how about we give him an actual victory against some decent names?
A win by Axel would benefit both him and the current Intercontinental Championship holder Wade Barrett. For one, it obviously gives Axel a nice addition to his growing resume.
But more importantly perhaps, the outcome would relieve Barrett of the ball and chain that is the IC title and allow him to head for a Money in the Bank briefcase reign with no strings attached.
What Will Happen: Curtis Axel wins
Before he was scratched from this bout with a concussion, Fandango was likely booked as the winner and new Intercontinental champion. But since he will not be competing, the man filling his spot will probably take the win.
Axel picks up the pinfall over The Miz, winning the strap and possibly starting a short-term feud until the in-ring return of Triple H.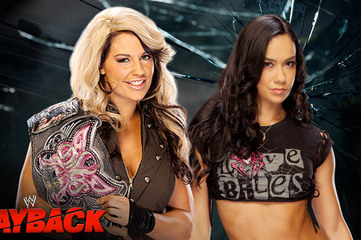 Photo Credit to WWE/WWE.com
What Should Happen: AJ wins
The Divas division has been in a slump for some time now. And although it may not be the most exciting feud we've seen for the girls, this AJ-Kaitlyn matchup does have some decent build to it.
Plain and simple, it has some foundation. WWE creative has taken up time on both Raw and SmackDown to promote the feud with the Kaitlyn admirer angle as well as their backstage confrontations.
AJ should take the win, the title and prolong an actual feud the division has been lacking since Eve Torres was the champion back in November.
What Will Happen: AJ wins
See that shirt AJ's wearing in the picture above? Yes, that's her new and very first WWE shirt of her career.
So does is that a small indication of WWE investing their resources into their most heavily-featured Diva on the roster? Perhaps it is.
Regardless, AJ, with her new shirt and new finisher, takes the win.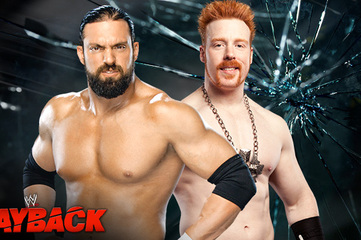 Photo Credit to WWE/WWE.com
What Should Happen: Sheamus wins via disqualification
Here's a little out-of-the-box thinking.
Given his past build, would Damien Sandow defeating the former WWE and World Heavyweight Champion Sheamus be believable? I don't think so.
Conversely, what about a Sheamus victory? Would that do absolutely anything for either man's long or short-term character? Again, no.
So to keep Sandow from being shoved aside even further, Sheamus should win by disqualification. Instead of taking the pinfall, Sandow should just vent out his frustrations and deck Sheamus with a chair or any other foreign object.
Besides, the pre-show's free. Would anyone be in a rightful position to complain about a disqualification?
What Will Happen: Sheamus wins
Really, what are the chances this doesn't happen?
Sheamus wins with the Brogue Kick.