Power Ranking Top MLB Stars of Every Decade Since the 1900s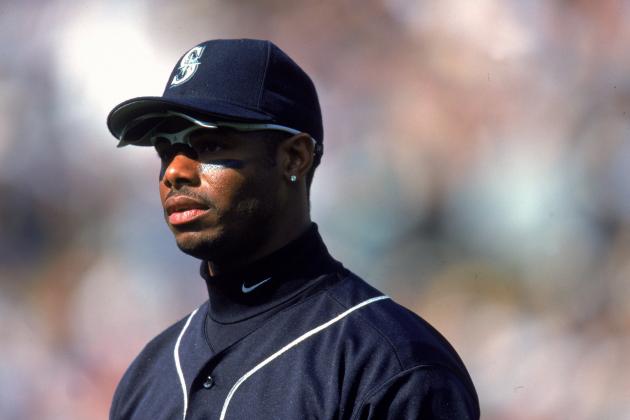 Jed Jacobsohn/Getty Images

One of the toughest things to when it comes to baseball history is comparing players across different eras, as the game simply wasn't the same back in the 1900s as it is today.
While advanced statistics like WAR, ERA+ and OPS+ have helped to better put a player's accomplishment into context, it remains a difficult exercise comparing players across generations.
So for a change of pace, I've decided to take a look at the greatest players in the game on a decade-by-decade basis and name my top 10 players from each decade.
For each decade, who the top two or three players were is pretty universally accepted, but when it came down to those last couple spots in the top 10, it was incredibly difficult to narrow things down.
That being said, I've tried my best, so here are who I feel are the top 10 players of each decade from the 1900s to the 2000s. I look forward to what should be a lively and no doubt heated debate, so leave your thoughts in the comments section below, and I'll defend my selections to the death.
Begin Slideshow

»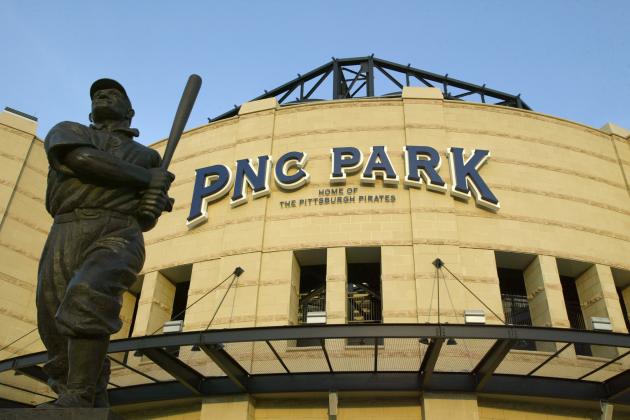 Rick Stewart/Getty Images
The Honus Wagner statue outside of PNC Park in Pittsburgh
Top 10 Players of the 1900s
1. SS Honus Wagner: (.352/.417/.508, 1,847 H, 51 HR, 956 RBI, 1,014 R)
2. SP Christy Mathewson: (236-112, 1.98 ERA, 1.035 WHIP, 1,799 K, 2,996.2 IP)
3. SP Cy Young: (230-146, 2.12 ERA, 1.000 WHIP, 1,565 K, 3,344 IP)
4. 2B Nap Lajoie: (.346/.388/.488, 1,660 H, 48 HR, 793 RBI, 806 R)
5. SP Rube Waddell: (183-139, 2.11 ERA, 1.099 WHIP, 2,251 K, 2,835.1 IP)
6. SP Eddie Plank: (186-121, 2.42 ERA, 1.110 WHIP, 1,342 K, 2,666 IP)
7. OF Sam Crawford: (.307/.355/.447, 1,677 H, 57 HR, 808 RBI, 813 R)
8. SP Addie Joss: (155-92, 1.87 ERA, 0.963 WHIP, 871 K, 2,219.2 IP)
9. SP Mordecai Brown: (144-65, 1.63 ERA, 0.984 WHIP, 799 K, 1,827.2 IP)
10. OF Fred Clarke: (.301/.380/.417, 1,396 H, 26 HR, 510 RBI, 885 R)
Decade Overview
Still very much in the dead-ball era, the 1900s was a decade dominated by pitching, with two of the best of all time in Christy Mathewson and Cy Young both putting up phenomenal numbers.
That said, the player of the decade has to be "The Flying Dutchman," Honus Wagner. The consensus choice for greatest shortstop of all time, Wagner won seven batting titles in the decade and added 487 steals to the lofty numbers you see above.
The star power of this era was somewhat lacking, so there were not too many notable omissions, but the Cubs' famed trio of Joe Tinker, Johnny Evers and Frank Chance are worth mention as well as Hall of Fame right-hander Jack Chesbro.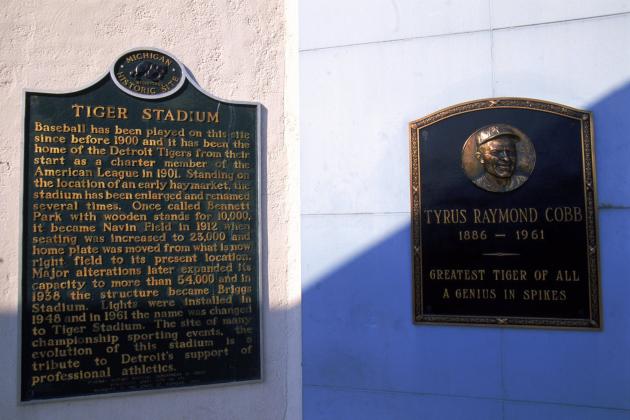 Ezra Shaw/Getty Images

Top 10 Players of the 1910s
1. OF Ty Cobb: (.387/.457/.541, 1,948 H, 47 HR, 828 RBI, 1,051 R)
2. SP Walter Johnson: (265-143, 1.59 ERA, 0.953 WHIP, 2,219 K, 3,427.2 IP)
3. OF Tris Speaker: (.344/.428/.485, 1,821 H, 38 HR, 718 RBI, 967 R)
4. SP Pete Alexander: (208-100, 2.09 ERA, 1.052 WHIP, 1,539 K, 2,753 IP)
5. OF Shoeless Joe Jackson: (.354/.422/.511, 1,548 H, 42 HR, 658 RBI, 765 R)
6. 2B Eddie Collins: (.326/.424/.420, 1,682 H, 21 HR, 682 RBI, 991 R)
7. SP/OF Babe Ruth: (89-46, 2.19 ERA....308/.413/.568, 49 HR)
8. SP/OF Smoky Joe Wood: (105-49, 1.97 ERA....271/.342/.383, 286 H)
9. 3B Home Run Baker: (.310/.368/.442, 1,502 H, 76 HR, 793 RBI, 733 R)
10. SP Eddie Cicotte: (162-120, 2.29 ERA, 1.134 WHIP, 1,104 K, 2,535 IP)
Decade Overview
The end of the 1910s saw the end of the dead-ball era, as Babe Ruth ushered in an offensive boom with a record 29 home runs for the Red Sox in 1919, his final year in Boston.
Before Ruth claimed the crown of game's biggest star, however, the decade belonged to Tigers center fielder Ty Cobb. He won the batting title in all but one season for the decade and never hit lower than .368, including a .420 mark in 1911.
On the pitching side of things, two of the most prolific arms of all time, Walter Johnson and Pete Alexander, dominated the rest of the field. However, it was pitchers-turned-outfielders Ruth and Smoky Joe Wood who may have been the decade's biggest stars, at least at one point or another.
Pitchers Hippo Vaughn and Babe Adams were the toughest omissions here, while aging stars Eddie Plank and Honus Wagner received some consideration as well.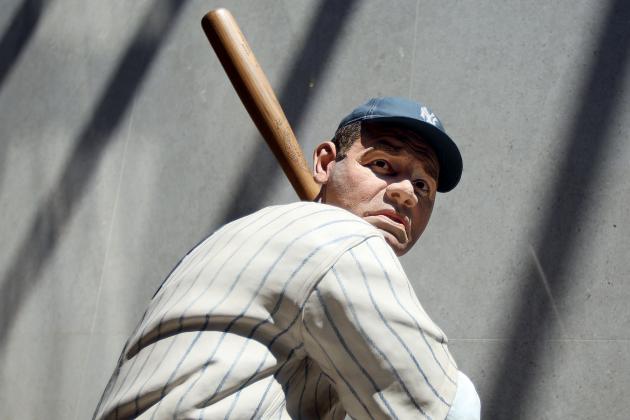 Jim McIsaac/Getty Images

Top 10 Players of the 1920s
1. OF Babe Ruth: (.355/.488/.740, 1,734 H, 467 HR, 1,335 RBI, 1,365 R)
2. 2B Rogers Hornsby: (.382/.460/.637, 2,085 H, 250 HR, 1,153 RBI, 1,195 R)
3. OF Harry Heilmann: (.364/.433/.558, 1,924 H, 142 HR, 1,131 RBI, 962 R)
4. 1B Lou Gehrig: (.335/.436/.622, 919 H, 146 HR, 637 RBI, 631 R)
5. 2B Frankie Frisch: (.326/.377/.456, 1,808 H, 77 HR, 738 RBI, 992 R)
6. OF Sam Rice: (.325/.374/.437, 2,010 H, 26 HR, 723 RBI, 1,001 R)
7. OF Tris Speaker: (.354/.441/.534, 1,496 H, 72 HR, 724 RBI, 830 R)
8. 1B George Sisler: (.347/.384/.484, 1,900 H, 78 HR, 827 RBI, 894 R)
9. SP Dazzy Vance: (147-90, 3.10 ERA, 1.205 WHIP, 1,464 K, 2,053.2 IP)
10. SS Joe Sewell: (.322/.399/.429, 1,698 H, 30 HR, 820 RBI, 813 R)
Decade Overview
The face of baseball in the 1920s, Babe Ruth really helped usher the sport into national prominence. His production was unmatched at the time, and his 467 home runs during the decade are the most anyone has ever hit in a single decade.
Rogers Hornsby won seven batting titles during the decade, including four seasons in which he hit over .400, and he did it while displaying impressive power as well, leading the league in home runs twice and RBI four times.
With Lou Gehrig not taking over as a full-time starter until 1925, he slides down the list behind one of the most underrated players of the era in Harry Heilmann. The Tigers outfielder won four batting titles, hitting over .390 each time.
The decade was as thin as any on pitching stars, though Eppa Rixey, Red Faber, Herb Pennock, Dolf Loque and an aging Pete Alexander all received consideration. On the offensive side, outfielders Ken Williams and Goose Goslin both had impressive numbers, and Al Simmons was an absolute beast for a few years.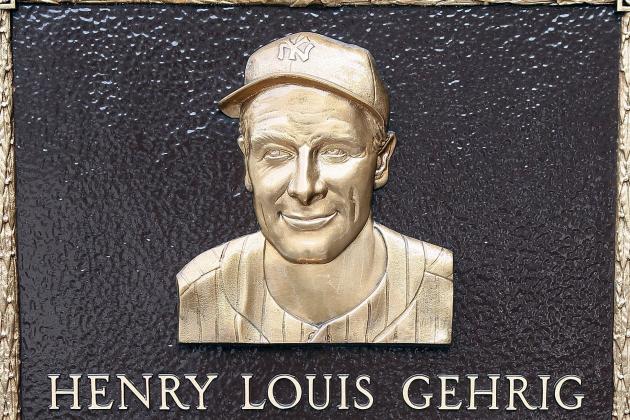 Jim McIsaac/Getty Images

Top 10 Players of the 1930s
1. 1B Jimmie Foxx: (.336/.440/.652, 1,845 H, 415 HR, 1,403 RBI, 1,244 R)
2. 1B Lou Gehrig: (.343/.453/.638, 1,802 H, 347 HR, 1,358 RBI, 1,257 R)
3. SP Lefty Grove: (199-76, 2.91 ERA, 1.243 WHIP, 1,313 K, 2,399 IP)

4. OF Mel Ott: (.313/.420/.560, 1,673 H, 308 HR, 1,135 RBI, 1,095 R)
5. 2B Charlie Gehringer: (.331/.414/.507, 1,865 H, 146 HR, 1,003 RBI, 1,179 R)
6. 1B Hank Greenberg: (.323/.415/.617, 1,086 H, 206 HR, 853 RBI, 701 R)
7. SP Carl Hubbell: (188-104, 2.71 ERA, 1.118 WHIP, 1,281 K, 2,596.2 IP)
8. C Bill Dickey: (.320/.389/.513, 1,431 H, 168 HR, 937 RBI, 722 R)
9. SP Dizzy Dean: (147-80, 2.96 ERA, 1.193 WHIP, 1,144 K, 1,908.1 IP)
10. SS Arky Vaughan: (.329/.420/.476, 1,413 H, 71 HR, 631 RBI, 754 R)
Decade Overview
While Babe Ruth was still putting up impressive numbers at the beginning of the decade and Lou Gehrig was terrific again as well, this decade belonged to Jimmie Foxx. The slugger won three MVP awards and took home the Triple Crown in 1933, as he turned in some of the most dominant, all-around offensive seasons in baseball history.
Had he played 10 full seasons during the decade, as opposed to the six he did, Hank Greenberg likely would have given Foxx a run for his money at the top, while the same can be said for Dizzy Dean on the pitching side of things as he put up the bulk of his impressive numbers in a six-year span as well.
Lefty Grove wins top pitching honors here and ranks as one of the greatest southpaws to ever play the game. Carl Hubbell, famed for striking out five straight future Hall of Famers in the 1934 All-Star Game, was not too shabby during the regular season as well.
Phillies outfielder Chuck Klein, who won NL MVP in 1932 and the Triple Crown the following season, was the toughest omission here. Joe Cronin, Paul Waner, Red Ruffing, Mel Harder and Wes Ferrell were given serious consideration as well.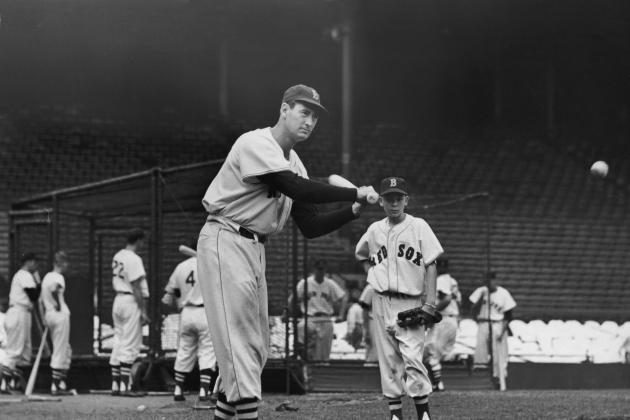 Getty Images/Getty Images

Top 10 Players of the 1940s
1. OF Ted Williams: (.356/.496/.647, 1,303 H, 234 HR, 893 RBI, 951 R)
2. OF Stan Musial: (.346/.428/.578, 1,432 H, 146 HR, 706 RBI, 815 R)
3. OF Joe DiMaggio: (.325/.404/.568, 1,156 H, 180 HR, 786 RBI, 684 R)
4. SP Hal Newhouser: (170-118, 2.84 ERA, 1.302 WHIP, 1,579 K, 2,453.1 IP)
5. SP Bob Feller: (137-82, 2.90 ERA, 1.247 WHIP, 1,396 K, 1,897 IP)
6. SS Lou Boudreau: (.300/.385/.422, 1,578 H, 62 HR, 692 RBI, 758 R)
7. 1B Johnny Mize: (.304/.394/.561, 1,071 H, 217 HR, 744 RBI, 655 R)
8. 2B Joe Gordon: (.270/.358/.459, 1,165 H, 181 HR, 710 RBI, 680 R)
9. SP Dutch Leonard: (122-123, 3.14 ERA, 1.246 WHIP, 779 K, 2,047.1 IP)
10. 2B Bobby Doerr: (.286/.361/.468, 1,407 H, 164 HR, 887 RBI, 764 R)
Decade Overview
The 1940s was a tough decade to gauge from a production standpoint, as most players lost at least a couple seasons while serving in World War II. At the top of that list is Ted Williams, who lost three seasons in the prime of his career, yet still managed to finish as arguably the greatest pure hitter to ever play the game.
Fellow outfielders Stan Musial and Joe DiMaggio each served time as well, though DiMaggio was around in 1941 when he posted his record 56-game hitting streak.
Flame-throwing Bob Feller threw a pair of no-hitters during the decade and was probably the decade's most dominant arm. However, Hal Newhouser put up the better all-around numbers and managed to win back-to-back MVP awards in 1944 and 1945.
As far as snubs, White Sox shortstop Luke Appling and Tigers pitcher Dizzy Trout were the first ones off on each side of the ball.
Jim McIsaac/Getty Images

Top 10 Players of the 1950s
1. OF Mickey Mantle: (.311/.425/.569, 1,392 H, 280 HR, 841 RBI, 994 R)
2. 1B Stan Musial: (.330/.421/.568, 1,771 H, 266 HR, 972 RBI, 948 R)
3. OF Willie Mays: (.317/.391/.590, 1,291 H, 250 HR, 709 RBI, 777 R)
4. SP Warren Spahn: (202-131, 2.92 ERA, 1.180 WHIP, 1,464 K, 2,822.2 IP)
5. C Yogi Berra: (.287/.356/.490, 1,499 H, 256 HR, 997 RBI, 848 R)
6. OF Duke Snider: (.308/.390/.569, 1,605 H, 326 HR, 1,031 RBI, 970 R)
7. SP Robin Roberts: (199-149, 3.32 ERA, 1.129 WHIP, 1,516 K, 3,011.2 IP)
8. 3B Eddie Mathews: (.281/.383/.548, 1,221 H, 299 HR, 777 RBI, 821 R)
9. C Roy Campanella: (.276/.358/.507, 964 H, 211 HR, 729 RBI, 530 R)
10. SP Early Wynn: (188-119, 3.28 ERA, 1.267 WHIP, 1,544 K, 2,562 IP)
Decade Overview
In a decade dominated by the Yankees and Dodgers rivalry, it is no surprise that Mickey Mantle takes the top spot here, as he is one of the most dynamic all-around players the game has ever seen.
Stan Musial and Willie Mays both put up fantastic numbers over the duration of their career, but looking at just this decade they fell short of Mantle.
There was good pitching depth as well, with one of the maybe three greatest left-handers of all time in Warren Spahn leading the way. Billy Pierce and Bob Lemon were both tough omissions, but Robin Roberts and Early Wynn no doubt had the better numbers.
Jackie Robinson was as tough as anyone in this entire article to leave off, but with just seven seasons played in the decade and his career really split between two decades, he simply didn't stack to the rest of the guys here. Cubs star Ernie Banks and Yankees ace Whitey For had the same issue, as they split their primes over two decades as well.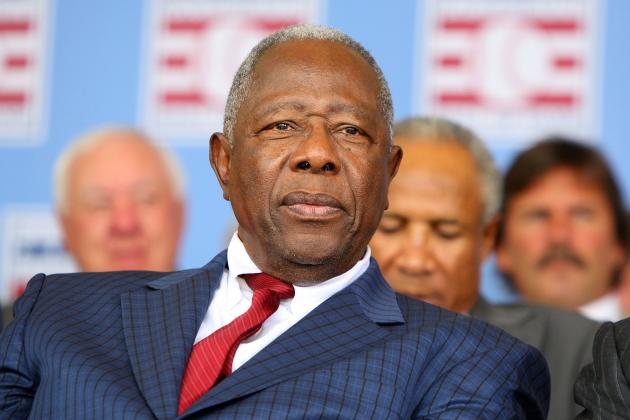 Jim McIsaac/Getty Images

Top 10 Players of the 1960s
1. OF Hank Aaron: (.308/.376/.565, 1,819 H, 375 HR, 1,107 RBI, 1,091 R)

2. SP Sandy Koufax: (137-60, 2.36 ERA, 1.005 WHIP, 1,910 K, 1,807.2 IP)
3. OF Frank Robinson: (.304/.402/.560, 1,603 H, 316 HR, 1,011 RBI, 1,013 R)
4. SP Bob Gibson: (164-105, 2.74 ERA, 1.147 WHIP, 2,071 K, 2,447 IP)
5. OF Willie Mays: (.300/.377/.559, 1,635 H, 350 HR, 1,003 RBI, 1,050 R)
6. SP Juan Marichal: (191-88, 2.57 ERA, 1.045 WHIP, 1,840 K, 2,549.2 IP)
7. OF Roberto Clemente: (.328/.375/.501, 1,877 H, 177 HR, 862 RBI, 916 R)
8. SP Don Drysdale: (158-126, 2.83 ERA, 1.118 WHIP, 1,910 K, 2,629.2 IP)
9. 1B Harmon Killebrew: (.267/.387/.546, 1,331 H, 393 HR, 1,013 RBI, 864 R)
10. 3B Brooks Robinson: (.278/.329/.434, 1,692 H, 186 HR, 836 RBI, 787 R)
Decade Overview
While not playing an entire decade generally hurt players in this exercise, there is simply no denying just how dominant Sandy Koufax was, if even for a short time. His performance from 1963-1966 is the greatest stretch for a pitcher ever, as he went 97-27 with a 1.86 ERA (172 ERA+) over that span.
Good as that was, it still didn't knock Hammerin' Hank Aaron out of the top spot in a decade that saw the primes of four 500-homer run hitters in Aaron, Frank Robinson, Willie Mays and Harmon Killebrew.
Dominant as Koufax was, Bob Gibson's 1968 season goes down as perhaps the greatest of all time, as he went 22-9 with a 1.12 ERA, prompting the mounds to be lowered. Juan Marichal and Don Drysdale were phenomenal in their own right, though no doubt overshadowed a bit by Koufax and Gibson.
This was the decade where it really got harder to narrow the list to just 10 guys, as Carl Yastrzemski, Willie McCovey, Al Kaline, Billy Williams, Ron Santo, Norm Cash and Jim Bunning were all worthy candidates.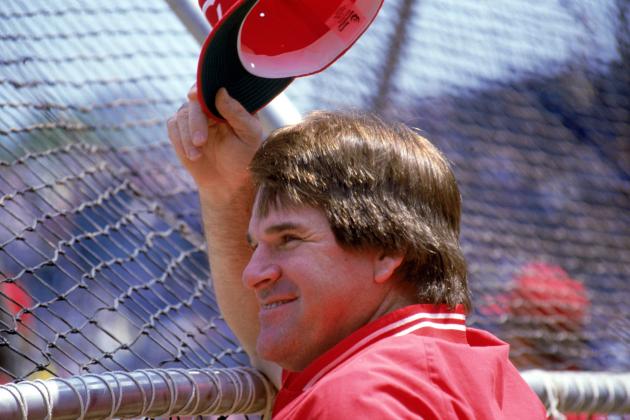 Jonathan Daniel/Getty Images

Top 10 Players of the 1970s
1. C Johnny Bench: (.267/.349/.491, 1,396 H, 290 HR, 1,013 RBI, 792 R)
2. SP Tom Seaver: (178-101, 2.61 ERA, 1.073 WHIP, 2,304 K, 2,652.1 IP)
3. 2B Joe Morgan: (.282/.404/.455, 1,451 H, 173 HR, 720 RBI, 1,005 R)
4. 3B Pete Rose: (.314/.389/.430, 2,045 H, 79 HR, 580 RBI, 1,068 R)
5. OF Reggie Jackson: (.275/.363/.508, 1,410 H, 292 HR, 922 RBI, 833 R)
6. SP Jim Palmer: (186-103, 2.58 ERA, 1.142 WHIP, 1,559 K, 2,745 IP)
7. SP Gaylord Perry: (184-133, 2.92 ERA, 1.142 WHIP, 1,907 K, 2,905 IP)
8. SP Steve Carlton: (178-126, 3.18 ERA, 1.228 WHIP, 2,097 K, 2,747 IP)
9. 2B Rod Carew: (.343/.408/.454, 1,787 H, 60 HR, 628 RBI, 837 R)
10. 1B Willie Stargell: (.287/.374/.555, 1,261 H, 296 HR, 906 RBI, 719 R)
Decade Overview
The 1970s didn't have the runaway top player like most decades did, and you can make a case for Tom Seaver or Joe Morgan for the top spot here, but I went with the greatest catcher of all time and the driving force in the middle of the Big Red Machine in Johnny Bench.
This was truly the Golden Age of pitching, and while there were a number of great arms, it is clear that Seaver was a notch above the rest of the pack.
Beyond the four arms that I chose, Nolan Ryan, Fergie Jenkins, Bert Blyleven, Phil Niekro, Catfish Hunter, Vida Blue, Rollie Fingers and Goose Gossage all had fantastic decades.
On the offensive side of things, the terrific average of Rod Carew and the power and leadership abilities of Willie Stargell edged out the likes of Lou Brock, Tony Perez, Graig Nettles, Jim Rice and a young Mike Schmidt.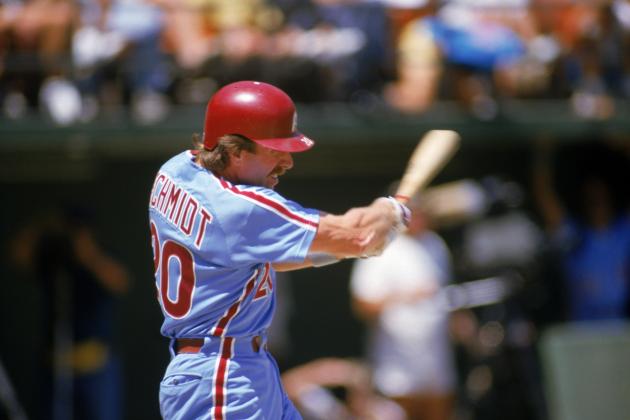 Stephen Dunn/Getty Images

Top 10 Players of the 1980s
1. 3B Mike Schmidt: (.277/.385/.540, 1,287 H, 313 HR, 929 RBI, 832 R)
2. OF Rickey Henderson: (.291/.403/.436, 1,507 H, 137 HR, 535 RBI, 1,122 R)
3. 3B George Brett: (.311/.392/.521, 1,446 H, 193 HR, 851 RBI, 768 R)
4. 1B Eddie Murray: (.293/.374/.497, 1,642 H, 274 HR, 996 RBI, 858 R)
5. SP Nolan Ryan: (122-104, 3.14 ERA, 1.192 WHIP, 2,167 K, 2,094 IP)
6. 3B Wade Boggs: (.352/.443/.480, 1,597 H, 64 HR, 522 RBI, 823 R)
7. OF Dave Winfield: (.289/.358/.492, 1,441 H, 223 HR, 899 RBI, 804 R)
8. SP Jack Morris: (162-119, 3.66 ERA, 1.256 WHIP, 1,629 K, 2,443.2 IP)
9. OF Dale Murphy: (.273/.361/.491, 1,553 H, 308 HR, 929 RBI, 938 R)
10. SP Dave Stieb: (140-109, 3.32 ERA, 1.221 WHIP, 1,380 K, 2,328.2 IP)
Decade Overview
The 1980s were relatively thin on high-end starting pitching and somewhat lacking in prolific sluggers, but there were a number of future Hall of Famers on the offensive side of things nonetheless.
Mike Schmidt and George Brett, perhaps the two greatest third basemen of all time, led the way alongside speedy Rickey Henderson who swiped 838 bases during the decade.
A trio of shortstops in Robin Yount, Alan Trammel and a young Cal Ripken were tough to leave of the list, as were three former Expos in Andre Dawson, Tim Raines and Gary Carter.
Pitchers Dwight Gooden and Roger Clemens ended the decade as the most dominant arms in baseball, but both started their careers in 1984 and didn't have the overall numbers to make the cut here.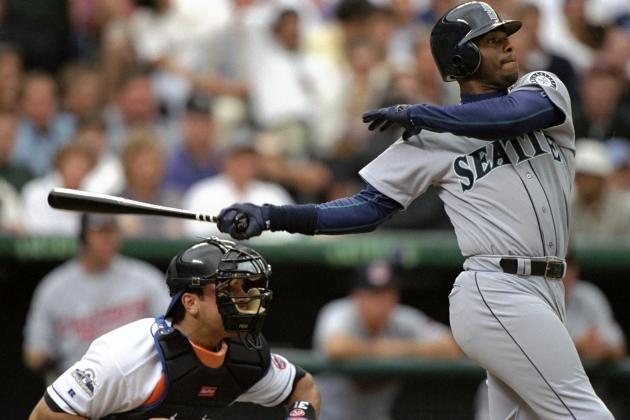 Brian Bahr/Getty Images

Top 10 Players of the 1990s
1. OF Ken Griffey Jr: (.302/.384/.581, 1,622 H, 382 HR, 1,091 RBI, 1,002 R)
2. SP Greg Maddux: (176-88, 2.54 ERA, 1.055 WHIP, 1,764 K, 2,394.2 IP)
3. 1B Frank Thomas: (.320/.440/.573, 1,564 H, 301 HR, 1,040 RBI, 968 R)
4. OF Barry Bonds: (.302/.434/.602, 1,478 H, 361 HR, 1,076 RBI, 1,091 R)
5. SP Roger Clemens: (152-89, 3.02 ERA, 1.176 WHIP, 2,101 K, 2,177.2 IP)
6. SP Randy Johnson: (150-75, 3.14 ERA, 1.197 WHIP, 2,538 K, 2,063.1 IP)
7. C Mike Piazza: (.328/.391/.575, 1,200 H, 240 HR, 768 RBI, 611 R)
8. 1B Jeff Bagwell: (.304/.416/.545, 1,447 H, 263 HR, 961 RBI, 921 R)
9. SP Tom Glavine: (164-87, 3.21 ERA, 1.286 WHIP, 1,465 K, 2,228 IP)
10. 1B Mark McGwire: (.268/.411/.615, 1,071 H, 405 HR, 956 RBI, 791 R)
Decade Overview
The beginning of the Steroid Era made for some tough decisions, as the PED users were a huge part of the game during the decade. However, the top two hitters in the game have maintained a clean track to this point in Ken Griffey Jr. and Frank Thomas.
Sandwiched between them is Greg Maddux, who won four straight Cy Young awards during the decade and goes down as one of the best of all time. His 1995 season is as dominant as any we've seen in the past 20 years, as he went 19-2 with a 1.63 ERA and 10 complete games.
The rest of the group here was tough to narrow down, and though he is a known PED user, Mark McGwire and his 70-home run season in 1998 were still worth a spot at the bottom. He edged out Tony Gwynn, Roberto Alomar, Rafael Palmeiro, Barry Larkin, Craig Biggio, Albert Belle and a number of others.
Pitching wise, the trio of Maddux, Roger Clemens and Randy Johnson were clearly a cut above the rest, and Maddux's teammate, Tom Glavine, sneaks in over another Braves arm in John Smoltz. Also receiving consideration was Kevin Brown, David Cone, Mike Mussina and Pedro Martinez who closed out the decade in dominant fashion.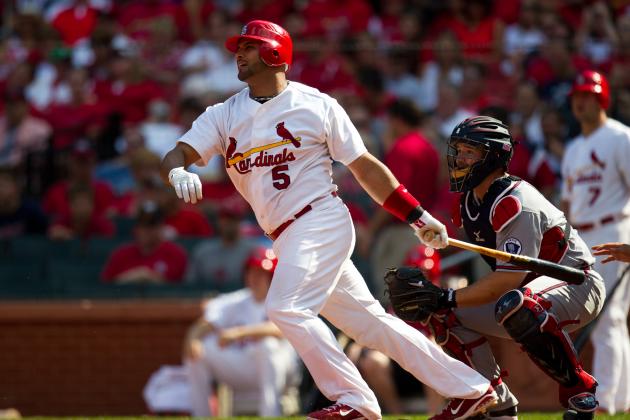 David Welker/Getty Images

Top 10 Players of the 2000s
1. 1B Albert Pujols: (.334/.427/.628, 1,717 H, 366 HR, 1,112 RBI, 1,071 R)
2. OF Barry Bonds: (.322/.517/.724, 925 H, 317 HR, 697 RBI, 772 R)
3. SS Alex Rodriguez: (.304/.401/.587, 1,740 H, 435 HR, 1,243 RBI, 1,190 R)
4. SS Derek Jeter: (.317/.387/.456, 1,940 H, 161 HR, 727 RBI, 1,088 R)
5. RP Mariano Rivera: (397 SV, 2.08 ERA, 0.960 WHIP, 669 K, 713.1 IP)
6. OF Ichiro Suzuki: (.333/.378/.434, 2,030 H, 84 HR, 515 RBI, 973 R)
7. SP Randy Johnson: (143-78, 3.34 ERA, 1.114 WHIP, 2,182 K, 1,885.1 IP)
8. SP Roy Halladay: (139-69, 3.40 ERA, 1.171 WHIP, 1,400 K, 1,883.1 IP)
9. SP Johan Santana: (122-60, 3.12 ERA, 1.113 WHIP, 1,733 K, 1,709.2 IP)
10. OF Vladimir Guerrero: (.323/.392/.569, 1,751 H, 315 HR, 1,037 RBI, 929 R)
Decade Overview
The 2000s was perhaps the toughest decade of any to nail down a top 10, and that was largely due to the question of where to slot the PED users.
Albert Pujols is hands-down the choice for the top spot here, but after him is a pair of guys who will no doubt have trouble gaining entrance into the Hall of Fame and have become polarizing figures in the sport in Barry Bonds and Alex Rodriguez.
I was surprised how few pitchers were truly dominant over the course of the entire decade, and even Randy Johnson (age) and Johan Santana (injuries) didn't put together a complete decade. The four arms I chose beat out Curt Schilling, Andy Pettitte, CC Sabathia, Barry Zito, Trevor Hoffman and Roy Oswalt among many others.
On the offensive side, the top five guys were no-brainers, with the final spot essentially coming down to Vladimir Guerrero and Manny Ramirez. Chipper Jones, Carlos Beltran, Todd Helton, Scott Rolen and Jim Edmonds also received serious consideration.