Predicting the Major MLS, World Cup and Confederations Cup Fixtures This Weekend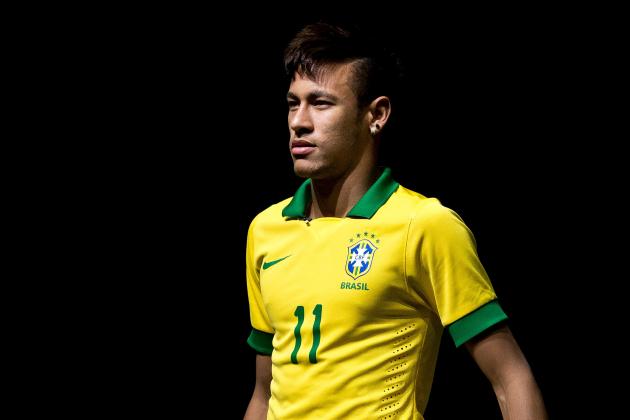 Buda Mendes/Getty Images

With the Confederations Cup starting up and World Cup qualifying matches continuing around the world, there's no shortage of action to be found this weekend.
And that's without considering the slew of domestic games in the United States.
So who's going to emerge as the big winners from this weekend? Who will keep their World Cup dream alive or take a bold step forward in international standings with a strong performance at the Confederations Cup, and who will sputter on the big stage?
Read on for a full breakdown, analysis and predictions for every major international game this weekend as well as the best that the MLS has on offer.
Begin Slideshow

»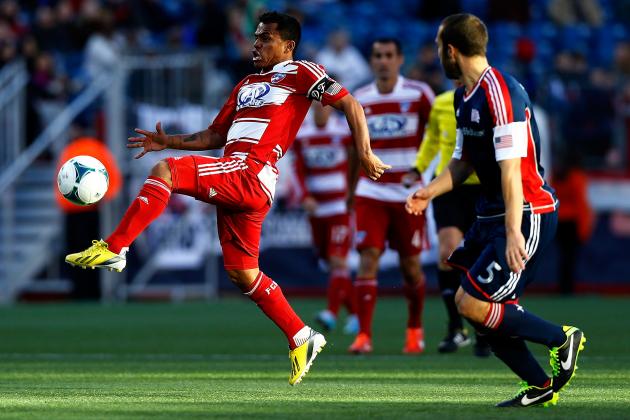 Jared Wickerham/Getty Images

| Date | Start time | Venue |
| --- | --- | --- |
| Saturday, June 15, 2013 | 5:00 p.m. ET | JELD-WEN Field |
We kick off here with some domestic action and a very intriguing matchup indeed between the Portland Timbers and FC Dallas. Both are inside the top three of the Western Conference, and while they won't be able to swap positions with the three points on offer this weekend, both teams will know that those points could have a profound impact on their playoff hopes at the end of the season.
Dallas are an impressive 8-2-4 this season, but have only managed one win away from home all year. In fact, despite being five points behind them Portland have suffered fewer losses this season than Dallas—and therefore present a very difficult matchup in front of their home fans.
Portland's last result was a disappointing 2-2 draw against the Chicago Fire, and they know that they'll need to play better than that if they want to beat Dallas.
Dallas did play a USOC game mid-week against the Houston Dynamo, however, and it will be interesting to see how that affects them here. Portland are hungry for a result and are in prolific form right now—something that could end up getting the better of a Dallas side that has struggled on the road this year.
Should be a fantastic game, but I think Portland just edge it in the end.
Prediction: Portland Timbers 2, FC Dallas 1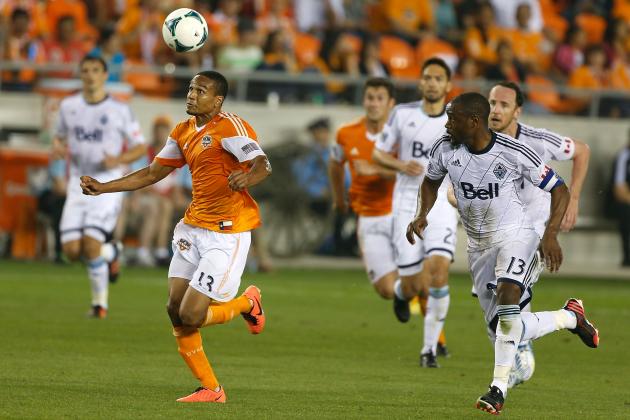 Scott Halleran/Getty Images

| Date | Start time | Venue |
| --- | --- | --- |
| Saturday, June 15, 2013 | 10:00 p.m. ET | BC Place Stadium |
Both Vancouver and New England still have plenty of fixtures to play this season, but with their playoff hopes slowly slipping away, they'll both know that they need to start winning games like this one.
The Whitecaps were denied by Seattle last weekend in a thrilling Cascadia Cup match that saw them concede twice in the final 30 minutes. However, with an impressive home record this season that sees them without a defeat in front of their home fans, they look very good to bounce back this weekend.
New England have struggled in front of goal this year, and while their defense has been sound, it hasn't been sound enough to help them win out in those tight matches. Vancouver do have a tendency to leak goals if the Revolution can mount some good offensive pressure against them, but given what we've seen from them this season, it doesn't seem all that likely to take place.
What we should see, instead, is another very tight and close matchup between two teams desperate not to fall even further behind in the playoff race at the end of the year. And that, in turn, should see both teams split the points in this one, as the BC Place Stadium entertains a thrilling 0-0 draw.
If it's possible to have a thrilling 0-0 draw, that is.
Prediction: Vancouver Whitecaps 0, New England Revolution 0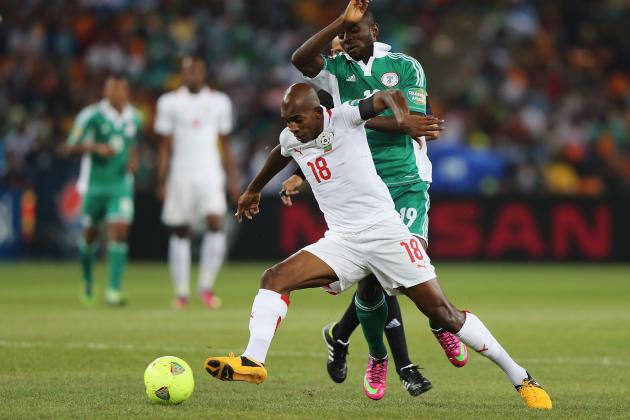 Ian Walton/Getty Images

| Date | Start time | Venue |
| --- | --- | --- |
| Saturday, June 15, 2013 | 10:30 a.m. ET | Stade Municipal Pointe-Noire |
With the Confederations Cup starting up this weekend, there's fewer World Cup qualifying matches to choose from with a number of qualification zones not scheduling matches for this weekend. However, Africa is still in full swing, with a fantastic matchup coming our way between Congo and Burkina Faso.
Congo currently sit on top of Group E with 10 points—undefeated through their four matches so far and yet to concede a goal in the competition. A look at the scores will state that they won 3-0 away to Burkina Faso back in June; however, it's worth remembering that result only came after FIFA ruled Burkina Faso had fielded an ineligible player (per BBC Sport).
The real score in that game was 0-0, which means that in their four games, Congo have netted just two goals compared to the five that the standings suggest.
Burkina Faso, on the other hand, have dramatically improved since that fixture 12 months ago, with their second-place finish at the 2013 African Cup of Nations proof of just how far this team has come. They recently notched up an impressive 1-0 win away from home to Niger, and will be more than confident heading to Congo again to make amends for their frustration of last year.
Both teams have been very tight at the back so far and we will likely see few chances again in this one. That means it could all come down to the counterattack here, and with what we witnessed at AFCON (as well as the real score from that match in June), Burkina Faso could well end up sneaking a surprise road goal and taking the three points available.
Prediction: Congo 0, Burkina Faso 1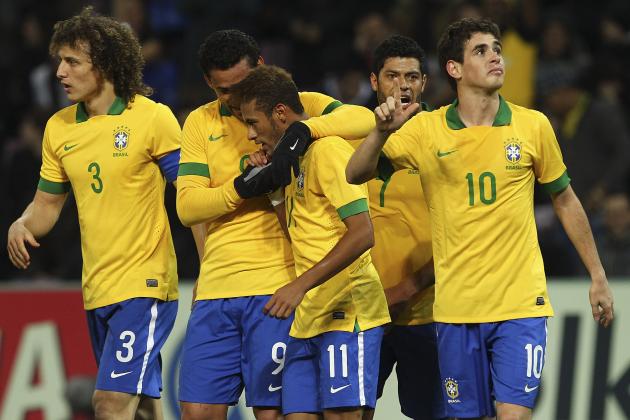 Marco Luzzani/Getty Images

| Date | Start time | Venue |
| --- | --- | --- |
| Saturday, June 15, 2013 | 3:00 p.m. ET | Estadio Nacional |
Brazil and Japan will kick off the 2013 Confederations Cup as the first match this week, and it's only fitting that those two teams are involved in this one. They are the only two teams that have secured a guaranteed place in the 2014 World Cup, and it will be fascinating to see how they matchup in this one.
Brazil are the home side and will no doubt garner a lot of support as a result, but there should also be a surprisingly good following for Japan despite being on the road.
The bigger question, then, is whether they can match the might of Brazil's midfield. And having witnessed the Japanese play in their qualifying matches so far, the answer is a tentative yes—as long as they take full advantage of the chances that they manage to create in this one.
Brazil have a slew of world-class players at their disposal and should see plenty of chances as a result of that. They may be exposed on the counterattack—which could lead to Japan sneaking a goal or two against them—but in the end, they should have enough class to get the job done.
I'd say a pretty close first half opens up a bit more in the second, with a late goal for Brazil perhaps blowing out the score a bit more than the game would suggest.
Prediction: Brazil 3, Japan 1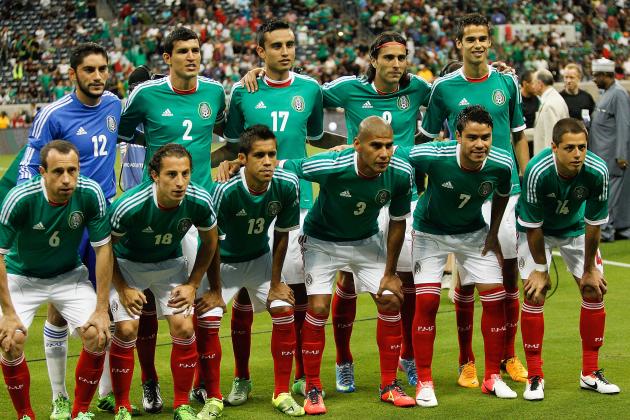 Bob Levey/Getty Images

| Date | Start time | Venue |
| --- | --- | --- |
| Sunday, June 16, 2013 | 3:00 p.m. ET | Maracana |
Italy and Mexico will know that with Brazil awaiting, they cannot afford to get off to a sluggish start in their group at the Confederations Cup this year. Thus they'll both be desperate to pick up a win here and put themselves in great standing for their remaining group matches.
Mexico haven't shown the best form this season in their World Cup qualifying matches, but they will receive a huge boost from their experience in this competition. Italy, by contrast, are relatively young and inexperienced (particularly in attack), and that may lead to some problems in the competition this year.
Italy have lost to Mexico just once in their last 11 matches (per FIFA) and are seemingly in a great position to improve on that record here. They've been in great form throughout their UEFA qualifying matches so far and showed against Brazil in a friendly match that they are more than capable of mixing it with the best in the world—something that Mexico haven't shown so far in their CONCACAF matches.
If they can shut down Javier Hernandez, Italy should have too much in midfield for El Tri and are seemingly primed for a strong win as a result.
Prediction: Mexico 0, Italy 2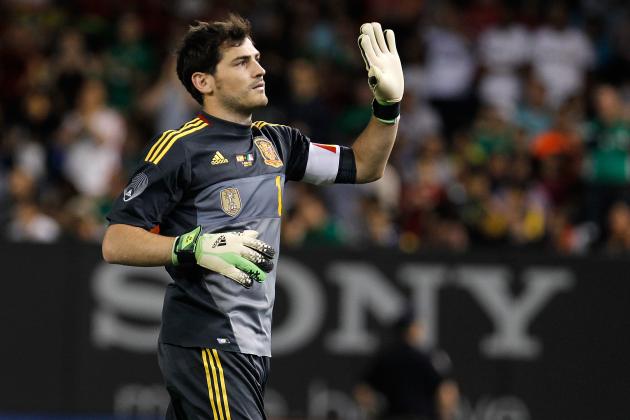 Mike Stobe/Getty Images

| Date | Start time | Venue |
| --- | --- | --- |
| Sunday, June 16, 2013 | 6:00 p.m. ET | Arena Pernambuco |
Spain will come into the Confederations Cup as the favorite to clinch another international trophy—adding to their success at the World Cup in 2010 and the recent European Championships in 2008 and 2012. However, that's not to say that Uruguay aren't capable of knocking off La Roja in this one, with La Celeste possessing more than enough strike-power in attack to hurt the heavy favorites.
Luis Suarez, Edinson Cavani and Diego Forlan are capable of forming a dynamic partnership in attack at their best, and they'll certainly need to be that against Spain.
Uruguay haven't been in the greatest form this year, but their recent qualifying win against Venezuela will no doubt have given them a huge boost. However, will it be enough to beat Spain, who are undefeated in their last nine matches against the South American heavyweights?
Probably not.
Spain are undefeated in their last 22 matches (since November 2011), and are simply so difficult to break down. They have a very solid defense and dynamic midfield that is capable of shutting Uruguay out of the game and forcing their opponents to spend most of the match chasing them in attack.
La Roja's biggest question mark is around their finishing, and the likes of Fernando Torres will certainly need to be on their game if they're going to win this one. But with the amount of chances that will likely fall their way, you'd have to think that Spain are definitely capable of finding the back of the net here.
And when that happens, this one should be all over.
Prediction: Spain 2, Uruguay 0
Hit me up on Twitter for more sports goodness: Follow @dantalintyre