Philadelphia Eagles: 1 Key Question About Each Positional Group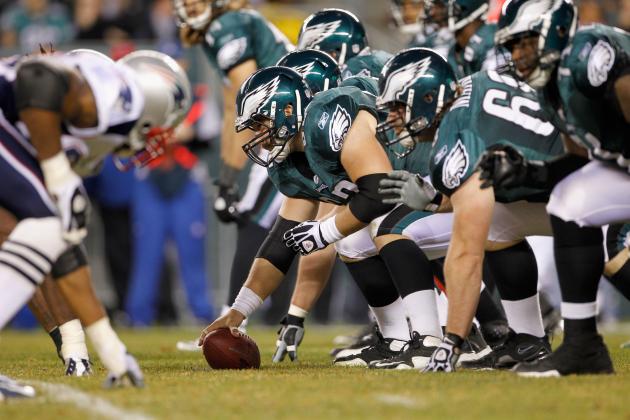 Rich Schultz/Getty Images

Organized team activities offered the first look at Chip Kelly's Philadelphia Eagles. The quarterbacks rotated, the music was loud, and there was little time between snaps just as advertised.
Beyond that, it's still tough to identify the new Birds. This is a team coming off a 4-12 season, one that completely deteriorated under veteran head coach Andy Reid. Rebuilding the defense will be an incredibly difficult task for Kelly, and he's trying to switch to a 3-4 scheme in the process.
Kelly signed six new defensive starters, but the focal point of the offseason has been the offense. Players like Arrelious Benn, Zach Ertz and James Casey were brought over to give Kelly versatile weapons that can line up at multiple spots on the field. This is for an offense that already includes playmakers like LeSean McCoy, DeSean Jackson and Jeremy Maclin.
Obviously, the play of the quarterbacks will be the key to the 2013 season. But other than that, each positional group has an underlying question that will define its success this upcoming year.
Begin Slideshow

»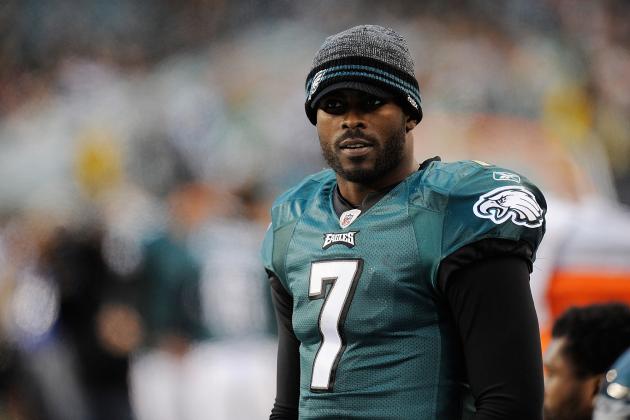 Patrick McDermott/Getty Images

This is the obvious question for the Philadelphia Eagles. It's highly unlikely Matt Barkley steals the starting spot, so it's between Michael Vick and Nick Foles.
Vick is the veteran quarterback entering his fifth season in Philly, a city in which he's rejuvenated his career. He's fallen off after an MVP-like 2010 campaign, and his recent seasons have been plagued by turnovers and injuries. He possesses the speed to still make life difficult for opposing defensive coordinators if he can limit his mistakes.
Foles is a mostly unproven rookie who started six games down the stretch last season. Foles went just 1-5 in the games, but that was behind a makeshift offensive line and with a supporting cast lacking many of its offensive playmakers.
Foles still completed over 60 percent of his passes, and he's been taking many first-team snaps in OTAs, according to John Gonzalez of CSN Philly.
Maybe Kelly has his mind made up already, and he's just trying to motivate the quarterback he's picked. Or maybe he doesn't have a clue.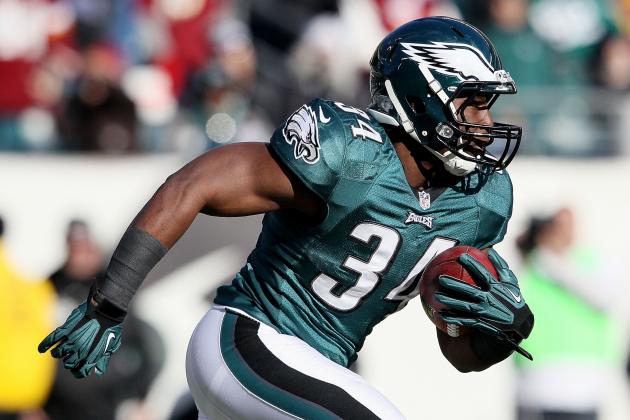 Alex Trautwig/Getty Images

LeSean McCoy's numbers dropped off from 2011 to 2012, but there were a handful of factors causing that. The injuries on the offensive line played a huge role, and the return of all three injured starters will significantly improve the '13 running game.
Bryce Brown emerged as a bona fide star when McCoy was injured last season. Brown accumulated 347 rushing yards and four touchdowns in a two-game span, averaging a ridiculous eight yards per carry. He showed power and speed to make the Philadelphia Eagles think they had a can't-miss one-two punch with McCoy and Brown.
But then Brown's fumbles began.
He fumbled four times in 115 carries and looked downright lost at times later in the season. He struggled to run between the tackles, at one point gaining a total of six yards on 12 carries in a game against the Tampa Bay Buccaneers.
If Brown can duplicate his 4.9 yards per carry from last year—with a little more game-to-game consistency—the Eagles have an explosive two-back duo. That is, assuming Brown can learn how to hold onto the football.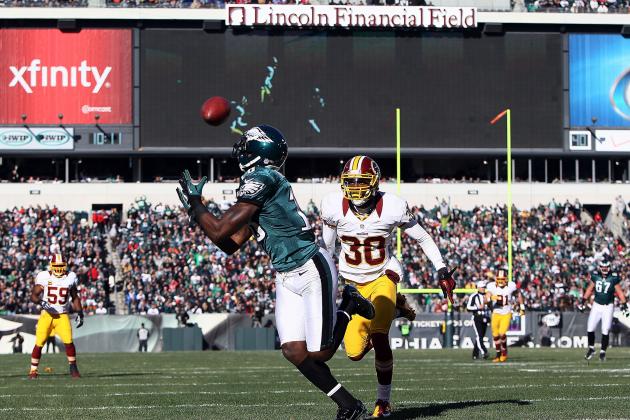 Alex Trautwig/Getty Images

In four seasons with the Philadelphia Eagles, Jeremy Maclin has been a very productive wide receiver. He's averaged over 55 catches and 850 receiving yards per season since being drafted, although he still hasn't reached 1,000 yards in a campaign.
Maclin is entering a contract year, and a breakout year would earn him a big contract in free agency. DeSean Jackson got five years for $51 million, and Maclin is a comparable receiver in terms of talent.
The hurry-up offense will enable the Eagles to run more plays, which means it's likely that Maclin's numbers do increase. If Maclin can get 1,200 yards, that's definitely a successful season.
Either way, the Eagles enter 2013 with a top-10 receiver duo in Jackson and Maclin.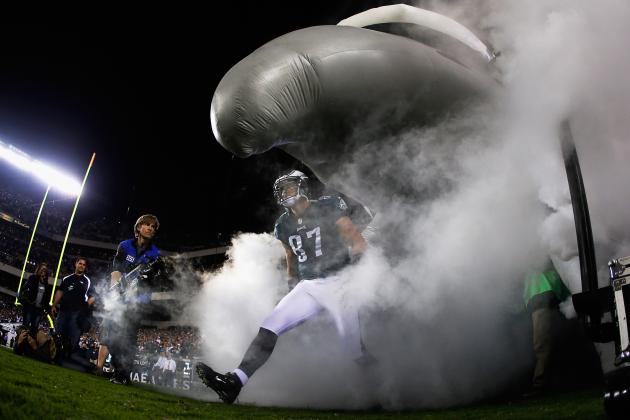 Rob Carr/Getty Images

Chip Kelly loves using tight ends, and he's said he would have no problem keeping four on the roster. Brent Celek returns to Philadelphia as a starter, although he's shown signs of regression as of late.
Kelly drafted Stanford's Zach Ertz with the 35th overall pick, giving the Eagles a big target in the red zone, one that can haul down a pass on key third downs. Ertz has the athleticism to line up in the slot.
James Casey is another weapon for the Eagles. He was acquired via free agency from the Houston Texans. He's a versatile player that can line up at fullback, tight end and H-back. Then there's four-year backup Clay Harbor in the mix as well.
Celek and Ertz aren't quite Rob Gronkowski and Aaron Hernandez, but it will be interesting to see if they can become one of the game's top duos.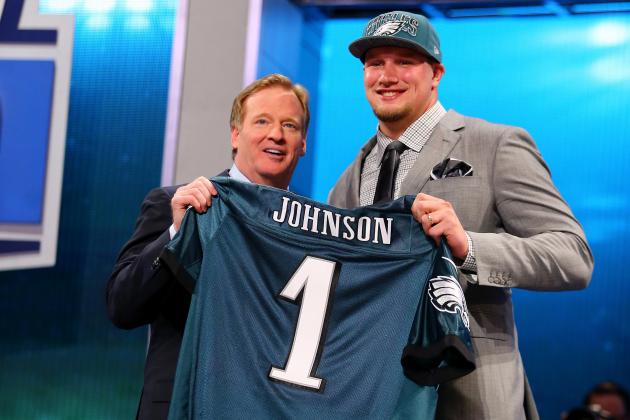 Al Bello/Getty Images

The Philadelphia Eagles drafted Oklahoma's Lane Johnson fourth overall, adding a very athletic offensive tackle to their offensive line. Johnson is a similar player to Jason Peters; he's extremely quick for a big man and can get to the second level as a blocker in the running game.
Johnson has reportedly struggled in OTAs, working with the second-stringers for some time before his recent promotion. That shouldn't scare Eagles fans, seeing as it's his first taste of NFL action. But Johnson is a raw pass-blocker, and if he struggles for much of 2013, it will set the Eagles' offense back a step.
If Johnson enters the league as one of the game's top tackles already, there's no telling the production that this offense can put up.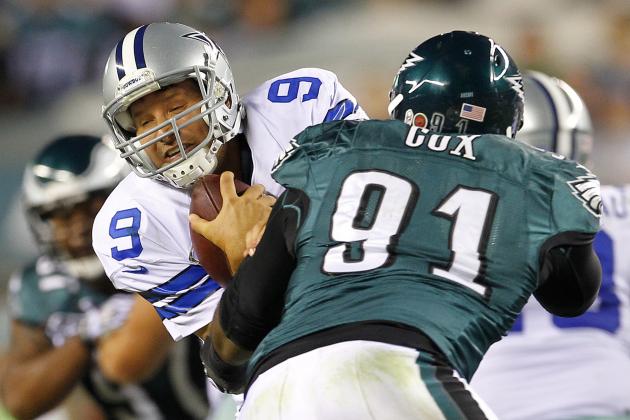 Rich Schultz/Getty Images

Switching to a 3-4 defense really changes up the Philadelphia Eagles' defensive line. Last year's first-round rookie, Fletcher Cox, moves from 4-3 tackle to 3-4 end. Cox registered 5.5 sacks in 2012 along with a forced fumble and 32 tackles, but that was from a traditional one-gap tackle position.
Now, Cox will be asked to play the 5-technique role in a traditional 3-4 or maybe a 3-technique spot in a 4-3 Under defense. It could make his opportunities to get sacks more difficult, and Cox's job will be more to open up lanes for his teammates.
Cox's natural athleticism should make him a good fit for the position. He's no J.J. Watt, but defensive ends can still get eight to 10 sacks in a 3-4 defense. Cox remains a crucial part of the defense.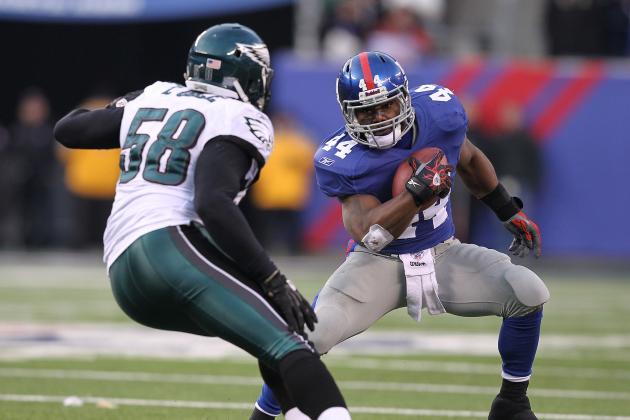 Al Bello/Getty Images

For the last eight years, Trent Cole has made his mark as a 4-3 defensive end. He's rushed the quarterback from outside the tackle's shoulder, averaging close to 10 sacks per season since he broke into the league.
At age 30, Cole has been moved to 3-4 outside linebacker. He will play a new position coming off a season in which he saw his production rapidly decline. Cole will be asked to do things he's never done before, like covering opposing tight ends and rushing the quarterback standing up.
Cole will probably see his snaps diminish as the Philadelphia Eagles try to extend his career. If he struggles, Brandon Graham and Connor Barwin will overwhelm his snaps. Longtime Indianapolis Colts defensive end Dwight Freeney was a poor fit in a 3-4 last year, and Cole could be the same case.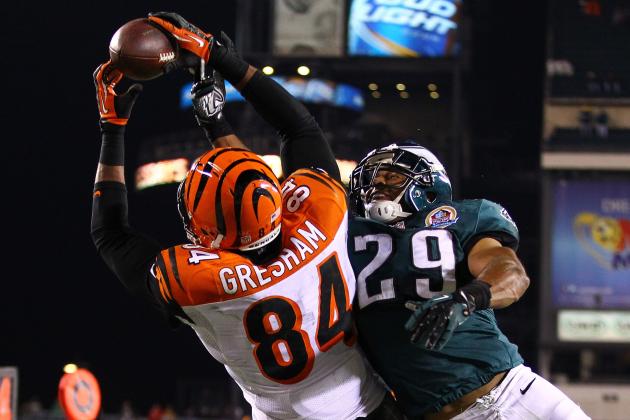 Al Bello/Getty Images

Last year, the Philadelphia Eagles set a franchise record by allowing 33 touchdown passes. Cornerbacks Nnamdi Asomugha and Dominique Rodgers-Cromartie are gone, and Chip Kelly brought in four potential free-agent starters in the defensive backfield.
Cary Williams and Bradley Fletcher are expected to start at cornerback, while Kenny Phillips and Patrick Chung are the odds-on favorites to win the safety jobs. The problem is none of the four is a star in any way, and the Eagles will need someone to step up.
It could be veteran safety Nate Allen, rookie safety Earl Wolff, or young cornerbacks Brandon Boykin and Jordan Poyer.
If the defensive backfield struggles, the Eagles won't stand a chance in a division that includes Eli Manning, Tony Romo and Robert Griffin III.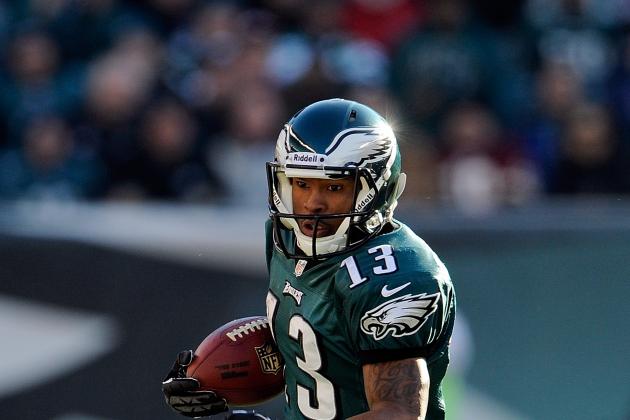 Patrick McDermott/Getty Images

The Philadelphia Eagles seem to rotate their return men annually. And every time they get a player that's effective, he's deemed too valuable to return anymore. Cases in point: Brian Westbrook and DeSean Jackson.
Chip Kelly may decide to use Jackson again in 2012. He has reportedly been experimenting with Jeremy Maclin as a punt returner. There's always Damaris Johnson, the all-time NCAA career leader in return yardage. And it could be a player like Bryce Brown or Brandon Boykin or Russell Shepard or even someone else.
Often, the mark of a good team can be getting key contributions from unexpected players or positions. If the Eagles want to be the sixth team that sneaks into the playoffs, it may be the result of some key returns.