In what is becoming a weekly trend, the newest installment of WWE Main Event showcased nothing but entertaining action inside the ring.
Storyline development may not be a major part of the weekly show, but the wrestlers who compete constantly put on terrific, technically sound shows.
This week featured The Miz taking on Cody Rhodes, Damien Sandow against Sin Cara, and The Usos vs. Tensai and Brodus Clay.
Again, not the most popular superstars in the business, but it was a solid show heading into Payback.
Let's take a look at how the action played out at the Greensboro Coliseum.
The Miz Defeats Cody Rhodes
Just a few days before he takes on Wade Barrett (who was commentating ringside) and Curtis Axel for the Intercontinental title, it's not surprising that The Miz came away victorious.
It's also not surprising he did so via the figure four, which the company continues to try to push.
But despite the predictable outcome, the match was still excellent:
2 mid card superstars have just pulled off a better match than some wordtitle matches.See what happens when they get a good shot? #MainEvent

— Chris Pirolo (@cagetheyanks) June 13, 2013
Each wrestler showcased a good amount of offense in the back-and-forth battle, while there were several near-falls and good spots.
Although the win gave Miz some good momentum going into Payback, many were impressed with Cody Rhodes:
I agree with @WadeBarrett, Cody Rhodes needs to keep showing this aggression in this and ALL his matches moving forward. #MainEvent

— Bryan (@BryanIsWWE) June 13, 2013
Cody Rhodes is a great talent i wish WWE would push him more. #MainEvent

— Impact Wrestling Fan (@TNAWWEGuy) June 13, 2013
The crowd was into the match, and perhaps a push is in Rhodes' future.
Damien Sandow Defeats Sin Cara
With Sandow set to take on Sheamus at the Payback Kickoff, this was another predictable outcome. But once again, it was a very solid match.
Although, the best part might have been Sandow on the mic:
I would love to see Damien Sandow cut a 10 minute promo. Guy is absolute gold on the mic. @WWE needs to give him a bigger push.

— NY Sports Guru (@TheJakeTThomas) June 11, 2013
Sandow gets an incredible amount of heat with every promo he cuts, and it will be interesting to see where the company takes him at Payback and beyond.
A win over Sheamus would be significant, but hopefully a push is in the works no matter what the result. His work as a heel lately has been fantastic.
The Usos Defeat Tensai and Brodus Clay
This was a fairly short match, but it was good to see The Usos, who are in the midst of a push, get another win.
I can't wait until the @WWEUsos get a shot a the tag team titles!No other team deserves it more. #truetagteam #day1

— Damaris Michaels (@2piecee) June 13, 2013
Sometimes the smallest adjustments can help turn around a character, and for the Usos, that adjustment is the face paint. They have always been thrilling inside the ring, but now it appears as though they are finally getting over.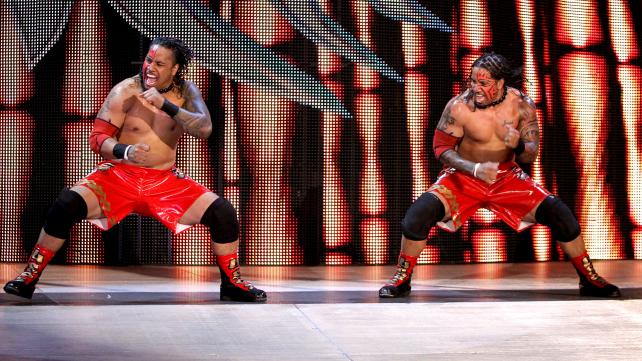 Don't be surprised if you see Jimmy and Jey a lot after Payback.