NBA Social Media Awards Live Coverage and Reactions
As the NBA has become one of the most Internet-friendly sports leagues around the world, the NBA Social Media Awards has grown into a full-blown event. This year's rendition was full of surprising winners.
As far as cheesy award shows go, that was my favorite that NBA TV has put on so far.
Thanks for following along everybody.
And that, folks, is this year's NBA Social Media Awards.
Between Rocsi Diaz being pretty mediocre at whatever he job just was, and Chris Weber's fly suit, that was actually pretty entertaining.
...DeAndre Jordan, who else? And it's presented by Dominique Wilkins, which is pretty sweet.
On a side note Rocsi Diaz is not a great awards show host. Something tells me she's not on the short list for next year's Tony Awards.
Alright, we're moving on to the one that really matters, this year's best dunk, the Social Slam Award. Finally we get the answer to which of this year's ridiculous dunks was the best, at least as far as the fans are concerned.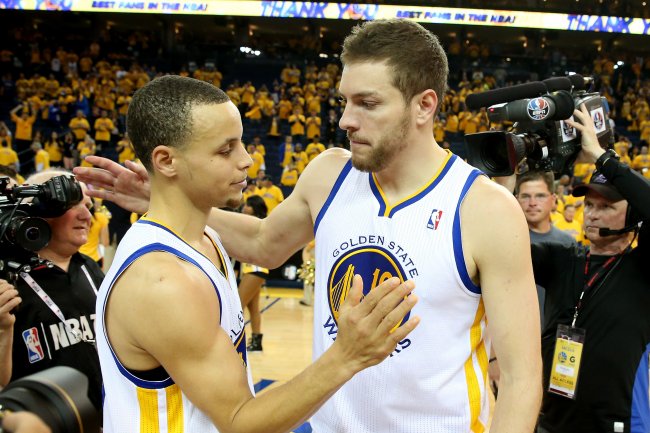 Stephen Dunn/Getty Images
Even better, that's the second award that Stephen Curry's been nominated for, and the second he's lost.
It may be a few cheesy trophies, but it's got to hurt being in the studio and that happening.
And as was foretold, Kobe wins the Social MVP.
You liked, RTd, followed, and favorited him – and @kobebryant just became this year's Social MVP. #NBASMA

— NBA TV (@NBATV) June 13, 2013
It is known.
Oh, we've got a few surprise awards that weren't listed on the show's website.
.@paugasol wins the #NBASMA Social Difference Award thanks to his off court citizenship and humanitarianism.

— NBA TV (@NBATV) June 13, 2013
He made quite the impression on the court and online - @dame_lillard just racked up the win for Social Rook on this year's #NBASMA.

— NBA TV (@NBATV) June 13, 2013
Neat, time fillers!
While we're waiting on the Social MVP, I might as well give you guys this. Kobe did a little interview after winning the 140 Award for his "Amnesty That" tweet, and had a message for Mark Cuban.
Kobe to Cuban after winning #NBASMA 140 award for 'Amnesty THAT' tweet: "I'll send it to you to put in your office" twitter.com/BeyondTheBuzze…

— Beyond The Buzzer(@BeyondTheBuzzer) June 13, 2013
Something tells me it would be a nice addition to Cuban's office.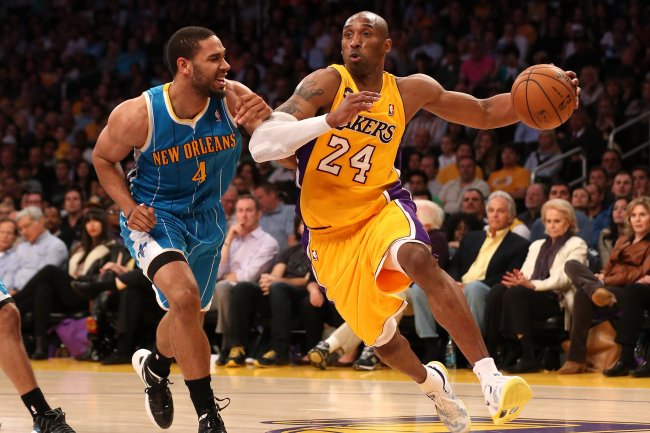 Stephen Dunn/Getty Images
We've got just two awards to go, but 15 minutes left in the show. Time to streeeeeetch this one out as much as possible.
The Social MVP is coming up, which goes to this year's best player on social media.
If this doesn't go to Kobe Bryant I'll be shocked, but Metta World Peace's Twitter account has to be tops in the league.
JaVale grabs this one.
It was definitely a blooper, but I'm not sure he didn't win this one from more than reputation alone. I'll chalk this one up to something of a Lifetime Achievement Award for McGee.
And on to the "LOL Award."
Let's just go ahead and give this one to JaVale Mcgee and get it over with.
The Miami Heat win this one for their Harlem Shake.
Maybe next year something original will win, but who knows?
On to the OMG Award, which is somehow not the worst-named award of the entire program.
Basically this one goes to the best video to come from the season, featuring Miami's Harlem Shake (yaawwwn), to Kyle Singler trick shots and the K-Love, Larry Fitzgerald anti-breast cancer video.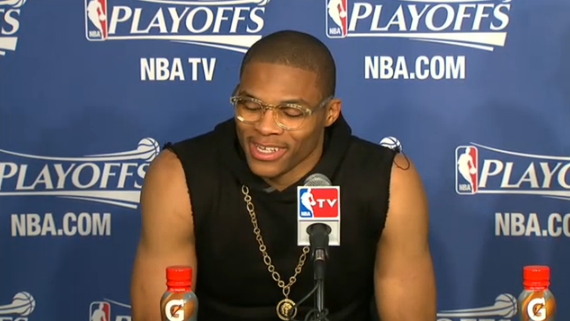 Russell Westbrook takes the Trendsetter Award. I guess that one was supposed to go to the guy whose fashion is most talked about.
So long as Dwyane Wade didn't win after rocking that flowery jacket earlier in the playoffs I'm pretty happy.
While we're talking about fashion, Chris Weber's silvery-grey three-piece suit is absolutely knocking it out of the park tonight.
Steph Curry's weird tuxedo jacket is kind of weird.
We're going on to the Trendsetter Award, going to the most fashion-forward player in the league.
My vote would go to Tim Duncan, but my boy wasn't nominated.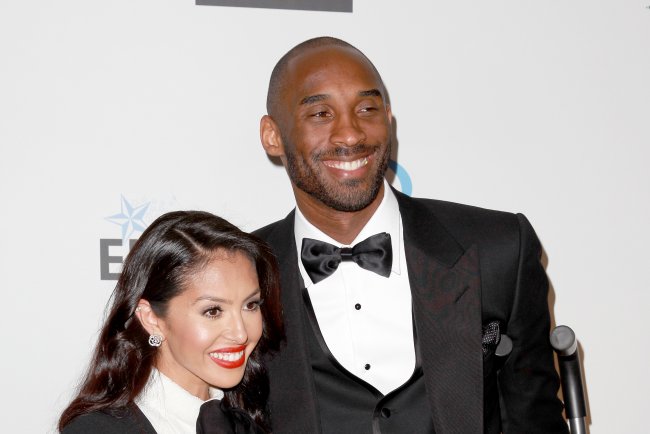 Joe Scarnici/Getty Images
In case you're wondering, Kobe's also up for the Social MVP Award.
Having just won back-to-back categories, I'd say he's a lock to bring that one home.
And that's back-to-back awards going to a tweet coming from Kobe Bryant. He's a juggernaut! Better than Jordan! GOAT!
Or something like that.
This is the tweet that won it for him, a response to Mark Cuban's criticism that the Lakers should amnesty Kobe.
Amnesty THAT

— Kobe Bryant (@kobebryant) February 24, 2013
Kobe's on a roll here.
The "fake fight" picture between Kobe Bryant and Dwight Howard takes home your picture of the year.
The mamba vs d12 !! It's on lol twitter.com/kobebryant/sta…

— Kobe Bryant (@kobebryant) January 7, 2013
And we're moving on quickly to the best tweet of the past season from an NBA player.
We're presenting the best picture of the year from an NBA player, whether it be via Instagram or Twitter. I'm kind of partial to Amar'e Stoudemire's car stuck underwater.
Rocsi is touting a free app that you can use along with the Social Media Awards called "Viggle."
I don't know what that means, nor do I know what it does. Great work Rocsi.
Monta Ellis came home with the big win.
That one should have been obvious, how could I forget that Monta Ellis have it all.
We're dragging this one out, Weber asking Kyrie Irving about which shot should win. He picked Joe Johnson's step-back.
This article is
What is the duplicate article?
Why is this article offensive?
Where is this article plagiarized from?
Why is this article poorly edited?