Predicting the Houston Texans Depth Chart, Post-OTAs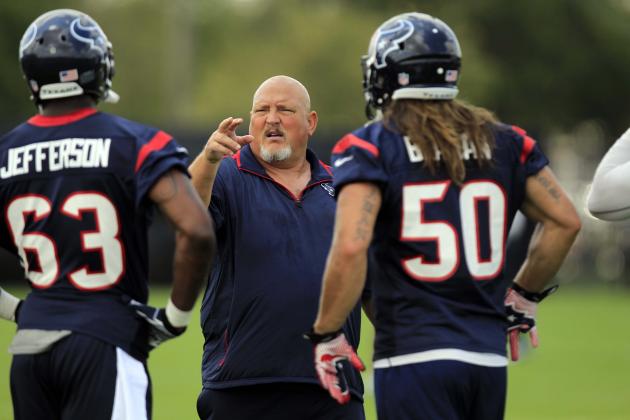 Thomas Campbell-USA TODAY Sports
Reggie Herring instructing Jefferson and Braman on the finer points
The Houston Texans came out of their 10 offseason training activities (OTAs) with more questions than answers.
The questions revolved around the condition of Ed Reed's hip, Arian Foster's calf, Brennan Williams availability for training camp and whether Tim Dobbins' absence showed a lack of respect for his teammates.
OTAs rarely provide any clear insight into the final composition of the 53-man roster because the players are prohibited from wearing pads and must avoid any collisions resembling real football.
These scaled-down practices are good for working on techniques and revealing whether rookies have the basic skill set to make it at this level, but rarely are any big questions about the upcoming season answered during this time.
The following list contains few surprises, and most names will be carryovers from last year's team. Every journey starts with a first step, though, so here is an initial look at the depth chart for the 2013 Houston Texans.
Begin Slideshow

»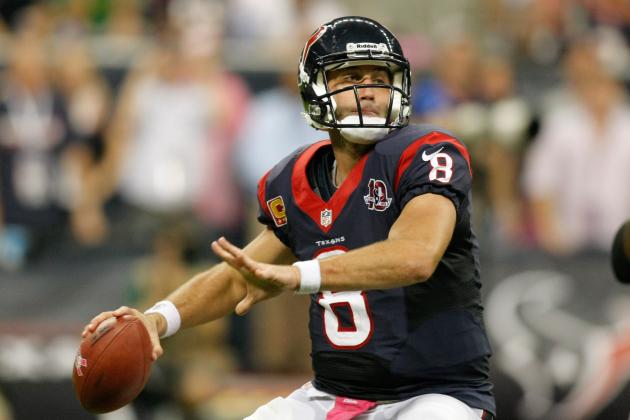 Brett Davis-USA TODAY Sports

QB1: Matt Schaub
Many readers will be disappointed to see the lack of a hotshot rookie in the mix.
You were all praying for somebody to push Matt Schaub to greater heights this season, whether it was E.J. Manuel, possibly Tyler Wilson, or maybe even Mike Glennon. Your ultimate desire was to push him right off the team and onto the waiver wire.
This marriage of inconvenience will have to last a little longer. Who knows, though, it might just work out in the end.
Schaub is 32 years old, just one year younger than Jim Plunkett when he won his first Super Bowl. Joe Theismann also won "The Big Game" at age 33.
It is not too late for Houston's quarterback to put it all together and make the dream come true. Patrick D. Starr of State of the Texans reports that he is looking good and may be ready to do just that.
QB2: T.J. Yates
An injury to the starter is the only way Yates will get any consistent playing time in 2013. That did not happen in 2012, and the only stats Yates recorded were during mop-up time in three losses.
He will have the chance to showcase his skills during the preseason—possibly to showcase him for trading purposes. His track record in 2011 showed enough potential that he might be worth a draft pick to a team with a shaky backup situation.
QB3: Case Keenum
Is Keenum ready to take his first snap in a regular season game? Head coach Gary Kubiak has been complimenting his development throughout OTAs.
The Texans would be taking quite a risk in moving Keenum to the active roster. A contending team rarely puts a completely untested quarterback in the No. 2 spot on the depth chart.
The Collective Bargaining Agreement ratified in 2011 eliminated the third quarterback rule that prevented a third QB from dressing on game day. The smart thing to do is to keep both backups when there is so much at stake.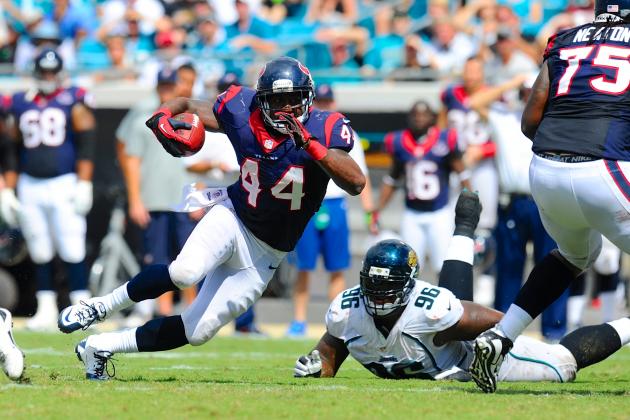 Dale Zanine-USA TODAY Sports
Ben Tate
RB1: Arian Foster
Could the most widely used offensive weapon in the Texans' arsenal have been overused last year?
When Foster strained his calf on a non-contact play in OTAs, that possibility seemed to be supported by his decline numbers over the last three seasons. His 351 carries in 2012 would have been closer to 400 if the Texans had not been playing from behind late in the year.
He will not return until training camp, and will be restricted to a carry-count in the preseason. Foster is promising a comeback year, and is even using a hyperbaric chamber to hasten his recovery.
Nothing is out of the ordinary for the most eccentric Texan of them all.
RB2: Ben Tate
Houston was expected to have the premier running back duo in the NFL last season. Unfortunately, Tate could not keep out of the training room, as he nursed one injury after another.
This is a contract year for him, and he needs to get back to his 2011 form. With Foster on the mend, he could not be in a better position to go for the money.
He missed his entire rookie year with an ankle injury, leaving him with just one healthy season out of the three that he has been in the league. Tate knows that he needs to show up in a big way this season if any team out there is going to pay him next summer.

RB3: Deji Karim
Karim is the one man who ended any chance for Houston to lock up the top seed in the 2012 AFC playoffs. His kickoff return for a score was the turning point in the team's Week 17 loss to the Indianapolis Colts.
The Texans need a third running back with experience, and his other competition at the position is nothing but undrafted rookies. A special teams role could also make use of his talents as a return man.
FB1: Greg Jones
The addition of this smashmouth fullback feels like a return to the good old days for the Texans' running game.
Arian Foster had his best years when a true lead blocker was opening holes for him. First it was Vonta Leach in 2010, and then it was Lawrence Vickers the following year.
In 2012, management believed that saving the $1 million earned by Vickers was more important than protecting its top halfback. Furthermore, the attempt to turn tight end James Casey into something resembling an H-back yielded mixed results.
Jones does not deal in "mixed results." He levels linebackers at will and can even advance the ball himself. For a team that bases its offense on the success of its rushing attack, this could be the biggest move of the offseason.
FB2: Tyler Clutts
Clutts will once again be on the roster just in case Jones is unable to answer the call. He was also a special teams contributor, but that may not be saying much considering the overall performance of that group.
His spot could be in jeopardy if the team decides to go with Dennis Johnson, Cierre Wood or a back that is capable of carrying the ball for actual yardage.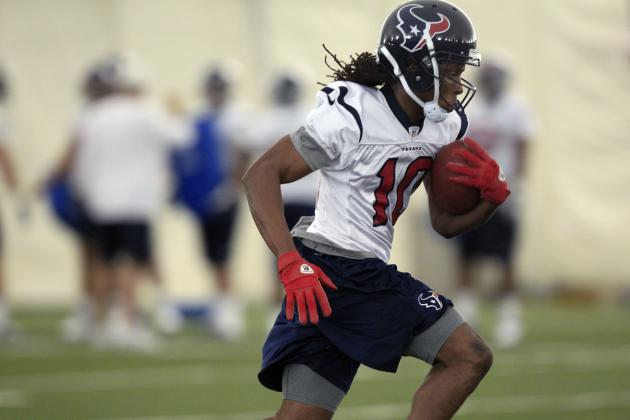 Thomas Campbell-USA TODAY Sports
DeAndre Hopkins
WR1: Andre Johnson
Where would the Houston Texans be without No. 80? They would be left with a group of wide receivers that has less than 30 career catches.
Every season, this coaching staff takes some weird gambles with its personnel. In 2010, it was handing the starting cornerback job to rookie Kareem Jackson. The move of Mario Williams to outside linebacker fit the profile in 2011, though it was a brief success. And last season, the James Casey experiment continued in the same vein.
This time, the gamble pertains to the team going with just a single wide receiver that qualifies as a true veteran. If Johnson is sidelined at all in 2013, the passing game will be decimated as surely as if Matt Schaub was out of the lineup. The total effect might be even greater.
The way this team is constructed right now, no player is more indispensable than Andre Johnson.
WR2: DeAndre Hopkins
The No. 1 draft pick out of Clemson has everything that you would look for in a pass-catcher except for track-star speed. If history is any judge, though, that missing element is overrated.
The top 10 leaders on the all-time NFL career receptions list are evenly divided between speed demons and guys who were just fast enough. In Hopkin's case, his 10-inch hands mean that he will pull down any throw within his reach. He also got separation with the kind of frequency that allowed him to score 18 touchdowns in his junior season.
WR3: Keshawn Martin
Martin has shown the ability to get open but has often been unable to corral the ball. He was targeted 26 times last season, but had just 10 receptions.
His athletic ability in college was what caught the attention of NFL scouts. He scored on both kickoff and punt returns, and also on rushes and receptions. When going against NFL defenders, though, he has had a tougher time duplicating those feats.
He has at least one more season to bring all that talent into fruition.
WR4: Lestar Jean
When a receiver has just 11 targets in 180 snaps, he is either not getting open or cannot be trusted to catch the ball. Certainly the 6'3" Jean presents a tempting target, and when he caught the ball, he averaged 25.2 yards per reception.
Now that Kevin Walter is gone, Jean is one step closer to being the No. 3 receiver. He is heading into this third season, and it is said that if you don't get the hang of it by this time, you never will.
WR5: Alan Bonner
The shortage of bodies has Bonner in line to catch a lot of balls with the second team. The word is that he runs good routes and plays bigger that his 5'10" frame.
If there are going to be five WRs on the active roster, it is hard to see who will beat out Bonner for the final slot. Jeff Maehl was the only holdover from the practice squad, and neither he nor any of the undrafted free agents has received much notice thus far.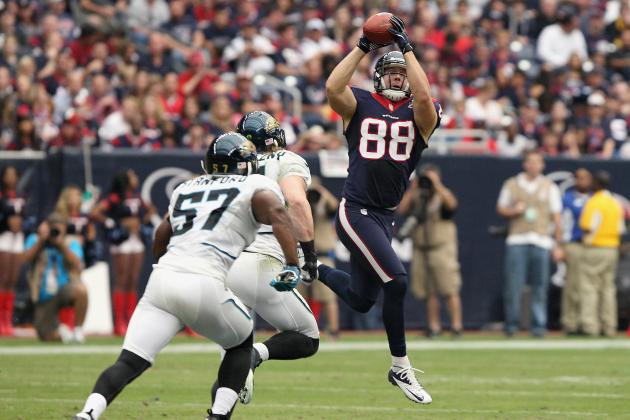 Troy Taormina-USA TODAY Sports
Garrrett Graham
TE1: Owen Daniels
When you line up in the slot as much as this tight end, you may actually be the No. 2 wide receiver. Also, when you block like Daniels, you are clearly a tight end in name only.
No matter, he gets the throws because of his clean routes and good hands. A nose for the end zone also helps, which is why he led the team in touchdown receptions last season. Due to his reliability, Daniels is almost as valuable to the Texans as Andre Johnson.
TE2: Garrett Graham
Graham would be indistinguishable from his fellow Wisconsin alum, Daniels, but for one vital skill: he knows how to block in the running game.
With Casey no longer in the picture, look for Graham to become even more involved in the passing scheme this season. Gary Kubiak would rather rely on his tight ends than his wideouts, particularly in the red zone.
Two-tight end sets are also a staple of the Texans offense, which is why the double-Cheesehead formation will be utilized on a regular basis.
TE3: Ryan Griffin
Griffin falls into the same category as Alan Bonner. The only contenders for the third tight end are practice squad remnants and a couple of street free agents.
He has caught Kubiak's eye during OTAs, and that may be all it takes to get a longer look in training camp. The Texans are accustomed to having three tight ends available on game day. Griffin's combination of blocking and receiving skills may give him the edge.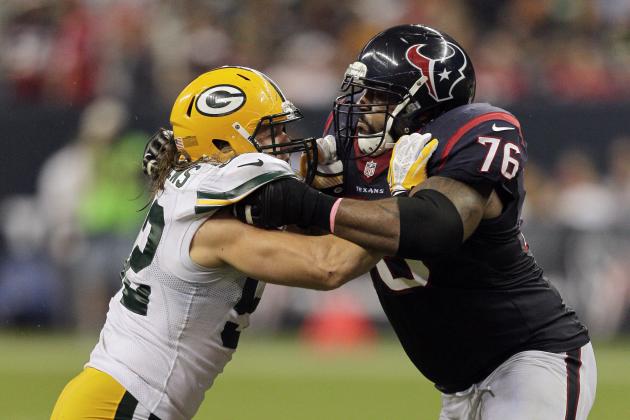 Bob Levey/Getty Images

LT1: Duane Brown
Brown manages to get better with each passing year. The best teams always seem to have a stud at left tackle, and the Texans are no exception.
His most remarkable quality is that defensive linemen cannot fool him with their usual stunts. He refuses to get out of position or lose his base when the pass-rush comes from more than one angle.
RT1: Ryan Harris
Houston needed a swing tackle in 2012 when Rashad Butler went down for the season in training camp. Harris proved to be more than just a benchwarmer for the Texans.
He rotated with Derek Newton at right tackle, and actually graded out better than Newton, according to Pro Football Focus (subscription required for Premium Stats).
His value increased when Newton needed surgery on his patellar tendon in the offseason. If the opener against the San Diego Chargers were this week, Harris would presumably be the starter at right tackle.
RT2: Derek Newton
Newton was so inconsistent last season that you had to wonder what was wrong. As it turns out, he spent an unknown portion of the year with a serious injury to his right knee.
The patellar tendon maintains the vertical stability of the joint, and when it acts up, keeping your footing becomes very difficult. The recovery from this surgery is serious enough that Newton will not rejoin the team any earlier than training camp.
LG1: Wade Smith
Smith made it to the Pro Bowl for the first time in his career last season—whether he deserved the honor is another discussion entirely.
He is certain to be the starter at left guard, and it would be wise to bring fullback Greg Jones in on passing downs. Much of the pressure Matt Schaub received was up the middle, and having Jones around to keep the pocket clean would be beneficial.
Reserves
Brennan Williams
Williams and Newton must be quite familiar with each other since the trainers' room has been the focus of their offseason activities.
First, Williams dropped in this year's draft because of the torn labrum in his shoulder that ended his senior season at North Carolina. He then tweaked his knee in the rookie minicamp.
According to Nick Scurfield of the team's website, that injury has proven so persistent that training camp is projected to be his earliest opportunity to suit up. This is not what would be called an auspicious beginning to an NFL career.
David Quessenberry
This rookie right tackle has also had the numbers game fall in his favor. With Newton and Williams rehabbing their injuries, Quessenberry has received the lion's share of the snaps on the second team so far.
If his competition spends much of training camp catching up to him, he could be in line to start the season on the active roster. Quessenberry worked hard over the course of his career at San Jose State to become NFL-ready. He appears to be the type to take advantage of his shot at the right time.
Andrew Gardner
Gardner has had very few chances to show that he can be more than just an emergency replacement on the offensive line. His familiarity with how the Texans operate and the injury situation at right tackle should keep him on the roster for the start of the season.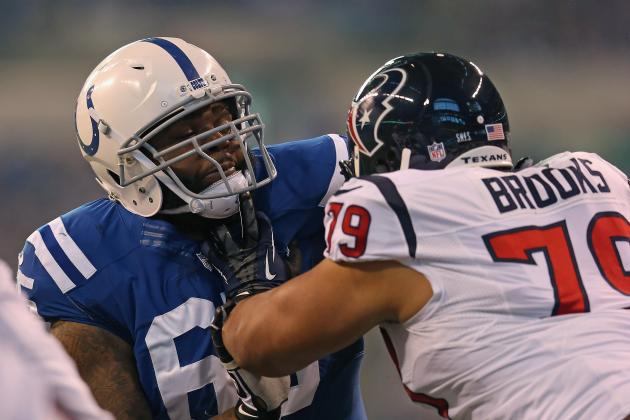 Jonathan Daniel/Getty Images

LG1: Wade Smith
Smith made it to the Pro Bowl for the first time in his career last season—whether he deserved the honor is another discussion entirely.
He is certain to be the starter at left guard, and it would be wise to bring fullback Greg Jones in on passing downs. Much of the pressure Matt Schaub received was up the middle, and having Jones around to keep the pocket clean would be beneficial.
RG1: Brandon Brooks
Once the massive Brooks got his weight under control, he proved to be more than capable of picking up the zone-blocking scheme, even though he does not possess the ideal body type.
Even at his size, he can perform the lateral movements that are the hallmark of the system. One he learns how to backpedal on pass protection, his future at right guard will be set.
Elsa/Getty Images

C1: Chris Myers
Like most of his counterparts on the offensive line, Myers is a bit lean for his position. That has not stopped him from ranking among the top centers in the league, though.
No one gets out of his stance quicker or is able to rapidly detect which direction requires his immediate attention. He has made two consecutive trips to the Pro Bowl, and has missed only one game in his Texans career.
Duane Brown is the top player on this line, but Myers comes in at a pretty close second.
C2: Ben Jones
Jones played most of his rookie season at right guard, even though he is a center by training.
He played so well at guard in 2012 that being part of rotation once more is entirely possible. At 32, though, Chris Myers may need to reduce his snaps to something under the 1,150 he handled last season. This makes Jones' versatility an essential component of his value to this team.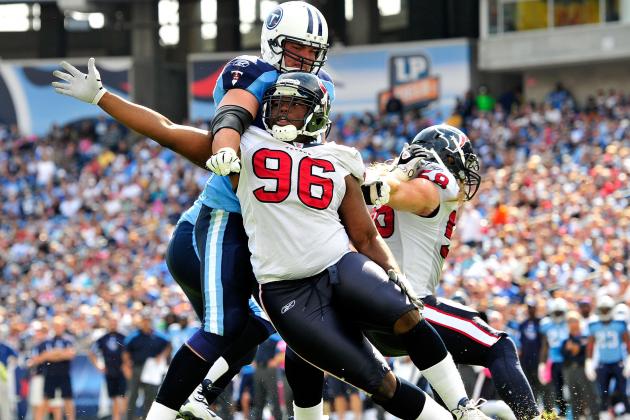 Grant Halverson/Getty Images
Tim Jamison
LDE1: J.J. Watt
The reigning NFL Defensive Player of the Year has become the most popular sports figure in the city. His regular-guy persona along with his out-of-this-world play have made him the No .1 most coveted prom date in Houston.
He will be hard pressed to match his statistics from 2012 again, but he will still do everything in his power to foil the plans of opposing offenses. What the rest of the defense needs to learn is how to use the double-teams that Watt commands to their advantage.

RDE1: Antonio Smith
The "Ninja Assassin" had one of the best seasons of his nine-year career in 2012. He is more inclined to rush the passer than cover the run, though, and that did hurt the Texans down the stretch.
The clubhouse benefits from his leadership as much as his play on the field. His ninja alter ego provides the kind of comic relief that can make a long season seem bearable.
Reserves
Tim Jamison
Jamison was sorely missed last year when his torn Achilles tendon ended his season in Week 6. According to Nick Scurfield, he should return by training camp.
Wade Phillips relies on fresh pass-rushers to bring the pressure, and without Jamison last season, he had to count on linebackers to pick up the slack. Now the 32-year-old Smith can be relieved more often without any reduction in performance.
Perhaps some new wrinkles could be added to the defense, too. An alignment with Watt on the nose with Smith and Jamison as the ends would drive the opponent's offensive line to distraction.
Jared Crick
Crick has packed on a few more pounds, possibly to play the two-technique with a bit more vigor. He will still be needed to fill in at defensive end from time to time.
His strengths are best suited to play the run, but he was a more effective pass-rusher at Nebraska when he paired up with Ndamukong Suh. With J.J. Watt at the other end, Crick could reclaim some of those skills.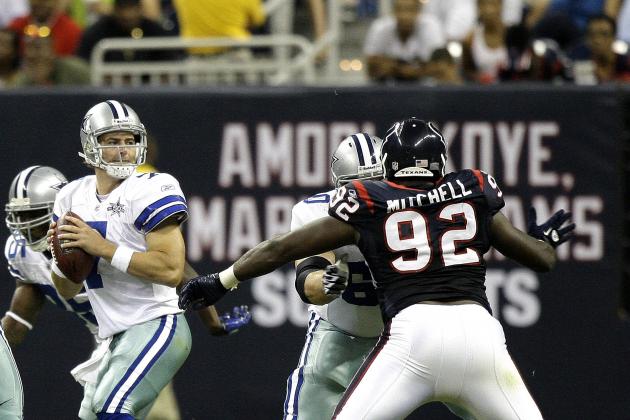 Bob Levey/Getty Images

NT1: Earl Mitchell
The man who was once only a part of the rotation at nose tackle is now the starter. Shaun Cody was hurt much of last year, so it was easy for Mitchell to look like the better player.
Now that he has the job to himself, the pressure is on. The least glamorous position on the entire defense requires a lot of contact and not a lot of stats to show for it. Mitchell does not seem to mind and seems to be enjoying the job that he has undertaken.
Reserve
Terrell McClain
McClain is a man trying to make up for lost time. He was cut by the Carolina Panthers before the start of the 2012 season, and was picked up by the Texans in October.
He saw a handful of reps filling in for Cody, and he now has the best shot at being the backup to Mitchell. The 12 games he started as a rookie in 2011 puts him miles ahead of Sunny Harris and David Hunter. All McClain needs to do is use training camp and the preseason to close the deal.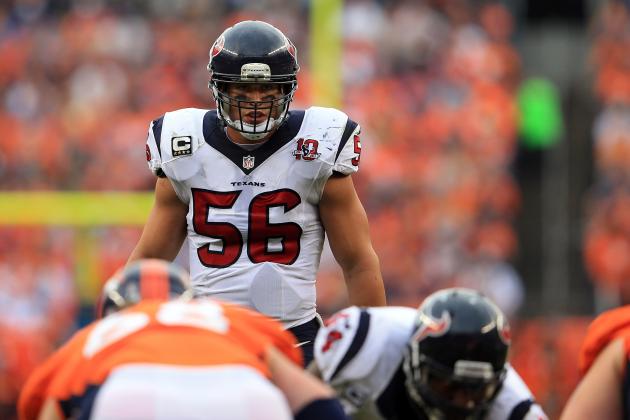 Doug Pensinger/Getty Images

ILB1: Brian Cushing
Cushing is back, and all will be well—but first he has to get on the field.
Recovering from an ACL injury takes time, although the Adrian Peterson miracle from last season probably ruined things for every other athlete with the same type of injury. Cushing spent OTAs working with the trainers, and he will still be taking it slow come training camp.
There is no denying the gradual decline the Texans' defense took after his injury last season. The problems went beyond the loss of his skills, and having him wreak havoc on offenses once again will be good to see.
ILB2: Darryl Sharpton
Sharpton is another inside linebacker trying to come back from an injury-riddled season. His departure was not as noticeable as Cushing's, until it shot Barrett Ruud up the depth chart.
So far, he has shown no ill effects and does not appear to have lost any quickness. Once the hitting starts for real, everyone can breath a little easier when it comes to the Texans inside linebackers this season.
Reserve
Tim Dobbins
When a player misses time due to injury, everyone understands. When a player decides a voluntary endeavor can be missed, the fur starts flying.
Dobbins thought that finishing a remodeling job superseded his presence at OTAs. His justification was as clear as mud, likely adding to the ill feelings surrounding this incident.
All will be forgiven once the season starts in earnest and the fans really have something to worry about.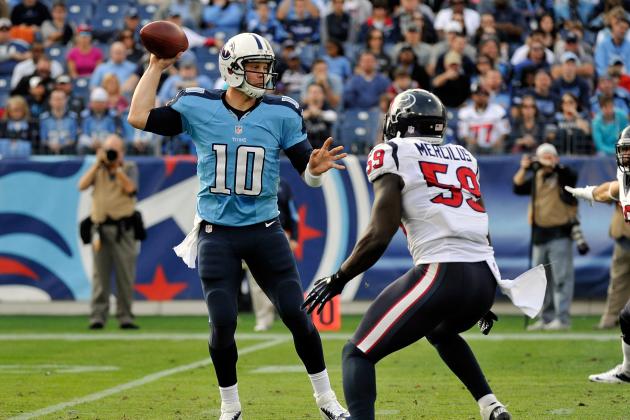 Frederick Breedon/Getty Images

SLB1: Brooks Reed
Despite what you may have heard, Reed will be the starter at outside linebacker. The time he has spent inside during OTAs was to get familiar with the differences between the two positions.
The value he creates by playing both could be significant. Lining up over the "A" or "B" can create just the right kind of confusion over his intentions—will he stay in the lane, shoot the gap, or fade into coverage?
This is the sort of deception that makes Brian Cushing so formidable. Having two players who are capable of the same techniques doubles the fun for the defense.
WLB1: Whitney Mercilus
You want to talk about pressure? This is the man who has to deal with it and bring it at the same time.
The "Will," or weak side linebacker, position in the 3-4 defense is supposed to be the No.1 pass-rusher. Mercilus realizes this while understanding how ineffective this position was last season.
Then there are the run and pass-coverage duties that are also part of the job description. Mercilus knows that he has the size and quickness for this role. Now, he just has to get his head wrapped around all of it.
Reserves
Bryan Braman
Braman made his bones on special teams as a "seek and destroy" weapon. Now, he is being asked to harness that same ferocity in the pass-rush department.
There is more to playing outside linebacker than flying all over the place. You have to read the play and then decide what to do.
The best thing for Braman is to watch and learn. The time will come for him to unleash his inner madman.
Sam Montgomery
Montgomery is following in the footsteps of Mercilus. He is trying to go from a hand-in-the-dirt defensive end position to outside linebacker, and he will be doing so as a rookie.
The business of making plays in space instead of pursuing the ball takes some getting used to. According to Tania Ganguli of Ultimate Texans, he has turned to Antonio Smith for emotional support, but only time will tell how long it takes for that coaching to translate to the field.
Stephanie Stradley of the Houston Chronicle feels that Montgomery made more progress than any other player in OTAs. He still has all of training camp to continue in that direction.
Trevardo Williams
Williams was listed as a defensive end in college, but he did play in a two-point stance at times. The linebacker position is not a entirely new experience for him.
That serves to put him about two steps ahead in his thousand-mile journey. As a rookie, he is also adapting along the same lines as Montgomery, and he is undoubtedly going through the same growing pains.
When he ran track in high school, his speed was evident. A linebacker that finished second at the state finals in the 100-yard dash for three consecutive years could put him in elite company once he masters the intricacies of the game.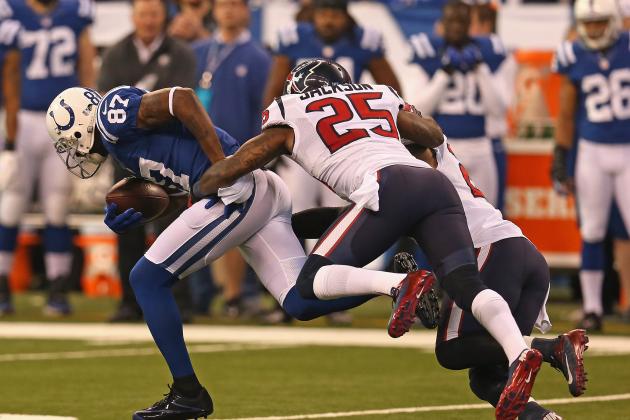 Jonathan Daniel/Getty Images

LCB1: Kareem Jackson
Jackson was thrown into the fire as a rookie in 2010, and everyone got burned—in particular defesnvie coordinator Frank Bush, who was fired and replaced by Wade Phillips.
A lot has changed in three years. Pro Football Focus has christened Kareem "A Secret Superstar, " and it was apparent that something was different in the team's Week 12 matchup against the Detroit Lions.
Calvin Johnson went from killing the Texans in the first half with 103 yards and a touchdown to having just three catches for 37 yards in the second half. The reason why was because Jackson took over for Johnathan Joseph in covering Megatron.

RCB1: Johnathan Joseph
Joseph is still one of the top shutdown corners in the NFL. It took not one, but two sports hernias, to knock him from his superstar status last season.
It was very disturbing to see him play like a mere mortal. By all indications, though, he is now fully healed and ready to resume getting between those oversized wide receivers and the ball.
Reserves
Brice McCain
The words "injury" and "recovery" keep popping up so much that it is no wonder why the defense underwent a gradual collapse last year.
McCain was charged with covering slot receivers as the Texans' nickel cornerback. After he broke his foot, the job went to Brandon Harris, who had barely played a down to that point.
Brice had played better in 2011 but seemed to be getting picked on by running backs and tight ends in 2012. They were knocking him off his coverage just enough to get open.
No one feared Johnathan Joseph as the season wore on, either, so that may have entered into it. A healthy 2013 for both players should have a positive effect.
Brandon Harris
Harris got the Kareem Jackson treatment when he had to take over for McCain. His lack of experience was exploited by every quarterback he faced, from Tom Brady to Christian Ponder.
Now that he has returned to the backup role, his education can proceed at a more measured pace. This was a luxury not afforded to Jackson, and Harris should put it to good use.
Roc Carmichael
Carmichael is the lowest man on the totem pole, but he still has a job to do on this team.
As one of the fastest players on the squad, he can help upgrade the efficiency of the special teams unit. When the inevitable injuries occur, that will be his chance to show what he has learned in the last two years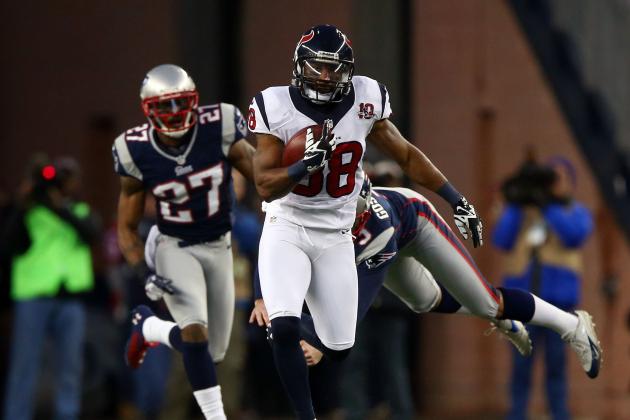 Elsa/Getty Images

FS: Ed Reed
Reed finally made it into town but failed to set anyone's mind at ease. He still does not know when he will be able to practice, much less play on the field.
Then only thing he is sure of is that Tom Brady caused the injury. The future Hall of Fame safety looked like a solid—albeit aging—addition to the Texans' secondary. Now it all seems to be playing out like a daytime drama.
This will have to become less of a distraction or it will end up looking worse than the Ahman Green signing.
SS: Danieal Manning
At first, Manning must have been happy to see Reed come on board. Then he realized the Glover Quin role would be his to fill.
That means that he will be playing like a safety/linebacker in the dime packages. That is a tough job for anyone, much less someone used to playing deep coverage.
But Manning is a trooper, and he was even willing to return kickoffs when things were going so poorly for the team's special teams unit in 2012. There was a thought that moving Brooks Reed to inside linebacker might eliminate the old Glover Quin assignment.
Manning would certainly appreciate that change in strategy.
Shiloh Keo
As long as Reed remains questionable, Keo takes a step closer to becoming more than just a special teams guy.
But Keo has only slightly more time playing man coverage at the NFL level than rookie D.J. Swearinger. It hardly seems the time to throw him into the breech, but there may be little choice.
D.J. Swearinger
Swearinger has the swagger to excel in the pros, and the Ed Reed situation is forcing him to learn quickly.
He is playing safety in the base packages with the second unit, but according to Scurfield, he has been playing in dime packages with the first unit. This is all designed to get him up to speed as soon as possible.
It is conceivable that Manning and Swearinger could be the starting safeties in Week 1. Reed keeps talking about being ready when it really counts, which can be interpreted any number of ways.
It implies that everyone better be ready to get along without him for some time.
Eddie Pleasant
Pleasant is just like Roc Carmichael, but with even fewer snaps to his credit. Just like every other safety not named Reed, he is going to have to take a step up in class rather quickly.
Wade Phillips does not usually make any distinction between strong and free safety. Pleasant is physically more capable than Carmichael, but he will probably have to cover whatever receiver comes his way.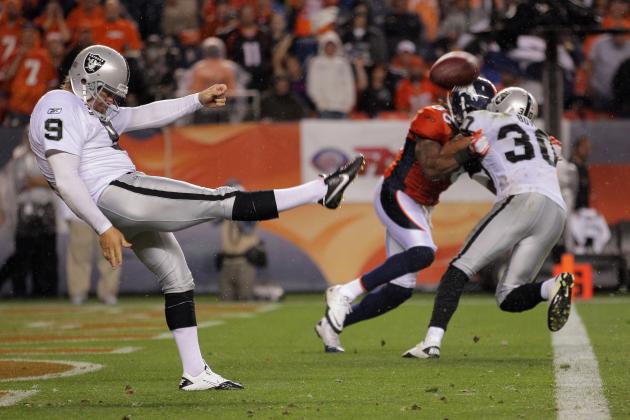 Doug Pensinger/Getty Images
Shane Lechler
K: Randy Bullock
Bullock is expected to handle his position without interference from another placekicker.
Without a veteran kicker to show him the ropes, special teams coordinator Joe Marciano or his assistant Bob Ligashesky must be the ones to tutor him. The Texans do not employ a kicking coach, which would leave one of these gentlemen in charge.
P: Shane Lechler
Lechler obviously does not need a coach or competition to bring out the best in him.
A punter has yet to make it into the Hall of Fame, but this former Raider has the qualifications to at least get on the ballot.
The problem with special teams last season was not the kicker. Donnie Jones was as good as any punter in the league last season. It was the kick coverage that was terrible. Lechler will not be expected to punt the ball and be the gunner, so there is other work that needs to be done.
LS: Jon Weeks
Weeks is the most specialized of the specialists. His only function is to snap the ball for punts, field goals and extra points. This is his fourth year with the Texans, meaning must be very good good at his job.
The team's roster lists him as the long snapper, but Pro Football Reference classifies Weeks as a center. At 5'10" and 248 pounds, let's hope he never has to line up against Haloti Ngata on a third-and-short call.