MLB Contenders with the Most Valuable Chips to Play with During Trade Season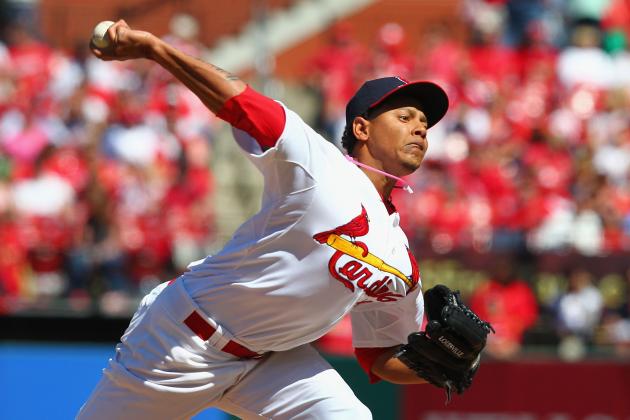 Dilip Vishwanat/Getty Images
Carlos Martinez might not crack the Cardinals rotation in 2013 but he could be the centerpiece in a deal to land a frontline starter.
Back in early April, I wrote about five teams that appeared to have the most prospect depth to make trades later in the season. While we're still at least a month away before teams start getting really serious about making trades, it's a good time to update the list, considering all of the injuries that may have decimated roster depth, as well as players exceeding or falling short of expectations early in the season.
A couple of the same teams are still on the list, although the bar has already been lowered for the term "strong organizational depth." Each of the five teams referenced in the previously mentioned article has lost at least one key player to injury, and it's hard to find a team in the majors which hasn't been affected by the injury bug.
Not surprisingly, each of the five teams from the early-season article (Cardinals, Padres, Pirates, Rangers, Rays) is playing well. Having strong organizational depth has certainly helped fill any holes on the roster created by injury or by players not performing well. In most cases, though, their surpluses of depth, which would've increased the likelihood of a trade, are all but gone.
The quantity of trade chips each team possesses has very likely decreased since April, but here are the five teams in best positions to make deals.
Begin Slideshow

»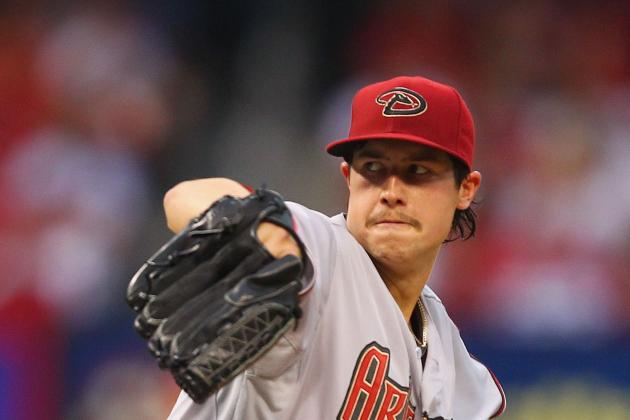 Dilip Vishwanat/Getty Images

The first-place Diamondbacks are proving that the numbers can lie. Several lineup regulars are struggling, including Miguel Montero (.594 OPS in 58 games), Cliff Pennington (.617 OPS in 51 games), Martin Prado (.640 OPS in 64 games) and Cody Ross (.689 OPS in 50 games), and three starting pitchers—Ian Kennedy, Brandon McCarthy and Wade Miley—have ERAs around 5.00. The bullpen also has 13 blown saves, tied for the most in the majors.
And yet, they are off to a 37-29 start with a two-game lead in the NL West. It helps that Paul Goldschmidt has turned into one of the better hitters in the league and Gerardo Parra and Didi Gregorius have also been pleasant surprises. Pat Corbin is this year's version of Wade Miley, a lefty with a back-of-the-rotation profile turned Cy Young candidate.
I guarantee you, however, that none of the other four teams in the NL West expect the Diamondbacks to run away with the division. The fourth-place Padres are looking strong with a 27-19 record since a 5-15 start, and even the last-place Dodgers could be scary once they get to full health. It wouldn't be a surprise if general manager Kevin Towers utilized one of several strong trade chips to upgrade his 25-man roster.
Here's a list of potential trade chips with value that aren't expected to play major roles on the 2013 major league team:
Matt Davidson, 3B: .883 OPS, 9 HR in 62 games (AAA)
Chris Owings, SS: .820 OPS, 11 SB in 66 games (AAA)
Brandon Drury, 3B: .917 OPS, 10 HR in 61 games (A)
Randall Delgado, SP: 6.44 ERA, 57.1 IP, 67 H, 32 BB, 49 K (AAA)
Tyler Skaggs, SP (pictured): 5.23 ERA, 51.2 IP, 54 H, 17 BB, 54 K (AAA)
Zeke Spruill, SP: 3.43 ERA, 81.1 IP, 79 H, 29 BB, 40 K (AAA/AA)
Archie Bradley, SP: 1.31 ERA, 75.2 IP, 54 H, 34 BB, 90 K (AA/A+)
Andrew Chafin, SP: 3.62 ERA, 74.2 IP, 75 H, 35 BB, 60 K (AA/A+)
David Holmberg, SP: 2.45 ERA, 80.2 IP, 75 H, 23 BB, 50 K (AA)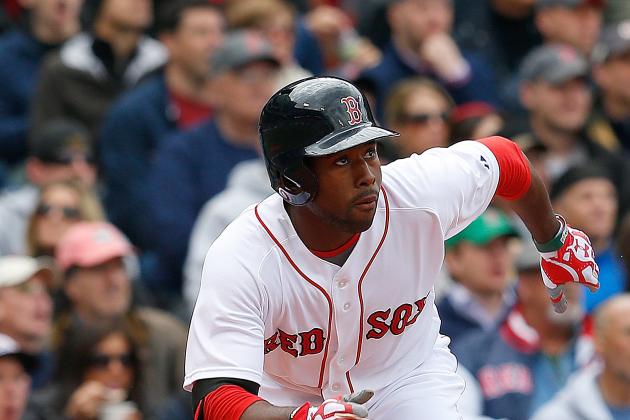 Jim Rogash/Getty Images

Not only has their offseason roster makeover been a success, but the farm system is looking strong and might even be as good as any in baseball after coming into the season ranked 16th by Baseball Prospectus.
Defensive whiz Jose Iglesias is finally showing some offensive ability (.449 BA, 35-for-78), and outfielder Daniel Nava's breakout season at age 30 (.870 OPS in 60 games) has stabilized a position that could have easily been a problem area.
At 41-26, the Red Sox are at the top of the AL East, but three very good teams—Orioles, Rays, Yankees—are within five games and unlikely to go away anytime soon. If they're going to pull away from the pack, the Red Sox might need to add another impact bat or starting pitcher by the trade deadline. They have the resources to make it happen.
Here's a list of potential trade chips with value that aren't expected to play major roles on the 2013 major league team:
Ryan Lavarnway, C: .764 OPS in 35 games (AAA)
Jackie Bradley, Jr, OF (pictured): .982 OPS, 3 SB in 22 games (AAA)
Bryce Brentz, OF: .831 OPS, 12 HR in 56 games (AAA)
Jeremy Hazelbaker, OF: .754 OPS, 16 SB in 56 games (AAA)
Michael Almanzar, 3B: .826 OPS, 11 HR in 60 games (AA)
Xander Bogaerts, SS: .909 OPS, 5 SB in 56 games (AA)
Garin Cecchini, 3B: 1.009 OPS, 15 SB in 60 games (A+)
Mookie Betts, 2B: .930 OPS, 8 HR, 13 SB in 56 games (A)
Rubby De La Rosa, SP: 3.29 ERA, 38.1 IP, 25 H, 20 BB, 38 K (AAA)
Allen Webster, SP: 3.38 ERA, 45.1 IP, 28 H, 21 BB, 50 K (AAA)
Brandon Workman, SP: 3.53 ERA, 71.1 IP, 59 H, 20 BB, 78 K (1 start in AAA/AA)
Matt Barnes, SP: 5.87 ERA, 53.2 IP, 62 H, 16 BB, 64 K (AA)
Drake Britton, SP: 3.25 ERA, 72 IP, 69 H, 25 BB, 67 K (AA)
Anthony Ranaudo, SP: 59.1 IP, 39 H, 19 BB, 63 K (AA)
Henry Owens, SP: 2.95 ERA, 61 IP, 42 H, 25 BB, 73 K (A+)
Brian Johnson, SP: 38 IP, 36 H, 17 BB, 39 K (A)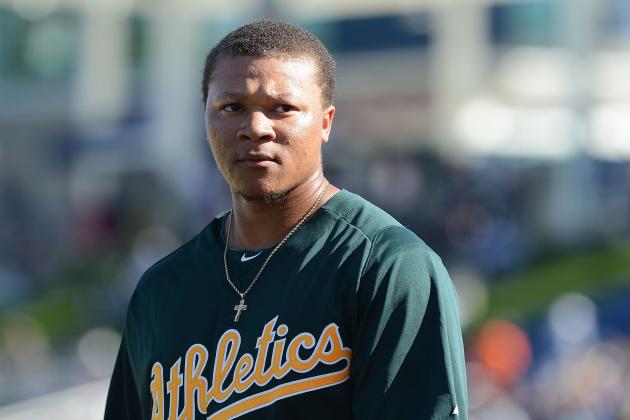 Jennifer Stewart/Getty Images

The A's have cooled off considerably from their second-half run of 2012. And yet, they're still 40-27 and leading the AL West in what is currently a two-horse race between them and the Rangers.
While I no longer consider Texas a team with several valuable trade chips with so many key players hurt, the A's are fairly healthy and without many holes on the roster. So it's likely that all minor league prospects would be available in a deal if it can improve the 25-man roster.
Here's a list of potential trade chips with value that aren't expected to play major roles on the 2013 major league team:
Grant Green, 2B: .822 OPS in 59 games (AAA)
Jemile Weeks, SS/2B: .794 OPS, 9 SB in 58 games (AAA)
Michael Choice, OF (pictured): .842 OPS, 10 HR in 62 games (AAA)
Michael Taylor, OF: .869 OPS in 39 games (AAA)
Max Muncy, 1B: .916 OPS, 16 HR in 66 games (A+)
Addison Russell, SS: .758 OPS, 7 SB in 52 games (A+)
Renato Nuñez, 3B: .833 OPS, 12 HR in 59 games (A)
Sonny Gray, SP: 2.48 ERA, 76.1 IP, 71 H, 26 BB, 77 K (AAA)
Arnold Leon, SP: 3.98 ERA, 52 IP, 61 H, 10 BB, 37 K (AA)
Drew Granier, SP: 3.25 ERA, 83 IP, 71 H, 40 BB, 97 K (A+)
Raul Alcantara, SP: 2.44 ERA, 77.1 IP, 84 H, 7 BB, 58 K (A)
Michael Ynoa, SP: 2.43 ERA, 40.2 IP, 34 H, 13 BB, 35 K (A)
J. Meric/Getty Images

Gerrit Cole's impressive big league debut on Tuesday was a reminder of why the Bucs were unwilling to trade a top prospect for an impact player over the last two seasons. But would they pull the trigger now with a team that could be their most impressive since the early '90s and still only the third best in the division?
At 39-26, the Pirates are three games behind the Cardinals in the NL Central and a half-game back of the second-place Reds. They've had several injuries in their starting rotation, which is why Cole finally got the call. They're getting healthier—Charlie Morton will make his 2013 debut on Thursday, James McDonald is on a rehab assignment—and the overall pitching depth in the organization is strong.
Adding an impact corner outfielder to the middle of the lineup could not only put this team in a terrific spot to break their string of 20 consecutive losing seasons, but they'll have a very good chance to go deep into the playoffs.
Here's a list of potential trade chips with value that aren't expected to play major roles on the 2013 major league team:
Tony Sanchez, C: .922 OPS, 7 HR in 48 games (AAA)
Alen Hanson, SS: .756 OPS, 15 SB in 58 games (A+)
Gregory Polanco, CF: .836 OPS, 6 HR, 24 SB in 57 games (A+)
Stetson Allie, 1B: 1.033 OPS, 17 HR in 64 games (A)
Dilson Herrera, 2B: .778 OPS, 9 SB in 53 games (A)
Josh Bell, OF: .832 OPS, 8 HR in 63 games (A)
Stolmy Pimentel, SP: 3.61 ERA, 77.1 IP, 74 H, 35 BB, 61 K (AA)
Jameson Taillon, SP (pictured): 3.11 ERA, 66.2 IP, 64 H, 27 BB, 71 K (AA)
Nick Kingham, SP: 3.09 ERA, 70 IP, 55 H, 14 BB, 75 K (A+)
Orlando Castro, SP: 1.83 ERA, 68.2 IP, 59 H, 5 BB, 59 K (A)
Tyler Glasnow, SP: 2.92 ERA, 52.1 IP, 23 H, 35 BB, 80 K (A)
Luis Heredia, SP: Short-season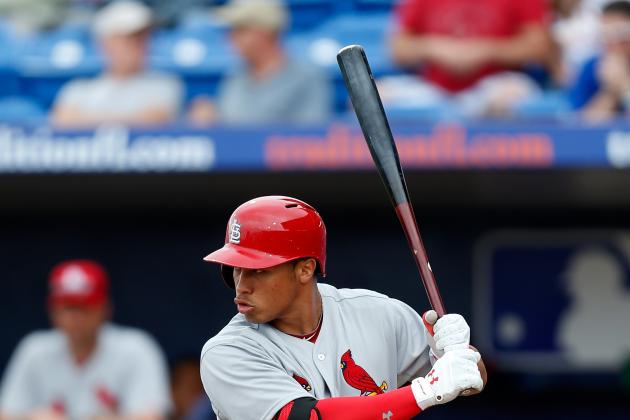 Chris Trotman/Getty Images

Losing starter Jaime Garcia (shoulder surgery) and closer Jason Motte (Tommy John surgery) for the season, in addition to being without longtime ace Chris Carpenter indefinitely, would've been devastating to most teams. But these are the St. Louis Cardinals.
When you're the most brilliantly run franchise in baseball, according to me, you can overcome injuries to key players because you draft and develop talent that isn't rushed to the majors. With the best record in the majors, at 42-23, the Cardinals look like a team with few weaknesses, although holding off the Reds and Pirates in the NL Central could be a challenge.
With so many young and inexperienced players on the roster, the Cardinals could have a tough time maintaining their current success over a 162-game season. Adding another veteran or two to the bullpen and possibly the rotation could be the key to a strong finish.
Here's a list of potential trade chips with value that aren't expected to play major roles on the 2013 major league team:
Kolten Wong, 2B (pictured): .833 OPS, 9 SB in 58 games (AAA)
Ryan Jackson, SS: .844 OPS in 59 games (AAA)
Oscar Taveras, OF: .829 OPS in 36 games (AAA)
James Ramsay, OF: 1.038 OPS in 18 games (A+)
Jacob Wilson, 2B: .835 OPS, 9 HR in 62 games (A)
Carlos Martinez, SP: 1.86 ERA, 29 IP, 28 H, 6 BB, 26 K (AAA/AA)
Michael Wacha, SP: 2.05 ERA, 52.2 IP, 35 H, 15 BB, 34 K (AAA)