2 Undrafted Bengals Who Could Prove to Be Gems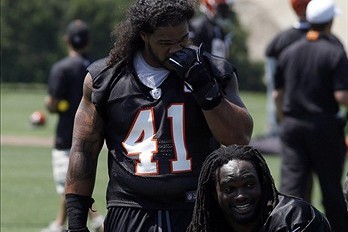 David Kohl-USA TODAY Sports

The 2012 NFL season ignited flames in the hearts of Cincinnati Bengals fans that hadn't seen fire in quite some time.
Wide receiver A.J. Green sustained a nine game streak in which he caught at least one touchdown (10 touchdowns in nine games) breaking the Bengals single-season record for consecutive games with a touchdown catch.
Defensive tackle Geno Atkins led all NFL interior linemen in sacks with 12.5 on his way to joining Green, and two others, in Hawaii for the Pro Bowl. Not to mention the glimpses of excellence that fans saw from the likes of wide receiver Mohamed Sanu.
Possibly the most surprising performance was that of Vontaze Burfict. Burfict was at one time considered a lottery pick but found himself undrafted after the 2012 draft. Bengals head coach Marvin Lewis saw something in Burfict, and 127 regular season tackles later, he knew he had made the right move.
Looking ahead to 2013, the Bengals have a slew of undrafted players vying to make the final 53-man roster. Statistics show that all but one of them will be sent home prematurely. In fact, according to the St. Louis Post Dispatch, 20 percent of the league's starters began as undrafted free agents.
Before those decisions have to be made, here's a look at two players that could follow in Burfict's undrafted footsteps and silence the critics in 2013.
Begin Slideshow

»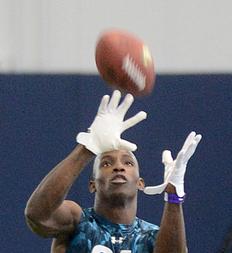 Weighing in at 168 pounds at the NFL Combine, it's no surprise that Bengals undrafted rookie Onterio McCalebb ran the fastest 40-yard dash recorded there this year. Despite having less weight to carry, McCalebb expected his 4.34 second 40-yard time to be enough to get him drafted.
Rather, he was signed as a rookie free agent—but that was only the beginning. Once McCalebb arrived in Cincinnati, he was asked not to play running back like he did for four years at Auburn, but rather to play cornerback, a position he hadn't played since high school.
Regardless, the Fort Meade, FL native wouldn't be deterred. He said, "I haven't played it in some years, but I'm going to compete out there" (Bengals.com).
A player McCalebb's size would usually struggle to make a 53-man roster. He was converted to cornerback so that the Bengals could "get his sub-4.3 speed and 170 pounds somewhere on the roster" (Bengals.com).
One thing that will severely enhance McCalebb's chances of making the roster will be his contributions on special teams. Not only is he experienced as a returner, but look for special teams coordinator Darrin Simmons to use his speed on punt coverage and kickoff coverage as well.
The cornerback position is deep for the Bengals, with veterans Leon Hall and Terence Newman returning to help Dre Kirkpatrick who essentially redshirted his rookie year. Veteran Adam Jones has been a leadership presence, but ramifications for his recent arrest for assault remain to be seen. This could result in one less person for McCalebb to compete with, but there are still several players ahead of him.
If McCalebb is to be the breakout undrafted free agent from this year's class, his contributions will come on special teams. With the height of DeSean Jackson and the speed of Megatron, McCalebb has a unique skill set and could prove to be a steal by the end of the season.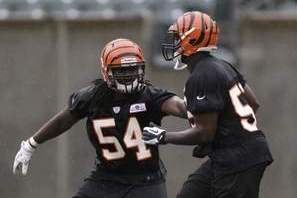 Breaking into the NFL fraternity is no easy task for most football players. Even some people with a chance of making it to the league have trouble. In fact, rookie Onterio McCalebb got some help from Bengals legend Ken Riley.
Coming from Southern Illinois as an undrafted rookie, DiManche's journey to the NFL is more the norm in the linebacker's room than it is an exception. DiManche will try to join the likes of James Harrison, Emmanuel Lamur and Vontaze Burfict, who were all undrafted at the linebacker position.
With such similar paths, DiManche has the opportunity to leverage the wisdom of the other linebackers and combine it with the skills that got him 38 tackles for loss in three seasons at Southern Illinois (Cincinnati.com).
DiManche received the second-largest signing bonus of all undrafted free agents. Bengals reporter Joe Reedy of the Cincinnati Enquirer believes he has a good shot to make the final roster (Cincinnati.com).
Just like McCalebb, DiManche can utilize special teams as a chance to increase his value to the team. He has played strong-side, or "SAM", linebacker thus far, but could really make an impact on punts and kickoffs.
Dan Skuta was a special teams staple in Cincinnati but left this offseason to the 49ers—DiManche could fill that role and step in to make an immediate impact.