Who Won't Be a Philadelphia Eagle By September?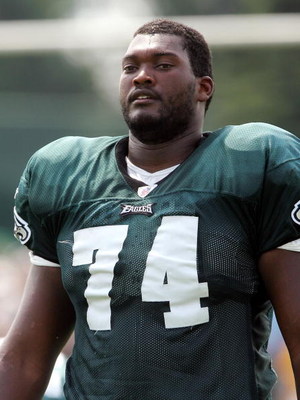 The NFL offseason is essentially over with mini-camps in session, but the current rosters are far from the completed edition. For starters, each team at the times has between 80 to 85 players on its roster, a figure that has to be trimmed down to 53.
The objective is to have the best team assembled, but we all know talent isn't the only factor in decision-making. The Philadelphia Eagles are no exception to this. For various reasons, there are going to be veterans that get shown the door. Whether those players entered this season in the coaches doghouse, or an undrafted rookie shocks everyone to earn a spot, it's bound to happen.
There are also players who made still hold value, but are better with another team—or whom the Eagles want to use as trade bait.
Who the Eagles decided to move on without remains to be seen, but I have an idea of who better bring their "A" game and more if they want to remain in midnight green.
Sheldon Brown, CB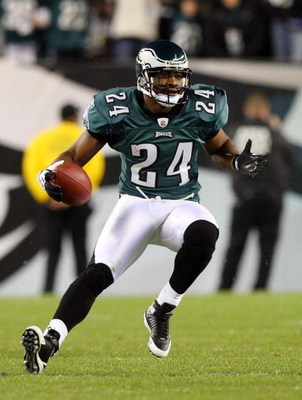 I love Sheldon Brown as a player and he's the best corner the Eagles have to start opposite Asante Samuel, but his public outburst about his contract wasn't well-received.
The front office's stance is that he won't be traded, but there's no way they can tell me that the trade for Ellis Hobbs didn't at least say, "just in case."
Will Brown remain an Eagle? No.
The Eagles aren't just going to give Sheldon away, but some team in need of of an experienced starting corner is taking notes to put together an offer.
Also, I don't see the Eagles keeping two starting corners (Brown and Hobbs) who both make less money than the recently extended Joselio Hanson.
Reggie Brown, WR
The 2005 high second round pick has shown flashes of brilliance, but Brown's inconsistency has been a huge disappointment.
He said he had no idea why he was a healthy scratch down the stretch of last season while DeSean Jackson was putting up franchise numbers for a rookie receiver.
While he's talented and he still has a chance to become a productive receiver, Reggie Brown's biggest problem is he just doesn't see hungry enough to be that guy.
Will he remain an Eagle? Highly unlikely.
There are three things to consider:
1. The dead money that would go against the cap if he's shipped elsewhere. 2. Kevin Curtis' health (hernia recovery).
3. Can Reggie find a way to be productive if there's no pressure on him to try to be a No. 1?
Darren Howard, DE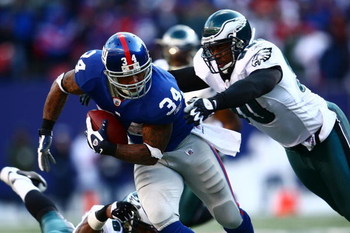 Howard had his best season as an Eagle in 2008. He produced 10 sacks and was a reliable part of a rotation that had him as a defensive end and tackle.
The problem with Howard is he turns 33 in November and was a disappointment until last year. The question is, which Darren Howard shows up in 2009? The 2008 stud or the 2007 disappointment?
Will he remain an Eagle? Chances are Howard remains an Eagle for one more year.
But his trade value is at its highest point right now. If right team comes along with an offer that includes him as part of the package, the Eagles have to look into it.
Jaqua Parker, DE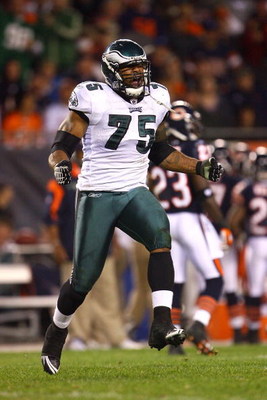 While he didn't have 10 sacks (he had five), Parker is pretty much in the same boat as Darren Howard. His age and current contract are going to be a huge factor in whether the Eagles want to keep him.
The Birds currently have seven defensive ends on the roster, and normally keep four or five. Victor Abiamiri's health and the progress of undrafted rookie Josh Gaines will determine who's active on the regular-season roster.
Will he remain an Eagle? Probably so.
The Eagles will actually lose cap room (approx. $400K) if they rid themselves of Parker.
Kyle Eckel, FB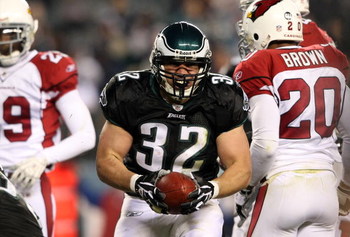 Eckel was a good stop-gap solution once the Eagles figured out that Tony Hunt wasn't the answer. But, there's a reason the Eagles aggressively pursued Leonard Weaver.
Will he remain an Eagle? No.
He may make it to the third preseason game, but not long after that.
Omar Gaither-LB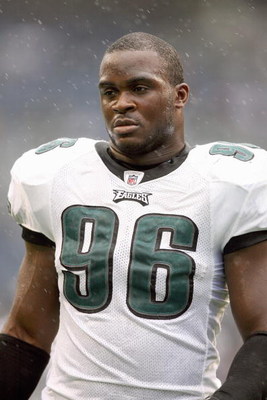 Gaither has to be upset that he lost his starting spot to Akeem Jordan during the regular season last year. How hungry he is to regain that spot should be an interested story over the summer.
The Eagles made a lot of moves to fit him into the starting linebacker corp. In 2007, they cut Jerremiah Trotter before the start of the season because they believed Gaither was ready to take over in the middle. In 2008, the birds felt Stewart Bradley was the answer in the middle and cut Takeo Spikes to move Gaither over to weakside linebacker. After all of that he found himself in Jim Johnson's doghouse.
Will he remain an Eagle?: More than likely yes. I believe Gaither has a lot to prove and will win his starting spot back. If not and Jordan is the starter, Gaither could possibly be trade bait.
Lorenzo Booker-RB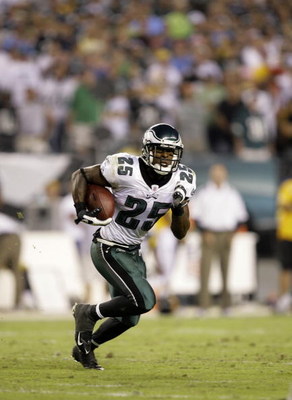 Big question: Where was Booker at the end of the season when Westbrook was hobbling on one leg?? With the risk factor of Correll Buckhalter as a starter, the Eagles made Kyle Eckel the primary backup while Booker was a healthy scratch.
That leads to an even bigger question: What did the Eagles give up a 2008 4th rounder for??
Will he remain an Eagle?: No. It has nothing to do with drafting LeSean McCoy. It'll have a lot to do with an undrafted sibling of a Pittsburgh Steeler. Walter Mendenhall(brother of Rashard) brings size, strength and toughness and a different style of rushing from Westbrook and McCoy.
Booker was brought in as a 3rd down, pass catching back and couldn't get on the field to do that.
Winston Justice-OT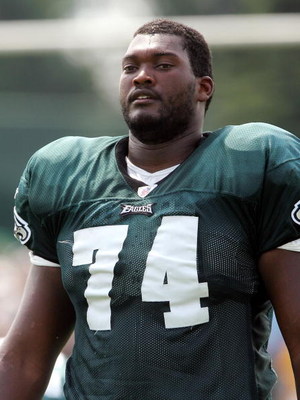 Every player in the NFL has had a bad game, so the 2007 game against the Giants should be an afterthought. The issue with Justice is the same as Booker and R. Brown.
There's no room for players who coaches don't trust to dress even if their healthy. Especially, the two starting tackles are well into their 30s and wearing down as the season goes.
Will he remain an Eagle?: no, No, NOOO!!! The Eagles are rumored to try to trade him, but I doubt if anyone takes his current contract.
He'll be released over the summer and probably signed to a 1 yr minimum deal elsewhere.
Matt Schobel-TE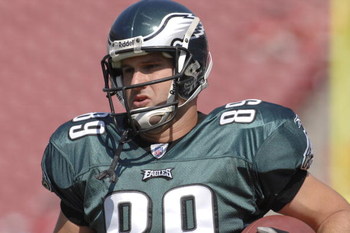 No matter what, Schobel will remain a third string tight end. The problem is he'll be a 31 year old third stringer making more money than the two guys in front of him(Brent Celek and rookie Cornelius Ingram).
Will he remain an Eagle?: Possibly not. It'll depend on what free agent signee Eugene Bright brings to the table.
At 6'4", 268 lbs, if Bright proves to be a good enough blocking TE we'll probably be saying good bye to Schobel.
Dan Klecko-TE/DT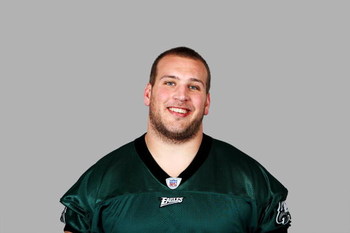 Klecko did whatever he was asked to do. Play defensive tackle? Sure. Switch to offense and take over at fullback? Why not!! He's willing to take on any role and perform it to the best of his abilities.
So what's the problem with Klecko?: No fullback/4th string defensive tackle should be counting almost $5 million against the cap.
Will he remain an Eagle?: I seriously doubt it. Not with the Eagles being more secure this year with Leonard Weaver at fullback.
I just can't see the money man Joe Banner seeing this being feasible.
Keep Reading

Philadelphia Eagles: Like this team?