World Cup 2014: Predicting the 32 Teams That Will Qualify for Finals in Brazil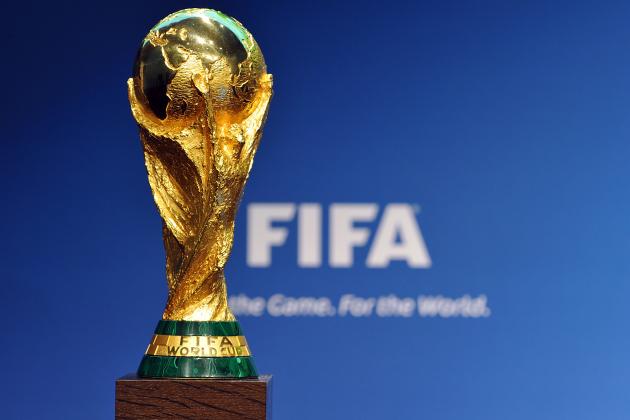 Harold Cunningham/Getty Images

Exactly one year before the 2014 World Cup gets underway in Brazil, it's time to take a look back at my predictions from nine months ago and forecast any alterations to the 32 nations that will compete at the finals.
So far, only two nations are confirmed as taking part in the showpiece FIFA event—Brazil as hosts and Japan from the Asian qualifying section.
Most regions do not have many more matches left to play in the qualifying rounds, with some countries needing only one or two more victories to seal their places in Brazil next year.
The qualifiers are spread out as follows:
Hosts, one place
Africa (CAF), five places
Europe (UEFA), 13 places
North and Central America and the Caribbean (CONCACAF), three or four places
Oceania (OFC), zero or one place
Asia (AFC), four or five places
South America (CONMEBOL), four or five places.
So here's another look at who could be competing exactly one year from today.
Begin Slideshow

»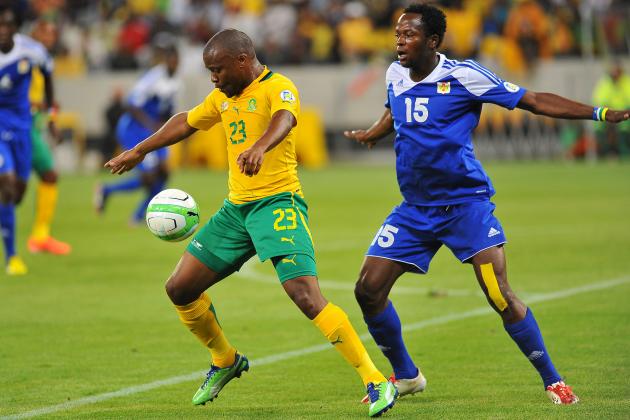 Gallo Images/Getty Images

Last time out, I took a look at the likely final group stage winners from the African region of qualifying before determining the strongest five squads who could potentially progress in the playoff round.
At present, the teams have played four of their six matches in this group stage, so progression or elimination is close.
| | | | |
| --- | --- | --- | --- |
| Group | Initially Predicted Winner | Current Group Leader | Revised Predicted Winner |
| A | South Africa | Ethiopia | South Africa |
| B | Tunisia | Tunisia | Tunisia |
| C | Morocco | Ivory Coast | Ivory Coast |
| D | Ghana | Zambia | Ghana |
| E | Congo | Congo | Congo |
| F | Nigeria | Nigeria | Nigeria |
| G | Egypt | Egypt | Egypt |
| H | Mali | Algeria | Algeria |
| I | Libya | Libya | Libya |
| J | Senegal | Senegal | Senegal |
In Group A, there is the all-important clash up next between leaders Ethiopia and second-place South Africa. A draw will mean Ethiopia have almost made it to the final playoff round—but I'm sticking with the original prediction, meaning South Africa must win away from home.
Tunisia are already almost assured of the top spot in Group B, needing just two points from their last two games.
Morocco have been disappointing, managing just one win from four games in Group C. Ivory Coast are the clear leaders and unbeaten so far, so they seem to be the obvious candidates to progress at this stage.
In Group D, the first vs. second clash takes place on the final match-day, with Ghana hosting Zambia. It will likely be win-or-bust for Ghana, but playing at home and with their superior individuals within the national team, they should make it through. I'll stick with them.
Groups E, F and G have been pleasingly accurate choices; Congo, Nigeria and Egypt are all clear leaders despite some strong opposition in their respective groups. Likewise, Senegal in the last Group should make it through.
Groups H and I are where there remains some uncertainty; Algeria are two points clear of Mali at present. With the leaders being at home in the final round of matches against their rivals, they have to now be favourites to go through.
In Group I, Libya are top ahead of Cameroon on goal difference, but with both sides level on six points, there's plenty to play for. Congo DR (five points) and Togo (four) aren't entirely out of it either in the closest group in the African section. I tipped Libya to make a shock early on in the qualification process though—so I'll boldly stick with my prediction.
All in all, that's just two alterations from the initial 10 choices, with Ivory Coast and Algeria now favourites to go through to the next stage.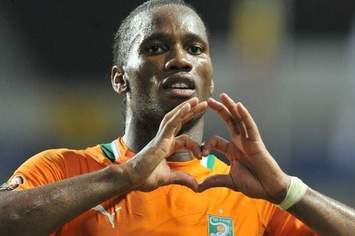 Courtesy of nyakpo.com
The 10 group stage winners in the CAF section are to be paired off in a final playoff round. The five winners of this two-legged affair will then progress to the FIFA World Cup finals.
As we do not yet know the pairings, one can only speculate which nations have the strongest squads and the momentum with them to progress. Last time out, I picked Morocco, Senegal, Egypt, Libya and Tunisia to go through.
Given the form being shown, Ivory Coast now have to be seen as a pretty certain pick to take one of the five spots, so they would automatically take Morocco's place after winning the group stage ahead of them. I'll also stick with Egypt, Tunisia and Libya to go through, leaving one from Ghana, Senegal and Nigeria as the most likely candidates for the last spot.
I predicted Senegal last time out—but I'm going to make an alteration now and predict that Ghana will make it back to the World Cup.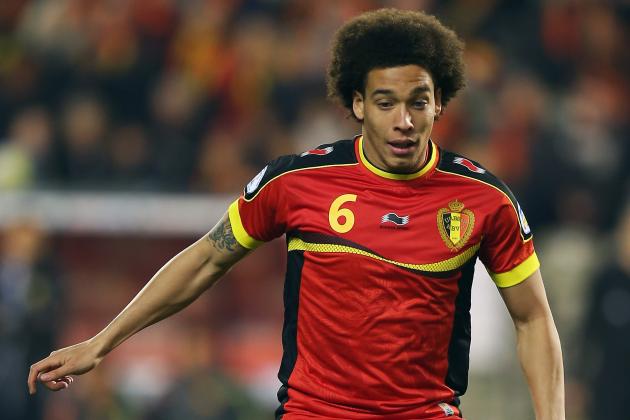 Bryn Lennon/Getty Images

The UEFA qualifying section is heating up nicely; most teams have just three or four matches remaining at this point. Again, all nine group winners were picked in September, so here I re-align my choices:
| | | | |
| --- | --- | --- | --- |
| Group | Initially Predicted Winner | Current Group Leader | Revised Predicted Winner |
| A | Belgium | Belgium | Belgium |
| B | Italy | Italy | Italy |
| C | Germany | Germany | Germany |
| D | Holland | Holland | Holland |
| E | Switzerland | Switzerland | Switzerland |
| F | Russia | Portugal | Russia |
| G | Slovakia | Bosnia-Herzegovina | Bosnia-Herzegovina |
| H | England | Montenegro | England |
| I | Spain | Spain | Spain |
Most of these groups are fairly straightforward at present.
Italy, Germany, Holland and Switzerland all have at least a four-point lead as things stand, while Bosnia and Belgium have three-point cushions with only a handful of matches to play. Slovakia have been lacking consistency, so Bosnia-Herzegovina are now the favourites from that group.
England and Russia are second in their respective groups, but games in hand leave them both in a good position to qualify top—if they win those matches, of course.
Last time out I also picked France, Denmark, Portugal and Turkey to go through via the playoff system.
France and Portugal should still go through one way or another, but Denmark have been extremely poor, winning just once from six games. Turkey are also struggling, so Croatia and the runners-up from Group C will go through—take your pick whether that is Sweden, Ireland or Austria, all of whom are on 11 points so far.
For predictions' sake, I'll take Ireland.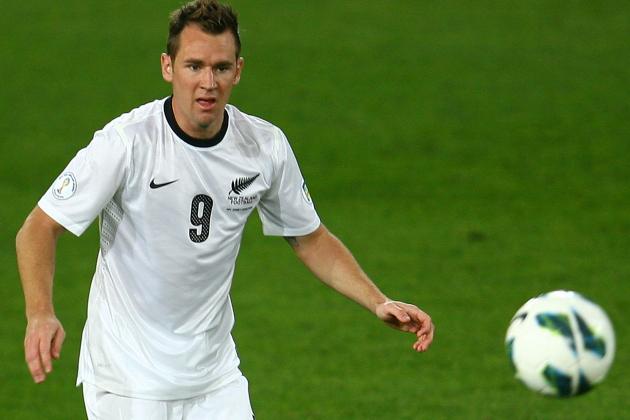 Teaukura Moetaua/Getty Images

The OFC region has already been played out in its entirety, with New Zealand winning the single playoff spot that this zone offers.
They will now have to beat the playoff candidate from the CONCACAF region over two legs to reach the finals.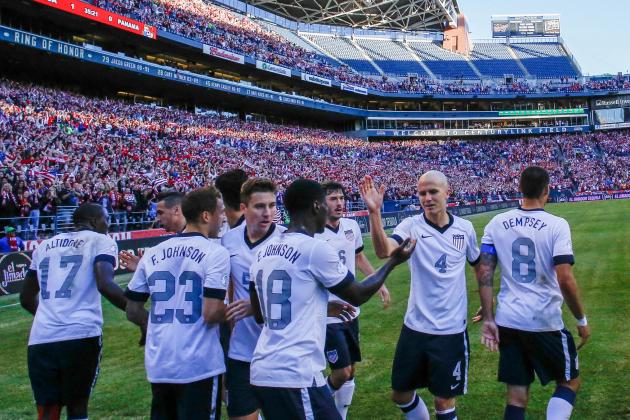 Otto Greule Jr/Getty Images

Back in September, the CONCACAF region was still in Round 3. I picked out USA, Jamaica, Mexico, Costa Rica, Canada and Panama to make it through to the hexagonal, the final stage. All were correct except for Canada, who were beaten to a spot by Honduras.
The top three at the end of the Round 4 group go through to the World Cup in Brazil next year, and USA, Mexico and Costa Rica were the three predicted to do so.
Given those three nations do indeed fill the top three spots at present, after at least five matches played for every team, I see no reason to alter the initial predictions!
Canada were picked to finish fourth and face New Zealand in the playoff match, so I'll opt for Panama to take their place instead.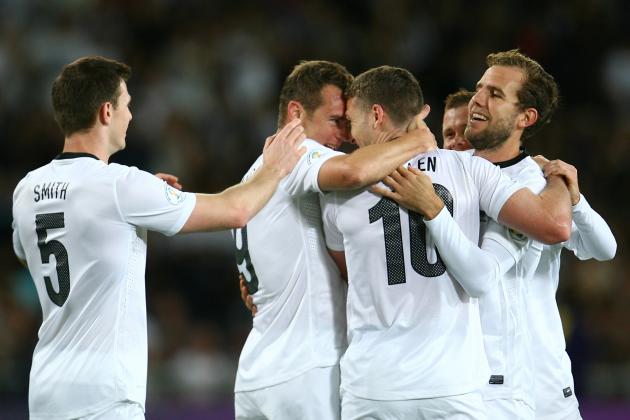 Teaukura Moetaua/Getty Images

Last time around, I picked New Zealand to triumph over Canada in the two-legged intercontinental playoff.
Panama are in this time instead of Canada—but it's still a New Zealand victory for their second World Cup appearance in a row.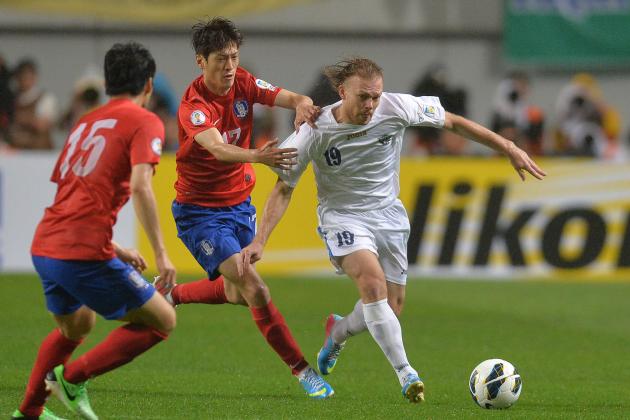 Atsushi Tomura/Getty Images

Last time out, I picked the two teams from each group in the Asian qualifying section who would get the automatic World Cup spots; Korea Republic and Iran from Group A and Japan and Australia from Group B.
Right now, those four teams do indeed occupy the four places to go to Brazil...but I'm going to predict Uzbekistan to do enough in their last match to leapfrog Iran and qualify in second place in Group A.
Korea Republic and Australia will also seal their spots, while Japan have of course already qualified.
The third-place playoff should see Iran face Oman, with Iran triumphing over two legs. That will put them through to the intercontinental playoff against the fifth-place side from CONMEBOL.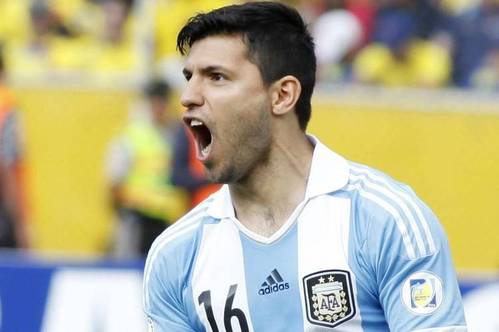 Courtesy of clarin.com
The big league of World Cup qualifying, South America's format is straightforward. Nine teams, one group stage, home and away matches, top four go through. Fifth-place earns the right to a playoff against AFC's fifth-best side—who I predicted to be Iran.
Back in September I foretold Argentina, Chile and Uruguay to qualify with ease, with Colombia taking fourth and Ecuador winning the playoff spot.
Fast-forward to June and those five are the top five, but not in the same order—Uruguay are in fifth, involved in what looks like a three-way battle for that vital playoff place.
Argentina are clear at the top, with the other three looking safe for the top four now with three or four matches still to play.
Uruguay have a game in hand, and a vital 1-0 away win over Venezuela recently should give them great confidence going forward to seal fifth place.
I'll stick, therefore, with the same five nations.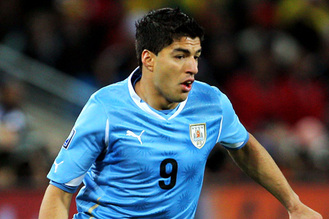 Courtesy of cbc.ca
So it's Uruguay vs. Iran in the playoff for the final World Cup spot—and on balance of squad ability, it has to be the South American side to progress.
Uruguay to go through.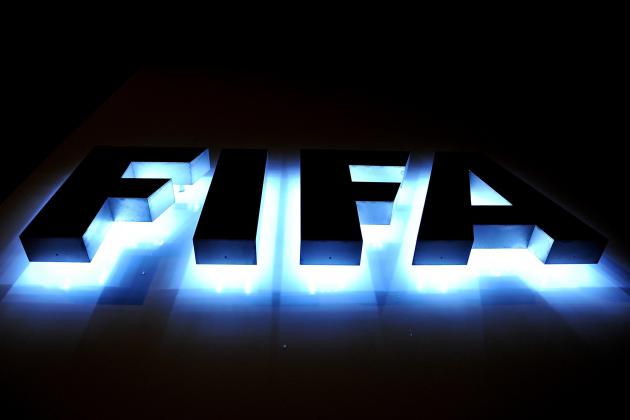 Harold Cunningham/Getty Images

Hosts (1): Brazil
CAF zone (5): Ivory Coast, Ghana, Egypt, Libya, Tunisia
UEFA zone (13): Belgium, Italy, Germany, Holland, Switzerland, Russia, Bosnia-Herzegovina, England, Spain, France, Portugal, Croatia, Ireland
OFC zone (1): New Zealand
CONCACAF zone (3): USA, Mexico, Costa Rica
AFC zone (4): Korea Republic, Japan, Australia, Uzbekistan
CONMEBOL zone (5): Uruguay, Argentina, Chile, Colombia, Ecuador