US Open Golf 2013: Hottest, Coldest Golfers Heading into Tournament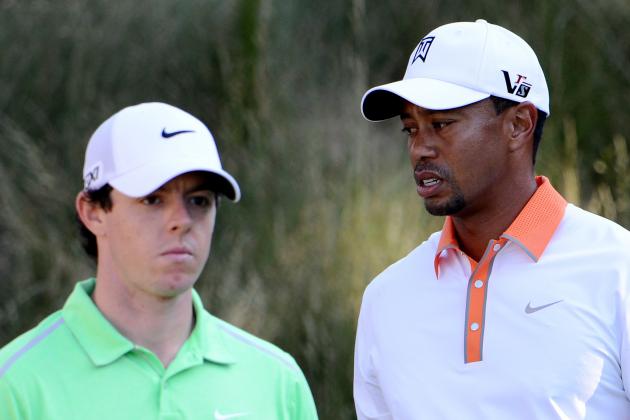 David Cannon/Getty Images

With the year's second major at hand, this is when the world's top golfers aim to have their game in a nice rhythm.
That is easier said than done, and as you'll see, there are three big names who have done a nice job with this and three big names who haven't.
Regardless of the state of their current game, these golfers will all be giving their best effort, as they try to tackle the home of the 113th U.S. Open: the Merion Golf Club.
Rain has softened this short course, so scores are likely to be far lower than we are used to seeing at the U.S. Open. Also, according to weather.com, "scattered storms" are expected for the first two rounds.
Hopefully, the weather doesn't disrupt what promises to be an exciting tournament.
Check out the full field here, and proceed to find the hottest and coldest golfers heading into this major.
*All stats via PGATour.com.
Begin Slideshow

»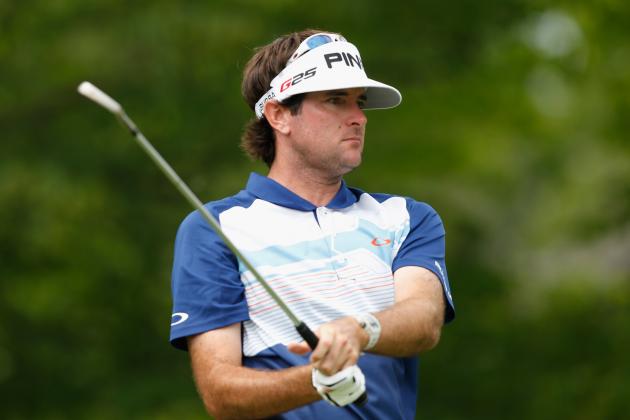 Scott Halleran/Getty Images

Bubba Watson was in solid form as he headed off to Augusta to defend his first major title. He fell well short of that goal with a 50th-place finish at seven-over par, and he's been in a funk since.
He did post a 15th-place finish in New Orleans in his following start, but has since missed the cut at the Wells Fargo Championship, came in 37th at the Players and 29th at the Memorial.
While these results are not promising, Watson is not far off, and he's actually posted his two most accurate tournaments off the tee in his last two starts.
While Watson is far too talented to write off for any tournament, this course does not suit his game well. The short track neutralizes his prodigious power, and the thick rough will punish his errant drives.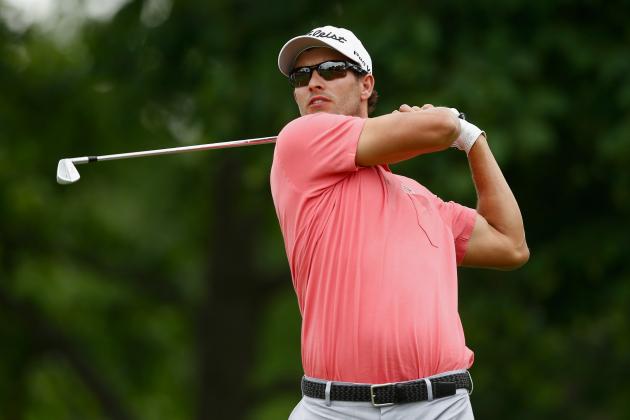 Scott Halleran/Getty Images

Fresh off his major breakthrough at the Masters, Adam Scott will try to make it two majors in a row. He'll have his work cut out for him.
On the year, he's just 90th in driving accuracy and 42 in scrambling at a distance of greater than 30 yards. This has led to some bad results at the U.S. Open.
He was 15th in the U.S. Open last year, but missed the cut in the two previous years.
Still, we can't just count him out. He's clearly been one of the world's best golfers this year, and he's been excellent as of late.
Since winning the Masters he's had a 13th at the Memorial and a 19th at the Players—where he hit 73.2 percent of his fairways.
I wouldn't be surprised to see Scott contend, but I don't think he has it in him to win his second major in a row.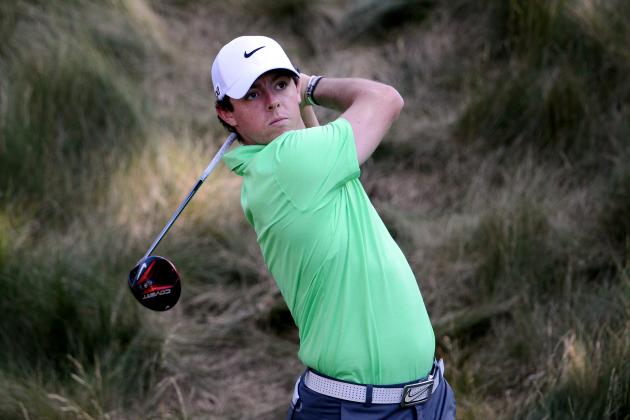 David Cannon/Getty Images

Rory McIlroy burst into stardom with his record-setting win in the 2011 U.S. Open. He finished at a record-low 16-under and set or tied 12 U.S. Open records.
However, he missed the cut in last year's U.S. Open at 10-over.
What may be even more pertinent is that Rory hasn't been very good this year. He does have four top 10s on the PGA this year, but he has yet to win an event and he was 57th his last time out at the Memorial.
His start previous to that came at the European Tour's PGA Championship where he finished 96th.
While Rory was wild with his ball striking early in the year, he's made vast improvements recently. It has been his putter that has let him down as of late.
If he can get his putter dialed in, he could be a factor. However, I have a hard time seeing him stringing together four solid rounds.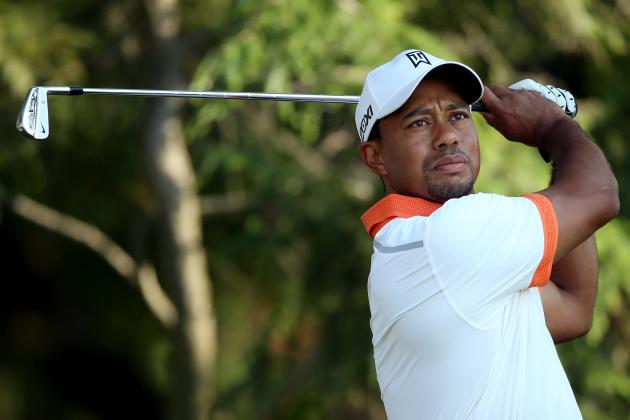 Andrew Redington/Getty Images

Tiger Woods enters this tournament with two key stats pointing in polar opposite directions for his chances at Merion.
Hinting at Tiger being able to break his major drought is his recent performance off the tee. In his last two tournaments, Woods has posted what is easily his two most accurate showings of the year off the tee. In his win at the Players, he hit 67.9 percent of his fairways. Then, at the Memorial, he hit a massive 82.1 percent of his fairways.
However, at the Memorial, Woods finished a season-worst 65th. He can thank his putter for that. Tiger's strokes gained-putting was -1.190 for the tournament. This is easily his worst showing of the year, but it was part of a trend.
Since hitting a mark of 2.798 strokes gained-putting in his win at the Arnold Palmer Invitational, he's been on a steady decline.
While Tiger is coming off his worst start of the year, he's been on such a tear, he still has to be considered one of the hottest golfers out there. He won three of his last four events heading into the Memorial.
My inclination is that his trend off the tee is a bigger positive than his woes with the putter. This is largely due to my faith in Tiger and knowing that putting slumps don't usually last long with him.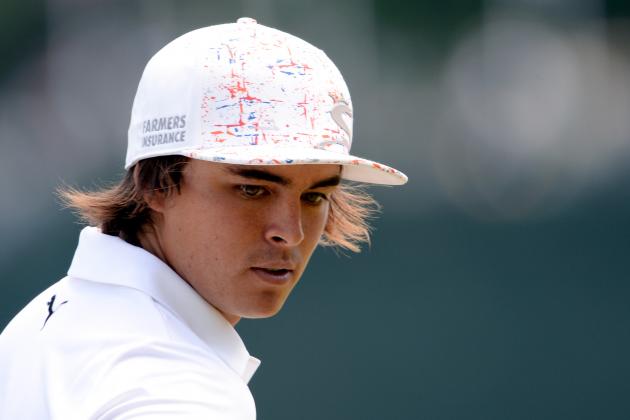 Ross Kinnaird/Getty Images

Like Bubba Watson, Rickie Fowler's year took a nose dive once he hit Augusta. He played in seven PGA events prior to the Masters and had three top-10 finishes.
He then finished in 38th at the Masters and 32nd in his next start, which came in New Orleans. He hasn't finished higher than that since.
Fowler was 73rd at the Wells Fargo, missed the cut at the Players, 54th at the Crowne Plaza Invitational and 37th at the Memorial, which was his last start.
At least he has his results moving in the right direction. However, Fowler still is struggling with his accuracy off the tee. He hasn't finished a tournament by hitting more than 53.6 percent of his fairways in his last four starts.
Given all of this, I'd be shocked if Fowler put himself anywhere near the leaderboard at this event.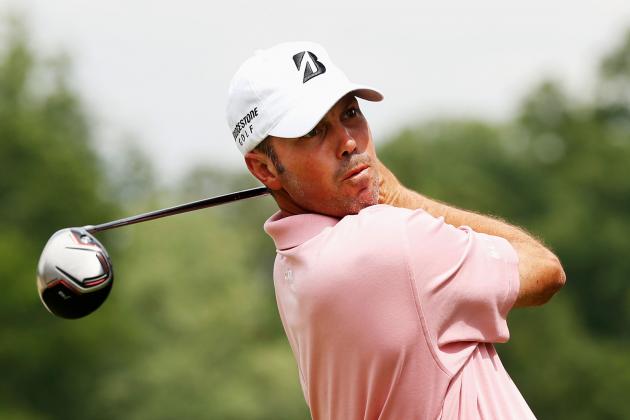 Scott Halleran/Getty Images

Fresh off his win at the Memorial, Matt Kuchar enters the U.S. Open with multiple PGA wins in a single season for the first time. His previous win came at the WGC Accenture Match Play Championship.
Both of those tournaments carry elite fields, and Kuchar was impressive in victory. Kuchar certainly looks like he is closing in on his first major.
In his tournament prior to the Memorial, he was runner-up in the Crowne Plaza Invitational. In both those tournaments, he putted out of his mind at 1.316 and 1.816 in strokes gained-putting.
If he putts like that, he will be in contention.
However, he is going to have to manage his game off the tee. Kuchar is not accurate off the tee. That doomed him at the Players, where strategy and accuracy off the tee are also important. He hit just 53.6 percent of his fairways and finished in 48th.
Still, Kuchar is playing at such a high level that it is safe to expect him to be in contention.