San Antonio Spurs point guard Tony Parker injured his hamstring in Tuesday's Game 3 victory over the Miami Heat.
UPDATE: Monday, June 17, at 12:25 a.m. ET by Eric Ball
Parker registered 26 points and five assists in the Spurs convincing 114-104 victory over the Heat. Despite his brilliance, it sounds as if he still is less than 100 percent according to Kurt Helin of Basketballtalk:
Tony Parker looks gimpy with hamstring walking into interview room.

— Kurt Helin (@basketballtalk) June 17, 2013
---End of update---
UPDATE: Sunday, June 16, at 2:35 p.m. ET by Tom Kinslow
Despite still struggling with a hamstring injury, Parker told reporters that he's good to go for tonight's pivotal Game 5 vs. Miami, per CBS Sports' Matt Moore.
Tony Parker said Sunday at shootaround before Game 5 of the Finals that he feels "good" and is ready to go in the last home game of the season for the San Antonio Spurs vs. the Miami Heat.
---End of update---
UPDATE: Saturday, June 15, at 1:58 p.m. ET by Kyle Vassalo
ESPN's Michael Wallace passes along this quote from Parker, who sheds light on the severity of his injury:
More Parker on hamstring: "My hamstring can tear at any time. If it was the regular season, I'd rest like 10 days. But it's the Finals."

— Michael Wallace (@WallaceNBA_ESPN) June 15, 2013
---End of update---
UPDATE: Friday, June 14, at 12:59 a.m. ET by Ian Hanford
Parker finished with 15 points, nine assists and four rebounds in 32 minutes. However, he did comment after the game that he's still looking to get back to 100 percent for the next contest (via NBA on ESPN):
"The next 2 days, I'm going to make sure I do a lot of treatment and make sure I get to 100 percent." - Tony Parker. pic.twitter.com/frN2U3WbdW

— The NBA on ESPN (@ESPNNBA) June 14, 2013
---End of update---
UPDATE: Thursday, June 13, at 11:30 a.m. ET by Tom Kinslow
Injury update: Tony Parker will play tonight in Game 4.

— San Antonio Spurs (@spurs) June 13, 2013
---End of update---
UPDATE: Wednesday, June 12, at 1:25 p.m. ET by Sam Westmoreland
Tony Parker has a slightly sprained hamstring, as he stated on his Twitter feed in French. According to Google Translate, he said, "I just had MRI. Result: I suffer from a slight strain to the hamstring. We'll see tomorrow how I feel, I really hope to play!" (via Pro Basketball Talk).
Marc J. Spears of Yahoo! Sports confirmed the news.
MRI says @tonyparker has a strained hamstring with no tear or defect.

— Marc J. Spears (@SpearsNBAYahoo) June 12, 2013
A. Sherrod Blakely of CSNNE.com noted that the injury is a Grade 1 strain.
Tony Parker said he has a grade 1 strained hamstring.

— A. Sherrod Blakely (@SherrodbCSN) June 12, 2013
---End of update---
Parker only had six points in the Spurs' 113-77 victory in San Antonio, but he also posted eight assists in 27-plus minutes. The Spurs star had averaged 22.3 points, 7.0 assists and 1.2 steals while shooting 47.1 percent from the field this postseason heading into Game 3.
In 66 regular-season games, Parker averaged 20.3 points and 7.6 assists on 52.2 percent shooting (35.3 percent from three). His PER of 23.1 was among the top on the team behind Tim Duncan.
Parker is obviously critical to San Antonio's NBA Finals success, as he is the engine that runs the offense. As Dan Wetzel of Yahoo! Sports noted:
The 31-year-old guard's been known to play through injury before, so, in case the injury is debilitating, I wouldn't be surprised if he hobbles onto the court for Game 4. After all, he promised to get Duncan another championship after the Spurs were eliminated by the Oklahoma City Thunder last postseason.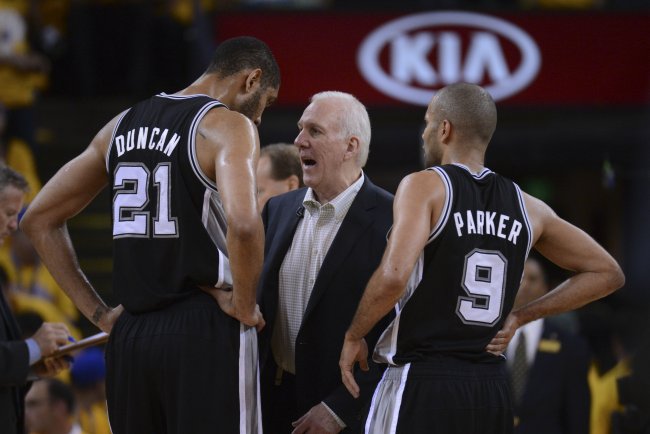 Kyle Terada-USA TODAY Sports
The Spurs lead the series, 2-1, over the Heat. Game 4 tips off at 9 p.m. ET in San Antonio on Thursday.