The 5 Games That Will Determine St. Louis Rams' Fate in 2013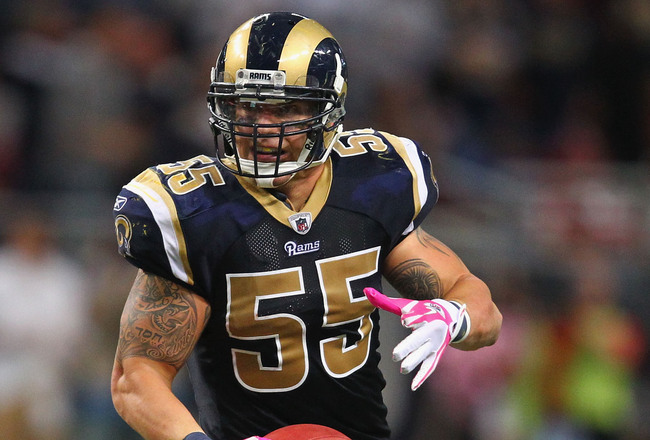 Dilip Vishwanat/Getty Images
A trip to London is no longer on the itinerary for the 2013 St. Louis Rams. It's a good thing, considering that they were pummeled over there by the New England Patriots in 2012, but the young ball club will spend half of its post-bye schedule in the Pacific time zone.
That's all three of their remaining road games from Week 12 to Week 17.
Such are the consequences of playing in the NFC West.
A couple of those intra-division road contests—Week 12 at the San Francisco 49ers and Week 17 at the Seattle Seahawks—will go a long way in determining St. Louis' 2013 success. A late-season home matchup with the New Orleans Saints and a couple of early visits to playoff teams can also be fine indicators of the Rams' maturity.
Plenty of things will change between now and Week 1. There will be injuries, cuts and signings we don't yet know about. The following five games are ranked by a few relatively stable factors: location (home vs. road), anticipated strength of opponent and how close to the playoffs that the matchup is.
Four are road meetings, four are against 2012 playoff teams and three take place after the Rams' Week 11 bye.
5. Week 2 at Atlanta Falcons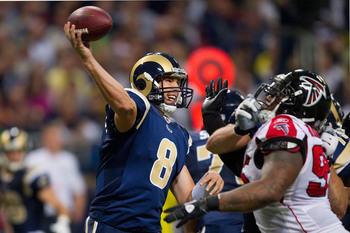 Dilip Vishwanat/Getty Images
Week 1 against the Arizona Cardinals at home isn't the most intimidating of matchups. The St. Louis Rams totaled 11 sacks against Arizona and outscored the Cardinals by 14 in each 2012 meeting.
The first time Tavon Austin, Jared Cook and the new-look Rams offense takes to the road will come the following Sunday against the Atlanta Falcons.
If the Rams can outscore their former comrade and Atlanta's high-flying offense after just 60 regular-season minutes together, it would be a promising sign for their 2013 prospects.
4. Week 6 at Houston Texans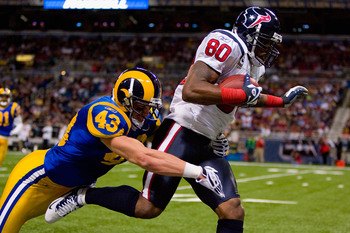 Dilip Vishwanat/Getty Images
The Houston Texans spent most of 2012 as the front-runner of AFC No. 1 seed contenders. They sputtered down the stretch, losing three of four, but the St. Louis Rams were 1-3 against AFC opponents last year.
That includes a 14-point home loss to the New York Jets and a 38-point blowout in London at the hands of the New England Patriots.
Last year, the Rams' inter-divisional foes came from the AFC East, which sent just one team (the Patriots) to the playoffs. This year, it'll be the AFC South, which was home to two 11-win playoff participants.
The Atlanta Falcons (13-3) had a better 2012 record than did Houston (12-4), but the Rams-Texans showdown is a month later than the Rams-Falcons matchup.
3. Week 15 vs. New Orleans Saints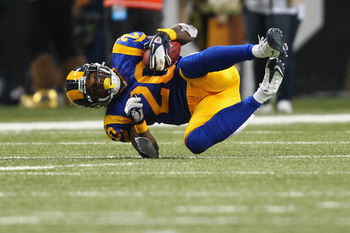 Dilip Vishwanat/Getty Images
The last time that the St. Louis Rams met the New Orleans Saints, they shocked them with a 10-point victory at home in 2011. Darian Stewart pick-sixed Drew Brees. Steven Jackson ran for 159 yards and two TDs on 25 carries.
Only nine yards of offense from that game will be on the team in 2013. Austin Pettis (seven receiving yards) and Lance Kendricks (two) combined for nine yards on one catch apiece.
Sam Bradford didn't even play in that game—it was A.J. Feeley who took the snaps under center.
New Orleans' defense kept it far, far away from the playoffs last season. Brees still led the offense to a league-high 312.3 passing yards per game, so the Saints can make the scoreboard operator do some work.
Their offense is a problem.
By the time the Rams see New Orleans this season, the new-look Saints defense will have nearly a full season of experience as a unit. It's far from guaranteed that Rob Ryan will transform his defense into a juggernaut in his first year as defensive coordinator, but a Week 15 matchup with New Orleans' high-octane offense could prove to be a nice playoff tune-up for St. Louis' defense.
2. Week 17 at Seattle Seahawks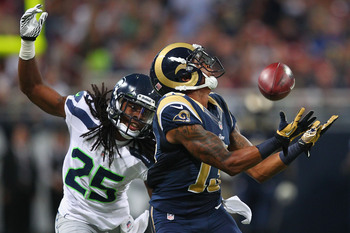 Dilip Vishwanat/Getty Images
The St. Louis Rams split their season series with the Seattle Seahawks last year. Each team won its home game, allowing 13 points in the process. St. Louis scored 19 in its win. Seattle scored 20 in its own.
The Seahawks added a new dimension to their offense in slot receiver Percy Harvin. It'll likely be the second time St. Louis sees him (they'll host Seattle in Week 8 on Monday Night Football) but this matchup comes in the last week of the season.
It could determine a wild-card spot or the NFC West crown—just like Commissioner Roger Goodell would like it to—in the regular season's final frame.
1. Week 13 at San Francisco 49ers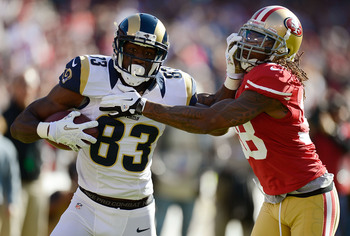 Thearon W. Henderson/Getty Images
The San Francisco 49ers didn't win Super Bowl XLVII, but they proved themselves to be the class of the NFC. Colin Kaepernick has yet to begin a season as the full-time starter at quarterback, and their defense is top-notch.
The St. Louis Rams went 1-0-1 against the NFC champs in 2012.
St. Louis' Week 13 visit to San Francisco is the second time the two squads will meet in 2013. The first will be after a short week on Thursday night in Week 4. As the 49ers and Seattle Seahawks proved in their season series last year, that can make a huge difference.
Because it's a late-season road matchup with the conference champions—who returned most of their key pieces and added a couple more—this one takes the top spot.
Jamal Collier also contributes St. Louis Rams analysis to Yahoo!. Follow him on Twitter: Follow @StatManJ
Keep Reading

St. Louis Rams: Like this team?