2013 NBA Playoffs: Top 10 Best Plays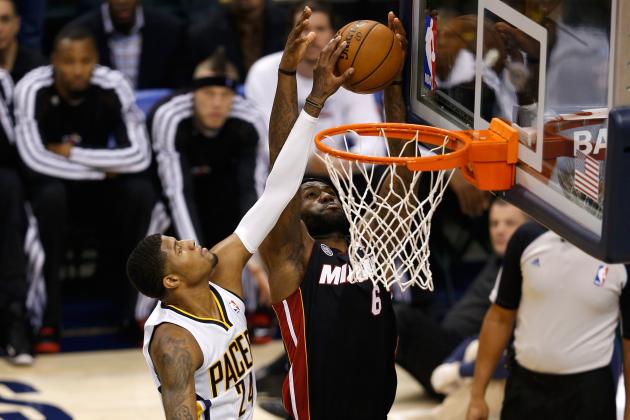 Joe Robbins/Getty Images
LeBron James and Paul George were involved in several of the most exciting plays of the playoffs.
At most, four games remain in the 2013 NBA season. While the Miami Heat and San Antonio Spurs slug it out in what is shaping up to be a classic finals, let's not forget the spectacular plays that have made this postseason so spectacular.
The NBA playoffs are a ceaseless two-month grind. It does not operate in the same manner as the NCAA tournament, whose maximum drama, single-elimination format often causes the biggest plays to become more memorable, since their importance is magnified. Still, that does not mean great plays from the NBA should be forgotten simply because of memory erosion from the seven-game format.
If the Heat and Spurs continue their back-and-forth struggle, this list will need a revision in a couple of weeks. But for now, here are the 10 most memorable plays of the postseason so far.
Begin Slideshow

»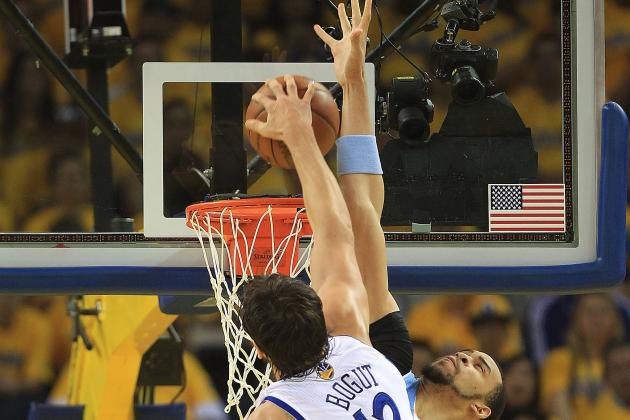 Jed Jacobsohn/Getty Images
Not again JaVale!
These outstanding plays just barely missed the cut.
Recently, Kris Humphries was named one of the most hated athletes in America. Taj Gibson must have agreed with the public, throwing down this vicious slam over the former Mr. Kardashian.
Though the Nuggets' first-round exit was a bitter disappointment, Andre Miller made sure to give Denver fans a happy ending in Game 1. Professor Miller, as Zach Lowe of Grantland.com refers to him, schooled Golden State Warriors rookie Draymond Green with this pretty up-and-under game-winner.
Finally, no NBA list would be complete without the exploits of JaVale McGee. In Game 1, McGee made a clever cut into the paint, giving him an extra half-step that dearly cost Warriors center Andrew Bogut.
Alas, Bogut returned the favor in Game 4, as a running start propelled him over McGee. Even when McGee wins, he still loses.
Tayshaun Prince has arms so long he could probably dunk from the three-point line. Even with declining athleticism, the 33-year-old forward proved he could still make the highlight reel.
The play gets bonus points for its onset, as Marc Gasol started the break with a hilariously casual block on Kendrick Perkins. Prince then built up a head of steam and dunked over three Oklahoma Thunder players: Thabo Sefolosha, Reggie Jackson and, most remarkably, shot-block artist Serge Ibaka.
Ibaka's look of disbelief at the end sums up Prince's surprising ups. I was just as shocked as Ibaka was.
Iman Shumpert competed in the 2012 Slam Dunk Contest, so he is no stranger to spectacular dunks. Still, his emphatic putback slam in Game 2 against the Pacers arose suddenly, sending a huge jolt of energy throughout Madison Square Garden.
The huge slam foreshadowed the energy the New York Knicks would play with throughout the rest of the game. New York used an astounding 30-2 run to blow out Indiana and even the series in perhaps the final high point of the Knicks' season.
Shumpert made sure the Knicks would not fade away quietly. Still, the intensity of his snarl was compromised by that Kid 'n Play high-top fade.
So much for Michael Jordan's claim that LeBron can't go left. MJ must have gotten that scouting report from his high school coach.
With just 2.2 seconds left in overtime, Paul George hedged hard on LeBron's catch, a fatal overplay that immediately took him out of position. With the paint exposed due to Frank Vogel's decision to bench Roy Hibbert, LeBron had little resistance as he hit a left-handed layup to win Game 1.
Though he was on the wrong end of LeBron's drive, Paul George was almost always on the right end of highlight-reel plays this postseason. The Indiana Pacers' budding superstar energized the home crowd in a do-or-die Game 6 with a facial on Chris Bosh that looked easy.
Though George caught the ball at his own free-throw line, he appeared to jog up until a step behind the right elbow. Then, as if flipping on the turbo boosters, he accelerated past Norris Cole, and in just two-and-a-half strides, built up enough momentum to elevate over Bosh.
As if that weren't scary enough for future opponents, the dunk wasn't even George's best of the postseason.
This is what happens when George gets a real head of steam.
It's astounding enough to watch him blow by LeBron so easily. In a series that often looked like a one-on-one duel between them, it was as if George sought to answer LeBron's left-handed drive to win Game 1.
By the time poor Chris Andersen realized what was coming, George was just a step away from the no-charge zone, leaving Andersen to contest fruitlessly while standing underneath the basket. From there, it was bird hunting season.
In what may have been his last win as a Los Angeles Clipper, Chris Paul showed why he is the NBA's best point guard.
After Memphis erased a 12-point fourth-quarter lead, Chris Paul took over and made sure the Clippers would not blow the game by scoring LA's last eight points. Despite suffocating man-to-man coverage from Tony Allen, arguably the league's best perimeter defender, and good help from Darrell Arthur, Paul somehow found a sliver of an angle to bank home the game-winner.
This slo-mo commercial really highlights the shot's degree of difficulty. Although losing the next four games was a huge letdown, no one should forget the final spectacular highlight of Lob City.
Many were surprised by how Roy Hibbert nearly carried the Pacers to an upset over the Miami Heat, but perhaps we should have seen it coming.
Carmelo Anthony never saw Hibbert, and he suffered a humiliating stuff as a result.
Not only was the play a huge turning point in the Game 6 clincher (Indiana would embark on a 11-2 run immediately thereafter), but it illustrated how much he and his teammates had improved from previous playoff runs. On the verge of choking away a 3-1 series lead, Hibbert's rejection was an emphatic sign that the young Pacers had grown up.
For someone who plays for a team known for its mechanical efficiency, Tony Parker's Game 1 clincher was probably not what Gregg Popovich had drawn up.
After a couple of failed pick-and-roll attempts, Parker went into crisis mode and drove into a crowd of Miami players. Nearly turning the ball over multiple times and falling to a knee, the Spurs point guard looked like a chicken without its head.
Parker's awareness of the shot clock allowed him to pump-fake and get LeBron in the air, which provided just enough space for a clean, albeit off-balance look. Such high basketball IQ has been the Spurs' calling card for years, and it may have provided them with the play that wins them a fifth championship.
Sometimes, even the best execution is trumped by all-world athleticism.
The Spurs took advantage of Miami's aggressive pick-and-roll defensive principles, as Tiago Splitter ran off a trapping Chris Bosh and found himself with nothing but daylight. But aided by Kawhi Leonard's bizarre court spacing (look as he slowly wanders toward the paint), LeBron had just enough time to crash to the rim for the best block of the postseason.
Still, the King somehow found his way on the wrong side of the playoff's best play so far.
If LeBron James is the best athlete on the planet, Nate Robinson may be the best pound-for-pound.
The diminutive Chicago Bulls point guard was one of the postseason's surprise performers. Though Robinson has always been streaky and prone to terrible shot selection, there are few better pure scorers when he catches fire.
Along with a 34-point performance in a comeback win over the Brooklyn Nets, chasing down LeBron in transition will go down in Robinson's career highlight tape. Though the Bulls lost the series, they accomplished the rare feet of making LeBron look human.